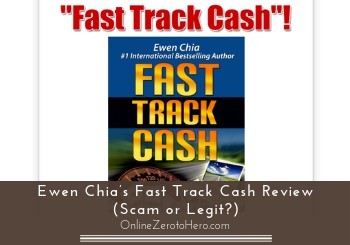 Fast Track Cash claims to be the fastest and laziest way to make money on the internet.
But is Fast Track Cash a scam, or is it really possible to start making money within minutes after joining?
Before joining there are definitely some things you need to know and consider, as the sales pages does NOT tell you the whole truth.
This Fast Track Cash review will give you the details about what the system offers, and how internet marketing in general works, so you will know before getting involved, what you should expect, instead of just believing the sales page for the system.
Fast Track Cash at a Glance
Training

Tools

Value for money

Income potential
What is Fast Track Cash and what does it offer?
Fast Track Cash is a system developed by Ewen Chia. He is a guy, who has actually made a lot of money online, and he has developed and is selling a lot of different systems to teach others to do the same.
He has for example developed the Autopilot Profits system and the Copy Paste Income system, which I have previously reviewed.
Let me reveal right away that I am not a big fan of Ewen's methods, and I think there are many things you need to know he is not telling you.
All of his systems promise you to be able to make really good money online with more or less no effort and very fast. This is also the case for Ewen Chia's Fast Track Cash system.
This is in itself a warning sign, but I will get to the warning signs you need to know later. Let us for now focus on what you will get when joining Fast Track Cash.
As is often the case with this kind of systems, you are not told much about what you will actually get. You are told all the things you will not get.
You do not need any experience, and the system will be super easy to set up, so you can start making money online fast. You also do not need any products yourself.
What Ewen offers is to teach you how to make money through affiliate marketing. This is a way to promote products you do not own, and then get paid a commission for it.
As a member of Fast Track Cash, Ewen will give you different lessons, so you can learn how to do this. As already mentioned, I am not big fan of Ewen's methods, as I for example have received his newsletter for quite a while now.
I very often get offers send with get-rich-quick kind of offers. I have worked with online marketing for years, and I know this is just not how internet marketing works anymore. I do not like that he is often promoting this idea about fast money online without any effort to people and try to get them to join programs that promises this just to make a profit himself.
This is not an approach I believe in, and not an approach I believe is a good long-term strategy to make an income online. But it might be an approach for you, so let's take a closer look at the possibility to make money like this, and what you need to consider before deciding, if Fast Track Cash is for you.
Recommended: See My Top Recommended Way to Make Money Online
Can you make money with Fast Track Cash?
As mentioned, Ewen Chia's Fast Track Cash program will teach you how to make money through for example affiliate marketing or drop shipping, where you do not need to physically own a product to promote it and earn commissions.
These methods are definitely great ways to make money online and they are legit ways as well. I personally prefer affiliate marketing, and I know from experience it is a great way to earn money online, if you do it properly.
I do however doubt Fast Track Cash is a good place to learn this. There are many things you are not told before you join, and there are several warning signs you need to take into consideration.
Warning signs to consider
Before deciding if Fast Track Cash is for you or not, there are some things you need to know about how internet marketing works in general, and compare it to what you will get with Fast Track Cash.
Warning sign #1 – Ewen Chia is behind the program
It might be a little harsh to say that it is a warning sign that Ewen Chia is behind Fast Track Cash. If you like his methods, it might be something positive.
Taking my experience into consideration, I am however not a fan of his methods. It does not mean they do not work. But I am not a big fan, because I think they are mostly focused on selling and not really on helping people.
Often it is just about how to learn to push people into investing in something without them really knowing what it is, just to make a profit for yourself.
I am a supporter of what I call honest affiliate marketing, where I only promote products I truly believe in, and try to give as much in-depth information as possible to help people and make it easier for them to make the right decision for them. The focus is on trying to provide quality information and help people, and then at the same time make money online myself.
This is quite a different approach than the one Ewen Chia is teaching, and I do not support many of his methods, as they in my opinion focus on pushing sales and use all kinds of tricks without focusing on what can truly help people.
As mentioned, it does not mean they might not work – It just means you have to consider what approach you want to use, and what kind of approach you feel make sense, and then make your decision based on this.
Recommended: Learn Proper Affiliate Marketing Step-by-Step
Warning sign #2 – The price
It looks like it is very cheap to get access to Fast Track Cash.
It only costs $27, and if you try to leave the sales page, you will even get a pop-up with a special offer with $10 discount. So it is not a big investment.
However, be aware that Ewen Chia's programs in general always have many upsells, so you can also expect this from Fast Track Cash.
This means that you get access for a very low price that more or less anyone can afford to invest to learn more about internet marketing. But once you have then paid the initial investment, there will be several pushy sales techniques used to try to sell you upgrades and to get access to more info.
So potentially it can end up costing you a lot more money to join. This is one of methods I really dislike – in general you should be very careful about programs and mentors that are not transparent about the price. What else will they not be transparent about?
Warning sign #3 – Instant money claim
The name of Fast Track Cash gives you the impression that internet marketing through this system is an instant way to earn good money. You are even told this on the sales page.
You are told it is an immediate way to cash in. At least Ewen is not giving a guarantee, as you can see on the screenshot above.
However, whenever a system claims you can start making serious money online within hours, it is a big warning sign.
Through my years of experience within the online world, I know this is just not how it works. You can learn to make really good money online, but the programs that promise it will happen in a matter of hours or days, are usually only saying this to get you to join and make money themselves.
In theory, you can earn money within hours through affiliate marketing, but to build a sustainable and stable income takes time. It does not happen in a few hours, and a system will not be able to do it automatically for you.
Warning sign #4 – You do not need to work
One of the big selling points of Fast Track Cash is that you do not need any skills to earn with this system, and you do not even really have to do any work.
You can supposedly start to make really good money online with just a few minutes of work per day.
This is just a silly claim – in theory it might happen for a few people that they can make good money online by just working a few minutes per day, but it is not how it works for the majority of us.
It is a sales trick used to make it sound like you can make a full-time income without ever having to work. But if you ask any successful online marketer (who is not trying to sell you anything), he/she will tell you it takes effort and time to build an online business like it does to build any other kind of business.
The advantage of building an online business is however that it can happen with a fraction of the cost and can give enormous freedom when you succeed.
But it is a mystery for me why so many of us still believe this is possible to achieve without making an effort, and why we are not willing to make this effort. It is in my opinion worth a big effort to get the freedom an online income can give.
The reality is just that you should not expect to be able to achieve this within hours or days and with having a program do all the work for you.
If you are chasing this dream, you will likely end up spending a lot of time and money testing out different programs that promise quick money only to take your money and time away.
In general, I would advise you to stay away from any program that claim an online income can be created automatically and overnight.
Warning sign #5 – You are not told what you will get
I already mentioned this earlier, but you are not really told what you will get with Fast Track Cash.
You are mostly told what you will not learn, and what you do not need. And then there are some bullets of things the system will give you access to.
These bullets are superficial and again does not show you anything about what you will really learn. It is just a lot of big promises.
You are for example told will learn the secret to getting as much traffic, as you want. Traffic is necessary to earn money with affiliate marketing, but I see these claims about secret traffic methods all the time.
I have worked for many online marketing agencies, and I have had websites myself for years, and the truth is just that there is no "secret" trick to get massive amounts of quality traffic right away, unless you have a big budget for ads.
If you want quality traffic without spending money on ads on the good networks, it will take time to build up.
I did however give Fast Track Cash the benefit of the doubt, and decided to download the free report I was offered.
You have probably seen it yourself on the website. It is a Free Cash Secrets report. I decided to give this a try, and see if it had something to offer – it did not.
It is more or less just a 14 pages long sales pitch of why you should join Fast Track Cash. It gives you no info you can learn from at all, and the whole idea of it is to get your email address, so Ewen can then start sending your offers, and the report itself is just a big sales pitch expanding on the sales page on the website.
So in my opinion the report is a waste of time, and if this is a taste of the training you can expect from the program, it is not a good sign.
Final thoughts
Let me be honest – I am not a big fan of Ewen Chia's Fast Track Cash, as you have probably figured out by now. But let's sum up the pros and cons, so you can get a better overview, before deciding if it is for you are not.

Pros:
Affiliate marketing is a real way to make money online
You will get access to some training

Cons:
Exaggerated claims about how fast you can earn online
Claims you only need to work few minutes per day
Claims the system will take care of everything for you
Not transparent about the price
Free PDF report is just a big sales pitch
In my opinion the Fast Track Cash system just has too many warning signs based on my previous experiences with internet marketing. The promises are exaggerated, and there are a lot of things you are not told.
As I have previously reviewed and looked into several other of Ewen's programs, and have received his newsletter for a while, I have realized that his systems are in my opinion in general not focused on helping people but mostly just focused on selling to people to earn big profits for himself.
I disagree with and dislike many of his methods – this does not mean they cannot work. It just means it is something you need to consider before joining, so you know what you are getting into. And you also need to make sure to do a reality check and be aware that you will not be able to make a full-time income online overnight and by just working a few minutes per day, as this system claims.
If you want to learn how to make money online step-by-step, this is however possible no matter your previous experience, as long as you stay away from the get-rich-quick systems. You can for example check out the process I am using to make money online, and see if this appeals to you.
The approach I am using will not make you rich overnight, and it will take time and effort, but it is a way to learn real internet marketing skills to create an online income the way you wish.
If you have any comments, questions, or have any experiences with Fast Track Cash yourself, I would love to hear from you in a comment below.