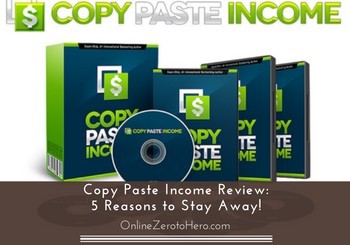 Copy Paste Income is a system that claims you can easily make money online by following their system.
But is Copy Paste Income a scam, or is it really possible to make $3000 over a weekend on autopilot as the website claims you can learn?
In this Copy Paste Income review you will find all the details you need to be aware of before investing in this program.
It sounds like a great option at first, and it has some potential, but it also has some dangers you need to be aware of before joining.
Copy Paste Income at a Glance
Training

Tools

Value for money

Income potential
What is Copy Paste Income?
Copy Paste Income is a system developed by Ewen Chia. He is an online marketer that has been around for quite a while, and he also has many other products.
You can for example find a book he has written on Amazon, and he also has a course on Udemy, which is a platform where I have taken some courses myself, and I know it has some great options.
So by looking at who is behind Copy Paste Income it could look like a good option to learn to make money online. He is definitely a real person, and it is not like the online scams that uses a stock photo and fake name for the owner.
However, as I will show you in this review, there are still a lot of signs you have to be careful about joining Copy Paste Income, or at least some things you need to be aware of before investing anything, so you will not end up getting disappointed or even lose money.
But let's first look at what Copy Paste Income will teach you.
There is actually not a lot of information about this, and it can be difficult to figure out what the program is offering, if you have never made money online before.
As you can see from the screen shot above, Ewen says that the way he makes money online is through affiliate marketing. The Copy Paste Income system will teach you to make money the same way, and he claims you can start making hundreds of dollars immediately without really doing anything. You just need to copy his system, and then you will be able to become rich on autopilot.
This all sounds very nice, but is being an affiliate even a real way to make money online?
Is being an affiliate a legit way to make money?
Through Copy Paste Income, Ewen Chia will teach you to make money as an affiliate.
Let me make it clear right away that this is a real way to make money online, and you can also make really good money with affiliate marketing, once you learn how to do it. I know this for a fact as I am making money online as an affiliate myself, and I have a lot of friends that are as well.
However, I do not agree in many of the claims Copy Paste Income makes. Being an affiliate is something that you can learn no matter your previous skills and experiences, BUT it will not happen on autopilot. There are programs that teaches you affiliate marketing step-by-step, but the best ones will never claim you can just learn it in a few hours and start making hundreds of dollars right away.
As any other business it takes some effort, and you will in most cases not become rich just by working 30 minutes here and there and then sit back and see the money flowing into your bank account. There might be a few people that get lucky and end up making a lot of money easily online, but it is not the reality for the majority of us.
It is definitely possible to learn to make good money through affiliate marketing, and you can eventually also make really good money, but you need to be prepared to make an effort and put in some time and effort. If not, you will most likely fail, and end up spending a lot of money chasing the shiny programs that promise you can become rich without making any effort.
Recommended: Click to See My Top Recommended Platform for Learning Affiliate Marketing Step-by-Step
Can you make money with the Copy Paste Income System?
As you can see from what I mentioned above, it is definitely possible to make money online through affiliate marketing.
But is it possible to do this with the Copy Paste Income System?
In my experience after working with online marketing for years and having reviewed and tested many programs, Copy Paste Income promises too much. It looks like the owner Ewen Chia has some good experience, and it is very likely his real checks he shows images of on his the Copy Paste Income website.
But you should never expect a system to do all the work for you and become rich on autopilot. This is one of the main reasons I do not think Copy Paste Income will provide very valuable info about affiliate marketing, and the main reason it is not a program I am going to invest in myself. I will explain more about other warning signs below.
5 reasons to be careful about joining CPI!
After having taken a good look at Copy Paste Income, I must say there are a lot of warning signs you have to be aware of. This does not mean it cannot be the right system for you to join, but you need to know these warning signs before joining, so you know what to expect.
By knowing these signs, you will also know more about what methods the system is using, and then you can easier decide whether you think this is an honest system and an approach you would like to follow.
I have created this video to show you 5 important things you need to know, before joining Copy Paste Income. Below the video you can read more details:

Reason 1: You are not told what you get
You are not actually told much about what the program offers you. You are just told anybody can do it, and all you have to do is to be able to copy and paste.
Ewen then tells a little about being an affiliate, but nothing about what Copy Paste Income is really about. You will not know more about this until after you have paid to join.
In general, it is a red flag, when a system or program is not telling you what you will get until after you have joined. If it was really that great, would it then not make more sense to tell more details before people have to pay?
Reason 2: Claims you can become rich on autopilot
I have already mentioned this before.
You have to be careful about any system that claims you do not have to do any work. Copy Paste Income claims exactly this – that you can make money very easily and on autopilot.
It is an online business myth that you can just set up a system and then lean back and become rich. As any other business it takes effort – it becomes easier and takes less effort in time, but there is no such thing as a magical secret that will make you rich overnight online without any effort.
Reason 3: The student who test the system
To prove how well Copy Paste Income works, there is a so-called case study on the Copy Paste Income's website, where the student named Brittany tests the system and makes a lot of money in just 24 hours.
I did a little research on the image of "Brittany" – it is a stock photo that is freely available online, and is used on many websites.
If they really had a student test the system, would they then use a stock photo to show the student? This definitely seems suspicious to me. Even if the case study is true, it seems strange to me to use a fake image of the student, and it is something that makes me lose trust in the system and claims made there even more.
Reason 4: Only a few spots available
This is a classical trick used by programs that want to push you to sign up before you start thinking about it, and before you start doing research.
You are told that there are a limited amount of spots and there are only a few spots left, and you are lucky to be offered one of these.
I can tell you, I have visited this website many times over several months, and it always says the same – it will soon be taken down, you are lucky, you are the chosen one, etc. This is just to get you to sign up right away.
But do not worry – if you wait a day or a week and then decide to join, the offer will still be there.
Reason 5: Misleading price
You are told that the Copy Paste Income system is actually worth thousands of dollars. But they have made a special introduction offer, where you for a limited time can join for only $37.
First of all – this offer is claimed to only be an introduction offer, but it has been there for a long time. Secondly, as you can see at the bottom of the image above, it is claimed the cost is only $37 – and not a penny more.
This is not exactly true – it can end up costing you a lot more to join, as I will show you now.
What does it cost to join Copy Paste Income?
At first sight it looks like you can join Copy Paste Income for only $37. It is even mentioned that it will not be a penny more.
But do not expect that will be your final price. The reason I know this is that Copy Paste Income has its own affiliate program, where you can get a commission to promote it.
When you look at the potential commissions for promoting Copy Paste Income, you get a better idea about the true costs.
As you can see, one single sale of Copy Paste Income can earn affiliates up to 60% and $477. That means that one single sale can end up costing the person joining up to around $800.
That is not just one penny more than the $37 – that is a lot more.
So from this you can figure out that once you join, there will be some more selling going on, so do not expect to just pay $37 and then be able to become rich. Personally, I hate programs that use upsells like this and are not clear about the price right away.
If you however still decide you want to give it a go, you can get a $10 discount. After having been on the website for some minutes, you just try to close the browser. A pop-up will then ask, if you really want to leave. If you say you want to stay, you are offered a $10 discount. It can still end up being an expensive program to join, but a $10 discount is worth taking, if you still want to join.
Final thoughts
I honestly think there are too many warning signs, when it comes to Copy Paste Income. But let's sum up the pros and cons to get a better overview.

Pros:
Ewen Chia is a real person and has made money online
Affiliate marketing is a legit way to make money online

Cons:
Not clear what the program is about
Misleading price info
Pushy sales methods
Exaggrated claims about how easy it is to make money online
Overall, affiliate marketing is a great way to make money online, and it is something you can learn no matter your previous experience. I do however not necessarily think Copy Paste Income is a good system for this. If you look at the signs I have showed you above, is it then a system you will trust?
For me there is too much dishonesty and too many warning signs to invest anything into Copy Paste Income. The only learning platform I truly recommend, when it comes to learning affiliate marketing step-by-step, is Wealthy Affiliate, as this is the platform, where I have learned to make money online myself in a legit and honest way. So if you are interested in learning affiliate marketing, that is a great platform to check out, as it has great training, great support, and great tools.
If you have any comments, any questions, or have any experiences with Copy Paste Income yourself you would like to share, I would love to hear from you in a comment below.