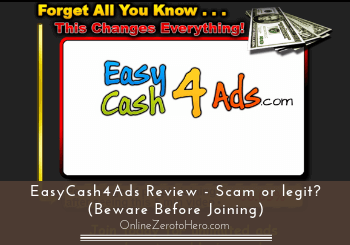 EasyCash4Ads claims that just 1 hour after joining you might never have to work again.
This sounds really great, right?
But is EasyCash4Ads a scam or is it really a unique opportunity to take advantage of?
Honestly, I can understand why this sounds very appealing.
However, I have worked online for years and I am making a living online so I have a lot of experience when it comes to spotting good vs not so good opportunities and I have spotted some red flags you need to be aware of before joining.
This EasyCash4Ads review will show you all the details so you know exactly what to be aware of before making your final decision.
EasyCash4Ads in a Glimpse
Training

Tools

Value for money

Income potential
Summary
The system on Easycash4Ads could, in theory, work. But there is also a lot of things you are not told.
The sales video makes it sound like you can potentially start making enough to retire after only being a member for 1 hour. You should NOT believe this hype. Nothing is that easy online.
In addition to this, even if it did work, if it one day closes you will be left with nothing because you have not learned to build a long-term online business on your terms – this is a huge risk, in my opinion.
Therefore, it is better to put your time, money, and energy into learning the skills to build a more sustainable income online elsewhere, in my opinion.
What is EasyCash4Ads.com and what does it offer?
EasyCash4Ads does not have a lot of info about who is behind the site which is also a bit suspicious in my opinion.
But I did some more digging and it looks like the owners might be the same people that are behind the platform SoManyHits which is a marketing platform that is supposedly able to help you generate a lot of online sales.
On it they heavily promote EasyCash4Ads even though they are two quite different services.
In one sense EasyCash4Ads is very simple but in another sense, it is all a bit complicated. In this review, I will do my best to explain it so it becomes very clear what you can expect and what you need to consider before joining.
So the basic idea of EasyCash4Ads is that you just have to invite other people to join. They pay $19 to join where $10 will go to you and $9 will go to the owners of EasyCash4Ads (it is called an administration fee).
Just be aware that the first two people you refer will be what they call qualifying referrals meaning you will not get anything for them, but the $10 will go to the person inviting you.
But as you can see in the chart above, if you invite more people, it will quickly escalate and supposedly bring you a lot of money.
So the idea is that you join and pay a fee for this. You then have to invite others and you will get a part of the fee they pay after you have invited more than 2 people.
Each of these people will also have to make two qualifying referrals where the $10 then goes to you because you have invited them.
So in theory, this looks like it could really bring in a lot of money with little effort.
In addition to this, you will also have an ad showed to every person you get a commission from when they first join. They do not explain much more about what this is about though, which is in itself a red flag, in my experience.
But I am assuming it means that if you have some kind of other online offer you promote, you can have it shown in this ad. I guess that is also where the name EasyCash4Ads comes from.
But the real question is how well it really works and how much you can actually expect to earn so let's go into that now.
How much can you earn?
Let me say that in theory, I can see how a system like EasyCash4Ads.com could work.
And according to their sales video, you can even make a really good full-time income online by just inviting one person (after you have invited the 2 qualifying referrals).
However, there are also some things they do not tell you.
And that is, of course, the risk that it will not work.
I remember when I was a child their where similar systems but just in a very innocent way where you just had to buy a book or a pack of chewing gum and send to someone on a list.
Then after having done that your name would get on a list and you would then get thousands of the similar product back because of the pyramid structure.
It NEVER worked like that.
It sounds easy in theory, but it is not as easy to get people to join a system like this and actually also participate in it. In addition to that, they do not only have to pay themselves but have to also be willing to go out and recruit others.
So there is a lot of risks it will not go quite as easy, in my opinion.
In general, one thing I have learned by creating an online business is that if something sounds too good and too easy to be true, it very likely is.
Honestly, there is NO such thing as magic fast money without effort online.
It definitely is possible to create a good online income but it needs to be a sustainable way and that always takes some effort.
Another reason I strongly doubt EasyCash4Ads is such a sustainable way is that it might even be considered a pyramid scheme by some.
This means that the main way to earn is by recruiting others but there is not as such a product or service. The earnings are dependent on recruiting others.
This makes it more difficult to get people on board and in some cases, pyramid schemes are also closed down which would leave you with nothing.
I am not saying that is the case for EasyCash4Ads as I am not a lawyer. But from what they explain themselves, the main way you can earn is by recruiting others and that is the whole business model.
Personally, that would not be something I would bet on to make me a living for the rest of my life and it is something you seriously have to consider before joining, in my opinion.
Recommended: See How I Earn $6K+ Online Every Month
What does EasyCash4Ads cost?
The cost of joining EasyCash4Ads is not very high. It is supposedly just a one-time fee of $19.
I have, however, read several places that there will be a couple of products they will strongly encourage you to get once you are inside.
I have not been able to confirm this myself as I honestly do not find it worth the money.
I like investing in good online opportunities but I only invest when it sounds sustainable and EasyCash4Ads just really does not sound like a good option, in my opinion.
But if you decide to give it a go, then at least it is only $19.
Who can join?
EasyCash4Ads is available in all countries.
So you can join from anywhere and you can also recruit people from all countries.
This, of course, makes it easier to recruit people as the market is then bigger if you decide it is something you want to give a go.
Final verdict
At first sight, EasyCash4Ads sounds very simple and as a good opportunity to make easy passive money online.
However, it also has some big drawbacks, in my opinion.
But let's finish this review by summing up the pros and cons so you can get a better overview before deciding if it is for you or not.

Pros:
Cheap to join
Fairly simple system

Cons:
Does not teach you skills to build a sustainable income on your terms
There is no product – it is just about recruiting
Not as easy to recruit people as it might sound
Makes exaggerated claims
There is one thing you need to be aware of when it comes to making money online – there is NO magical way to become rich without doing any work.
It definitely is possible to learn to make good money online, but you should NOT expect this to happen just by inviting 2-3 people to a platform.
In addition to this, a big issue with EasyCash4Ads, in my opinion, is that you are completely dependent on the system.
Even if it did work, if it one day closes you will be left with nothing because you have not learned to build a long-term online business on your terms – this is a huge risk, in my opinion.
Also, the whole idea that they say in the sales video that in as little as an hour you might never have to work again is complete hype and BS.
Therefore, EasyCash4Ads is not an option I would recommend if you want to make money online. It is better to take the time to learn proper skills and build a sustainable income on your own terms.
How I make a living online
I have personally been able to create on full-time online income that now allows me to work when and where I want to completely on my own terms.
It takes some effort and time but the freedom that comes with it is totally worth it.
If you want to follow my footsteps and create your own online income, then check out my FREE guide where I explain how this is possible step-by-step.
You can even get started with these steps as a complete beginner – in fact, it is in my experience the absolute best way to learn to build a sustainable online income from scratch.
If you have any questions, comments, or have any experience with EasyCash4Ads yourself, I would love to hear from you in a comment below.