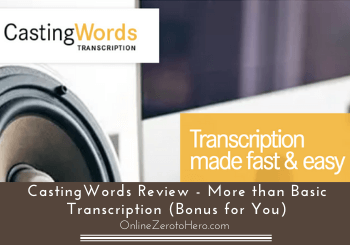 You've probably heard of people earning online through various online jobs including transcription services. This type of online job is appealing to many since you get to work at the comfort of your home and still earn.
With all the transcription companies out there, it's important that you really do you research which ones are worth your time and are actually legit.
CastingWords is one of the companies you probably encountered while looking for transcription jobs.
If you're wondering if CastingWords is a legit company, let me tell you right now that it is indeed a legit transcription services company.
This CastingWords review will guide you through your potential career as a transcriptionist at the company so you know what you can really expect before signing up.
Transcribing audio into text can take quite some time so it's really important you put in the hours in a job that's worth it. After all, those are hours you cannot get back.
Tools

Training

Value for Time

Income Potential
Summary
There are so many transcription services out there today. CastingWords is more than just your basic transcription services. It hires freelancers to do their transcriptions and then rewards them based on a grading system. CastingWords jobs are available to anyone worldwide as long as you have a good pair of headset and high-speed internet.
Producing quality work can increase your base pay up to 3 times. However, it still requires a lot of patience and time to reach the level where you can actually earn a decent income. You also have to have some experience if you want your grade to be a 9, the highest grade.
CastingWords is a good and legit company for you to earn extra dollars. However, it's not the best choice if you're planning to build a full-time income from working at home the most efficient way.
What is CastingWords?
CastingWords was founded by Rachel Pearson and Nathan McFarland back in 2005. Its office is currently located in Los Alamos, New Mexico.
They offer transcription services for almost all types of audio files including 30-second audio clips, focus group recordings, or interviews.
Transcription services convert audio files into electronic documents they can use for articles or research. Some would offer verbatim while others would offer edited transcripts. Verbatim are those that include filler words such as "uhm" and "ahh".
CastingWords offer verbatim and edited transcription services. They also offer subtitle and caption services which mean clients can send their streaming or video files but they will only transcribe the audio portion of the material.
One difference I saw in CastingWords services compared to many other similar companies is that they offer transcription in English, Spanish, and French.
Do take note that they do not offer translation services but rather direct transcription of those languages from the original audio files. Still, this means they cater to a broader pool of clients which means more potential work for you if you decide to join them as a freelancer.
What are CastingWords jobs and how do you apply?
The company offers different plans for clients and promises high accuracy and quality transcription services. This is where freelancers such as yourself will come in.
Since CastingWords offer different types of transcription services, you would expect various kinds of files you would need to work on. You can also do more than simple transcribe audio files.
CastingWords jobs include:
Transcribing audio files
Determining audio quality
Grading transcripts
Editing transcripts
For this review, we would mainly focus on the transcription of audio files.
To apply for any CastingWords jobs, you have to go through four steps.
First, you have to create an account using your email address and password. Once you've created an account, you will be asked to provide your basic information including your address and country of residence.
Compared to other known transcription companies such as Tigerfish and Speakwrite that only allow US applicants, CastingWords allows applicants for different countries worldwide.
After providing your basic information, you will need to include a write-up about yourself in 500 words or less. I suggest you get creative here since not all companies ask for a "describe yourself" write-up. They do note that it will be considered for your application.
Now, no prior experience is needed to apply for a job but you will be required to answer a transcription test as a final step on your application.
Once you click the start transcription test in your application, you will be redirected to your jobs dashboard. There you will find a short audio clip you need to transcribe.
They have a Quick Start Guide you need to go over since their test is a non-verbatim style transcription. This means you have to leave out the uhms and ehs in your transcript.
So make sure to go through the style guide so you know exactly what to do to have the best chances of passing the test.
This transcription test is not paid. While it would be best if application tests are paid, I'm okay with this one since it they estimate that you finish the test within 30 minutes or so.
Paid tests are best for those that would take you more than an hour of work, in my opinion.
Also, since anyone can apply and take the test, they can, of course, not pay for it. This is also a way for them to make sure you are serious if you apply, so it does make sense.
The job board for your transcription test is basically the same dashboard you will be using once you get hired.
I like you get to see the interface of their system already upon applying. You also get to familiarize yourself with their style guide upon applying.
The steps are quite simple and it's a good way to show your transcription skills.
If you feel you're not yet confident even if the site is open for beginners, then I suggest you take up some transcription skills training online to prepare yourself.
Once you get hired, you can start choosing the jobs you want to work on from the Available Jobs list.
One advantage of the jobs dashboard is you actually see a "time allotted" for each job and the length of the file to be transcribed. They also include the pay per minute and average pay.
This is a plus, in my opinion, since you get to pick which jobs you can actually work on. If you want the listed job, simply click "Work on This" button to assign it to yourself. Then get working.
How much can you earn on CastingWords?
For you to get paid for the work you do on CastingWords, you have to submit your PayPal account.
They will transfer your earnings every Friday if you have a scheduled payout or you can choose to accumulate your earnings every week before transferring.
The minimum payout is just $1. That's really low so any amount of work you get to do for the week you can actually transfer.
Each job is classified between easy to difficult. If you are just starting out in the transcription business, I would suggest to simply go for the easy jobs.
You can also choose what type of file you will be converting – whether that's an interview, a focus group discussion, or an audio file from an online video.
There are two ways you can earn when transcribing on CastingWords. First, you will be paid around $0.30 to $0.92 per audio minute transcribed.
Normally, a transcriptionist will be able to transcribe an hour of recording within four hours (4:1 ratio). Given that rate, you would roughly be paid $4 to $13 per hour. It varies because the clients assign their rate to the jobs they post.
The other way you get to earn is when your work is graded. Whenever you finish a task, CastingWords will grade it and the grade will affect how much you earn for that job. For every high grade, you can get x times of our base pay amount.
For example, if your work is graded 5, you just get the base pay amount given. However, if they grade your work as a 9, then you get a total of 3.0 times of your base pay amount. This means the company is really strict with their promise of quality transcription.
The highest grade that your work can get is 9. But you also have to careful not to be graded between 0-4 otherwise you will not get paid.
So it's important you really take your time in every job. If possible I recommend investing in a  good pair of headphones because you have to listen carefully to the audio you will be transcribing.
But if you are thorough and get good grades, it can definitely give a decent income.
Is it worth your time?
For every online job, you will naturally need to ask if it's worth to invest your time in or not. Since we all have 24 hours only per day, you want to be paid fairly for the hours you put in.
There have been some complaints on glassdoor.com that the rate can be quite low on CastingWords.
This can definitely be true – especially if you don't get a high grade for your work. In some cases, this can even mean you will not get paid at all.
However, the company is quite transparent about the grading system and they even list the issues that may bring down your grade.
Now, I feel the negative reviews on the grading is not entirely on the company but on the person who graded the transcript. CastingWords is clear on their grading criteria but it will, of course, still be differnt from person to person how they grade. If you feel you have been graded unfairly, I would suggest you contact their customer support and explain your point fo view.
Ovearll, if you feel you can really produce quality work then it can be worth applying as a way to earn extra for your cashflow.
Personally, I do, however, not recommend transcription jobs as your full-time online work.
It can really take up your time – especially if you transcribe difficult audios. And it will be difficult to build it up to a really good income.
But it all depends on your preferences and goals. If you are fast at transcribing and good at it, it can be a way to make a living in some countries.
Final Verdict
There are quite a few good reasons why CastingWords can be a good platform for you if you want to become a transcriptionist. This is compared to the different transcription sites I've also previously reviewed.
However, it is not necessarily a good option for everyone.
I have, therefore, summarized the pros and cons below so you can get a better overview before deciding if you want to earn through CastingWords or not.
Pros:
Available for anyone worldwide
Accepts both beginners and experienced transcriptionists
Good bonus rate for quality work
$1 minimum payout to Paypal
Payment every Friday
Simple interface

Cons:
Pay is based on assignment length
You don't get paid if you score low in quality check
Overall, CastingWords can be a legit and good company if you want to get some extra dollars.
However, you need to do it with the right expectations. If you are a fast and accurate transcriber it can definitely make you a nice income. But it will still be quite hard work.
If you do not have much experience, you need to work even harder to get your grades up – if not, you risk not getting paid for the time you put in.
But if you are confident about your skills and love typing and do it with the right expectations, then why not give it a go.
How I make a living online
I also wanted to make an income online so I did my research and checked out and tested many options.
Now, I have been able to create a full-time online income that allows me to work completely on my own terms.
It takes some effort but it is totally worth it.
If you want to follow my footsteps and create your own online income, then check out my FREE guide where I explain how this is possible step-by-step. Don't worry, you can start as a complete beginner!
If you have any comments, questions, or have any experiences with CastingWords as a transcriptionist yourself, I would love to hear from you in a comment below.