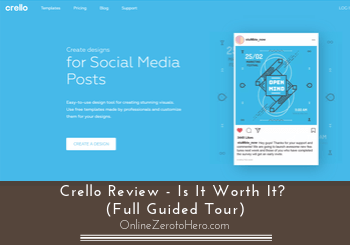 If you are looking for a way to create easy designs online, you have maybe heard about Crello.
It is an online tool that can supposedly help you create beautiful designs even if you do not have design skills.
But what can Crello actually do and is it worth it?
I decided to test it as I often need to create designs for my websites and I am always interested when I hear about a tool that can make this easy as I am not a great designer:-).
This Crello review will show you exactly what you can use this tool for and if it is any good or not so you can easily find out if it is the right option for you or not.
Disclosure: Some articles on this website contain affiliate links. This means at no cost to you, I may receive an affiliate commission if you purchase something through one of these links.
Crello in a Glimpse
Tools

Usability

Value for money
Summary
Crello is in many ways a great design maker – especially if you want to be able to create professional-looking designs and do not have design skills or the budget to hire a designer.
It is easy to use and has many great templates. Compared to similar tools, it is especially interesting if you also want video post designs for your online media as it offers this.
It is owned by Depositphotos which gives access to a lot of high-quality images and videos. And what I really like is that it has a free version where you can do a lot so you can really get to test it before deciding to upgrade or not or just stay with the free membership as it is also very useful.
What is Crello and what does it offer?
Crello is an online tool that can help you create designs for all kinds of purposes easily. It was launched by Depositphotos, so there is a legit and reputable company behind it which is always a good sign.
I am usually a big fan of tools like this as they can be a real time saver. And they also make it possible to create good-looking designs even if you do not have great design skills and that is something I really appreciate:-)
So if you do not have the funds to hire a designer but still need to create designs, a tool like this can be very useful.
There are quite a few tools like this available. Another popular option is Fotor. Many of these tools can seem like they are offering the same but there are some differences.
So which option is best for you depends on your needs and preferences.
So let's go over the main features and options of Crello so you can see if it has what you are looking for.
Option 1 – Design templates
One of the really great benefits of Crello, in my opinion, is its many design templates as these make it very easy to get started.
You can find templates in many different categories.
There is also a search bar so you can search if there is anything particular you are looking for.
Each of the design formats then has several different templates. So once you choose a format, a new screen will open and show different suggestions for designs.
Let's say you want to create a new Facebook cover image. You then choose that format and then get several suggestions for designs.
The image above just shows a few examples of designs. For most formats, there are MANY templates – in some cases even hundreds.
So no matter what business you are in, there is a good chance you can find a template that can inspire you.
After having chosen the template, you can edit it and make it fit your purpose using different design tools (more about these later).
You can also choose to start a design from scratch and just use the templates as inspiration or start with a blank canvas and use the design tools to create your own.
One thing Crello has that many similar tools do not have is that they do not only offer image templates. You can also find video templates for, for example, Facebook video covers, Instagram video stories, and more.
How many design templates you get access to depends on your membership, which we will get to a bit later in this review.
But overall, the design templates on Crello is one of the biggest reasons to use this tool, in my opinion, as it can be a real time saver.
Especially if you do not want to spend money on hiring a designer. And even if you are a designer, it can be a time-saver to get inspiration from all the pre-made designs.
Option 2 – Design tools
As mentioned above, you can use different design tools to edit the pre-made designs or to create your own designs from scratch.
There are quite a lot of options here.
You can add text boxes and it is possible to choose between many different fonts, styles, colors, etc., when doing this. You can also add premade text badges.
The badges can be edited so you can change the text, color, size, etc. so it fits your needs. These badges can be a great way to add something extra for your designs, in my opinion. And there are a lot of them to choose from.
You can also add objects like frames, icons, lines, borders, illustrations, and stickers to your designs. All of these can be adjusted after you insert them.
There is also a photo library where you can get photos and backgrounds. As mentioned earlier, Crello is owned by Depositphotos so this means you can find some really high-quality photos and use them directly in your Crello designs.
However, most of the stock photos will not be included in the free membership but I will go more into the pricing options later.
A final design tool I just want to highlight is the resize option. This can be a real time saver and is a really great option to be aware of, in my opinion.
When you have created a design, it is likely it would be useful to use it in other formats.
If you, for example, want to have a Facebook post, Instagram post, and a Pinterest image with more or less the same design. Or maybe even also flyers with the same design.
The resize tool makes this very easy without having to create a separate design for each format.
You just simply choose the formats you want and you can choose as many different as you want. Then it just takes a few seconds and your design will have been created in those formats.
Sometimes you might have to adjust a bit according to the format but in many cases, it looks very good. So this is a really great tool.
So if you decide to join Crello, you should definitely remember this option.
Option 3 – Photo editor
Crello also has an in-built photo editor.
It is obviously not a professional photo editor like Photoshop but just a basic one. But it can be very useful for some quick edits and will be enough for many needs.
Once you insert an image in your design, you just simply click the image itself to see the editing options.
You can then choose to add effects, adjust brightness, colors, and more. You can also crop the image, blur it, layer it, flip it, or make it transparent.
All the features are very easy to use so you do not need any special editing skills to be able to adjust your images.
==>Click to Check Out Crello for Yourself<==
Who can use Crello?
Crello is a web-based tool so there are no specific requirements for your computer to be able to use it. You can just go to the website and create an account to get started.
However, if you want to use Crello on mobile, you can also download the Crello app.
This makes it possible to create designs on the go. It does not have quite as many features as the web version but it can be a nice way to create a fast design on the go.
You can download it in the App Store. At the moment of wiring this review, it is not yet available in Google Play. But it is being developed for that so by the time you read this, it might be ready for Android devices as well.
How to use Crello?
If you just have a little experience with any type of design program, you will very quickly be able to find out how to use Crello just by using it.
If you are completely new, it is luckily also not difficult to get started because of all the templates and the tools are in general user-friendly.
However, if you are brand new, it can be an advantage to check out the help section on Crello's website where there are a few tutorials about how to get started.
You can see an example below about how to create your first design to get an idea about how it works:

Crello pricing
An important aspect is, of course, also the pricing of Crello to find out if it is the right option for you or not.
It has several options here.
You can join completely for free and also keep using the free option as long as you like. Or you can choose between different paid options depending on your needs.
Obviously, the more you pay, the more you get access to.
You do get access to quite a lot just with the free membership. The free membership is a great way to start and see if you even like using Crello. And you can create a lot with it.
But if you would like access to especially more photos, it can be worth upgrading to the Advanced membership.
If you would also like access to video options, then the pro membership is for you. Crello also has a membership plan for teams if you need to give access to team members as well.
Overall, the free version is great, in my experience. But it does, of course, have some limitations. But the paid options are very reasonably priced when you think about the images and potentially videos you get access to from Depositphotos.
Which version is best for you depends on your needs but no matter what, it is, in my opinion, great to start with the free version if you have not used Crello before and then test it to see how you like it before investing.
Final verdict
Crello is an online design maker that will make it easy for you to create professional-looking designs even if you do not have design skills.
Depending on your needs it can definitely be a time-saver. But let's finish this review by summing up the pros and cons so you can get a better overview before deciding if it is for you or nor.

Pros:
Has a free option
Many great templates
Includes video templates
Easy to use

Cons:
Can be a bit confusing to get an overview of the different membership options
If you have more advanced design needs, it is not for you
Overall, I think Crello is a great tool to create designs – especially if you do not have the budget to hire a designer and regularly need designs.
The templates make it easy to create some great-looking designs even if you do not have any design skills. Also, I like you can get a free membership so you can really see if it is for you before deciding if you want to upgrade.
A tool like this is, however, not necessarily for you if you have a lot of designing experience and more advanced photo editing needs.
This is not really a con as it is not meant to be for those needs – it is just simply something you need to be aware to find out if it is for you or not.
But Crello is definitely a tool worth checking out if you are looking for an easy way to create designs for yourself no matter what type of designs you need.
I hope this review has helped you get a good overview of what Crello offers and if it is the right option for you or not.
If you have any comments, questions, or have any experiences with Crello yourself, I would love to hear from you in a comment below.