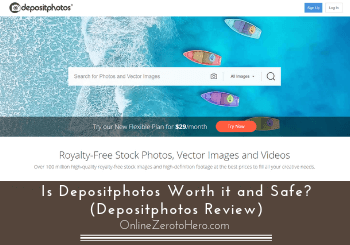 Getting good images and videos for marketing purposes is important for any business or website owner – but it can be difficult to find.
That is why stock content platforms can be a great solution. One of the well-known platforms is Depositphotos.
But is Depositphotos worth it and what exactly does it offer?
This Depositphotos review will go into all the details about this, the pricing options, and more so you know exactly what to expect before deciding to use this platform or not.
Disclosure: Some of the links on this website are affiliate links. This means at no cost to you, I may receive an affiliate commission if you purchase something through one of these links.

Depositphotos at a Glance
Selection

Usability

Value for money
Summary
Depositphotos is a legit stock content platform that gives you access to millions of images, vectors, and video clips.
It is quite easy to use and you can find content about almost any topic. But if it will be the best option for you, depends on your exact needs and your budget.
But the great thing is that you can browse through the whole selection to see what it really offers before you decide if you want to pay for a license, use some of the free images, or use a different platform.
What is Depositphotos and what does it offer?
Depositphotos is a stock content platform that was launched in 2009 so it has been around for a while. Since then, it has grown significantly.
Today it has clients in around 192 countries and offers support in 22 languages. So it truly is a global stock content option.
But that does not mean it will necessarily be the right option for you as that depends on your exact needs, budget, and more.
So let's start by going over what you will get access to if you join Depositphotos so you can see if it offers what you are looking for.
Feature 1 – Images and vectors
One of the main features and offers of Depositphotos.com is the collection of stock photos and vector graphics.
They have more than 100 million stock images so there is a lot to choose from.
It is quite easy to find the types of images you need. You can just use the search function on Depositphotos and search for any topic. You can also choose whether you just want photos, just vectors, or all images.
The images are in general high quality and because of the huge number available, it is possible to find good images almost no matter what kind of images you are looking for.
I must say that, in my opinion, the selection is not quite as good as on Shutterstock but that is a matter of personal preferences and Depositphotos will definitely make sure you never run out of quality images for your website and other types of projects you need visuals for.
And I have used Depositphotos to get images for several websites myself.
In addition to the search function, you can also choose to browse through the different categories on Depositphotos.
In my experience, this can be a great way to get ideas and inspiration that you maybe did not think of before. So it is great to have this option as well.
With that many photos, the challenge is then just not to spend all day browsing to find the perfect image:-)
Feature 2 – Stock video clips
In addition to the stock images, you can also find royalty-free stock videos on Depositphotos.
You cannot find quite as many video files as you can find stock images but you can find more than 5 million video files so it is still a very big number.
And new files are added continuously.
These stock videos are up to 60 seconds long and are clips that can be used for TV, online advertising, interface design, and many other projects and purposes.
You can use the search function or you can browse through the many different categories. You can also choose to browse the most popular stock video categories.
Overall, the videos are really high quality and can be a great and easy way to get access to video clips for your projects.
Feature 3 – Editorial images
You can also find editorial images on Depositphotos. These are a bit different than the regular photos.
The photos marked as editorial images have a limited license and cannot be used for commercial purposes and advertising.
They may contain images of people without model releases, private property, famous trademarks, or other protected elements for which special permissions may be required for commercial use or advertising.
They can instead be used as a descriptive visual reference in articles, blogs, non-fiction books, reference books, documentaries, etc.
So just be aware of this. But if you need images for editorial purposes, you can find a good selection of more than 9 million photos.
Just be aware of the license difference between the editorial images and regular photos which you can read even more about in detail on Depositphotos if you need these types of images.
Feature 4 – Become a Depositphotos contributor
If you like taking photos or shooting videos yourself, you can also join Depositphotos as a contributor and get paid for selling your photos and videos through the platform.
If you are interested in this, you need to apply on the website.
You have to upload 5 of your best files for evaluation. If you pass the evaluation, you will be able to start uploading and will get paid when people download any of your files.
It usually takes 7-10 business days to get an answer for the evaluation.
Feature 5 – Access to files via app
If you want access to images and videos from anywhere, you can download the Depositphotos app.
It is available for download both in the App Store and in Google Play.
This will give you easy access to your files anytime, so if you need this, then it can be a good idea to get the app after joining Depositphotos.
==>Click to Check Out DepositPhotos for Yourself<==
Is Depositphotos safe and legit to use?
When using stock files, you, of course, need to make sure the platform you are using is safe and legit so you do not end up breaking any copyright laws.
Depositphotos has been around for many years and is a legit company. So if you follow the guidelines they give you and keep within the license you get from them, you should be fine.
I have used Depostihphotos regularly for quite a while and it definitely has some good options depending on your needs.
But make sure to just check the exact terms and license agreement on the site before using any files so you know exactly what they can be used for.
Is Depositphotos free?
One thing you might wonder is if Depositphotos is free or if it at least offers a free trial.
It is free to join Depositphotos and you can browse and see all the images and videos without paying. And there are also some free files available.
The majority are not free though. But if you want to see the free files, you can scroll to the footer bar and here there is a link called "free pictures".
Here you can see the current free files. You can find both some free photos, free vectors, free editorial content, and free video clips.
Just be aware that there is not a lot. So you have to be lucky if any of them fit your needs. But it is still nice that they do offer some free files.
And the free collection is updated every week. So you might find some useful options in this section but overall, if you want to regularly use Depositphotos and get access to the millions of files it has, you need to get a paid membership.
Depositphotos pricing and plans
So what does it then cost to get access to the paid files on Depositphotos and what kind of plans do they offer?
The price and plan options depend on whether you want access to photos or videos.
You have different options for the images depending on your needs. You can buy a subscription with a certain number of files per month, buy a flexible plan, or buy on demand.
If you decide to pay yearly instead of monthly, you will get a discount.
The video files can be bought in bulks and the more you get, the cheaper it gets per file.
The price depends on the quality of the video.
There is quite a big difference in the price depending on the quality so just make sure you get the right one for your project.
The prices above are for individuals at the time of writing this review and are subject to change.
If you want a license for businesses with more users, they will be a bit higher. You can check out these prices on the website.
Also, you can also contact Depositphotos for custom solutions if none of the standard plans fit your needs.
Also, Depositphotos regularly has sales where you can get especially the image credits for great discounts. So if you are lucky they have a discount at the moment, the value for money you get can be really good compared to many other sites.
Final verdict
Depositphotos is a big stock content platform and it is legit and safe to use.
This does, however, not mean it will necessarily meet your needs the best. So, to give you a better overview before deciding if it is for you or not, let's finish this review by summing up the pros and cons.

Pros:
Big selection of files
High-quality images and videos
Easy to use

Cons:
Not for people on a tight budget
Overall, I think Depositphotos is a great stock content platform. It does, however, in my experience not offer quite as many options as Shutterstock.
But which option is the best depends on your exact needs and budget. For easy access to high-quality images and videos, Depositphotos can definitely be a good option.
And the great thing is that you can get to browse through all the files and see what it really offers before you decide if you want to pay or not.
If you have any comments, questions, or have any experiences with Depositphotos yourself, I would love to hear from you in a comment below.