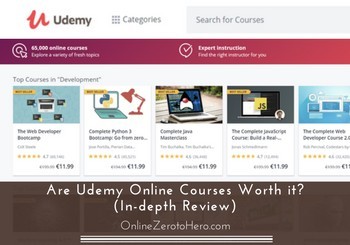 If you want to learn about internet marketing, there are many online courses you can choose from. You can easily end up wasting a lot of time and money if you do not choose the right course.
Personally, I have definitely wasted my share of time and money on online courses.
So are Udemy online courses worth it, or should you stay away from these?
I have taken several courses on this platform myself, and in this Udemy review, I will tell you all about what you can expect, what to be careful about, and how to choose the right courses for you if you decide this is the right option for you.
Disclosure: Some of the links on this page are affiliate links. This means at no cost to you, I may receive an affiliate commission if you purchase something through one of these links.
Training

Support

Up-to-date
Summary
Udemy is an online learning platform with thousands of courses within many topics.
It is definitely possible to find courses that are worth taking, and where you can learn a lot for a very reasonable price – you just need to make sure to to find the good courses and instructors.
Is Udemy legit and safe?
When you join any online learning platform, where you potentially have to give your credit card information to buy access, you, first of all, want to make sure it is a safe platform.
And you do not have to worry about that at Udemy. It is a legit platform and it is definitely safe to use. I have been using the platform for quite a while and have bought several courses there, and I have never had any problems. The payment and safety have always worked perfectly.
That does not mean you can not end up wasting time and money because there definitely are courses there that I would definitely not recommend. But if you know how to spot these, it can give great value for money (more about this later).
What is Udemy and what does it offer?
Now you know you do not have to worry about Udemy being a safe platform or not, so let's then look into what the platform is about, and what it has to offer.
Udemy was started in 2010 by Eren Bali, Oktay Caglar and Gagan Biyani. It is an online learning platform that now has thousands of instructors creating courses there, and it has millions of users.
So what can you learn there, and how does Udemy work?
How does Udemy work?:
Udemy is a platform where anyone can apply to become an instructor. The instructors are not as such hired by Udemy to make a course, but once they are approved, they have to create their own courses.
That gives a lot of creative courses with some great ideas, but of course not all courses are well-made (I will get to how you can find the good ones later).
As somebody wanting to learn, you first of all have to know what kind of courses you are looking for. Once you have found the topic, you want to learn more about, it is very simple to get started.
You just choose the course and go to checkout. If it is a paid course, you then have to pay, and if it is a free course, you just have to register.
The courses are video based, so most courses will have a lot of video parts divided into different topics, but there can also be reading material or assignments. Once you are registered and have bought a course, you just simply follow the instructions for that particular course step-by-step.
So it is very easy to get started, but before you get started, I would advise you to continue reading, as you need to know how to find the good courses. If not, you can end up wasting your time and money.
Courses offered:
Udemy offers thousands of courses and within many topics. So it can be a bit overwhelming to browse the opportunities there.
Luckily there is a search bar that makes it easy, if you want to find a course about a very specific topic.
Personally, I have used Udemy to find courses about very specific topics within online marketing, but it has courses within a wide range of other topics as well.
It, for example, has courses within IT, development, business, marketing, music, lifestyle, language, photography, and design.
Some courses are complete beginner courses and others are for more experienced. The length of the courses varies a lot depending on the topic and the instructor. I have seen courses that are only 30 minutes, but I have also seen courses that are more than 10 hours.
==>Click to see Udemy's course selection<==
Who is Udemy for?
Whether Udemy is for you or not depends a lot on your needs. As you can see, there are many topics, so there are good chances, you can find a course, no matter what you want to learn more about.
I have only used it for online marketing courses, and I can say that it has been very helpful in some ways. I have been able to get more specific knowledge about certain topics that I did not know very much about already.
When it comes to online marketing, I would however not necessarily recommend it, if you want to learn everything step-by-step. In that case, Wealthy Affiliate is my number one recommendation, as it gives a great overview and understanding step-by-step and has amazong support.
So I use Udemy when I know there is a specific topic, I want to learn more about. It might be different for different topics, but one thing that is in general important, before you decide to get a course through Udemy is to know how to choose the right courses.
How to find the right courses?
As you can see, Udemy has thousands of courses with a lot of different instructors. Sometimes there are even hundreds of courses within a specific topic. That can make it very challenging to find the course that is right for you.
To be sure you will not waste your time and money, I recommend spending some time finding the right course and not just go for the first one you see.
Below you can see a small video I made, where I show how I find the best courses. If you prefer reading, I have explained more below the video:

When selecting a course, I have found the following criteria to be very helpful.
Criteria 1 – Star ratings/reviews:
When you take a course at Udemy, you can give it a star rating and write a small review. Since Udemy is set up in a way that encourages people a lot to do this, many people do. This can be a great help when you need to find a course yourself.
The star ratings give an indication about how other people have found the course. But you should NOT just look at this alone.
Some people give high stars very easily, and others give low stars almost no matter what. And ratings like this can also be manipulated. That is why you should also take a bit of time to read the small reviews people write.
These small reviews tell a lot about why people have given the rating they have, and what they have gotten out of the course. Here it is also possible to spot if they reviews seems real or if there are false.
From these reviews, I have for example found out that a person gave a low rating because the course was lacking something that he/she could have figured out from the course description, but the person had not been bothered to read that before joining.
Then a low rating does not mean much to me. Other times I have seen the low rating was because of something that I definitely wanted to make sure was in the course, and I can now see it is not. Then the low rating will impact my decision.
So in general it is best to go for the courses that have a high average rating, but also make sure to look a little deeper. And do not only look at the courses with many participants.
Sometimes new instructors come and have great courses, but as they are new, there will not yet be many who have taken their course. So take a look at their courses as well and look at the reviews that are there, even though there might only be 10.
Criteria 2 – Course description:
Every course on Udemy has a course description. Make sure to read this before joining a course.
It is a detailed description of the course content. Sometimes there are even small video previews that will give you a better idea about the content of the course, and who the instructor is.
From the description you can of course only see the outline of the course, and you cannot know for sure how deep the instructor will go into each topic. But looking at the description in addition to the other criteria, will give you a good idea, whether it is a course that could be interesting for you.
Also, if the course has video previews, you can quickly see if you like the style of the instructor which is also very important. If you get annoyed just by seeing a preview, you should probably look for a course with a different instructor instead:-)
Criteria 3 – Responsiveness of instructor:
Depending on the topic of your course, it can be very important that it is a fully updated course. Some instructors continuously update the courses, while others do not.
At the top of each course description, you can see when the course was last updated. Definitely make sure to check this out. But it is also important that you know the instructor will answer potential questions.
All courses have the option to ask questions to the instructor. I have taken courses where the instructor answered very quickly, but I have also taken courses where it took way too long.
You cannot know this for sure, but you can get an indication. Under the reviews, the instructor has the possibility to reply. If the instructor often replies here, it is a good indication that it is a responsive instructor and that he/she will also be available to answer questions during the course.
Again, you should not only make a decision based on this, but when you put all these aspects together, you will be able to find the good courses. And then you of course need to find a course that has the right price for you.
How much does it cost to study at Udemy?
The prices for courses at Udemy varies a lot. There are some free courses you can take. These are usually a bit shorter, but can still be worth checking out. Personally, I do however prefer the courses that are more thorough and that then cost a bit.
Prices varies from $20 – $200. Most regular course has a normal price of around $200, BUT do not be scared by that. Udemy often have discounts, so you can most of the time find the courses a lot cheaper. Often there is also a starting promo, where you can get a very good discount, the first time you buy a course.
In general, Udemy runs promos throughout the year, and I have often found courses for only around $10-$15. If you find a decent course, that is not a lot to pay for 3-10 hours of learning. So my recommendation is to keep an eye out for the promotions, and then you can make a great deal that will definitely be worth it.
An extra thing is also that many instructors will give you Udemy coupon codes, once you have taken a course with them. So that means that in many cases, once you have completed a course with a certain instructor, that instructor will often give you a coupon code for a good discount for his/her other courses. So that can also be a way to save.
An important thing to know is that once you have bought a course, you will have lifetime access to it,so you do not have to worry about having to hurry to go through a course or not having access to it in the future.
Can you take a course on your mobile?
If you like having access to your courses on your mobile, this is possible through the Udemy app.
It is a very user-friendly app that makes it possible to take your courses with you wherever you go. You can also search for new courses in the app or download the courses, so you will have access to them offline as well.
So the Udemy app can be a great way to make it convenient for you to learn when it fits into your schedule. It is available for iOS and Android.
Final verdict – worth it or not?
Udemy is a legit learning platform – but whether it is right for you or not depends on your needs.
So before getting to the final conclusion of Udemy, let's finish this review by summing up the pros and cons so you can get a better overview.

Pros:
Many courses within many topics
Easy access to learning
Good prices (when you use the discounts)
Lifetime access to the courses

Cons:
Can be overwhelming to select a course
Not all courses/instructors are great
Overall, I will say that Udemy has some great online courses that can definitely be worth it. I have myself enjoyed and learned a lot from the courses, I have taken there.
Just make sure to take a little time to read about the courses and find a course that offers what you are looking for.
If you do that, it can definitely be worth it, and it can be a cheap and easy way to learn some basic new skills.
If you have any questions, or if you have any experiences with Udemy yourself, you would like to share, feel free to leave a comment below. I will be more than happy to answer your questions or hear about you experiences.