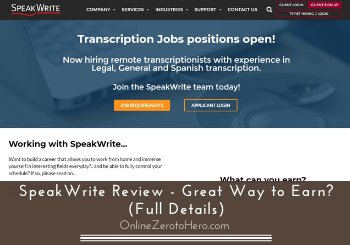 Transcription jobs are all over the internet and it's a home-based opportunity that attracts many people as you can potentially work on your own terms.
You can apply at different platforms for a transcription job so it's important to know which one is worth your time and effort.
SpeakWrite is one of those transcription companies that provide jobs.
But is SpeakWrite a scam or a legitimate company where you can earn good money on your own terms?
Let me just reveal right away that it is legit as you can earn there, BUT this does not mean it is necessarily the best option and worth your time.
This SpeakWrite review will give you all the details so you know exactly what to expect and can easily see if it is the right option for you or not.
Tools

Usability

Income potential
Summary
SpeakWrite is a legit platform where you can earn as a transcriptionist.
But whether SpeakWrite is the right option for you or not, first of all, comes down to your expectations and skills.
They do have very high expectations so if you do not have a lot of experience transcribing, it will be very difficult to earn a decent salary or even get approved.
But if you are very skilled, fast, and can agree to the salary because you know your skills will be able to make it possible to earn a decent pay per hour, then it can be a platform worth considering.
What is SpeakWrite and what does it offer?
SpeakWrite was founded back in 1997 making it a transcription company that has existed for more than 20 years! That is quite impressive and shows it is legit.
Its office is located in Austin, Texas. But since you can work from home this does not mean you have to show up at their office but more about who can join later.
Based on their website, their clients range from law firms, insurance companies, policy agencies, courthouses, private investigators, and attorneys. There are also general transcription jobs included in their roster.
They consider themselves as an "industry leader" in transcription and dictation services given the years they have been in service.
It offers two things – you can either use the platform if you need to hire someone to do transcriptions for you, or you can join to get access to transcription jobs.
This review will focus on how good SpeakWrite is as a way to earn as a transcriptionist and what you need to know to find out if it is the right way for you to make money from home or not.
How do you apply for SpeakWrite jobs?
The first thing you need to know is what you need to do to apply to get SpeakWrite jobs if you decide to join after reading this review.
The application to become a SpeakWrite transcriptionist is more thorough than other general transcription jobs.
There are several steps you have to go through to get started.
The first step is to apply on their website. Once you have been approved, you have several tests and training you need to go through to get your final approval.
After you have had your initial application approved, you will have 30 days to go through the rest of the process in your own time.
According to SpeakWrite's website, the whole process can be completed within a few days if you work actively.
Just be aware that you will not get paid for this test process.
Personally, I think it is a lot to ask to do tests and training that can take several days without getting paid and without any guarantee you will then be approved and get access to actual paid jobs.
But it is, of course, a way for them to make sure they only get qualified applicants. So make sure you really know what you are doing before applying (more about the exact requirements later).
Recommended: Best Way to Learn to Become a Top Transcriptionist
Who can join?
There are quite strict requirements to join SpeakWrite compared to many similar platforms.
First, you have to be either a US or Canadian citizen to apply. Second, you have to have a typing speed of 60 wpm with 90% accuracy.
There are two types of transcriptionist jobs SpeakWrite offers.
If you want to become a general transcriber, you need at least 12 months of transcription and word processing experience. You would also need a year of experience working in an office environment.
For their legal transcribers, the requirement is more specific.
You need at least 2 years of transcription and word processing experience within a law firm plus detailed knowledge of legal proceedings, agreements, depositions, interrogatories, formal correspondence, police reports, etc. This also includes familiarity with the proper format of legal citations.
Why such strict requirements?
It's because legal transcription is a very technical type of transcription. There are terms and processes that you must know in order to understand the dictations on-hand.
Both types of transcriptionists also need strong English grammar, spelling and punctuation skills. They also accept English-Spanish bilingual applicants.
Aside from the skills required, SpeakWrite also does background checks of their applicants.
Once you've passed, you also have to make sure you have the equipment required by the company including a decent internet connection.
One limitation of SpeakWrite is that their software is only available for Windows users (except Windows 10). This means if you're a MAC user, you cannot work unless you have your own personal computer (PC).
You also need a sound card and earphones to listen to the dictations to transcribe. It is also stated in their website that a printer and foot pedal are required if you end up getting a contract with them.
So there are quite a lot of requirements as you can see – but how much can you then make if you fulfill all these requirements?
How much can you make as a SpeakWrite transcriptionist?
Once you become a transcriptionist, you are hired on a contract basis.
This means you can have other jobs aside from being a SpeakWrite transcriptionist but you need to work at least 15 hours per month.
SpeakWrite pays you per word. The published rate is $.005 and $.006 per word so you can make around $5.00 to $6.00 for every 1000-word transcribed.
But take note that the pay is only for the final word count. You will not be paid for the whole transcription of the dictation.
Each task is graded by proofreaders. Your paid work will then be based on the final output after the proofreader has approved everything.
According to SpeakWrite itself, transcribers on their platform earn an average of $450 per month and top earners can earn up to $3,400 per month.
Just be aware that this is an average so there is no guarantee you will earn this much. And to become a top earner you have to have really great skills and work A LOT of hours.
You can choose your own shift with up to 12 hours per day and a minimum of 15 hours per month.
There is a schedule on where you can enter your preferred working hours for the following weeks. The payout is twice a month. You can either get paid through check by mail or direct deposit.
So overall, you can potentially end up making a full-time income on SpeakWrite if you are really skilled and fast and willing to put in a lot of hours.
And a really great thing is that it has a pool of clients it has accumulated over the past 20 years so there will be plenty of work.
SpeakWrite complaints
Let me just make it clear that SpeakWrite is legit and it has paid transcriptionists since 1997 so it's not a scam.
But as with most other platforms, there is some negative feedback found across the web.
This feedback might make you think twice before signing up as a transcriptionist, but it does not mean you will not get paid.
The negative reviews also do not mean that SpeakWrite can be considered as a scam. What these SpeakWrite reviews show is the expectations you should have when signing up.
So let's look at some of the most common complaints so you can take this into consideration and know what to expect.
One complaint I have seen a lot during my research is about the low pay.
The complaint you can see in the image above mentions that the extremely high requirements SpeakWrite has to its transcribers do not match the low pay.
Especially not considering the final pay you can sometimes end up getting after having the final word count approved. This particular person mentions that sometimes it can be as little as $5 for two hours of work.
This will, of course, depend a lot on the skills and the specific file transcribed. But there are plenty of reviews from long-term workers that highlights this same issue.
Another common complaint is that transcribers are often treated rudely by SpeakWrite staff.
I actually saw this mentioned quite a lot which surprises me a bit because it is not that difficult to treat your staff nicely and it is an important part of running a business.
This same person also mentions the low salary as an issue.
I, however, want to make clear that complaints rarely give the full picture, but they are relevant to look at to see if there are certain patterns so you know what to expect.
When it comes to SpeakWrite, there are many that highlight the treatment from the staff and the low pay as issues so this is definitely something to consider before deciding if it is for you or not.
However, there are also many positive reviews about SpeakWrite and not just complaints.
Most of the positive reviews highlight the flexibility of the work and the many available jobs as positives.
So there are both positive and not so positive sides about the platform and both are important to consider before making your final decision.
Final verdict
If you want to make money from home as a transcriptionist, SpeakWrite is a legit option.
But it is not for all. So let's finish by summing up the pros and cons so you can get a better overview before deciding to join or not.

Pros:
Thorough hiring process
Flexible work schedule
An established company that has existed for more than 20 years
A lot of available work

Cons:
Outdated software (for Windows users only)
Low pay
Some complaints about rude treatment from SpeakWrite staff
The quality of the dictations are not always good
Long hiring process you do not get paid for
Overall, whether SpeakWrite is the right option for you or not, first of all, comes down to your expectations and skills.
They do have very high expectations so if you are new to transcribing, it is better to first learn transcriptionist skills, as you will otherwise not be approved.
But if you are very skilled, fast, and can agree to the salary because you know your skills will be able to make it possible to earn a decent pay per hour, then it can be a platform worth considering.
I hope this review gave you a better perspective on SpeakWrite to help you decide whether it is for you or not.
If you have any comments, questions, or have any experiences with SpeakWrite as a transcriptionist yourself, I would love to hear from you in a comment below.