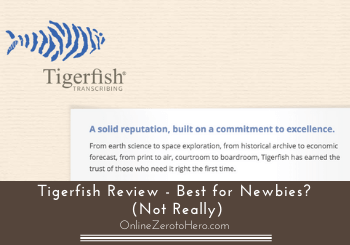 If you search for transcription jobs on the internet, you will see a lot of websites offering both transcription services and transcription jobs.
If you're looking to work as a transcriptionist, it's easy to get overwhelmed with all the companies where you can apply. You have to remember that not all transcription companies are the same.
Tigerfish Transcription is one of the old players in the industry. It has been in service for more than 30 years! That's a lot of years transcribing.
So, for a company that long, can you really make money there now?
Let me tell you right now that Tigerfish is a legit company since it has been employing transcriptionists for decades.
But this Tigerfish review will give you the information to help you decide if you should become a Tigerfish transcriptionist or if there are better options.
Tools

Usability

Income Potential
Summary
Tigerfish has been in the transcription industry for more than 30 years. It has served a lot of clients including top companies from marketing, legal, technology, finance, and manufacturing.
While the application for transcriptionists appears easy and beginner-friendly, the problem comes when you have to wait for weeks for a reply on your application. Also, once hired, you have to buy software in order to start transcribing for them.
There is little to no information found on their website regarding their rate. So if you're looking for a good and transparent transcription company, you might want to skip Tigerfish and check out others.
What Is Tigerfish Transcribing?
Tigerfish Transcribing started with its founder, Adam Goldberg, transcribing cassette tapes.
It claims to be "the most trusted name in transcription services" since they have been transcribing for clients since 1989.
This is a bold claim with so many platforms out there and there definitely are some other big trusted players like, for example, TranscribeMe and GoTranscript to just mention a few.
So even though Tigerfish has existed that long, it is probably, a bit of a stretch to call it the most trusted service. But that is how marketing is, right?
Anyway, to see if it will be worth joining Tigerfish as a transcriber, we need to dig deeper.
Now, Tigerfish caters to a wide variety of clients including companies from technology, finance, manufacturing, natural science, and even arts & humanities.
Some of the clients posted on their website include Google, The New York Times, GAP, Nasa, AT&T, Samsung, Wells Fargo, and Intel.
You know Tigerfish is an established company since they cater to a lot of big companies.
They also promise their clients a fully edited transcript in less than two hours given their pool of professional transcriptionists. This is where you can come in.
Tigerfish is constantly looking for transcriptionists to cater to their pool of clients.
Recommended: How to become a transcriptionist
How do you apply?
First of all, to become a Tigerfish transcriptionist, you have to be a U.S. citizen or legal resident and above 18 years old.
They have offices in New York and San Francisco but you will be working at the comfort of your home so you can live anywhere in the US.
You also need high-speed internet, a phone number where you can be reached, and a Windows-based computer. Their video timecoding software is not compatible with Mac.
You can apply directly through their website. You are required to download Express Scribe transcription software to use for their test and evaluation period.
Once you've downloaded the program, you will be transcribing 3 audio files from the website as part of your application.
Each file is around 5 minutes long so they'll get a good idea on your transcription skills. You also need to keep track on how long it takes you to transcribe each file.
You will be transcribing a focus group, an interview, and a presentation. These are commonly the types of audios you will encounter as a transcriptionist.
This kind of application is perfect if you're just starting out as a transcriptionist. Don't worry if you have little or no experience since it's more important that you pass the test.
However, if you have no experience at all, it is a good idea to first read their style guide you can find on the website.
Transcribing is a skill and it takes a bit more than just being good at typing so make sure to familiarize yourself with what it requires not to waste your time.
They also request a brief description of yourself as a writer, what you like to read, educational background, and any relevant experience.
If you pass the transcription test, which I think is fairly easy even for beginners, then you can get hired and start transcribing.
I read that the hiring process will take weeks or months and they only contact successful applicants and the also mention this on their website.
In my opinion, this is a bit unsatisfactory. You invest time into making a test but you have no idea when you will get an answer.
Most other transcribing platforms are very clear about exactly how long it will take for you to get an answer and you will get an answer no matter what.
Tigerfish could definitely improve in this area, in my opinion.
So make sure you're not looking for an immediate full-time transcription job when applying. It will take patience to get an answer.
And even though they have a phone number on the website, they make it clear that they do NOT answer calls about your application.
So all you can do after applying is just to wait.
How much can you earn on Tigerfish?
You won't find any published rates when going through the company's website – this is a general issue with Tigerfish's website, in my opinion. They do not give a lot of information.
So I had to do a bit of research and saw that the rate now is $0.005 per word transcribed.
On average, you can possibly earn around $5 to $10 an hour.
Now that's not much and not the typical rate you can earn as a transcriptionist online. But if you are just starting out or looking for a side job, then that would be okay and can be a way to get experience before applying for higher-paying jobs.
Tigerfish also provides a transcription guide which I find useful even for other transcription jobs you might have in the future.
Is Tigerfish worth your time?
At first, Tigerfish might sound perfect for you if you are an entry-level transcriptionist.
However, one hindrance that would make you think twice before applying is the requirement to purchase a copy of Start Stop's Power Play for Windows Media worth $200.
You can purchase this from Tigerfish. They let you download Express Scribe for free which is only good for the transcription test. Once you are hired, you need the equipment to start working.
I think $200 is a hefty price to pay if your goal is to start making money online.
Also, since they're not really transparent on how much you will earn once you start working then you really don't have a clear idea when you will get your investment back.
If we base it on some forums that you can earn around $5-$10 per hour then it will take you around two to three days to earn the money you spent on the equipment if you work hard.
It's like an unpaid training. You would also expect that your time will vary based on the audio file's quality or the different accents or terminologies.
I know there are other transcription jobs where you don't have to purchase the program to start working. You can also just use that money to take transcription courses instead of purchasing the software.
I would personally recommend Transcribe Anywhere's course if you want to build your transcription skills quickly and professionally.
The advantage of this approach is that you will learn the proper skills to get higher-paying jobs and with the right skills, it is possible to earn up to $25 per hour as a transcriptionist.
So no matter what, Tigerfish should probably not be your only bet if you are planning to make a full-time income the most effective way.
Final Verdict
Tigerfish is a company that has established its name in the industry but provides little information for aspiring transcriptionists.
You wouldn't find their pay rate or job listings anywhere on their website which is not very user-friendly.
It's, however, easy to apply as long as you pass their transcription tests which appeal to beginners looking to work in the transcription industry.
Just don't expect a good income from all the transcribing you will be doing.
I have listed below both the pros and cons I have discussed in this review to help you get a full overview before deciding if it is for you or not.
Pros:
No prior experience needed to apply
Transcription guide is available for download
Had been in the industry for more than 30 years
Cons:
Lack of information on website
Low pay per word
Requires payment for program once hired
Hiring time takes long
Given all of these, I wouldn't recommend Tigerfish if you already have experience in transcribing or if you want to make a good income as a transcriptionist.
It could be perfect for beginners if you have the money for their software requirements and want some experience to get started in the industry.
Otherwise, go and explore for other legit transcription services company where you can apply and start earning.
And if you decide to apply for Tigerfish, be prepared to be patient as it might take a long time before you will hear back from them – and you might never hear back from them.
So do not apply if you are looking to start work immediately.
How I make a living online
If you really want to make an income online even as a beginner, then luckily you have many options today.
Personally, I have been able to create a full-time online income that now allows me to work completely on my own terms.
It takes some effort but it is totally worth it.
If you want to follow my footsteps and create your own online income, then check out my FREE guide where I explain how this is possible step-by-step. Don't worry, you can start as a complete beginner!
If you have any comments, questions, or have any experiences with Tigerfish as a transcriptionist yourself, I would love to hear from you in a comment below.