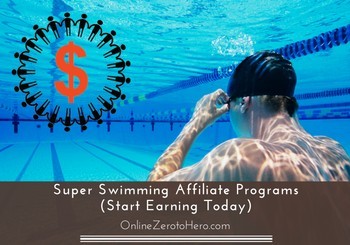 Do you have a website or blog about swimming and want to monetize it?
As you probably already know, a great way to do this is through affiliate marketing. But to get the most of it, you need to find the right affiliate programs to join for your niche.
In this article, I will show you 10 super swimming affiliate programs that will give you access to earning commissions within many aspects of swimming – whether you are looking for affiliate programs for professional swimming gear, for beachwear, for lifeguards, for swimming pools, and more.
All the programs are of course free to join and easy to sign up for, so you can easily get started earning commissions.
Is Swimming a good affiliate niche?
Before getting to the list of the best affiliate programs for swimming related niches, let us first look at the potential for swimming as a niche, as this can give some idea of the earning potential.
An easy way to get a quick idea is to use Google trends, which show the interest on Google for specific search terms over the past year.
Here is a screenshot of how the trends look for the search term swimming in the US.
In the US it is clear to see that swimming is more popular at certain times of the year. Seasonal niche can still have a lot of potential. Especially if you also remember that seasons are different in different countries, and your website can get visitors from all over the world.
So I did a search for swimming on Google trends again, but this time for Australia.
As you can see, it looks very different. It actually has the most interest at the times when it has the least interest in the US.
So from this, we can learn that there is, in general, a big interest in swimming on Google, and people are searching for it a lot, and if you do not only target one country, you can avoid seasonal fluctuations.
Also, this is just the trend for the term "swimming" itself. There are many sub terms that you can also look into. But the niche as such definitely has potential.
How is the competition in the swimming niche?
So it is now clear that swimming has potential as an affiliate niche. But the competition of course also plays a part for how easy or hard it will be to become successful in this niche.
So let us look a bit at the competition and examples of potential keywords to target to have the best chance.
To do this I have used my favorite keyword research tool Jaaxy. I first did a search for the general term "swimming gear"
Jaaxy now gives me data not just for that term but also a lot of other suggestions. What we now want to look at is the Avg, which is the average monthly searches for this term, and QSR which is the quoted search results (in other words the competition).
The monthly searches should preferably be at least close to 100 and the QSR preferably below 100 if it is a new website. If you have a website that has existed for longer, you can also go for more competitive words, as your website has more authority.
100 as monthly average searches might not sound like a lot, but you will not only rank for this specific term but potentially also hundreds of others if you write quality content. And a low competition keyword is easier to rank, but can potentially still bring in thousands of visits.
The image above already shows some great ideas and potential keywords. And if we look more into it, we can come up with hundreds of more potential keywords with a good amount of traffic and low competition.
Let me give you one more example.
Here I did a search for "affordable swimwear". Again a lot of great keyword ideas come up, and these are just examples. There are many more. Just use your imagination and a great keyword research tool.
Ideas for further keywords you can look into are professional swimwear, swimming gear for men/women/children/dogs, specific brands, cheap swimming gear, swimwear online, etc.
There are many angles for the swimming niche, so just be creative. As you can see, you should not be worried about it being too competitive a niche. There are plenty of low competition and great keywords you can find in this niche.
Recommended: Click to read about my top recommended platform for learning proper affiliate marketing
10 best swimming affiliate programs
Now that we have established that there are plenty of opportunities and potential in the swimming niche, let's now take a look at some of the best swimming affiliate programs you can join.
The list is not in a prioritized order, as it depends very much on your specific angle which programs are the best to join. But all of these programs will give you a chance to earn commissions by promoting great products through affiliate marketing.
Swim Outlet
Products:
Swim Outlet is a webshop that has a lot of different products. Almost no matter what you want to promote on your website that has to to do with swimming can be found here. It, for example, offers professional, fashion, and specialty swimwear for both men, women, and kids. It also has all kinds of swimming gear, lifeguard gear, electronic gear, and more.
Be aware that the webshop is aimed toward the US market, so if this is not your main market, you might have to find another program instead.
Commission:
8-10%
Where to join:
You sign up through Swim Outlet's website.
---
Swim West
Products:
Swim West is a platform that has online courses in swimming. Since it is online courses, you can promote them to any country. It has many kinds of courses like for example courses in breast stroke, butterfly, freestyle, and more. But it also has a lot of focus on courses that teach to heal injuries through swimming correctly.
The courses are sold through the online learning platform Udemy, but it is on the website itself people can read more about what it offers and the approach behind.
Commission:
50% + you will be able to give your visitors 10% discount
Where to join:
You join the program directly on Swim West's page for affiliates on their website.
---
ProSwimwear
Products:
ProSwimwear is a large European based webshop, but it welcomes affiliate from all over the world. It has a huge selection of professional swimwear and gear. You can find swimsuits, accessories, gear, wet suits, and much more.
The affiliate program is mostly aimed towards swimming clubs and teams as a way for them to earn, but if your website is relevant for them, it could be worth talking to them, as it would give you access to earning commissions on a lot of competitive swimming gear.
Commission:
5%
Where to join:
You join on ProSwimwear's affiliate page on their website.
---
Speedo
Products:
Speedo probably does not need much introduction. It is one of the most famous brands within swimming. So if you are in the swimming niche, it might be a very relevant affiliate program to join.
Be aware that the Speedo affiliate program is only for Speedo USA, so depending on your market, it might not be the right option, even though it is one of the most famous brands.
Commission:
7%
Where to join:
You can read more about the program on Speedo's affiliate website, but the program itself is managed through the affiliate network Pepperjam.
---
Bikini Luxe
Products:
Going into general swimwear and beachwear can also be an option if you are in the swimming niche. Bikini Luxe is a US-based webshop that offers a big selection in bikinis, men's swim trunks, accessories, and general beach clothing.
Commission:
10%
30 days cookie time
Where to join:
You join the affiliate program directly on Bikini Luxe's website.
---
Tempt Me Swimsuits
Products:
If your niche audience is women and it is relevant for you to promote swimsuits, then Tempt Me can be an option. It is an international online retailer so it is also relevant if you have an audience from many parts of the world.
It is specialized in swimsuits for women in different styles such as sexy bikini sets, conservative one piece, tankinis, 50s retro monokinis, bathing suits, and so more. They also offer swimsuits in plus sizes.
Commission:
15%
60 days cookie time
Where to join:
You can read more about the program on Tempt Me's affiliate website.
---
Swim Guide
Products:
Swim Guide is a different affiliate program from the rest on this list, as it is a not-for-profit organization. This also means you will not get a commission, but if you are interested in swimming, you might still want to promote this great cause.
It is a guide that makes people aware of the water quality, and as an affiliate you can help make people aware of the water quality for swimming, drinking, and fishing. It is in theory a worldwide organization, but is mostly used in the US, CA, AU, NZ.
Commission:
It is not-for-profit, but you get the chance to do something for a good cause.
Where to join:
You can check out Swim Guide's affiliate page for more info
---
Pool Supply World
Products:
Pool Supply World offers a lot of products for maintaining swimming pools and spas. It has more than 36,000 products on its site, so there is a lot to choose from and a lot of different audiences you can promote these products for. Examples of products it offers are lights, heaters, chemicals, parts, covers, cleaners, and a lot more.
Commission:
5%-9% – it starts at 5%, but with enough sales you can get a higher commission.
30 days cookie time.
Where to join:
You can read more on Pool Supply World's affiliate page, but you have to join the program itself through the affiliate networks CJ or Rakuten.
---
The Lifeguard Store
Products:
The Lifeguard Store (LGS) is a webshop that does not only offer lifeguard products even though the name might imply this. It does offer products and gear for lifeguards, but is also has swimwear, gear for water aerobics, locker room equipment, competition equipment, and more.
Commission:
The commission rate varies depending on the payout method you want
Where to join:
You can find more info on LGS' website, but you have to talk to their sales team to be able to join.
---
Beachbliss
Products:
Beachbliss is a webshop that offers a wide range of fashionable swimwear for women. Through the program you can earn commissions on their products within swimwear, apparel, and accessories.
It is a US-based webshop, so it is mostly relevant, if most of your visitors are coming from the US.
Commission:
They to do not give info about commissions, before you are approved as an affiliate.
Where to join:
You can join on Beachbliss affiliate page.
---
Final thoughts
As you can see, there are plenty of opportunities to earn commissions as an affiliate in the swimming niche.
It is a popular niche in the sense many people are looking for information about swimming online, and there are still many keywords you have good chances ranking for. Also, there are some great affiliate programs you can join and get commissions for more or less any product or service within this niche.
Which of the program sounds the most appealing to you? Feel free to let me know in a comment below, and also let me know, if you are aware of a program you think belongs on this list.
If you have any other comments or questions, also just leave a comment below, and I will get back to you asap.