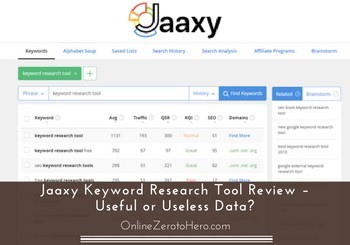 An important aspect of any online business working with organic traffic is to be able to find the right keywords to get traffic to your site.
It can be very helpful to have a tool that can help you find keywords, look at the competition, and be able to track your rankings to see how well you are doing.
There are many tools available for this, but not all of them are of high quality, and it is important you find a reliable tool. If not you can end up wasting your time and effort.
In this Jaaxy keyword research tool review, I will tell you all about this tool.
I have used it for a long time myself, and I will tell you all about what it can do and not do, what the potentials are when using it, and how you can try it for free to find out, if it is the right tool for you or not.

Disclosure: Some links on this website are affiliate links. This means at no cost to you, I may receive an affiliate commission if you purchase something through one of these links.
Jaaxy Keyword Tool at a Glance
User-friendliness

Reliability

Value for money
Summary
Jaaxy is a great keyword research tool. It gives a lot of good data you can use for ranking your website, and it has a lot of other tools included in the membership as well.
If you have very advanced needs, it might, however, not be enough.
But it does have a free trial, so you can test it for free and see if it is for you and, in general, it gives great value for money compared to similar tools.
What is Jaaxy keyword research tool?
As you can see from the name, Jaaxy is a keyword research tool, that can help you explore possible keywords to use on your website to get high rankings. But it also has many other functions.
Below, I will go over all the main functions Jaaxy has.
It is webbased so that means there is nothing to download – as long as you have access to the internet you can access it.
One of the great things about Jaaxy is that it is continuously updated and new functions are often implemented, so I will also keep updating this review as new options are introduced.
Feature 1 – Find keywords with Jaaxy
When you have a website and want to get traffic from the search engines (Google, Bing, Yahoo, etc.), you need to know which words and phrases people are searching for.
You also need to know how high the competition is for these keywords. When you know this, you have a much higher chance of choosing the right words and rank for them and thereby get traffic and earn money.
Jaaxy is an excellent tool for giving you this information, and I use it all the time myself to decide which keywords I should use in articles on my websites.
Below you can see an image of how it looks like when you test a certain keyword. In the example below, I wanted to test how likely it is to rank an article about "vegetarian recipes". Before looking at the image, you need to know what the different columns represent.
"Avg" is the average monthly searches for the keyword.
"Traffic" is the estimated traffic you will get, if you are on the first page with this keyword.
"QSR" is the quoted search results and shows you how many other articles that are currently trying to rank for the keyword.
"KQI" is the keyword quality index, which shows you the quality of the keyword (green mean good, yellow medium, and red means poor).
"SEO" is an indication of your overall chances of getting to the first page for the keyword (the closer to 100, the higher chances).
"Domains" shows which domains are available with the keyword.
As you can see, you get quite a lot of data.
In the example above, you can see that the phrase "vegetarian recipes" get more than 36,000 searches a month. However, it also shows that the overall chances of ranking is very low, as the competition is very high. In general, it is best to go for keywords with less than 100 QSR, if you have a brand new website.
What is great is however that you will at the same time get ideas for related words and phrases you could use instead.
In general, Jaaxy comes up with a lot of suggestions, and you can click each of these suggestions to explore them further. So even though my initial keyword might be too competitive, it is easy to get ideas for related keywords, I can use instead. On the list above, there are plenty of options with a QSR below 100 and still a pretty good monthly search volume.
Notice that on the right side of the image there is another column that shows even more related search terms. You can click each of them to get the data for them as well. So the keyword tool is not only a way to get data to find out which keywords you should try to rank for, but can also be used to get ideas for new content.
Also, it is good to know that you can save keywords you research to different lists. That way you can just browse around and get a lot of ideas and save them to a list and then later go back and sort them out. These lists make it very effective to use Jaaxy in my experience.
Overall, I kind the keyword tool in Jaaxy very good and easy to use. As with all other keyword tools, the data is great to look at but you also need to apply logic.
That means you should also make sure to look at the actual search results to look deeper into the competition before deciding to go for a keyword or not. But Jaaxy is a geat starting point and the data there has helped me a lot of the years.
Feature 2 – Tools for generating content ideas
The keyword tool itself can be a way to get new ideas for content as mentioned above. But Jaaxy also has a couple of tools that are specifically made to generate more ideas. It is the alphabet soup tool and the brainstorm tool.
The alphabet soup tool:
This tool is similar to using google's auto suggest, where you can start typing on Google and see what suggestions comes up and that way get ideas for new content. However, the tool here makes it more automatic and faster. If I for example want to get ideas for content about online marketing, I would write that into the tool as you can see below:
The image only shows some of the ideas that come up with online marketing + the letter "A", and there are many more.
You can then go through the whole alphabet and get a lot of different ideas. Exactly how many results you will get access to depends on the type of license/membership you have, but I will go more into the membership options later.
When you find a phrase you want to explore further, you just click the "search on this", and it will open in the keyword tool and give you data for that phrase.
Brainstorm tool:
The brainstorm tool is another way to get ideas for content. You can either write in your own brainstorm ideas, or as I have done below, you can get an overview of ideas from trending topics.
It shows you the trending topics according to different sources like Google Trends and Twitter.
It can be a great way to see what topics that are currently trending and use this to get content ideas. If there is a topic you want to explore further, you just click it, and it will open in the keyword research tool, so you can get data about the search volume and competition.
Feature 3 – Analyze your competitors
When trying to rank your website and articles in the search engines, it can be a great help to know a little about how the competition is.
That does not mean that you should stay away from entering into competitive fields, but it is good to know what you can expect, and how hard you have to work to have a chance to get traffic. If the competition is too high, it can be worth choosing a different strategy depending on your resources.
That is why it is good not only to look at the data, but also the current search results for the keywords your want to rank for as I already mentioned earlier. Jaaxy has a tool that can help you with this. In the example below, I wanted to know what the search result looks like for the phrase "keyword research tool".
You will the get 10 results, which is the number of results that are shown on page 1 of the search engines.
You can then choose to see more details about each result to get an idea about how much text is on the page, what is the meta description, how many backlinks are there to the website in total, and more. As you can see, you can choose to see the top 10 results for Google, Bing, or Yahoo.
It can be a great way to get a better idea about how the competition is for a certain keyword and then use this together with the data to decide whether you should go for it or not.
Feature 4 – Track your rankings
Once you have found your keywords and written your article, it is good to be able to track how your website is performing with that keyword.
Jaaxy has a section where you can track you rankings for specific keywords.
You just write the keyword and then in a few seconds, you will see what your current rankings are on Google, Yahoo, and Bing. Below, I have used this function for one of my other website to show you how it looks like:
The image shows that I am currently ranking number 1 on Google, 2 on Bing, and 1 on Yahoo for this particular keyword.
As you can see, you do not only get the current ranking. You also get to see what the search result page you are on looks like (the right column). You also have the option to automatically track this keyword to see how it develops over time. If you do this, you will get a small graph that shows how the result has changed over time, as you can see on the image above.
Being able to keep an eye on your rankings is necessary to see if what you are doing is working.
You should of course also use a website statistics tool for this, but Jaaxy's rank tracking gives you some extra and precise info that is very valuable.
A little advice is just to not become obsessed with it and check it every two hours to see, if anything has changed:-) It can be tempting, but it is not constructive, so better to just check it once in a while, to be able to use the data more effectively.
If you want to have a sneak peek inside Jaaxy, I have made a small video demo and review, you can check out:

Jaaxy pricing
Jaaxy has different membership options depending on your needs. What is great is that you can try it for free to find out how it works, before you decide whether you want to buy a membership or not.
The free option of course has some limitations, but it can be a great way to test Jaaxy out and see how you like it. Below you can see the membership options and pricing. Be aware that these are the normal pricing options – there are a way to get a good discount, which I will explain below the image.
If you know about other keyword research tools, you will know that the prices for Jaaxy are very reasonable.
Where many other tools have a limitation in the amount of keyword searches you can do, there is no limitation on Jaaxy (only on the free trial). There is however a way to get Jaaxy for free (not just a trial) or get a very good discount depending on the membership you want.
Jaaxy is owned by the same people that owns the online marketing platform Wealthy Affiliate. It is a great place to learn about making money online step-by-step, and if you are a member there, you get an extra good deal on Jaaxy.
For Wealthy Affiliate members there is an extra Jaaxy membership option that is completely free.
It will still give you unlimited searches and has great functions.
Personally, I have the pro version as I use it quite a lot, and it then saves me a lot of time. But the lite version will take you very far.
And if you are a power user, you also have the option to buy the enterprise version. As a Wealthy Affiliate member, you will get a very good discount for the pro and enterprise version, as it will be less than half price.
So there are a few different membership options and prices for Jaaxy depending on your needs. But also remember that you can test it for free, before making any final decision.
Jaaxy affiliate program
If you like Jaaxy, you also have the option to earn some extra money by telling other people about it, as Jaaxy has its own affiliate program.
It means that you can share a link on your website to Jaaxy, and if people like the tool and decide to join, you will get a commission.
The commission on Jaaxy is very generous, and you will get around 40%. So if you like the tool and want to tell other people about, why not also make some extra money at the same time by using the affiliate program.
As a subscriber of Jaaxy, you will automatically get access to this once you are inside the members area.
Is Jaaxy's data reliable?
So far you have seen that Jaaxy has a lot of different tools that can be very helpful. But when it comes to a keyword research tool, the most important thing is of course, if the data you get is reliable and useful.
I have used Jaaxy for quite a long time, and I must say that it has helped me a lot. It is very easy to use, and gives a lot of data and ideas.
I have used this data to build several websites, and I have achieved high rankings by following the data on Jaaxy. Furthermore, it has given me a lot of insights into how my sites are doing by using the tracking tool, and it helps me a lot to get ideas for new content.
So in my experience the data and tools on Jaaxy are definitely reliable and very useful.
But as all tools like this, you need to know that the data should be used as a guideline. Even the most expensive tools will never have the exact correct numbers for searches per month, for example.
However, it is important to look at data and use it as a part of the decision making process and for this, jaaxy can be very useful, in my opinion.
Final verdict
By now you have a good idea about what Jaaxy offers.
But let's finish this review by summing up the pros and cons to give you a better overview before deciding if it is for you or not.

Pros:
Very user-friendly
Great data that can help you rank
A lot of extra useful information about keywords
Makes it easy to find new ideas for content
Great tracking tool that makes it easy to see how your website performs
You can try it for free

Cons:
Only works in English
If you have more advanced needs there are some features you will not find here
In my experience, Jaaxy can definitely be a great keyword tool. But as with any tool, whether it is the right for you or not depends a lot on your needs.
One thing you have to be aware of is that it at the moment only works for research in English. But I have been told that this might change in the future. But if you have websites in English, it is a great tool to get data and ideas, and one that I have benefited a lot from using myself, and I therefore highly recommend you to try it out.
Also, if you have more advanced needs and work with clients or do a lot of link building, you might need functions that Jaaxy does not have.
But if you have a few websites you need to find keywords and content ideas for, track the rankings, etc. Jaaxy can be a great solution and gives very good value for money compared to similar tools on the market.
If you have any comments, need any help or have any questions, I would love to hear from you in a comment below.