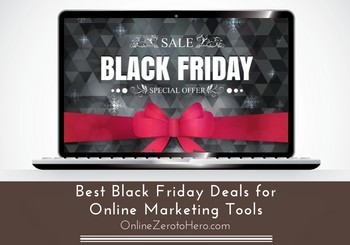 If you have an online business or a website in general, you will know how important it is to have the right tools.
I have a list of my favorite online marketing tools, I use to run and grow my business – but it can be expensive to get the tools you really want.
So why not take advantage of the biggest online marketing tool discounts of the year – the Black Friday deals for online marketing tools.
This is the perfect time to get the tools you need with HUGE savings, and in this article, I will guide you through the best deals for Black Friday 2018.
Disclosure: Some of the links on this page are affiliate links. This means at no cost to you, I may receive an affiliate commission if you purchase something through one of these links.
When does the Black Friday deals start and finish?
I know there is still a while until Black Friday starts, but I just wanted to give you a heads up on the deals to be aware of in 2018, if you work with internet marketing and are looking for some great savings for tools that can make your work more efficient.
In 2018 Black Friday will be Friday 23 November.
Many of the deals and discounts for online marketing tools are however not only available on this particular day. Most of them start the sale and campaigns around midnight.
However, since it is online marketing tools, you might be in a completely different part of the world than the manufacture and their time zone, so for you the sales might start already when it is the 22 or not until the morning of the 23.
Many of the companies keep the campaigns running over the weekend and also include the following Monday, which in certain parts of the world is known as Cyber Monday.
So many of the Black Friday deals you can find for internet marketing tools will also be available on Cyber Monday and even over the weekend.
Be aware that certain deals can sell out or give an advantage to the first people that sign up, so it can be a good idea to take the deals right away, if it is a tool you want and know can help you be more successful online.
The top online marketing tool discounts for BF 2018
The list below is some of the Black Friday deals I have found to be the most valuable, when you have an online business, run a website, or wish to do this in the future.
I have personally taken many of these deals and saved hundreds of dollars, and it has helped me grow my online business and income, so definitely tools worth considering.
I will keep updating the list as we get closer to Black Friday 2018, as the different companies reveal more about their campaigns for this year.
Wealthy Affiliate Black Friday Deal

If you want to run an online business or want to learn to make money online, Wealthy Affiliate is the #1 platform.
It gives you step-by-step training for all levels and for all topics within online marketing, with a special focus on affiliate marketing.
In addition to amazing training and weekly live classes, it offers some of the best tools to run an online business all included in the membership. You get amazing hosting that is one of the absolute fastest and safest on the market, you get 24/7 support, live chat with other members, content writing platform, keyword research tool, the support from thousands of other successful online marketers that are members there, and more.
It is the platform where I myself have learned to make money online, and where I continuously learn about internet marketing.
It has an amazing Black Friday deal that is also valid on Cyber Monday. You get a yearly membership for only $299, which includes hosting, support, access to the owners, amazing training, keyword research tool and more.
In addition to getting such great value for money, you also get 4 bonuses, when you join for the Wealthy Affiliate Black Friday offer in 2018. These are:
Bonus #1: The 7 Factor "Secret Sauce" (Live Class)
Bonus #2: The Secret Sauce, The White Paper.
Bonus #3: Creating a Lucrative Niche Website in 2019 (5 Weeks of Live Training)
Bonus #4: Early Beta Access to Yearly Members
Definitely one of the best Black Friday deals, if you want to work online. And once you have bought the yearly membership for $299 that will be your yearly price every year, if you decide to stay as a member, and you are guaranteed the price will never change for you.
==>Click to Get the Wealthy Affiliate Black Friday Discount<==
Elegant Themes

If you have a WordPress website, you need to have a good theme. Elegant themes is one of the big names and makes some amazing themes.
They have some great discounts for Black Friday and Cyber Monday. I will update with the exact prices once they are announced for this year.
Usually it is however the biggest saving of the year you get, if you buy it here, and it is a great way get access to all the themes you will ever need for a VERY good price.
On Black Friday you will not only get really good discounts, but there are also great thousands of free prizes – to get one of these great prizes, you do however have to take the deal as early as possible, as they go quickly.
In 2018, Elegant Themes are giving away prizes for $500,000!
Once you get Elegant Themes, you do not only get access to one of their themes. I for example use the Divi theme for this website, and when I bought that, I also got access to the rest of their 89 themes.
I got the lifetime membership for Black Friday with a big discount, and I now have access to all of their 89 themes for life, and I can use them on as many websites as I want. The Divi theme is one of the most flexible WordPress themes you can find, but if you should have other needs, you can definitely find it among their other themes.
You also get access to their plugins for life. Overall, an amazing value for money, if you build WordPress websites.
Read more about the Divi Theme from Elegant Themes
Jaaxy Keyword research tool

Having a good keyword research tool is very important, if you work with SEO (and if you have a website you should work with SEO).
Jaaxy is my preferred keyword research tool. It gives you great data to find keywords worth going for, it makes it easy to track your rankings, you can keep an eye on your competitors, get article ideas and more. It is furthermore easy to use.
Jaaxy does not on its own have a Balck Friday deal as such, but it is created by the same guys who created Wealthy Affiliate (see above).
This means that you as a member of Wealthy Affiliate also will get access to Jaaxy, which means you get an amazing value for money, if you get the Wealthy Affiliate Black Friday deal.
You can also get Jaaxy on its own, and it has a free trial membership, so you can test it out, before having to take out your credit card.
In general Jaaxy gives very good value for money compared to similar SEO tools, but if you want to have more or less all the tools you need to run an online business, and learn everything step-by-step, it is worth considering getting it together with a Wealthy Affiliate membership to save even more.
SEO PowerSuite

SEO PowerSuite is a SEO tool that I would say is mostly relevant, if you have several websites, and if you work with several clients.
Then it can be a great tool to keep track of the websites' performance and get data about the condition of the different websites.
It gives you access to 4 different tools – Rank Tracker, SEO Spyglass, WebSite Auditor, and LinkAssistant.
Rank tracker helps you track rankings, SpyGlass helps you get info about your competitors and compare yourself with them, Auditor gives you info about potential issues for your website and insight into what you might need to improve, and LinkAssistant helps with info you can use to do link building.
Especially if you work with clients this tool can give you some great tools for good value compared to many similar tools. SEO PowerSuite usually has a really big discount for Black Friday. As soon as they have announced the deals for this year, I will update this post, so you can see how great a deal you can make.
Read more about SEO PowerSuite
Final thoughts
Black Friday and Cyber Monday are definitely days to look forward to, if you work with internet marketing and need new tools or need to renew your tools.
There are some huge savings and great deals these days.
Above I have mentioned some of my favorite tools that I know offer discounts for Black Friday. I will continuously update the list as the companies start revealing more, and will also add new recommendations to the list as we get closer and more companies will start revealing if they have deals this year.
So bookmark this page and come back and get the best deals for you online business for Black Friday and Cyber Monday.
If you have any comments, questions, or know of any great deals that are not on the list, I would love to hear from you in a comment below.