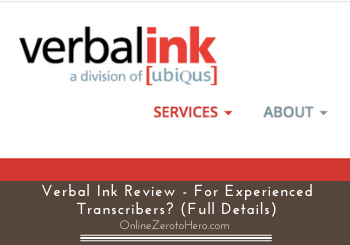 The transcription industry can be a great option to go into if you are looking for work-at-home jobs.
You can search for transcription jobs and get a long list of companies offering both services for clients and work for freelancers.
There are transcription companies that are perfect for beginners looking to add extra cash to their income. There are also companies who offer higher pay and looking for more experienced transcriptionists for their clients.
If you've been in working as a transcriptionist for years then you have probably encountered Verbal Ink.
But is Verbal Ink one of those legit companies you can work for or is it a scam?
This Verbal Ink review will give you all the details and show you how it really works as it is a bit different than the usual transcription companies.
Tools

Usability

Income Potential
Summary
Verbal Ink is a transcription and translation company that has a lot of satisfied clients because of its quality and accurate outputs. They are proud of their thoroughly screened experienced transcriptionists on their team.
Therefore, it's not easy to apply and get accepted by Verbal Ink if you want to work as a transcriptionist but the pay is definitely higher than most transcription companies out there. If you believe you have the skills and the experience, then you can send your resume and cover letter. It can give you a good income once you get in.
However, if you are just starting out in the transcription industry or if you're looking for other online opportunities then there are other options you can check out instead.
What is Verbal Ink?
Verbal Ink (formerly called Escriptionist) is a transcription company that was founded in 2003.
In December 2016, it was acquired by Ubiqus which is a global leader within translation, transcription, interpretation, and audio recording services. It has more than 20 companies across North America and Europe.
From this, you can definitely see that Verbal Ink is a legit company based on its mother company.
This also means that if you are looking for a way to earn as a transcriptionist, it is possible with this company.
Verbal Ink also has an excellent rating on Trustpilot as rated by their clients. Most comments are on the quality and accuracy of the transcriptions.
This means a lot of companies are indeed getting transcription services from Verbal Ink.
That is great news for you as a potential transcriptionist as that means there potentially will be a lot of work for you.
Verbal Ink also offers translation services and is looking for translators. However, this review focuses more on the freelance transcriptionist opportunities on the site.
But if you are interested in a job as a translator, you can still find a lot of relevant info about the company that will give you a good idea about whether it is worth joining or not.
To deliver quality and accurate work, the company hires experienced freelancers to work on their projects.
So if you are experienced it might be a good option for you. But if you a new or only have little experience, it will probably not be a good place to start as I will explain a bit more about below.
Why become a Verbal Ink transcriptionist?
Now there are a lot of transcription companies that have existed for more than 10 years such as Speakwrite, founded back in 1997.
You might be asking what makes Verbal Ink different from these and does it really matter which one you join?
There isn't much information available on their website so I had to do a bit of digging.
So here I am giving you two differences I found about Verbal Ink to help you decide if you should be part of their team or go for other options instead.
Difference No. 1: Application process is selective
For most transcription companies, you can apply directly to their website if you want to become a freelancer there.
You will just need to fill up your basic information, take a transcription or even a grammar test, then wait for a response if you got accepted.
For Verbal Ink, the application process is different.
If you want to apply for Verbal Ink, you must send them an email with a cover letter and your resume.
Make sure your file is in Microsoft Word or PDF. Any application without a cover letter is automatically dismissed.
For your resume, you must include any work experience related to transcription. Therefore, the company is only looking for experienced transcriptionists.
You also have to be a US resident to apply.
If they're interested in hiring you, you will receive a response for the next steps in the application process.
They appear to be quite selective about who they hire so if you don't hear from them then you know your application was rejected. It's not indicated on their website if they are actively looking for new transcriptionists.
Given this process, I suggest you do not make Verbal Ink your only option when applying for a transcription job. That's one of the advantages of being a freelancer. You can maximize different platforms until you find those that work for you.
If you do get a response, you then take a transcription skills test. Some online forums mention having a scheduled interview with a Verbal Ink account executive after passing the test. Their website also mentions they run background checks on their applicants.
Now if you're not yet at the level of being a professional transcriptionist, then I suggest you first take lessons on becoming a professional transcriptionist before applying at Verbal Ink.
It's quite transparent that they are only looking for experienced transcriptionists. Your resume and cover letter should stand out so past work experience is a must.
If you're just a beginner, there are other websites you can try or you can check out other online opportunities.
Recommended: Click to Learn My #1 Recommended Way to Make Money Online
Difference No. 2: Higher pay than most companies
Verbal Ink does not have any published rate for how much their transcriptionists make. But as of checking glassdoor reviews and other forums, it is mentioned that transcriptionists are paid by the audio hour transcribed.
Some companies pay their freelancers based on the final word count of document transcribed or per page transcribed.
For Verbal Ink, you are paid around $0.85 per audio minute transcribed. Most audio files are around 15-30 minutes.
Take note that you are being paid for the audio file length rather than the time you spend working.
It's still higher than other transcription companies where you can earn just around $5 to $20 per audio hour. You can possibly earn through Verbal Ink around $50 per audio hour if you are very skilled.
Payments are done via PayPal or Bank Transfer.
Verbal Ink pays that much because they say they have "the most qualified and seasoned transcriptionists in the industry". They also consider paying "a living wage" for the transcriptionists.
You have to take into consideration that being a Verbal Ink transcriptionist is just like any other office job.
For you to get a good income, you have to put in the effort and you have to have the experience and skills to match the pay.
But if you have the skills, it can make you a decent income.
Is it worth the time and effort?
To get paid well as a transcriptionist, you have to have great skills.
First, you should have good listening skills because you will be spending all of your time listening to audio and video files to transcribe into text. Not all audio files are native English speakers so expect some accents on certain files.
The next skill you need is accuracy in typing. You cannot base your income on how many words you can type per minute but rather how you accurately type per audio minute.
Details are definitely important if you're typing verbatim which includes the laughs, the pauses, and the inaudible words.
Now, even though you will just be listening and converting the audio into text, you still need a working knowledge of different terminologies such as those in medical, economic, engineering, and finance. You will also need to know the right spelling for these terms.
Honestly, being a transcriber takes time and effort, so you need to be patient because it will take time – you can't succeed in this field overnight.
Verbal Ink is a good platform if you do get accepted since the rates are better than the other companies. Just make sure you have prior experience in the industry.
If you do, it is a platform where you can potentially earn a full-time income if you are willing to work hard for it.
Final Verdict
Verbal Ink is definitely a legit platform where you can earn a decent income as a transcriptionist.
Its rigorous application process is their way to guarantee quality work for its clients. Since their clients are getting their money's worth, their freelancers are paid higher than the usual transcription services rate.
But it is not a platform for everyone. To help you get a better overview before deciding if you should apply or not, I have summarized the pros and cons:

Pros:
Pays higher than usual transcription companies
Owned by a global leader in transcription and language services
Flexible work hours

Cons:
Only hires experienced transcriptionists
Only available for US residents
Overall, Verbal Ink is a trusted company by many transcriptionists and clients. The rates are good and the company has been employing freelancers for years.
You still need the right experience and a great cover letter to actually be hired but once you're in you can start building your income.
However, being a transcriptionist is definitely not for everyone. There are those that can build a good income through this kind of job but it requires certain skills and you will be dependent on continuously being able to find clients. That can be fine but you just need to do it with the right expectations.
If you feel this work is not for you, then you can check out other options online that can help you build a solid income.
After all, your time and effort should lead to the income and lifestyle you want.
How I make money online
If you want flexibility and earn income that can provide you more options, then let me also share with you my preferred way of making money online – it takes time to learn but with the right effort the long-term potential is huge.
If you want to follow my footsteps and create your own online income, then check out my FREE guide where I explain how this is possible step-by-step. Don't worry, you can start as a complete beginner!
If you have any comments, questions, or have any experiences as a Verbal Ink transcriptionist yourself, I would love to hear from you in a comment below.