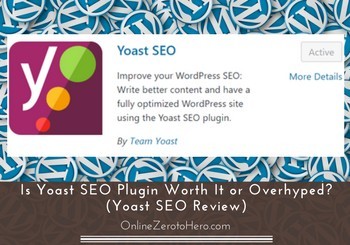 If you have a WordPress website, you have very likely heard about the Yoast plugin.
It is one of the most popular SEO plugins for WordPress, but is Yoast worth it or is it overhyped?
In this Yoast SEO review I will show you what the plugin offers and how to start using it. But I will also show you what it does not offer, so you can see, if it is what you are looking for, or if you should look for another plugin.
Let me reveal right away that it is definitely a great plugin, but it also has some shortcomings in my opinion, so you might want to consider another plugin instead, depending on your needs and preferences.
Yoast SEO Plugin at a Glance
User-friendliness

Features

Value for money
Summary
Yoast is one of the most popular SEO plugins for Wordpress. It has a lot of useful features and the free version is enough for most needs. However, it also has some shortcomings, and some features can be confusing, and if you do not know how to use these, it can be a very frustrating plugin to use.
Do you even need a SEO plugin?
If you have a WordPress website and have looked into how to get rankings in search engines, you have probably heard about Yoast, but it is not the only plugin like this that exist.
Having some kind of SEO plugin is a very good idea, as it can help you avoid a lot of technical errors that can affect your rankings, and it can also make it a lot easier to optimize your website to be found in the search engines.
So if you have a WordPress website, you should definitely have a SEO plugin installed. Whether it should then be Yoast or another plugin depends on your needs.
So let's go over what Yoast has to offer, so you can see, if it has what you need, or if you should look for an alternative.
What does Yoast SEO plugin offer?
Yoast has a lot of settings and options, and it is very frequently updated with new features. Below, I will explain the main features the plugin has, and what you can use them for.
I will also give you some tips about how to use the features the best way, and what to avoid, as some features can be tricky.
Add Metadata
All pages and posts on your website can benefit from having metadata. It means that you decide what title and description that shows up in the search results.
Creating appealing data for this can have a great impact on the amount of people that will click on your result instead of the other results in the search engines.
Yoast makes it very easy to add this metadata. Once Yoast is activated and set up, you will automatically have more options, when you are in the editor mode of any page or post.
Below any post or page, you will see the options, you can see on the image above. When you click "edit snippet", you get the option to fill out the SEO title. As you can see on the image above, there is a green bar right under the SEO title. That indicates that the length of the title is good and will show up – if you make it too short or too long, the color will instead be red.
The snippet preview is where you will see how it will look like in the search results. On the example above I have not made a meta description yet – because I have not amde a custom description, a part of the text on the page shows up in the snippet instead. It does not look very appealing, so that is why I encourage you to fill out the meta description. You do this by filling out the box called meta description, and the color will indicate how much you should write.
Warning:
There is the option to also easily change the "slug" as you can see. DO NOT change this – it is the URL of your website, and if you do not know how to do proper redirects, it can break many aspects of your site to just change this. For me it is very strange that Yoast does not have a warning about this, and I have seen people just thinking it was a part of metadata and changing it, without being aware of the consequences.
Note about metadata:
Be aware that the meta description might show up differently than what you have set as data, as it depends on the search query. For that reasons some people claim that it does not matter, if you fill out the meta description or not.
However, I would advise you to do it, as it is your chance to get your results to stand out among the other search results, even if it is not every time it shows up. No matter what, you should however definitely create a captivating meta title that encourages people to click through to your site – this will for sure show up in the search results. The title is also said to be one of the many aspects that can affect your rankings.
SEO analysis
Yoast has a SEO analysis that look at the content of your pages and posts and tells you what improvements you need to do.
This might sound great, and it can be very helpful for some, as it can be a great reminder to do basic optimization of your website that is very important. You can find this option below the metadata option.
As you can see, you will get some nice suggestions about what you need to do. However, I think this analysis has some big lacks – I have often seen people focusing so much on what the Yoast analysis says that they forget to also use common sense.
The analysis is made from some predetermined standards that does not fit into all pages and posts. I have therefore seen people ending up making corrections that should not really be made, just because they were so focused on not having any red dots in Yoast.
So the analysis can be a great reminder about what you need to do, but do not forget logic and the context as well. Learn to do basic SEO, and then rely on this and then you can use the Yoast analysis as a reminder, but do not just try to make all the dots green and then think you will automatically rank on page one. That can potentially harm your site instead, or at least give a very poor user experience, as you have just followed what a machine told you.
Social metadata
In the same section as the metadata, you can find the option to adjust your social meta. The social meta means the data that will show up, if you or other people share your content on social media.
This can be very useful to be able to control, as you hopefully will have people sharing your content a lot, and then it is great to know what will show up.
In the meta section below your post or page, there is a small three-legged icon that says "social", when you hover over it with your mouse. When you clcik it, the social meta options will come up.
You can fill out data for Facebook and Twitter, but the data will also be taken from here, if people share on other social media.
If you wish, you can make a specific title and description for social media. If you do not fill out anything here, the metadata you have already filled out will be used, and in most cases that will be fine to use as social meta as well. So unless you specifically want the description and title to be different on social media, you do not have to fill out anything here.
What can be very good to do is to upload specific images for social sharing. Social media uses different image sizes, and if you do not set this, it can end up looking strange, when people share your content.
It says below the upload option what size your image should be. I definitely encourage you to use this option, as it is important it looks appealing when your content is shared, and it can help you brand yourself and your business.
Readability analysis
Yoast has a readability function in the meta section. It analyses your content and gives suggestions to how you can improve.
As with the SEO analysis, be aware that this is made by a machine. It can give you some great reminders, but do not only rely on what it says. If you just blindly follow this, you can end up writing for machines and not people, and that will not give you good results in the long run.
Follow the steps to writing effective content for websites, and then Yoast can be good to use a reminder tool, but do not get caught up in chasing the green dots, as it does not necessarily make great content, which is what you should be focusing on.
Yoast SEO sitemap
When you have a website, it is important to have a way to create an XML sitemap, as this can help to get you indexed in Google and other search engines.
If you do not have a proper SEO plugin on you WordPress website, you sometimes have to install a separate plugin to create a sitemap. On Yoast such a SEO sitemap is included in the tool, which is great, as it saves you from having to install an extra plugin (which can potentially slow down your site).
This function is very easy to use. It is actually enabled as default, when you install Yoast, so you do not have to do anything. If you do not know how to use the sitemap to become indexed, you can check out the link to the article I left earlier in this section of the article.
However, even if you do not have to enable it or do anything, it can be nice to know where you can find the yoast sitemap. You can find it by going to general settings => features => and then scroll to where it says XML sitemap.
Advanced settings for admins
When you have Yoast activated and are on pages and posts, you will be able to find a section with advanced options.
As a standard, these options are only available for you, if you are an admin of the website. If you want everybody with access to the website editor to have access to these advanced option, you can enable this option in the same area as the sitemap, I described above. You just have to scroll down a bit further.
The advanced settings will for example allow you to hide certain pages from search engines and change the canonical URL.
As you can see on the image, the way you get access to these options are in the same section, as where you find the meta options and social meta options. On the side there is a small gear icon. By clicking this, you will get access to the advanced settings.
How to set up Yoast
Yoast is pretty easy to set up. You actually do not have to do much. Just install the plugin and activate it.
For most needs the default settings are just fine. So it is only if you have specific adjustments you want to do, you have to make changes.
However, there is one thing in the settings on each page I want to mention, as I have seen how easily it can create confusion.
In the meta info section you will find a box where you can write your focus keyword.
I have often seen how people think this is something they have to fill out, and that it will help them to rank for that keyword. This is a misunderstanding, and that is why I want to mention specifically how to use the focus keyword section.
It is not a word that as such will help you rank in the search engines. It is a word that is used for Yoast itself to do the SEO analysis, I described above. So it is only something you have to fill out, if you want Yoast's help to remind you how to use a keyword.
As with many things in Yoast, this can be a great help, but it can also become unnatural, as it is based on an analysis by a robot.
So if you already have a good understanding of SEO, just stick to that, and then there is no need to use the focus keyword function. And if you do not have much experience with SEO, just be aware that the focus keyword function is just a word that helps Yoast to make an analysis – do not solely trust what Yoast advise you to do, but make sure it also makes human sense.
Other than this setting, you do not have to be specifically aware of any other aspect to have Yoast set up on your site.
Is Yoast worth it?
So far I have explained a lot about what you can use Yoast for, and how you use the different functions. Then the big question is, if this plugin is worth installing?
I would say it very much depends. To be honest, I think there are many annoying things about Yoast.
For example does it not have an integration with Google Analytics as other similar plugins have. Also, I think the SEO analysis is a bit annoying and almost stressful because of the red and green dots. I know some people really love this particular part, but personally I think it often makes content rigid, and I have seen people focus too much on these dots instead of developing their own skills about SEO and content that are more natural.
I think that it is a mistake that Yoast do not have the possibility to show the number of characters you write, when you write the meta description. It only shows you colors, and I need to be able to see the exact amount of characters as well.
Furthermore, I do not understand why Yoast has made it so easy to change the URL of your pages and posts by including a "slug" option in the meta section. I have several times seen people that are new to SEO just filling this out, because Yoast told them to. But this should not just be changed, as changing the URL without knowing what you are doing can potentially harm your site. So I think it is a big mistake that there is no warning about this in Yoast.
So now I have all my disadvantages about Yoast out of my system:-) I think it is important to be aware of these, and because of these reason, I prefer using the All in One SEO Pack. It does not have these issue, and in my opinion it is in general more user-friendly.
When that is said, Yoast is definitely still a great plugin, and it can help your site a lot. I know many people who prefer Yoast and have great results with it. So a lot of it comes down to personal preferences and needs.
Free vs premium version
Yoast has both a free version and a premium paid version. So if you want to use Yoast, which one should you then choose?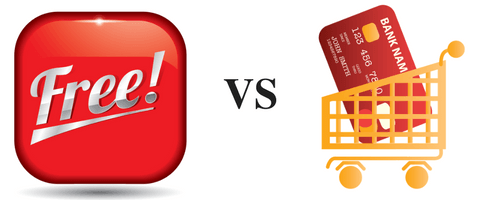 For most needs the free version will be enough. The paid version of course have more features and options. The biggest benefit of the paid version is in my opinion that it has a redirect tool that makes it easy to redirect old URLs to new ones, which can be very useful.
Furthermore, it is also great that you get access to 1 year of support and a plugin without ads, if you get the paid version.
You can check out the current price on Yoast's website. Whether it is worth upgrading to the paid version or not really depends on your needs. If you often need to do redirects, it might be a very good and easy option. If not, then the free version may very well be more than enough for you.
Final thoughts
Yoast is probably the most popular WordPress SEO plugin. To be honest, I do however think it is a bit overhyped.
It is definitely a great plugin and can make many SEO tasks easier, I just think it also has a lot of lacks and in my opinion annoying aspects.
Whether it is the right plugin for you or not depends a lot on your needs and preferences. So I am not saying that you should not choose it – I know many people that are very happy about using it.
I just know that many people are using it mostly because they have not heard about other SEO plugins. So now at least you know what to be aware of before deciding, so you can choose it because it has what you need, and not because it is the only SEO plugin you have heard about.
If you have any questions or want to share your own experiences or opinions about the Yoast SEP plugin, I would love to hear from you in a comment below.