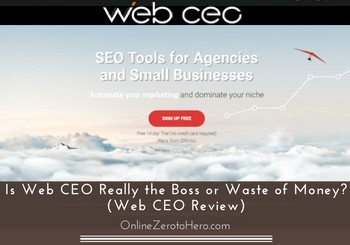 When you work with SEO and have an online business, having the right tools can save you a ton of time and get you a lot better results.
But is Web CEO the ultimate SEO tool, or is it not worth the money?
With so many tools out there, this is important to know before investing.
In this Web CEO review, I will share my experiences of this tool with you, show you what you can use it for, and also go into when it might be a good solution for you, and when it might not be.
Tools

Usability

Reliability

Value for money
Summary
WebCEO is an online SEO tool with a lot of options. It can make SEO work a lot more efficient, has great reporting functions, and also a SEO lead generator tool. It might however be overkill depending on your needs and budget.
What is WebCEO and what does it offer?
WebCEO is a SEO tool that has been around since 2001, and it is now available in more than 150 countries and in more than 24 languages.
Let me reveal right away that the tool has a lot to offer, and you can do a lot with it. But it is not a tool for everyone, as I will go into later.
Let's first go over the main tools that are included with Web CEO. As it has a lot of options, I will not go into detail about every single option, but try to give you an overview of the tools that are the most useful in my opinion.
Feature 1 – Keyword research
Web CEO, of course, has a keyword research tool, as any good SEO tool needs. It is a pretty good tool to use, and you can not only get data for keywords but it is also a great tool to come up with new and related terms and keywords.
For each keyword, you get what is called KEI (keyword effectiveness index), which estimates the effectiveness of a keyword (the higher number the better). You also get the monthly searches for your selected area, how high the bidding competition is, and the search trend over the past 12 months.
So it gives you some really good data to use when selecting keywords, and this is, of course, a very important feature of any SEO tool.
You can also use the Web CEO keyword tool to spy on competitors and get suggestions based on your own data from Google Search Console.
Feature 2 – Technical audit and SEO analysis
Two other important tools Web CEO has are the technical audit and SEO analysis.
The technical audit gives you a quick overview of any technical issues like slow response time, broken links, broken images, server issues and more.
The SEO analysis has more details than the technical audit tool and can give you quick insight into SEO issues, you potentially need to fix on your or your client's website.
It gives you insight into indexing issues, on-page issues, mobile optimization, landing page SEO, and more. If you have a lot of experience in SEO optimizing websites, you will probably not have too many errors here, and by applying your normal knowledge and common sense, you would not really need these tools.
However, no matter the level of experience, we can all overlook things at times. Especially if you work on many projects. So it is a great tool to get a quick overview of the most important mistakes and errors and get them fixed.
Feature 3 – Link building tool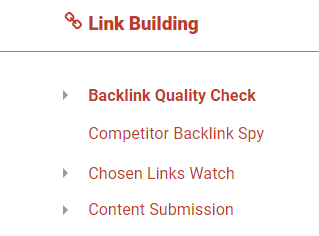 Link building is often seen as a very important aspect of SEO and ranking in the search engines. Therefore, you also need good tools to get insight into this aspect.
WebCEO has several tools you can use for link building and research.
You can keep an eye on your own backlink profile, see new and lost backlinks, see competitors backlink profile, see toxic links and easily download a file with these and report them to Google, and more.
If you work with link building, Web CEO has a lot of good information, you can use.
Feature 4 – Social analytics tools
Social media is, of course, a big part of online marketing, and if you use social media, you need to know how your results are.
Web CEO can give you a pretty good overview with its social analytics tools. It can show you social citations, competitors' social citations, social traffic, and it can monitor online buzz about your brand on blogs and on Twitter.
Furthermore, you can connect your Facebook insights to Web CEO and get a lot more data from Facebook that way.
If you are specialized in working with social media, I am sure you have tools that can give you are a lot more details and data.
But Web CEO's social tools are in my opinion a great way to get a good overview in one place, and then maybe you need to dig deeper into some of the specific platforms themselves for more details.
Feature 5 – Rank tracking
When you work with SEO, you of course also need to be able to track how your efforts pay off and the results you get.
One way to do this is by tracking rankings in the search engines, which Web CEO has several tools that can help you with.
The tools give a pretty good overview in my opinion. The overview is not super user-friendly in the beginning, but it does not take too long to figure out how to read the results.
You can track your chosen keywords, track competitors, get notifications about dangerous competitors, see keyword rankings per lading page, and more.
Overall, it gives you a good idea about how you are doing, and how your competitors are doing. Personally, I would not only rely on Web CEO's tools to track rankings, but also use Google Analytics, Search Console and more, but for a very good overview in one place, Web CEO is doing a great job.
Feature 6 – Web analytics
A thing that is really great about Web CEO is you can integrate both Google Analytics and Google Search Console. These are two tools I use a lot, and it makes it a lot easier when you can get an overview in just one tool.
If you integrate these two tools, you will be able to see the most important data directly in Web CEO, and you will also be able to include those data in reports for yourself or your clients, which can make them look great.
Feature 7 – Reports for yourself or your clients
You can create reports for both yourself and clients with Web CEO. These reports look nice, and you can brand them with your own logo. It is a great way to present your results to clients or to get a good overview for yourself.
At first, it takes a little time to figure out how to get the reports setup, but Web CEO has a pretty good help section that can help you get this done pretty quickly.
Feature  8 – Automatic SEO report and lead generator
An extra tool Web CEO offers I think is pretty cool is SEO lead generator. You can embed a button for this on your website and offer visitors a free SEO audit.
When they click the button and fill out a bit of information, they will get an SEO audit report within a few minutes, and you will get a lead to a person that could be interested in your services if you are offering SEO for clients.
You can brand the report with your own logo, and it looks good and presentable. The report will show what SEO issues a certain website has, but it will not show too many details, like for example the specific pages and what needs to be done.
This is good in the way most people will not know how to fix any of the errors themselves if they are not used to work with SEO, and therefore might need your help.
However, on the other hand, it might be confusing for people not to know what the issues really mean and why they might be important to fix, so there is a risk they will just not bother and be annoyed that they did not understand how to use the report.
So whether it is a good way to generate leads depends on your company and the services you offer.
You will get between 1-15 free leads per day depending on the membership plan you have. If you want more leads than this, you can pay $0.49 per extra lead, but you can set the maximum budget yourself, so you always know the maximum you are going to spend.
Do you have to download Web CEO?
As you can see, Web CEO has quite a lot of options and tools. So do you have to download the Web CEO SEO software to be able to use these tools?
You do not have to download anything, which in my opinion is great, as you can use it online, no matter where you are or which computer you are at.
It is an online tool, so you just log in on your account on Web CEO's website, and then you will have access to all your data and the tools.
Who is Web CEO for/not for?
I already mentioned in the beginning that Web CEO has a lot to offer, but it is not a tool for everyone.
I think everyone with a website could benefit from it, but it is not the best solution in all situations in my opinion. If you are an agency with clients or you have several websites yourself with a good income, then it can potentially be a great tool and a tool that can make you more efficient and make your work with clients more efficient.
If you are a smaller company or just have a couple of websites yourself, I think Web CEO is overkill and not the best solution.
If you do not work with clients or do not have others to report to, you will not need many of the tools available. It can still give you some good information, but there might be tools that are better and more affordable in those cases.
A tool I highly recommend in those cases is the SEO tool Jaaxy, which gives a lot of great data but at a more affordable price.
But if you are working with clients or in an in-house SEO team, the tools and reporting functions in Web CEO are really valuable.
Web CEO pricing and membership plans
Web CEO has several pricing plans depending on your needs.

The more you pay, the more scans, keywords, projects, etc, you will get as a part of your plan. I will not go over all the dfífferences of the plans here, but you can see an updated list of the pricing options and what is included on Web CEO's website.
One thing that is really great is that you can get a 14-day free trial. You can even get great support and help to set it up and start using the tools the best possible way.
In my opinion, it is great when a tool offers you to really test what it can do before you have to pay anything. So if you want to give it a go, there is no risk involved, as you do not need to use your credit card to sign up for the free trial.
Is it worth it?
So is Web CEO worth it? And should you choose it over other tools?
To be honest, there are many great SEO tools out there. Web CEO definitely belongs among the big and great tools. If it will be worth it for you and your company depends very much on your needs and budget.
If you have clients and want to be able to run good-looking reports for them and get a quick overview of the work, you need to do on the websites, it can definitely be a good option.
If you want to offer visitors on your website a free SEO audit and use it to generate leads, Web CEO is great, and offers something you will mostly not find in similar tools.
So in those cases it definitely can be worth it.
If you on the other hand have a limited budget and no clients, then Web CEO is maybe overkill and unnecessary to invest in.
Final verdict
Web CEO can be a good tool – but it is not for everyone.
So let's finish this Web CEO review by summing up the pros and cons to give you a better overview before you decide if it is for you or not.

Pros:
Great SEO reporting tool
Possible to integrate web analytics
Has good SEO auditing and link building tools
Good keyword research options
It is possible to generate leads with the free SEO audit report
Has a free trial

Cons:
Can be overkill for smaller businesses
Some tools take a bit of time to learn to use
Can be a bit expensive
Overall, I think Web CEO is a good tool and it has a lot to offer. I cannot say I think it is the ultimate SEO tool, as there are many very good tools out there. Which one is the best very much depends on your specific needs and budget.
But Web CEO definitely has some great options and can make your SEO work a lot more efficient. So if you think it might be a tool for you, then you can luckily sign up for a free trial and test how it fits your needs.
If you have any comments, questions, or have any experiences with Web CEO yourself, I would love to hear from you in a comment below.