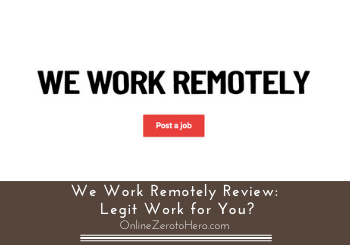 The idea of working at the comfort of your own home or while traveling but still earning a full-time income is appealing to more and more employees these days.
Imagine not being stuck in traffic early in the morning? Or working in your most comfortable clothes? How would you feel?
Working remotely is not a new concept for both companies and employees today. Companies have been creating opportunities where their employees can be anywhere in the work.
We Work Remotely is a platform that boasts itself as "the largest remote work community in the world".
But is We Work Remotely a legit place to help you in your career or is it a scam?
This We Work Remotely review will tell you when it might be a viable option for you – but take note that it's not everyone.
We Work Remotely at a Glance
Tools

Usability

Income Potential
Summary
We Work Remotely is a legit job board where you can find remote work. Companies pay a fairly high fee just to post their listings and find the right applicant so you now they are serious. The job listings have comprehensive details including benefits, what to expect, and main responsibilities.
However, jobs posted require a certain level of expertise or experience mostly at senior associate or director level so it is not for everyone. Jobs include those in programming, design, business development, sales and marketing, and customer support.
If you have the experience and you're looking to shift from an office job to remote work without sacrificing your full-time income, then We Work Remotely can be worth checking out.
What is We Work Remotely?
We Work Remotely was founded back in 2013 and currently being run by Tiny Boards.
Tiny Boards, run by serial technologist Andrew Dumont, operates some of the biggest job boards in the world.
These include Fresh Gigs (marketing job board), Future Jobs (job board for the future), and Unicorn Hunt (startup job board).
In short – We Work Remotely is a job board for remote workers.
There are different job categories you can find at We Work Remotely.
These categories include programming, design, copywriting, dev operations & systems admin, business & management, product, customer support, finance and legal, sales and marketing.
You can also find both full-time and contractual types of jobs listed.
So overall you have good chances of finding jobs no matter your skills if you want to work from home.
But this does not necessarily mean it will be the best option for you, so let's look deeper into what you can expect when using We Work Remotely to find a job.
We Work Remotely Jobs: Legit or Scam?
Let's face it that there are a lot of so-called job boards online that offer scams masked as jobs.
It's normal if you're a skeptic when applying for jobs online and that is definitely a good thing and necessary to avoid being scammed.
Luckily We Work Remotely is one of the legit job boards and here are three reasons why:
Reason #1: There is a Job Posting Fee
It costs companies to post jobs on We Work Remotely. It's easy to write up a job posting and add to any free job board.
For We Work Remotely, a basic job posting costs $299 for 30 days.
If an employer wants their job post to be highlighted on the main page and distributed to their community Slack Channel with over 3,000 users, then they have to pay the "Good" worth $358.
It will also include monthly stats email and double the social media posts associated with the job. There are also a "Better" and "Best" plans with more reach options for companies.
If a company is willing to shell out that amount just to find the right candidate it shows it is serious, and then it's definitely a legit platform.
Reason #2: There is a Job Posting Template
One of the things I noticed when browsing the job postings is the detailed description of each post.
Most postings include the company profile, what candidates can expect, and job requirements.
Some even have benefits and what you should include in your application.
We Work Remotely have a Remote Job Posting Template to help companies in their listing.
This shows how serious they are in connecting companies with the right candidates.
Reason #3: They list their Top 100 Companies
We Work Remotely is quite transparent and their platform is really simple.
The most common jobs posted on the website are programming and design.
While browsing, you can see they have a Top 100 Companies page where the companies with the most job postings on the site are listed.
The Top 1 Company with 332 jobs posted is CleverTech which offers bespoke software solutions.
The second top company listed is X-Team which is an international company from Melbourne, Australia.
X-Team has been hiring remote workers since 2006 to help leading brands build their development teams.
Companies that use We Work Remotely to look for applicants for their remote teams are established in their industries and are well-known.
Therefore, you know that the positions are 100% legit.
How Do You Apply?
One of the key differences of We Work Remotely from other job boards is not requiring an account just to be able to apply for a job posting.
It also doesn't handle job applications directly.
When you browse through the posts, you get to read the description and requirements. Upon clicking Apply For This Position, you will be redirected to the company's website.
We Work Remotely's platform is quite simple to use. Just browse the job categories, click a job you are interested in then check if you're a good fit before clicking to apply.
You will then either be able to send an email directly to the company or go to the company website to read further instructions.
Since the platform has a really simple interface, you can only either search for a specific job or click a category to browse. You cannot filter the jobs once you've selected a category.
Now what seems to set apart this job board from others is most jobs require a certain level of skill and expertise.
Postings are usually in senior associate, director, manager, or vice-presidential levels.
If you're an entry-level employee looking to gain experience in remote work, then this might not be the platform for you.
For example, a posting for Business Development Manager requires at least 2-6 years of experience and proven success in business development and if possible a subject matter expert.
There are some such as copywriters or online teachers that have fewer qualifications.
Other We Work Remotely jobs posted are Operations Manager, Head of Business Development, Senior Software Engineer, Senior Legal Counsel, and Product Specialist.
Some job postings indicate a location they prefer for their applicants.
While the position can be done remotely, some companies prefer their employees from a certain location for occasional meetings or work events. The most common locations are North America and Europe.
So if you do not live in these areas, it will likely be difficult for you to find work on We Work Remotely. You can then consider a platform like UpWork instead.
Applying to job listings at the site means you are confident with your abilities and skills.
If you don't find a position while browsing, you can subscribe to their email list to receive updates whenever a new job is posted.
So overall the application system is fairly simple depending on the job you apply for. But this does not mean it will be easy to find a job.
It will require you to write a serious application as the companies using We Work Remotely usually have high expectations as you can see from above.
Recommended: Click to Learn My #1 Recommended Way to Make Money Online
How Much Can You Make on We Work Remotely?
Given that most companies are looking for applicants at an experienced or expert level, the pay you can get would be equivalent to a full-time corporate job.
Most companies have been operating with remote workers for years and can definitely give benefits.
There are job postings that even include HMO, paid leaves, stipend or reimbursements, and travel allowance. It's basically looking for remote work with office work pay.
But as with all other jobs, the specific salary, of course, depends on the specific job.
It is not all job postings that show the salary on the posting itself, so in some cases, this is something you will not know until after applying.
Final Verdict
As you can see from this We Work Remotely review it is indeed a legit platform and it can potentially help you land a remote work.
So if you have the skills and expertise in your field, it can be worth checking out.
But before you make your final decision about whether to use We Work Remotely or not, let's finish by summing up the pros and cons:
Pros:
The cost to post a job guarantees the companies are serious employers

You don't need to create an account to start applying for a position

Job listings are comprehensive for the applicant to see if it's a good fit

Simple platform to navigate
Cons:
There are not as many job postings as other job platforms due to posting fee

No specific filtering system after choosing the category you want

Not for entry-level applicants
Now, remember that since the position is for remote work, you will still be reporting to a boss and be a part of a company.
You would still be putting in the hours but in the comfort of your home or anywhere, you prefer to work.
If you've built your career with an office job and looking to jump into the remote working community, then We Work Remotely can definitely be a good place to start looking for your next job.
There are a number of good companies there you can join.
How I make a living online
If you're wanting to shift from office work to a remote work without sacrificing your income, there are now many options online today.
Personally, I have been able to create a full-time online income that now allows me to work completely on my own terms.
It takes some effort but it is totally worth it.
If you want to follow my footsteps and create your own online income, then check out my FREE guide where I explain how this is possible step-by-step.
You can even get started with these steps as a complete beginner.
If you have any questions, comments, or have any experience with We Work Remotely yourself, I would love to hear from you in a comment below.