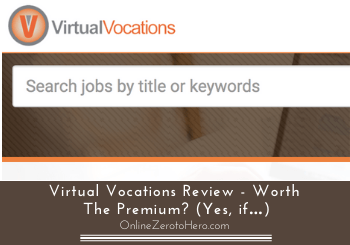 With today's high cost of transportation and the amount of time we actually spent on the road going to work, telecommuting sounds like a great option.
Now if you're currently exploring your career options and looking for telecommute jobs, then you will probably come across Virtual Vocations.
Virtual Vocations is a platform founded to help people find telecommuting
jobs. But is it worth your time? Or is Virtual Vocations a scam?
There are so many platforms out there that promise to help you land a telecommute job. So it's quite normal for you to be skeptic whenever you encounter a job platform. It's really important you do your research before signing up on any website.
Therefore, to help you, this Virtual Vocations review will show you all the important details to help you decide if you should be signing up or find better alternatives instead.
Virtual Vocations at a glance
Training

Tools

Value for Money

Income Potential
Summary
Virtual Vocations was founded back in 2007 to help people find telecommute jobs to match their needs. It's a good website particularly if you're from the US. The company carefully selects the jobs to be listed so you save time looking for jobs that are legit
You can start with a free membership to get an inside look before actually paying for a premium membership. You can access their telecommute learning resources but if you want to apply to a job, then you would need to pay a premium.
If you feel you have the skills and the experience, then Virtual Vocations is worth looking at. Just remember that paying for a membership does not guarantee you a job. And telecommute jobs are basically still like working at an office minus the commute.
If you're looking to create a job for yourself online where you can work completely on your own terms, then Virtual Vocations is, however, probably not for you.
 Click To See My Top Recommended Way to Make an Income Online
What is Virtual Vocations and what does it offer?
Virtual Vocations was founded back in 2007 by two siblings, Laura Spawn and Adam Stevenson, who wanted to help people find telecommuting jobs.
In case you do not know what telecommuting jobs are, it is basically a work arrangement where employees get to work from home or their chosen location outside the typical office.
If your work allows you to work from anywhere at least 20% of the time, then technically you have a telecommute job.
Back when Virtual Vocations started (and even until now), finding a 100% telecommute company was a struggle. The company's mission is to help you find legit telecommute jobs easily by carefully selecting them before posting on the website's job board.
I experienced looking for online jobs and also checking out online job platforms for years so I understand the frustration when sorting through legit jobs and finding scams among those postings so finding a platform that does a lot of this work for you can be beneficial.
Aside from having a job board, Virtual Vocations is also a platform where you can find e-courses, a database of trusted telecommute companies, and career services. They really try to help you create and build your telecommute career.
They also have on their website their telecommute stats which change from time to time.
You can browse their company listings by industry which includes accounting, administrative, automotive, business and finance, education, healthcare, IT, non-profit, and even travel.
I like the transparency and availability of information on their partner companies since you get to save time on researching about the company you will be applying for.
The people of Virtual Vocations also pick the jobs that will be posted on their board rather than having companies pay for a listing.
This means they check if it's a real position and not just those scammy jobs that are often posted on free job listing sites.
With this, you save time sorting through jobs just to check if they are legit. You can actually focus on finding a job that fits your needs.
To find a job, you can sign up and receive job alerts through your email.
Regarding how to get started, you can find the details later in this review. But about the customization of your job search, there are different categories you can find to narrow down your search results.
You can sort the jobs based on the category, weekly hours, or employment status. The job categories are diverse given they have a lot of partner companies.
You can also choose the telecommute level such as 100% telecommute (meaning you work from home all the time) or one that requires some onsite meetings or training.
Now, remember that telecommute jobs are not all working from home. If your job allows you to work from home at least 2 days a week, it can be considered as a telecommute job.
I don't want to confuse you by thinking that all telecommute jobs are home-based opportunities. But again, there are telecommute jobs that are completely home-based.
I prefer those jobs since you get more flexibility and you can be at a different location from the company's office.
You will find a mix of all types of telecommuting jobs on the website so you can find the ones that fit your needs the best.
Now I noticed in the location option that this is mainly for US residents since you only get to select by state or region.
There are a few jobs I found that are for other countries but the majority are for US residents.
So if you're not from the US, then I would suggest you check out other job platforms available for your location.
As for the employment status, most jobs offered are permanent rather than as an independent contractor or temporary.
So if you're a freelancer looking for some projects, then this is not the best place for you.
If you're from an office work looking to shift to a home-based job without losing your full-time income and employment benefits, then there are jobs listed for you.
Recommended: See My Top Recommended Way to Make an Income Online
How do you get started?
You can easily sign-up for an account on Virtual Vocations. You will be given two choices – a free account or a premium membership.
A free account will let you browse through the listings and download some free resources on telecommuting. But if you want to apply for the jobs and see the full listings, then you would need to pay for a subscription.
Paying for a monthly subscription for a job website is not something new. In fact, I have reviewed Flexjobs before, which is a similar website.
I see nothing wrong with charging for a subscription since it's like hiring someone to go through your emails or paying someone to do some research for you. You're paying for a service and the convenience.
But if you are broke and looking for a way to get started this is, of course, then not a good option.
But you can actually start with a free account just to get an overview of what you can find on the website.
There's a free resource on telecommuting jobs which is perfect if you're just starting out. But honestly, you can't do anything much unless you pay for the premium membership.
But I would still suggest you start with a free account to get an inside look and see if it is for you before paying.
When you become a premium member, you can choose from different subscription plans.
If you want to test out the site for a month, you will pay $15.99 via credit card or PayPal. For three months and six months, you will be charged $39.99 and $59.99 respectively.
They have a 30-day money-back guarantee so you can request a refund through phone or email for your payment to be credited back to your PayPal or credit card.
If you feel that one month is enough to land you a job, then you can go for the monthly payment.
But if you want to really get your pick on the job and you're not in a hurry, then the best option for you would be the three-month subscription. I wouldn't go for the six months unless you're going to use all the learning resources and materials provided.
Think about it, if you've been spending six months looking for a job in a platform then I don't think it's being an effective tool for you.
Now it's a question of whether you will get your money's worth upon becoming a member is to be considered.
Is it worth the price?
Since this is a job platform, your income potential will depend on your skills, experience, and type of job you will be applying for. It will also depend on whether you will be employed full-time, part-time, or as an independent contractor.
During your application, you will be asked to attach your resume for employers to see. If you have a pretty impressive resume, then this will not be a problem.
If you want to spruce up your resume, the website offers resume assessment for a cost. I find their pricing too expensive since it's on top of your membership transcription.
Below are their career services prices:
Professional resume assessment: $69.99 (non-member) / $49.99 (member)
Mid-level Professional Resume Writing Service: $199 (non-member) / $159.99 (member)
Mid-level Linkedin Profile Makeover: $139.99 (non-member) / $139.99 (member)
Cover Letter add-on: $44.99 (non-member) / $39.99 (member)
I would not recommend you pay for these services on top of your membership.
In my opinion, it is better if you just do your research and have a polished resume and a good Linkedin profile if you're planning to apply at job platforms such as this.
But if you have money to spare, it can, of course, be a way to save time to have someone help you with this so whether it is a good choice or not really depends on your budget.
To get your money's worth, you should be able to find a job within the first two or three months on the website. After all, their role is to sort and find the best jobs for you.
It's also worth the subscription if you maximize all the learning resources.
The amount you will be spending on this website will really depend on your goal.
If you take it as a place to explore your telecommute opportunities and learn at the same time, then the subscription is at a good price for up to 3 months.
But if your goal is to earn a full-time income, then you should be able to land a job in your first 3 months for the membership price to be worth it.
Final verdict
Overall, Virtual Vocations is a legit platform if you're looking for telecommute jobs.
Since the company was founded with the goal of finding legit telecommute jobs, you know you're getting carefully selected jobs.
It's a good place particularly for US residents to find a company to work for but it's still not for everyone.
I've summarized the pros and cons I've mentioned throughout this review to help you with deciding if you should be a premium member.

Pros:
Job posts are handpicked
Search can be customized and filtered to match what you're looking for
Excellent training materials for telecommute
Moneyback guarantee

Cons:
Paying for premium membership does not guarantee a job
Mostly for people in the US
Expensive resume review services
If you think you have the right qualifications and are just looking for the right company, then landing a job through Virtual Vocations will make your membership worth it.
But, in my experience, you should, however, not just focus on one platform when you're jobhunting.
If you want a telecommute job, I would suggest you sign up for a month or two if you are confident in your skills.
You just need to be aware that paying for your membership will not guarantee you land a job but it is a way to get access to jobs you know are legit so it can save a lot of time.
If you're looking to create a job for yourself online where you can work completely on your own terms, then Virtual Vocations is, however, probably not for you. It is still a job and many of them will still require you to show up at an office regularly.
If that is what you are looking for, you should look elsewhere. So whether Virtual Vocations is the right option for you really depends on your overall income goals and job goals.
How I make money online
I have been able to create a full-time online income myself that allows me to work anywhere in the world and completely on my own terms through affiliate marketing.
It takes effort, but it is totally worth it.
If you want to follow my footsteps and create your own online income, then check out my FREE guide where I explain how this is possible step-by-step.
You can even get started with these steps as a complete beginner.
If you have any questions, comments, or have any feedback with Virtual Vocations yourself, I would love to hear from you in a comment below.