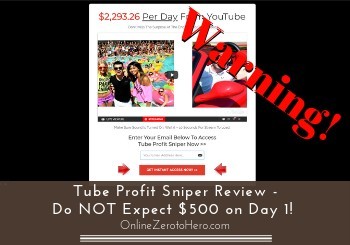 Tube Profit Sniper is supposedly a secret system that can help you make $500 online already today.
But is Tube Profit Sniper a scam or a legit way to make fast money online?
Let me reveal right away that the sales video of Tube Profit Sniper is making a lot of ridiculous claims and is using a lot of tricks to get you to join.
You might still decide it is right for you, but you NEED to know these warning signs before investing any money, so you know what you are getting into.
This Tube Profit Sniper review will give you all the details, you need to know to make a decision.
Tube Profit Sniper at a Glance
Training

Tools

Value for money

Income potential
Summary
You will get access to some training about YouTube through Tube Profit Sniper. But not something that will make it live up to the claims it makes. It uses a lot of tricks to sell, and the claims it makes are just not realistic. In addition to this, it can end up being a lot more expensive to join than you are told.
Click to see my top recommended way to make money online instead
What is Tube Profit Sniper and what does it offer?
On the sales page of the Tube Profit Sniper system, you cannot find a lot of information about what the system actually offers.
You are first of all told, it is a secret system that can help you make money on a website, you use every day, but that most people do not know how easy it is to make money on this website, if you have the right system.
Finally, you are told the website is YouTube. So what Tube Profit Sniper will teach you is how to make money on YouTube and you will supposedly make money fast.
You can supposedly start earning $500 already today and after only spending 17 minutes to set it up.
This is more or less everything you are told.
It reminds me a lot of another system that claims to help you make fast money on YouTube called TubeCrusher. Here you are also just told the system will make you fast money, but not really told how.
This is in itself a warning sign. You will get access to some training about YouTube and how to use it, if you decide to join, but in my experience training that is sold with claims like this, and where you are not told much about what you will actually get before you join, are in most cases not worth it.
But I will go more into the warning signs you need to be aware of later in this review. Let's first go into the claims about the possibilities to make money on YouTube.
Recommended: See My Top Recommended Way to Make Money Online
Is YouTube a real way to make money?
The way you are supposedly going to make money with Tube Profit Sniper is through YouTube. You are not exactly told what methods you will be learning, but just told it will not take any effort (other than 17 minutes to set up the system).
This opportunity is presented as being a secret way to earn – but let's be real. It is no secret that it is possible to make money on YouTube. It definitely is possible.
A popular YouTuber can make a lot of money, and some are making millions a year. However, the majority of YouTube creators are not making much money.
It takes a lot of views and subscribers to make any real income on YouTube. It is definitely a great thing to include in your online marketing, and it has great potential.
But before starting to use YouTube, you have to be realistic. It is not as easy to make money on YouTube as Tube Profit Sniper is claiming.
You are told the methods is so easy that even a monkey could be trained to do this. This is just a silly claim.
Yes, it definitely is possible to make money on YouTube, and some people make really good money. But it takes time and effort, and takes a lot more than just clicking a few buttons.
So if you are interested in using YouTube and in trying to make money on it, it is possible, but you need to go into it with the right expectations. I do not think Tube Profit Sniper will be the right place to learn this considering the claims it makes, and there are even more warning signs you have to consider.
Who is the owner Mike Andrews?
Something that is always good to look into before joining an online system that claims to make you money is who the owner of the system is. This can tell you a lot about the potentials or risks of a program.
When it comes to Tube Profit Sniper, you are told the owner and developer is called Mike Andrews. A very generic name that is difficult to check up on. And you do not see any pictures of him or evidence that he is an actual person.
From looking into many online programs I know that sometimes a name and story it just used to sell, and I suspected this was the case here. But I decided to do a little more research to check up on it.
It is of course not possible to find any valid information just by searching for such a generic name as Mike Andrews. But Mike tells you how he was struggling until one day he saw some images of a friend partying in Miami and wanted to know how he made money.
Here he shows you some images of this friend partying.
I decided to check up on his story about this friend and researched the images. It turns out that it is very unlikely this is Mike Andrews' friend. The images turn up several places online.
The image of his friend in the Ferrari is used on a lot of websites selling Ferrari experiences in France, but also on several other websites.
The image of his friend partying turns out to be of Joe Jonas partying in Miami – he is Taylor Swift's ex and member of the band The Jonas Brothers.
It seems like it is not even the same guy on the images, and it is very unlikely it is actually Mike Andrews' friend. When the owner of a system is coming up with a false story about who he is and uses random images from the internet as proof, something is off.
This is definitely something to be very aware of before joining. In addition to this, the warning signs below should make you think twice before joining.
Tube Profit Sniper warning signs
I think it is pretty clear already that I am not a big fan of the methods Tube Profit Sniper uses and the claims it makes.
There are however several other important things and warning signs you in my opinion need to be aware of. So let's go over these now.
Warning #1 – Money on autopilot claim
A very big warning sign for any online system is, when it claims you can make money 100% on autopilot. I have already touched upon this in the section about the possibility to make money on YouTube and about having realistic expectations for this.
However, the main selling point of Tube Profit Sniper is exactly that you can make money on autopilot, and that is why I want to expand on this here.
Let me just make it clear – there is NO system that will make you a lot of money online 100% on autopilot. The systems that claim this usually have an ulterior motive (profit for themselves).
You can learn to make money online, and eventually you can also create a really good income online. But do not expect this to happen without any effort and by having a system just plugin to a website and then the money will roll in. This is just not realistic.
Warning #2 – Fake testimonials
There are some Tube Profit reviews in the sales video, where supposed members are telling about how much money they have made.
Unfortunately, testimonials like this can easily be bought on a site like fiverr. I recognized one of the women in the video right away. I have previously made a review of the AZ Code, and here the exact same girl is telling about how this system was the reason she learned to make money online.
You can also hear from the way the people in the testimonials talk that it sounds like actors. This unfortunately means you cannot trust what they are saying, since they have been hired to say it.
To prove that people are really making money on Tube Profit Sniper, you are also showed a member logging in to some affiliate accounts and show how much he has earned.
This does show that the person logging in has made some money on Warriorplus, which is an affiliate marketing platform, where you can earn commissions to promote products.
It does however NOT prove that he made the money on Tube Profit Sniper. This and the video testimonials are clearly attempts to try to create trust and show you it is a really good system.
But do not be fooled. It does not prove anything. And think about it – if they try so hard to prove something without actually proving it and by paying people to do testimonials, does it not seem like something is off?
If it really was such an effective system, it should not be a problem to get real testimonials and real proofs right?
Warning #3 – Not live stream
When you are on the front page of Tube Profit Sniper's website, it looks like the sales video is a live stream.
This is not the case. It is a recording, and you can even find it on YouTube.
The streaming sign is just a trick to make it look like you are lucky to see it exactly at the right time, and then you are also more likely to believe the pushy sales techniques.
It is not a warning sign that it is not live, as many great videos are not live. The warning signs is that they try to lie about it to trick you.
Warning #4 – The pushy sales techniques
Tube Profit Sniper definitely tries to get you to join right away and not take your time to think about it.
You are for example told that this is the last day the program will be open for new members and that there only are a few spots left.
This is not true. It is a sales trick to get you to sign up before starting to question what really is going on, and before you have time to do further research and look for Tube Profit Sniper reviews.
The program has been sold for quite a while, and it will not fill up today. If it should end up being closed, my guess is that it will not be because it is sold out, but because the owner decides to start a new system to be able to promote it and make more money.
Also, in my opinion you will actually save yourself from wasting your time and money, if you should not get a spot, even though you should not worry about them selling out.
Warning #5 – The hidden costs
It is not too expensive to join Tube Profit Sniper. You are told you will get access for around $47. Well, actually you are not told what it will cost at first, but can just see you can put your email in to get instant access.
Not until you do this, you will see the price, as you are taking to a checkout screen. At this point you already have given your email, and you will now receive sales emails from Tube Profit Sniper that tries to convince you to buy, if you do not do it instantly.
In addition to this, you need to be aware that this will not be the final price. After you join, there will be several upsells. I looked into the info about what Tube Profit Sniper pays people that promote it, and this gives you an idea about just how expensive it can be to join.
Here you can see that people promoting Tube Profit Sniper can earn up to $367 per sale. This is just the commissions they pay to people promoting it, which means you as a member would have to pay a lot more than this.
So to get full access to Tube Profit Sniper, you should expect to end up paying several hundred dollars. This is definitely something you have to consider, before deciding whether you want to join or not.
Final verdict – legit or scam?
I am clearly not a supporter of the Tube Profit Sniper system. But let's sum up the pros and cons, so you can see why this is, and get a good overview before making your own decision.

Pros:
There is some training
You can make money on YouTube

Cons:
Unrealistic claims about profit from day 1
Claims you can make money 100% on autopilot
Uses false testimonials
No info about who the owner is
Not transparent about the price
So you can get a bit of training about YouTube on Tube Profit Sniper and YouTube is definitely a way to make money online.
However, there are in my opinion so many warning signs about Tube Profit Sniper and so many unrealistic claims. You should therefore not expect Tube Profit Sniper to teach you a good way to make money online.
You should especially not expect it to happen as fast, as it claims and on autopilot – that is just not realistic.
Whether you then want to call it a scam or a legit program that just does not deliver is up to you. Now at least you know what to expect, if you decide to join, of if you in general want to make money on YouTube.
If you want to learn to make money online step-by-step, this is possible in a program that has no hidden costs, it is free to get started, and it delivers amazing training. You can check out my top recommended approach to make money online here, if you are interested in learning more about this.
I know this works, as I have followed this training and steps myself and have achieved great results and are now able to make a full-time income from what I have learned. Just be aware that making money online is not a quick-fix thing, and you will not make it happen without effort like Tube Profit Sniper claims.
If you have any comments, questions, or have any experiences with Tube Profit Sniper yourself, I would love to hear from you in a comment below.