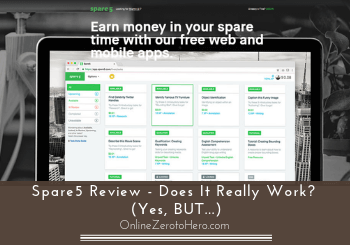 Spare5 claims to be a platform where you can earn money in your spare time by doing small tasks.
But is Spare5 a scam or is it a legit platform that really works?
Let me just reveal right away that it is a legit platform, BUT this does not mean it will necessarily be a good way to earn online.
To find out if it is, you need to know all the details about how it really works and what exactly you can expect.
This Spare5 review will go into all the details about this and give you an inside look so you know what it really offers, how it works, if it will be worth your time, or if there are better alternatives for you.
Training

Tools

Income potential
Summary
Spare5 is a legit platform and you earn a bit of extra cash by doing small online tasks like putting markers on images, drawing lines, putting metadata on images, and more.
The platform is overall quite easy to use. The problem is just the low rewards you get in relation to the time you have to spend on each task. Also, there is no guarantee there will be available tasks when you have the time to do them.
The main thing to consider to find out if Spare5 is for you or not is your online money making goals.
If you just want a small amount once in a while and want to only use completely free methods, then Spare5 can be an option. If you want to create a good full-time online income, you should look for other options instead.
What is Spare5 and what does it offer?
Spare5 was created by Mighty AI which is a company that uses data to train and validate computer models.
To do this, they need people to do small online tasks, and that is what Spare5 is for.
It has worked with some big companies like Samsung, Amazon, Microsoft, Expedia, and more. So Spare5 is a legit opportunity.
How good this opportunity then is can then be discussed. A lot of it comes down to personal preferences so it is very important you know exactly what to expect so you go into it with the right expectations if you decide to join.
So let's go over exactly what you can do on Spare5 and how you can earn there so you can see if it will be for you or not.
Option 1 – Spare5 tasks
The main way you can use Spare5 and earn is by doing small tasks. All people that do tasks for Spare5 are called Fives.
Once you sign up, you will get access to the tasks. The tasks teach computers to recognizes objects and images to see, think, and work better.
This might sound complicated but the work you have to do is not too complicated.
It can, for example, be to put markers and labels on an image, use bouding box tools, draw lines on images, and more.
In this way, the tasks you get remind a lot of what you can find on Hive Work. However, I must say right away that, in my opinion, the overall user experience on Spare5 is a little better.
You just need to be aware that you will not just get access to the tasks right away.
Before you can get started, the first step is to take what they call a qualifier task. In reality, this is just a profile you have to fill out where you tell a bit about yourself like age, gender, location, and more.
It only takes a few minutes to take the qualifier task and you get $0.10 to complete it.
After this, you do, however, still not just get access to all the tasks.
You need to first go through the tutorial task for each type of tasks Spare5 has. This will teach you how to use the tools and how each task works.
First, you are explained how to use the tool and then you get some test assignments. You need to pass these test assignments to be able to get access to the real tasks.
Each tutorial task section takes 10-15 minutes to complete. Be aware that you will NOT get paid for the tutorial tasks.
And if you fail, you have to try again until you pass before you can get access to the paying tasks. So it can take a bit of patience before you can start actually earning.
After this, you will be able to find different tasks in the categories you have passed.
There will not always be tasks available for you and new tasks come and go all the time, so you might have to check quite regularly to be able to find available tasks for you.
Personally, I have not found many but this will depend a lot on the country you live in and how often you check the platform.
Option 2 – Quality bonus tasks
Once in a while, you will see tasks that offer a special quality bonus. This will not be all tasks and they will be clearly marked if they offer this bonus.
These are special tasks where you will be able to earn a bonus payout based on the quality of your tasking.
So if you see tasks with the bonus option, it can give you a small extra reward if you are precise enough.
At the end of each day, Spare5 will calculate your bonus and send you an email with the details.
Option 3 – Use the Spare5 app
Spare5 is known for being available as an app. This makes it easy to get access to tasks from anywhere.
You just have to be aware that it is only available for iOS through the App Store. So if you do not have an Apple device, you can not use the Spare5 app.
Personally, I think it is a shame they do not also have it available through Google Play. But then you can just use it on your computer.
There are, however, some tasks that are only available on certain devices. So if you do not have both access to a computer and the app, you might not get access to as many tasks.
Option 4 – Invite friends to join
If you like using Spare5, you can also earn a bit extra by inviting friends to join it.
However, it is not quite as simple as many other referral programs. You do not get access to inviting friends right away. You have to be a member a while before you get this option.
I guess this is because they want to make sure you will also be active yourself. Anyway, they do not mention exactly how long you have to be a member before you can start inviting others and earn this way. They just say you have to be a member for a little while, whatever that then means.
Once you get access to this feature, you get a link you can share with friends.
If a friend joins through your link, you will get a $2 bonus every time your friend has earned $10, and your friend will get a $1 bonus. So both of you will benefit from it.
However, just be aware that this runs for the first 180 days your friend is a member or until he/she has earned $100. So this means you can earn a maximum of $20 per friend.
This sounds like a lot, but honestly, your friend needs to be VERY active for you to get that kind of bonus. But it is a way to earn a little extra.
Recommended: See How I Make $6K+ Online Every Month
Does it work and how much can you earn?
In theory, all this sounds great, right?
But does Spare5 really work? The short answer to this is, yes it does work.
You can actually earn some extra money this way. But if it is the right option for you or not depends on your expectations.
Because if you are expecting to make really good money or replace your full-time job with Spare5, you will be disappointed.
It can make you a bit of extra money on the side, but the rewards are not very high for the time spent and there is no guarantee you will have tasks available when you want to take them.
So the earning opportunities are quite limited, in my opinion. But it, of course, depends on what your goals are and how much spare time you have. But if you are looking to create a full-time income from home, this is NOT the platform for you.
You can, however, qualify for exclusive and higher paying tasks over time. This is done through the experience points (XP points) you receive when you do tasks.
As you can see in the image above, I have not done many tasks as I decided it is not a platform worth my time after having tested it.
But if you keep being active, you will accumulate these XP points and these will help you get selected for exclusive tasks.
It does not say anything about how big the chances of this are, but overall you should still not expect to be able to earn too much even when you get a lot of XP points but it can help you to earn a bit more than you usually would.
How will you get paid?
To decide whether Spare5 is for you or not, it is also important to know how the payment works.
First of all, when you have completed a task, it has to be reviewed and approved. So make sure you do the tasks properly. If your work is not approved, you will not get paid for it, and then your time will have been wasted.
Also, if you continuously do what they see as low-quality work, you might completely stop receiving tasks.
Once your task has been approved, you will see the balance in your Spare5 account. You can then get this money paid out through PayPal. At the moment of writing this review, this is the only payout method.
The payout takes place once per week and you will get your money out if you have earned a minimum of $1. You can also increase the threshold if you want to wait until you have earned more.
Overall a nice low payout threshold and a good payout method, in my opinion.
Who can join Spare5?
You can join Spare5 no matter the country you live in. At the moment, they have members from more than 100 countries.
The number of available tasks might, however, vary depending on your country.
All tutorials and information on Spare5 are in English and Spanish. And you can also find tasks in both of these languages.
So you need to speak one of these languages well to be able to understand the tasks properly.
Final verdict
Spare5 is a legit way to earn a bit of extra cash.
If it is then worth your time or not, depends on your personal preferences and the spare time you have available.
To help you make your final decision, let's finish this review by summing up the pros and cons.

Pros:
Free to join
Available worldwide
Low payout threshold

Cons:
Risk your work is not approved
Limited tasks available
Low rewards for the time spent
Overall, Spare5 is, in my opinion, only a platform worth joining if you have quite a lot of spare time and are ok with only making very little money for your time.
But as a little extra pocket money, it can be a good solution if you are looking for completely free options.
Personally, I do not find it worth my time, but it might be very different for you. And I hope this review has helped you find out exactly what Spare5 offers and if it is the right option for you or not.
The main thing to consider is your online money making goals – if you just want a small amount once in a while and want to only use completely free methods, then Spare5 can be an option. If you want to create a good full-time online income, you should look for other options instead.
How I make a living online
I have personally been able to create on full-time online income that now allows me to work when and where I want to completely on my own terms.
It takes some effort and time but it is totally worth it.
If you want to follow my footsteps and create your own online income, then check out my FREE guide where I explain how this is possible step-by-step.
You can even get started with these steps as a complete beginner.
If you have any questions, comments, or have any experience with Spare5 yourself, I would love to hear from you in a comment below.