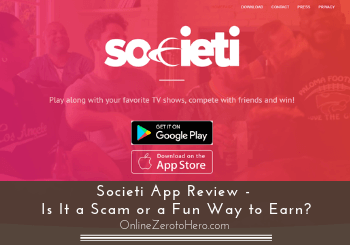 Societi app is supposedly a way to earn by watching your favorite TV shows.
But is Societi app a scam or is it a legit way for you to really earn a bit extra from home?
Let me just reveal right away that it is legit and you can earn, BUT this does not mean it will necessarily be worth it.
You need to know exactly what to expect so you go into it with the right expectations if you decide to join.
This Societi app review will give you all the details so you can easily find out if this is the right option for you, or if you should go for alternative methods of earning instead.
Tools

Support

Income potential
Summary
Societi is a legit app that makes it possible for you to win by predicting the outcome of TV reality shows. If you like shows like this, it can be a fun way to get more engaged.
You just need to be aware that the earning potential is very limited and there is no guarantee you will win anything. So for fun, it can be a nice way to get the chance to earn a bit, but you should not count on it as a consistent income source.
So whether it is the right option for you or not depends on your expectations and goals.
Click to See My Top Recommended Way to Make Legit Money Online
What is Societi app?
Societi is a fairly new app and was launched in 2018. There is, however, not much info to be found about who is behind.
I prefer when I can easily find information about the creators of online earning methods and earning apps, but that has not really been possible for me with Societi.
However, this does not mean it is not legit and cannot be worth it and all my research shows it is a legit app. But more about why this is later.
Shortly explained, what you need to do with Societi is to watch your favorite TV shows and then participate by answering questions about them and you can then win money.
There is, however, a little more to it than that, so let's go over exactly how to use Societi and how you can earn so you can see if it will be worth it for you or not.
How to use Societi and earn
To get started with Societi, you need to download the app. You cannot use it on a regular computer.
The app is available in the App Store and in Google Play.
You can then start participating in the games it has. The app says it is available 24-7 but that is not always the case. The games depend on the TV shows and sometimes you cannot get access to any games during the night.
So just be aware that if you do not see any options, it might be because you are trying in the middle of the night or at a time where they do not have anything available. Then just try again later.
Let's go into a bit more details about the ways you can earn once you have downloaded Societi app.
Option 1 – Predict the outcome of TV shows
The Societi app is all about reality TV shows and it is only if you follow shows like this the app will make sense to get, in my opinion.
But if you do, it can give the shows an extra layer and make it more interesting. What you do is simply to choose your favorite show in the app.
It can be shows like Survivor, the Bachelor, Dancing with the Stars, the Voice, Americas Got Talent, Big Brother, and more.
You then need to predict different things about the shows. It could, for example, be who is going to win, who is going to lose, who will kiss, who will fight, etc.
After the show you will see how well you did and if you did well compared to other people that participated, you will win a cash prize you get into your Societi account.
Option 2 – Compete against friends
As a way to make it more fun to use Societi, you can compete against your friends that also use it.
This will not affect your overall earnings but can just be a way to make it more fun if you know other people using the app as well.
Option 3 – Invite friends to join
Societi has a referral program where you can get paid to invite friends to join.
As with everything else, you cannot find much info about this on their website. But it is possible to see that you will get $1 per friend you invite.
Just be aware that you will likely only get this money if your friend ends up becoming active.
Also, you are, of course, not allowed to create more email addresses and invite yourself just to get this bonus. I am mentioning this because I have seen some people complaining they got banned after doing this.
But you will, of course, only get paid if it is actual people you invite to join. If you try to cheat with this, you risk your account will be closed down.
The referral program is not a way to make a lot of money, but it can earn you a little extra if you know other people that might be interested in joining.
Recommended: See How I Make $6K Online Every Month
How do you get paid (and will you?)
Before you start spending time on Societi app it is important to know how you will be able to get paid and if you even will get paid.
I have seen some complaints online about not being paid, but a few of them also mention they had tried to create several accounts which could be the problem.
Also, I have seen other complaints where the support of Societi then reach out and got it sorted.
So overall, there is plenty of proof online that you will actually get paid so this means it is legit.
Above you can see one of the many payment testimonials I found online.
The way you will then get your winnings out is either as cash through PayPal or with Amazon gift cards.
How much can you earn?
As you can see above, you can earn with Societi. The question is then how much you can earn as you need to go into it with the right expectations.
And let me make it completely clear – you can NOT make a full-time income or become rich from it.
It can be a way to earn a little extra while you watch TV shows, but you should not expect more than that. If you want to create a full-time income from home, this is not the way to do it.
So just make sure you do it with the right expectations if you decide to join.
Can you get support?
In my opinion, being able to get support is very important for any app or online income opportunity.
When I could not find much background info about Societi and the company behind, I was honestly not sure what to expect when it comes to support.
But after having researched a lot online, it seems they have a pretty good support.
I have found some cases where people did not get answers and did not get the help they needed. But mostly it seems they are replying people and help them out.
Above you can see an example of this from a review left in the Google Play store. Here the person had problems getting the winnings out but the Societi support reached out and sorted it.
It is a good sign when a company takes time to reply to issue like this on review platforms. And good support definitely is a big plus, in my opinion.
Final verdict
In case you are not sure yet, then let me make it clear and say that Societi app is legit and it does pay out.
However, this does not mean it will necessarily be worth your time. It depends on your overall goals and expectations.
So let's finish this review by summing up the pros and cons so you can get a better overview before deciding to join or not.

Pros:
Free to join
Gives real rewards
Fun way to potentially earn if you watch reality shows

Cons:
Not much info about the company behind
Limited earning opportunities
No guarantee you will win anything
Overall, if you love reality shows and watch them a lot, then Societi can be a fun way to get engaged. But you should not see it as a sure income source.
There is no guarantee you will win anything as it depends on how good you are at guessing the correct answers. And overall the app just have limited earning opportunities.
If you are not into it for a sure income but just for fun, then it might be a good option for you. But if you are looking to make a consistent income, then this is not the way.
So whether it is a good option for you or not depends on your goals and expectations and I hope this review has helped you get an overview of this so you can make the right decision for you about joining or not.
How I make a living online
If you are looking for a more consistent way to earn from home, then there are good options online.
I have personally been able to create on full-time online income that now allows me to work when and where I want to completely on my own terms.
It honestly takes some effort and time but it is totally worth it.
If you want to follow my footsteps and create your own online income, then check out my FREE guide where I explain how this is possible step-by-step.
You can even get started with these steps as a complete beginner.
If you have any questions, comments, or have any experiences with Societi app yourself, I would love to hear from you in a comment below.