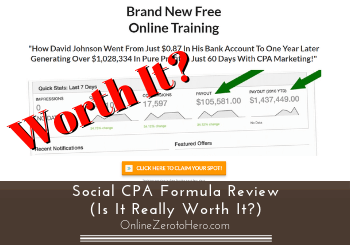 Are you interested in making money with CPA marketing through Facebook ads?
Then you have probably heard about David Johnson's Social CPA Formula since you are reading this review.
But is Social CPA Formula a scam or is it really a course worth taking?
I have joined and taken the whole course (several times) myself.
Let me reveal right away that if it will be worth it or not depends a lot on your expectations. There are some good things in the course but there are also A LOT of important things it does not include in my opinion.
You need to be aware of this before joining, so you can see if it is for you or not. In this Social CPA Formula review, I will share my experiences and opinion to help you make the right decision for you.
Important update:
In April 2019, Social CPA Formula was suddenly offline and no word from David Johnson about this – no one could any longer get access to the platform and the expensive training they had paid for.
This proves my point that I initially made in this review that it was not really worth the money – it, however, turned out to be even worse as it just closed.
However, since it did not live up to what was promised, it is possible to start a PayPal dispute and claim your money back. I did this myself and got my money back and I know several others that have done the same.
You have 180 days after buying the program to start a PayPal dispute so if you bought Social CPA Formula I would advise you to do this and then stay away from David Johnson's products in the future – I definitely will.
Recommended: Learn My Top Recommended Way to Make Money Online Instead
Social CPA Formula at a Glance
Training

Tools

Value for money

Income potential
Summary
No doubt David Johnson has a lot of knowledge about the topic his course is about.
However, a lot of important details are in my opinion left out. You can still learn some good things from the course, but if it will be worth it or not depends a lot on your expectations and the money you have.
The extreme lack of support and the almost rude way I have experienced they ignore me after initially pretending to be helpful is, however, a big minus, in my opinion. So if you go for this course then be prepared to be on your own.
What is Social CPA Formula and what does it offer?
First, I want to make it clear that this review is based on my opinion and my experience with Social CPA Formula. So only take this as an opinion and do not see it as facts.
Social CPA Formula is a course by David Johnson about making money through affiliate marketing / CPA marketing by using Facebook ads.
I have been working with affiliate marketing myself for a few years but I have not used Facebook ads very much yet, so this course sounded interesting to me.
I am usually very careful about buying expensive courses like this, as I know a lot of the tricks online marketers often use. When I first came to the sales page of Social CPA Formula I was therefore suspicious, as I saw many marketing tricks I do not personally like.
For example, a sales page that looks like it is a live webinar but it is not really live, a lot of screenshots about big earnings, stories about how the owner made a lot of fast money, claim about the free training only being available for a few days, etc.
Personally, I really dislike these kinds of pushy sales techniques. However, the course and presentation of it still seemed more genuine than many other sales pages and webinars I have seen.
The main reason I ended up paying to join was however that the course was recommended by one of the big reliable affiliate networks.
Without this recommendation, I would probably never have joined. In the future, I will, however, be more careful about trusting recommendations from this network. But more about why the course did not quite live up to my expectations later.
I have made a video that goes over my experiences with David Johnson's Social CPA Formula. If you prefer reading, you can also find all the details below the video (including a few important tips as well):

Let me just make it clear that the course is definitely legit and you will get access to training by joining. Whether the training is worth it or not is something we will go into later. Let's first go over the training sessions included.
There is a total of 16 sessions:
What is CPA?
You get an introduction to CPA marketing and how it works.
Finding Hot Offers
In this module, you will learn about finding CPA offers and different methods of researching available offers to promote.
Hosting & Domains
You will learn about hosting, why you need to use it, where you can get hosting, and how to choose the best domain for your offer.
Landing Pages
You learn about the different types of landing pages available, why they are used, you get some ideas about how to create converting landing pages.
Competitive Intelligence
You learn tactics and methods to spy on your competition. You will learn to uncover your competition's winning campaigns and target audiences. You will also learn the swipe and deploy method.
The Perfect Ad
You will learn how to write compelling ad copy that will capture your ideal audience and presell them to get them into "YES" mode! You'll also learn what types of images & tricks will grasp the attention of your audience in the Facebook newsfeed.
Tracking & Metrics
You will learn how to use the tracking tools David is using to identify & track where profits and losses are coming from.
Create Your Fan Page
In this module, you will learn how to create your Facebook fan page and tweak your page for the best customer experience.
Business Manager
You will get an introduction to create and set up your business manager. You'll also get an introduction to creating your pixels and ads accounts.
Campaign Objectives
You will learn about the different types of campaign objectives plus why and when to use them.
Targeting
In this module, you'll learn how to target your audience the right way with FB audience insights & demographics.
Dark Posts
Dark Posts Explained: What They Are and How to Use Them. You'll discover how to use dark post ads to optimize your Facebook content, increase engagement & visibility.
Facebook Pixel
In this module, you'll discover how to use Facebook's powerful algorithm to optimize your conversion ads using the FB pixel.
Optimizing
You'll get an introduction to discovering what metrics you need to analyze in your Facebook data to make adjustments and bring your campaign into profits or boost ROI%.
Scaling
You will learn about scaling your campaign's ad spend to reach more of your target audience while keeping your campaign profitable.
Campaign Structure & Launch
You'll learn about David's campaign launch strategy.
In addition to these 16 sessions, you will get 4 cases studies that show you examples of campaigns David has run and the results he has achieved with them.
All the topics above are very relevant, and I must admit that when I first saw the syllabus and topics above I was excited to learn about each of the topics in more details.
However, I actually ended up being worried more or less right after joining as I could see the length of the videos. The 16 sessions has a total length of just below 2 hours.
I know there is a lot to say about these topics and many details to learn so it worried me a little that I had paid that much just for 2 hours.
But I, of course, tried to stay open-minded and started the course and started taking notes to find out what I could learn.
As I have already mentioned, there are things that I find both great and not so great about the course.
So let's now go over what I think works really well for the course followed by what I think does not work, so you can take this into consideration before you decide if it is for you.
What I like about the course!
There are several things I like about the Social CPA Formula course.
Positive aspect #1 – David is real
First of all, I like that David is a real guy who actually has a lot of success himself.
All too often I see courses where you do not really know who the owner is or where the owner is mostly just making money by getting people to buy his course.
This is not the case for Social CPA Formula. From going through the course and from looking at the evidence and examples there, it is clear to see that David Johnson himself is successful and knows the topic.
This is clearly a positive thing.
Positive aspect #2 – Training gives some good ideas/tools
As you can see from this review there are some important things I think is lacking from the training. But it is also important to give credit where credit is due.
I did definitely learn some new things from the course.
I got some good ideas, and I got introduced to some new tools I did not know existed. For example, tools to do competitive research.
What I most of all got out of the course was an introduction to the potential of using Facebook ads for affiliate marketing if it is done properly, and this is definitely something I will look further into.
Recommended: Get a FREE Facebook Ads Blueprint to Get Unstuck
What I do NOT like about the course!
I definitely got some things out of taking the course.
However, there are also a lot of things I was disappointed about. These are also important to know, so let's go over these below.
#1 thing I did not like – Superficial sessions
All the topics David covers in the training are important for success with Facebook ads and CPA marketing.
They are all really interesting topics. I, however, felt that the sessions were just an introduction to each of the topics.
Every time it was just getting interesting, and I was getting ready to learn the details about each topic and how to use it in real life, the sessions finished.
They are a great introduction but there are A LOT of things you have to then go out and learn other places and figure out on your own.
Let me give you a couple of examples.
In the session about building websites, you are basically just told it is important to have one and then showed a hosting company you can use.
There is no info about how to then actually set up a website. Personally, I already know how to build websites, so that is not a problem for me. But if you have never done that before, you need to go out and learn this somewhere else and hire someone to do it for you.
Another example is the optimization part. You are told optimization is important but you are not told much about how to actually do this. In fact, the session about such an important topic as optimization is not even 4 minutes long.
From what I can see, David has a lot of knowledge, but a lot is held back. I think that if he took the time to go thoroughly into each topic he could create an amazing course.
But instead, it has become a course that, in my opinion, just scratches the surface, which I think is a big shame.
#2 thing I did not like – Lack of support
When you learn something new, it is also important to get some kind of support. You will almost always need to ask some questions.
There is a support area in the Social CPA Formula's members area. I have also contacted them with feedback and questions.
As you can see, there are several things I am not satisfied with about the course. I thought the fair thing to do was to contact support and let them know and give them a chance to expand and explain.
At first, I was really impressed with the support. I got an answer the same day.
They thanked me for the feedback but did not quite agree with it. I was told that everything was served on a silver platter to duplicate, which I strongly disagree with.
Anyways, it seemed like the answer came from David but I can of course not know for sure. I was told that he would be here to help as much as possible and I could just ask any questions I had.
I thought that sounded amazing and maybe I could then get some of more details to help me. So I wrote a list of questions which I thought I did not get answers for in the training.
Here are some of the questions I send:
I think all of these are very important and are things that should have been included in a course for this price. You can judge for yourself by looking at them.
The answer came back quickly, and I was told that was some big questions and he just needed so time to reply to each of them properly. I was therefore asked to add him on Skype so we could continue the conversation there.
Again, I thought this sounded amazing. So I added him right away and was looking forward to the answers.
However, this turned into another disappointment.
After a week, I had still not heard back. I then send a message in the support area again. At the time of writing this review, this is now more than two weeks ago, and I have still not received an answer for my follow up message.
My Skype invitation has also not been accepted. I have also tried to write on Skype to give it an extra chance to see if there maybe was an error with the support area and give them the benefit of the doubt. Also, did not hear back there.
So it could seem like the first fast response was just to try to seem helpful and then they hoped I would forget about it.
Update March 2019:
Since I first posted this review, it has now been more than 4 months – I still have not heard back from support and David never got back to me on Skype even though that was he said he would.
This is extremely poor customer service and shows it is more about the money than about helping you as a customer, in my opinion.
In addition to this, there is a Facebook group only for members of Social CPA Formula to ask questions and help each other.
Here some people have also been complaining about the lack of response from David when they ask a question in that group. He does respond once in a while, but it is in my opinion very superficial answers.
Facebook group update March 2019:
Just wanted to give a quick update about the Facebook group you get access to so you supposedly can get help – here after around 4 months it is basically dead and there is no activity at all.
This lack of support is a big minus in my opinion, and it is an even bigger minus that David/the support at first try to seem helpful only to then ignore you when you try to take him up on the offer (that is what has happened to me anyway).
#3 thing I did not like – Important things are not included
There are some really important things that can make or break your business that is not at all included in the course.
One of these things in the Facebook terms. Facebook has some quite strict advertising policies and they regularly just shut down an account or Facebook page without warning (I have tried this myself, so I know).
One of the things that you need is, for example, to make sure you have a privacy policy, terms, and a disclaimer on the website your Facebook ads is going to. David does not mention anything about this.
The ad policy also says that you should not lead people to landing pages that contain minimal original content.
There is no info about this in the course, and the examples shown could potentially be seen as having very little original content.
The challenging thing about Facebook ads is that they might allow it for some but not for others. And it might work for a while and then suddenly it will be closed.
Nonetheless, I think it is very important to include a section about what to consider in relation to this and how to deal with it if your ads/page is flagged on Facebook.
Somebody asked about this in the Facebook group. After more than 1 week of waiting time David just answered that he has no control over when FB decides to flag an ad. It is a part of the game.
David did however also offer to take a look at the specific ad. He did however also offer to answer my questions, which never happened so cannot saw if they person in the FB group got help or not.
The point here is more to say that there are some topics that in my opinion are very important that you will not learn about.
Another important topic you need to consider is a trick David teaches you about ripping other people's landing pages – this means that you basically learn to copy/steal an entire page in just a few minutes.
There is however a potential problem with this (in addition to the ethical issue). If you just copy someone else website/landing page, you do not necessarily have the right to use the images.
You do not know if that person has bought the images. If you then just take the images, you can risk getting into trouble for this.
This is something very important to consider before you just copy someone else site and take their images. This consideration in not mentioned in the training.
#4 thing I did not like – No mentioning of quality of the offers
This aspect is a very subjective one, and it might not at all be a problem for you. However, it is something that I consider a lot when working with affiliate marketing, and I, therefore, want to mention it here.
I focus a lot on doing what I call honest affiliate marketing. This means that I only promote products that I truly recommend and believe people can benefit from in some way.
The training on Social CPA Formula does not mention anything about this. It is about finding the offers that can make you good money.
I know this is the focus of many people when they want to make money online. I, however, think it is important to also make sure we do not promote poor products or services just to make a profit.
I am not saying that David in the training shows how to promote poor products because that is not the case.
So it is very possible he also has an internal compass like this that helps him choose offers that are not only good for profit but also worth it for the people taking them.
He just does not mention anything about this in the training.
I know it is very subjective, but just still wanted to mention it here, as it is something I think it important to think about when working with internet marketing in general.
Social CPA Formula pricing
The price for Social CPA Formula depends on the way you get to the site. I got a promotional offer just after it was released, so I ended up paying a discounted price of $350.
But I have seen that if you get the regular price through the webinar website, it is $997.
One thing I like about the price is that it is an honest price in the sense that there are no hidden upgrades you have to buy after you join to get further training.
I hate programs where you join because you decide it is within your budget and then you end up having to pay a lot more to get full access.
So great to see that is not the case for Social CPA Formula as the price you see when you buy it, is the price for access to the full training.
There will however be some extra costs before you can start actually earning.
David explains that you need a website. He then recommends a hosting platform you can use. The one he recommends will cost you $49 per month.
In addition to this, an important part of the way David makes money and sees what works is to do proper tracking of your ads and the return of investment you get for them.
You need a tool for this if you want to do it the same way David does.
He mentions that the tool he recommends is called Voluum and is around $100 per month. However, since he made this video the price has increased significantly for this tool. Now the price for that tool is between $200-$300 per month for the cheapest option.
If you make really good money by using these tools, it is of course not a big investment. But if you are just starting out, you need to calculate this into your budget.
You can, of course, use cheaper tools, and David does not force you to use any of these tools.
But you need to be aware, that you need to do some extra investments to get started. And you of course also need to have some money you can invest in running the ads.
An important thing you also need to be aware of is that there is NO money-back guarantee. If you do not like the course, there is nothing you can do.
I have asked myself, and you cannot get your money back.
Recommended: Get a FREE Facebook Ads Blueprint to Get Unstuck
Is it worth it?
As you can see, there are in my opinion both some positive and negative things about the Social CPA Formula course.
If it will be worth it or not, depends a lot on your expectations.
If it is the last money you invest in the program and are desperate to make it work and you need to start making money right away, it might not be a good option.
You will have to spend a lot of time learning other places as well and on testing. You also have to spend some extra money on at least the hosting and website + money to run the ads.
If you, on the other hand, is just looking for some inspiration and some extra tips and ideas about using Facebook ads for affiliate marketing, the course can definitely give some ideas and inspiration.
It is, however, in my opinion NOT a step-by-step course that will have you up and running and making money in no time, and you need to be aware of this.
Overall, I honestly think it is expensive for what it includes. I think David has the potential to make an amazing course but there are too many things left out for this price.
David himself write in the answer to me for my first message to the support that he has personally paid between $2,500 – $8,000 for courses that did not include as much value.
I do not know what courses he is talking about, but I do not really think this is a valid argument. I am personally a member of the learning platform Wealthy Affiliate for example.
Here I get hosting, unlimited support, hundreds of hours of training, live webinar every week, keyword research tool, content writing platform, and much more for just $49 per month including everything. And if you buy a yearly membership, you get a full year for just around $350.
So in my experience, the value for money for David's course is definitely not impressive no matter what he says he has paid for other courses with less value.
But when it comes down to it, if it will be worth it or not depends on you, your personal reasons for joining, and the money you have to invest.
Final verdict
My final verdict for Social CPA Formula is mixed.
The best way to get an overview is by summing up the pros and cons:

Pros:
David knows his stuff
It is a legit training program
The training gives inspiration and ideas

Cons:
A lot of important aspects missing in the training
Very poor support
Costs for extra tools
Short training videos
High price
Let me just make it clear that Social CPA Formula is not a scam. You get access to training and David is a real guy with a lot of success.
What disappoints me is however that David, in my opinion, seems to have the knowledge to really create an in-depth course. It does, however, instead seem as if there has almost been put more effort into creating an effective sales funnel than into creating the actual course.
There are many important things left out and in my opinion, it is a high price to pay just for around 2 hours video course. Especially when the support is then more or less non-existent.
Personally, I got some ideas from the course, but compared to my favorite learning platform, the value for money is just not high enough.
It might, however, be the right course for you depending on your expectations and what you are looking for. I hope this review has helped you figure this out.
If you have any comments, questions, or have any experiences with David Johnson's Social CPA Formula yourself, I would love to hear from you in a comment below.