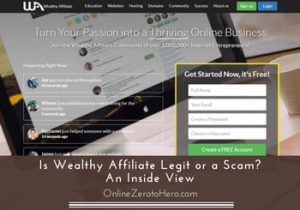 If you want to learn about internet marketing to build and grow a business online or want to make money online, maybe you have heard of Wealthy Affiliate.
But is Wealthy Affiliate legit or a scam program to stay away from?
I have been a member of the platform since 2016 and have tested it thoroughly and have used all the tools and most of the training within the platform.
In this Wealthy Affiliate review, I will give you all the details – both the pros and the cons the platform has to offer.
So if you want to know what Wealthy Affiliate has to offer, and if it the right choice for YOU, then this article will give you the all the details and answers you need to decide.
Disclosure: Some of the links on this page are affiliate links. This means at no cost to you, I may receive an affiliate commission if you purchase something through one of these links.
Wealthy Affiliate at a Glance
Training

Support

Tools

Up-to-date

Income potential
Overall rating
Wealthy Affiliate is, in my opinion and experience, one of the best platforms to learn about online marketing and about making an income online. Especially if you are a beginner or have never managed to earn money online.
It offers great step-by-step training, really good tools, and compared to many other courses that teach you internet marketing and how to make money online, it gives really good value for money.
It even offers a free starter membership, so you can check it all out without credit card details.
What is Wealthy Affiliate?
In short, Wealthy Affiliate is an online learning platform, where you can learn skills in internet marketing to promote, grow or build a business and income online.
It was started in 2005, so it has been around for a while. The founders, Kyle and Carson, are themselves successful internet marketers, and they started Wealthy Affiliate to help others succeed online as well.
Both of them are still very active on the platform and daily help out members that need assistance. The platform has more than 1 million members. But let's now go into more details about what you can learn on the platform, so you will know if it is right for you or not because I will also be honest with you and tell you that it is not for everyone.
Wealthy Affiliate training programs – awesome and up-to-date
Wealthy Affiliate is, first of all, a learning platform, where you can learn about a wide variety of online marketing topics. It is a very comprehensive platform, and it is therefore also sometimes referred to as the Wealthy Affiliate University.
I have personally not found a platform that has more or better step-by-step training, and I have learned a lot from being a member there, which I will go more into details about later.
It is called Wealthy Affiliate as a lot of the training is about how you can make money on websites or blogs through affiliate marketing.
But there are many other topics as well – you can learn a lot about how to promote any kind of business online, how to monetize a website you already have, how to use social media to promote your business, how to build a website from scratch and much more.
Here are some training opportunities that are available:
Online Entrepreneur Certification
The Online Entrepreneur Certification is the place to start on Wealthy Affiliate. It is a thorough course that takes you step-by-step through the whole process of building a website, creating content for it, getting traffic from Google, and how you can then monetize this traffic.
I had myself worked with websites and online communication for many years before I joined Wealthy Affiliate, but I still followed this course, and I learned a lot from it.
I was able to make good websites before, but I did for example not know how it was possible to get consistent free traffic for them and make money on the website themselves – these are a few of the many things this course taught me.
The great thing about this course is that it will take you through everything step-by-step, so you do not need any experience at all.
Many people come to Wealthy Affiliate without any knowledge or experience of websites or online marketing, and take this course and ends up making awesome websites (and awesome incomes as well).
The course has 5 levels with 10 lessons in each level. You can take it in your own time.
A really cool thing is that you get completely free access to all of level 1 (10 lessons) – that was also how I first joined, and I was glad I for free could check out the training.
Weekly live classes
Every Friday there is a live webinar for around 1 hour (usually it almost takes 1.5 hours, as the training chief Jay takes time to answer questions as well). These webinars – or WAbinars as they are cleverly called:-) are a great way to keep up-to-date on the newest trends within online marketing.
They are about many different topics – since I joined, I have more a lot of them, and I have learned a lot about for example local marketing, conversion optimization, writing content, getting visitors to your site, how to track your progress and much more.
The classes are taught by Jay, who himself makes a living from online marketing and also has a business where he helps people with local online marketing. He is a knowledgeable guy that teaches the classes in an entertaining and interesting way.
100s of hours of video replay
A grea