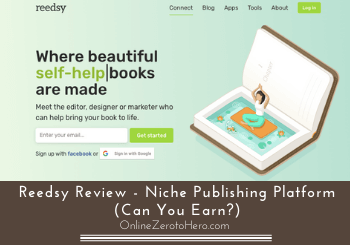 In today's technology, self-publishing is becoming more accessible. But writing a book and publishing it is not the same.
Writers these days still need help in having their book published by having someone design their book cover, having their manuscript edited, and even had help in some of the writing.
But luckily, there are now platforms where writers can find help to get on the road towards having their books published.
Reedsy is one of those platforms that connects authors and publishing freelancers.
But is Reedsy legit? This Reedsy review looks into how you can use this platform to earn some income online as a publishing professional.
Let's go into the details so you can see if it is the right option for you or not.
Tools

Usability

Income Potential
Summary
Reedys is an online platform that connects authors to publishing professionals. It also provides some trainings and tools to make self-publishing a lot easier.
While it's free to apply for work at Reedsy, you need to have prior experience in the publishing industry for your profile to be approved. They require at least 10 books you've worked on in your portfolio. Therefore, this is a platform specifically for publishing professionals looking to earn online.
If you have the skills and experience, this can be a good platform for you. But if you want to create a living income online even as a beginner, there are other opportunities you can explore.
What is Reedsy?
Reedsy was started back in 2014 by founders Emmanuel Nataf, Richard Fayet, Matthew Cobb, and Vincent Durand.
Self-publishing was already growing but authors could not easily find freelancers to help them create their books. Therefore, Reedsy became an online platform to connect authors to freelancers and to provide information on self-publishing.
It started with a $1.25 million funding and has grown to a team of 25. The firm is based in London but it has no physical office and simply operates remotely via cloud computing.
So you know the company is quite familiar with remote work given that their whole company operates remotely.
Reedsy offers tools, services, and work for both authors and freelances.
For their tools and services, they have online software tools to help authors go through the self-publishing process. They also feature a free book editing tool and training courses.
You can sign-up either as an author who wants to write books, a professional who wants to provide services or a publisher from a publishing house.
This review focuses on becoming a professional who wants to provide services and earn to see if it's worth your time and effort.
So how do you become a publishing professional on Reedsy?
How do you become part of Reedsy?
The first step in applying at Reedsy is quite easy. You simply enter your email address on their website to verify your account since you need to create a profile to get started.
But before you enter your email for a verification link, make sure you are 18 years old and have substantial experience in either writing, editing, graphic design, or web design.
Once you receive the email, you can start creating your Reedsy profile. You enter your name, write a few sentences about yourself, and your location.
You can then proceed to complete your Reedsy profile. You must add a profile picture, a short description that will be viewed by potential clients, and a detailed description where you can get creative.
Since this is a platform for authors and publishing professionals, make sure you don't have any typos on your profile.
As a publishing professional, you can choose which services you are offering in your Reedsy profile.
Services include editing, designing, publicity, marketing, translation, and ghostwriting. You can also include your sub-services, genre, and languages you specialize in.
While creating a profile on Reedsy is free, it will still need to be approved and verified before it becomes available for clients.
The important factors for your profile to be approved are your work experience and portfolio.
The work experience and portfolio required by Reedsy is not easy.
You must have at least 3 years of experience working either with top publishers or on bestselling books.
You also need to include links to Amazon or Google pages to present the books you've worked on in the past. Their recommended number of books is at least 10 so if you have less, you have no guarantee of being approved.
If you're a designer, you must add images to your gallery.
As you can see, Reedsy is not your usual online job platform like Upwork. The platform is what you can call a "curated" marketplace. Their team goes through all applications and checks which ones will be accepted to work.
It's good that they do not simply accept anyone who creates a profile but makes sure everyone is qualified.
As a worker, this is an advantage for you as clients know the quality will be high and therefore there will also be more clients using the platform – this means more work for you.
It's not easy to publish a book and there are those who lost money simply because they got the wrong people to help them in the process.
Imagine if you're the client, you want someone who has experience in the publishing world so they can help make your process easier. You would also want to make sure you only worked with qualified people, right?
Reedsy is quite transparent on why your profile may not be accepted. I like they have these points so you can go over your profile and make sure you don't commit these mistakes. This way you can already get an idea if you will be accepted or not.
There is no mention on how long it takes before your profile is approved but you will receive an email once your profile has been activated.
You will also see a "verified" icon next to your name on your public profile.
If you do get approved, make sure you respond to requests and do not try to take clients off the Reedsy platform. These can be reasons for your account to be terminated.
With its strict guidelines and requirements, the next question will be if it is worth the pay? Can you really earn through Reedsy as a publishing professional?
Recommended: Learn My Top Recommended Way to Earn Online
Can you make money?
With the required experience and the portfolio, it's quite clear that this publishing platform is not for beginners. Therefore, the rates should be enough to help you create a living income online, in my opinion.
Back in 2016, the platform had 20,000 authors and 500 freelancers. It has since grown to 150,000 authors and 1,500 publishing professionals.
So there is a lot of potential for work given that the ratio between authors and publishing professionals is 100:1
Since there are different types of services on Reedsy, you have the freedom to set your rates. There is a rate guideline provided by Reedsy to help you.
For example, their suggested price per word for an editorial assessment is $0.014. For content or developmental editing, it's $0.024. They even provide you with a pricing calculator to help you determine your rates based on their data.
The highest-paid type of service on Reedsy based on their research is Developmental Editing followed by copyediting.
Take note that there's a difference between these two. Developmental Editing is thorough and in-depth editing of the entire manuscript.
It not only looks for grammar errors and inconsistencies but examines all the elements of the author's writing. It also checks the whole structure and style. If ever there are plot holes or problematic characterization, you have to address it in your editing. Paragraphs can be deleted. The story can be changed.
Developmental editing is a skill that not all publishing professionals have so if you're skilled at this then you can definitely earn well at Reedsy.
So how do you get jobs in Reedsy?
Reedsy does "blind" bidding so if you find a job you like at your dashboard, you can send your proposal and your rate but you will not see what other freelancers proposed. There will be no bidding war here.
So you just have to set your best foot forward whenever you send your proposal and give a good rate on how much you think the project is worth.
Reedsy has a freelancer's fee of 10% but think of it as a finder's fee. With the network it provides to you, I can say it's worth the 10% especially if you will be earning from a lot of projects and you charge at a premium rate.
Your pay is sent through Stripe which has a 3% transaction fee. So you have to take these fees into consideration when giving your rates to clients.
Final Verdict
Reedsy may have been less than ten years in the industry but it has definitely helped its community.
While there is a freelancer's fee for every project you do, I still see this as a viable option for publishing professionals looking to earn online.
I have summarized the pros and cons discussed in this review below to help you get a better overview before deciding if you fit into the Reedsy community or not.
Pros:


Rates are competitive
Has a large network of authors looking to be published
Lots of training materials for both authors and publishing professionals
Cons:


Requires at least 3 years experience in the publishing industry
Not for beginners with no portfolio
There is a freelancer's fee and payout transaction fee
Overall, Reedsy would not have grown to what it is today if it was not a legit company offering opportunities to the publishing industry. The company found a gap and provided a solution. Now, as a freelancer, you can make money through it.
If you think you have the skills and the experience to get verified on Reedsy, then it might be worth creating your profile. It's a good platform with lots of trainings so you can definitely grow yourself and your income.
However, this is quite a niche market. It's for those freelancers who are familiar with the publishing industry. And you also need to know that there is no guarantee of how much work you will get as you will be bidding against other freelancers.
So if you do not come from this industry, I suggest you check out other online opportunities instead.
There are a lot available today so best to do your research and determine the ones that can give you a living income.
How I make money online
If you're looking for other options on how you can earn online with the skills you currently have, then there are definitely possibilities no matter your background.
I personally did my research and tried a lot of different opportunities to find the one that works for me.
Today, I have been able to create a full-time online income myself that allows me to work anywhere in the world and completely on my own terms.
It takes effort, but it is totally worth it.
If you want to follow my footsteps and create your own online income, then check out my FREE guide where I explain how this is possible step-by-step.
If you have any questions, comments, or have any feedback with Reedsy yourself, I would love to hear from you in a comment below.