If you have a website or want a website, you need a place to host it.
There are many hosting companies and one of the fairly big ones is One.com.
But is One.com worth it, or will it just give you trouble?
I have used One.com for quite some years, and I know from personal experience the good and the bad sides of it.
In this One.com review I will share these experiences with you, so you can see, if it is a platform for you or not – because I can reveal right away that it is not necessarily a platform for everyone.
One.com at a Glance
Reliablity

Support

User-friendliness

Tools
Summary
One.com is a big web hosting service that also offers other services like a website builder, you can buy domains, and you can buy extra features for your website.
It is a reliable service that meets the needs of many websites. It is especially a good option, if you have a smaller or medium-sized business or website, and are looking for good value for money.
What does One.com offer?
One.com is a web hosting service that was founded in 2002 in Denmark. Now it is available in around 149 countries and has more than 1,500,000 customers, so it is a pretty big company.
It does however offer quite a few different solutions, so let's first go over some of the options and services One.com offers, so you can get an idea, if it has what you are looking for.
One.com hosting
One.com of course offers hosting, and this was how the company started.
Like most other hosting companies, it offers several solutions depending on your needs and budget.
If you are just starting out and just have a small website, you can get really cheap hosting, and it still works well. I have used One.com for several years for a couple of my smaller website that do not have much content, and it has worked great for that purpose.
Personally, I am however hosting this website at Wealthy Affiliate, and that is also where I have other bigger sites, as it just offers amazing services and other tools for running an online business at the same time.
But One.com also offers bigger packages, if you need more services, more speed, more space, etc.
In the time I have used One.com, I have not had problems with my sites crashing, as you can sometimes experience on other hosting platforms.
Also, I really like One com is offering a free SSL certificate for even the smallest packages to make your website secure. In my opinion this should be standard from all hosting companies, as it is necessary to have today, but there are unfortunately still some companies that charge a high extra fee for this. So nice One.com includes it in the standard package.
Website builder or WordPress integration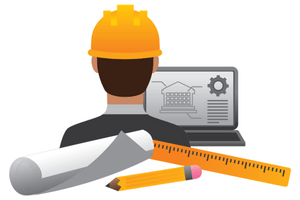 One.com has its own website builder. It has several templates, so you can get started with your design, and a drag and drop feature you can use to design it.
I must admit that this is the feature I like the least about One.com. I have created one website with their website builder, and I am never doing this again.
It is not very user-friendly, and it is a hassle to use compared to for example creating a website in WordPress, which is the world's most used content management system.
I do not quite understand why One.com is even offering its own website builder, when a builder like WordPress is freely available. Luckily, you can also easily get WordPress installed, if you host at One.com.
There is a one-click function that will install WordPress in less than a minute, so it is very easy to get installed, and you do not need any technical skills to do this.
So if you are using One.com as a host, I would strongly recommend using WordPress to build your website instead of One.com´s own website builder.
Buy domains
You can also buy your domain directly at One.com. It is very handy to be able to do this, and you can order it together with your hosting package, and thereby be up and running with both in a few minutes.
It has an easy-to-use search function, so you can quickly see, if the domain you want is available.
You can get quite a lot different kinds of domains at One.com like for example the popular .com domains, .org, .eu, a lot of country specific domains, and in total it offers more than 250 top-level domains to choose from.
I have myself bought several domains through One.com, and it is easy to do and works well.
Personalized email address
If you are using your website professionally, it is very good to be able to have a personalized email with your name and domain.
Most hosting companies offer this option, and that also goes for One.com.
You can create as many different emails as you want, so you can for example have an info + domain email, one with your name + domain, etc.
Definitely a necessary option to have when finding a hosting company, so good One.com also offers this.
Extra features
One.com offers a bunch of extra features. Many of them you of course have to pay extra for, so before getting any of them, it can be a good idea to look at your needs, and only get the ones that makes sense. Some of the options are:
Backup & restore:
You can get a backup and restore option. This makes sure a backup is made of your website daily, and it makes it possible to restore any version with just one click.
If you do not know how to take a full backup of your website yourself, this feature can be very useful to have and save you a lot of trouble in the long run, if something should happen to your website.
It has a little extra cost, but making sure you have a backup is important, whether you want to take one yourself and get it done automatically.
SiteLock security:
There is basic security when you host on One.com. You can however buy extra security through what is called SiteLock.
This makes it possible to scan daily for malware, protects against spam, and can fix potential issues.
It is great to have high security. Personally, I think it is a shame it is something you have to pay extra for, and not something that is just included in the package. But the cheapest package at One.com is of course cheap, and they also need to cover their costs and make money, so guess it is fair they charge a little extra for more features.
Search Engine Optimizer:
You can pay to get access to a search engine optimizer to make it more likely people will find your website.
Personally, I think this is unnecessary to pay extra for. I can see why people think it might be a good idea, but if you have a WordPress website and for example install the free plugin All in One SEO pack, you will take care of a lot of the basic optimizations.
So no need to pay for this extra feature. And if you really want to increase your chances of being found through Google, you need to know how to optimize your website and content for the search engines, and this is not something a program can do for you.
Can you get support?
No matter what features and services a hosting company offers, it is important to know you can get support. Often you might even need urgent support.
On One.com you have several options to get support. There for example is a live chat function.
Depending on your language, it has different opening hours. If you speak English, you can get live chat support 24/7, whereas on other languages there are limited opening hours.
You can also send an email, and they will get back to you within 24 hours. For many general questions you can also find answers and tutorials on the website in the FAQ section.
I have several times been in contact with One.com's support. They are in general pretty quick at replying. A few times I have not received as much help, as I would have liked, but have also been in contact with support staff that was really helpful and where I got all the help I needed.
So overall One.com offers a good support, and you can get fast access to it, which is very important when it comes to a hosting company.
One.com pricing
As you can see, One.com has quite a few different services and extra features you can get.
The pricing is therefore a little complicated, and it is more or less impossible to give a quick overview of the different pricing options.
Also, the prices differ from country to country, and sometimes there are great sales and offers in one country, where you can get a year for half price or something similar.
So it all depends on the specific services you want and the country you live in. It also depends on the kind of domain you want. A .com domain is for example more expensive than a country specific domain.
Overall, the basic price for hosting is very reasonable at One.com compared to many other hosting companies. You just have to make sure to check what features you need, and be aware that you do not need all the extra features. Only get the ones relevant to you – otherwise it can end up being a bit expensive.
In general, you get good value for money at One.com, but it all depends on your needs, if it is the right solution for you.
Who is One.com for?
I mentioned earlier that One.com might not be the right hosting company for everyone. So who is it then for?
In would say that One.com fulfills the needs of many websites – especially also because you can start with a small package and upgrade, if you later need more power.
So if you are a small business owner, or private person with a website, One.com will definitely give you good value for money.
Personally, I use One.com for a couple of smaller websites. I have done this for years, and it works very well. For some of my bigger sites, where I sometimes need urgent support, extra speed, and access to extra tools to run an online business, I am instead using Wealthy Affiliate as a host.
The reasons for this is that it gives so many other things to run a business than just hosting, like for example internet marketing training, high security and spam protection, effective tools, high speed, etc.
There are also many other great hosting companies, but overall One.com is a good option for many needs, and a hosting company I have been happy using for several of my sites for years.
Final thoughts
Let's finish this review by summing up the pros and cons of One.com, so you can get a quick overview, if it is the right solution for you or not.

Pros:

Good value for money
Reliable company
24/7 support in English
Easy to integrate WordPress
Makes it easy to buy domains
Offers free SSL

Cons:

Some extra features are unnecssary
In some languages the support is limited
There is an extra cost for high security
Overall, One.com is definitely a hosting company worth considering for your website. It all depends on your needs. But if you just need a reliable host for a good price that still has all the basic features you need, then One.com is a good option.
If you have any comments, questions, or have any experiences with One.com yourself, I would love to hear from you in a comment below.