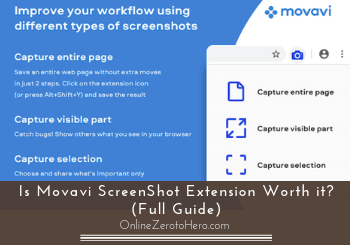 Being able to take easy screenshots can be very handy but there are many tools that can do this so it can be difficult to find the ones that are worth it.
So is the Movavi ScreenShot extension worth it or a poor tool to stay away from?
I have tested it thoroughly myself and compared it to the many other similar tools I have used to see what it really offers.
In this Movavi ScreenShot review, I will give you all the details about what the tool can and how to use so you can see if it is the right option for you or not.
Movavi ScreenShot in a Glimpse
Features

Usability

Value for money
Summary
Movavi ScreenShot extension is a completely free tool that can take screenshots in different ways.
It is quite easy to use and especially the feature that allows you to take a screenshot of an entire long page with one click is very handy.
If you mainly need to take small quick screenshots, it is, however, not the most effective tool as an ad comes up every time you have taken a screenshot which can be a bit annoying if you take a lot of screenshots. So, in that case, other screenshot tools might be a better option.
But overall it is a great tool depending on your needs, and especially in combination with other screenshot tools, it can be a great tool to have. And it is completely free so there is no risk in testing it.
What is Movavi ScreenShot extension and what can it do?
Movavi ScreenShot is an extension for your browser that makes it possible to take easy screenshots in different ways.
It is developed by the same company that is behind the Movavi Video Editor which is a software I really like and use myself and I, therefore, had high hopes for the screenshot tool when I first heard about it.
Let me just reveal right away that it in many ways also is a great tool, it is very easy to use and takes screenshots in high quality but it is, in my opinion, not the best for all situations.
So let's start by going over the features of the tool so you can see exactly what it offers.
First, I, however, just want to make it clear how to even find it. You need to get the extension for your chosen browser (more on this later).
After this, you can see a small icon in your toolbar and when you click it, you can choose between the 3 options the tool offers.
So it is quite easy to get started with as you can see. Alternatively, you can also right click your mouse and choose the Movavi tool from there.
But let's now go over each of these features so you can see how good each of them are.
Feature 1 – Capture selection
This feature of Movavi ScreenShot extension is a very basic one more or less any screenshot tool has.
It basically means that you with your mouse can choose any part of your screen to capture an image of.
This is great for a quick screenshot where you do not need any additional options.
However, if you need to, for example, draw on the screenshot, like I have done on the screenshot above, you need a tool like the Icecream Screen Recorder or similar instead as the Movavi capture selection cannot do this.
But for just a basic quick screenshot it works quite well.
I must, however, say that this is not really the part I find the most useful of the Movavi ScreenShot tool as there are other tools that are faster to use.
The reason for this is that when you have taken a screen capture with the Movavi tool, a new screen opens up that advertises one of there other products and you then here have to click to actually save the image.
After that, you can then close down the screen that opened and continue.
It does not take long but if you, like me, take quite a lot of screenshots it can be a bit annoying with this small extra step many times in a row.
This extra step is something you have to do no matter which of the features you use, but for some of the other options, I think it is actually worth it.
But if you are looking for a tool to just take a quick screen capture of a certain selection and want to save it directly, I have seen other tools for screenshots that make this faster.
So the real advantage of Movavi ScreenShot comes from the other features it has, in my opinion.
Feature 2 – Capture entire page
This feature is actually what, in my opinion, really makes Movavi ScreenShot worth considering.
If you have ever tried to take a screenshot of an entire page you know that can be a hassle. Either you have to sit and scroll a lot or you have to take several screenshots and then put them together manually.
This can be a real pain.
But Movavi ScreenShot really makes this easy.
When you are on the page you want to capture, you just simply click the "capture entire page" in the extension on your browser.
It will then capture the entire webpage without scrolling. Movavi ScreenShot will automatically scroll the page automatically no matter how long it is.
So even with a really long page, you can have a screenshot of it all in just a few seconds and with one click.
After that, a screen will pop up as I also explained with feature 1 and you can then save it as an image.
This tool and feature is really clever and fast and definitely the best feature of Movavi ScreenShot, in my opinion.
Feature 3 – Capture visible part
The last feature of Movavi ScreenShot can also be a time-saver depending on your needs.
If you do not need the whole page and not only a small selection, this tool can be handy.
When you use this option, you will just quickly get a screenshot of the visible part of your screen as you see it at that moment.
It will show the visible screen area, including control panel, open windows, tabs, and messengers.
Is the Movavi ScreenShot tool safe?
The above are the 3 features Movavi ScreenShot has.
But with any extension you install in your browser, you probably want to know if it is a safe tool to install.
As already mentioned earlier in this review and tutorial, the tool is developed by the same company that has developed Movavi Video Editor and several other tools.
So it has a long-lasting and reputable company behind it, which is in itself a good sign.
In addition to this, it does not require any special permissions when installing it.
As you can see on the image above, all it asks for is to be able to read your browser history.
Overall, I have not experienced any issues with the tool and I feel safe using it.
Is it really free?
Like more or less any other browser extension, the Movavi ScreenShot is completely free.
The only thing you have to be aware of is that every time you have taken a screenshot, a new screen opens where you see one of their paid tools advertised and then you can save from here.
Who is it for?
Movavi ScreenShot is available as an extension for Firefox and Chrome.
So if you have any of these browsers you can find it in their extension store and get it for free.
You can use it in these two browsers and also use it in incognito mode.
I mentioned earlier that I do not think it is good for all situations so if it is for you or not depends a lot on your needs.
If you ever have the need to capture entire webpages, Movavi ScreenShot is a really great tool and one of the fastest options I have seen. You can literally capture an entire long page with one click in a few seconds.
On the other hand, if your main need for a screenshot tool is because you need to take images of select areas quickly or maybe even need to be able to do drawings on them, then you should go for other screenshot tools instead.
Personally, I have several screenshot tools installed and use them for different purposes. Movavi is mainly for entire pages and to capture visible parts and for these purposes, it is a great tool and take screenshots in high quality.
Final verdict
Movavi ScreenShot is a free browser extension that is easy to use.
It does, however, not fulfill all needs, so whether it is the right option for you or not depends a lot on your needs.
So to give you a better overview before deciding, let's finish this review by summing up the pros and cons.

Pros:
Free to get and use
Can capture an entire page with one click
Takes high-quality captures
Reputable company behind it

Cons:
You get an ad every time you are taking a screenshot
The basic screenshot tool is not the most effective
Overall, I think the Movavi ScreenShot is a really great tool.
I especially like the option to capture an entire page in a few seconds with just one click. This is very effective.
On the other hand, the basic screenshot tool is not as effective as other tools as you have to click a few extra times. It does not make a big difference if you only rarely take screenshots but if you do it a lot it can be annoying.
Personally, I, therefore, think Movavi ScreenShot is best to use in combination with other tools. Movavi when you need to capture an entire page or the visible part and other screenshot tools when you just need to take a quick screenshot.
I hope this review and tutorial has helped you find out exactly what Movavi ScreenShot offers and if and when it might be a good option for you.
If you have any comments, questions, or have any experiences with Movavi ScreenShot yourself, I would love to hear from you in a comment below.