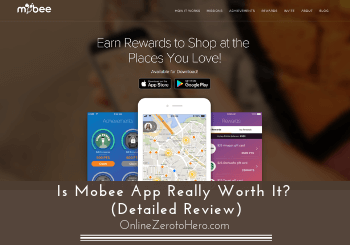 Mobee App claims to offer you to earn to shop at places you love.
That sounds great, right?
But is Mobee App legit or a scam that is a waste of time?
Let me just reveal right away that it is legit, BUT this does not mean it will necessarily be worth the time. You need to know all the details about this before joining.
This Mobee App review will, therefore, show you exactly what you get and how much you can earn so you can easily find out if it will be worth it for you or not.
Mobee App in a Glimpse
Tools

Support

Income potential
Summary
Mobee App is a legit option to earn a bit of extra money/rewards on the side.
But whether it is worth it or not for you, depends a lot on your expectations as it has some disadvantages.
You have to be at certain locations to do the missions, there is no guarantee there will be missions in your area, and overall you do not get very good value for the time spent, in my opinion.
However, if you have some extra time, it can be a fun way to earn a bit extra if you just make sure to find missions you do not have to travel too far to complete. But it is definitely NOT a way to make a full-time income or a consistent income.
What is Mobee App and what does it offer?
Mobee App is an app where you can join and become a bee, as they call it.
This means you will get access to different tasks – they call these missions.
These missions can, for example, be dining at a restaurant for free, shop at a store near you, trying out a product, and more.
Most of the missions are, however, small tasks you have to do in a specific location near you. Usually, they will take 5-15 minutes.
Once you have completed a mission, you will have to answer a few questions and in some cases, a part of the mission might be to also take photos at the location of the mission.
A member of the Mobee App team will then review your mission within 48 hours for quality purposes. If the mission is approved, you will then get your reward.
So in short, Mobee App can be explained with three steps: You find missions near you, you complete the missions, and you get rewarded.
In addition to this, Mobee App offers a few more options.
You can, for example, earn a bit extra by inviting friends to join and use Mobee App as well.
When you join, you get an invite code you can share with friends. If they use this code when they join, you will both get 300 points when your friend completes his/her first mission.
This equals $3 so it will not be a way to make a lot of extra money unless you know a lot of people that want to become active. But it can give a bit extra for both you and the friend you invite.
Mobee App also offers different achievement badges.
Every time you complete a mission, you get one step closer to unlocking a new achievement.
So if you are an active Mobee user, you can earn a bit of extra rewards by getting these badges.
How do you get paid?
When you do missions, invite friends, or get achievements on Mobee App, you earn what they call honey points.
One point is worth $0.01 so you need 100 points for $1. So you just need to calculate it like this when you get a mission to figure out if it will be worth the effort.
You can then exchange these points for different rewards.
Examples of rewards you can get are MasterCard prepaid gift cards, gift cards for Dunkin' Donuts, Starbucks, Target, Walmart, and Best Buy.
The payout threshold is $25, so this is the minimum you have to earn to be able to get your earnings out.
Recommended: See How I Make $6K+ Every Month from Home
How to get started?
If you want to get started with Mobee App, it is quite easy.
Obviously it is an app, so this means you have to download it and install it on your phone. It is available both in the App Store and in Google Play.
Once you have downloaded the app, you have to fill out your profile which can help you find the right missions for you.
After this, you can start looking for missions near you. However, before you do this, I encourage you to keep reading this review, so you know exactly what you are getting so you join with the right expectations if you decide to join.
How much can you earn with Mobee App?
So far it is clear that Mobee App is legit and it might sound like a fun way to earn some extra money.
But the big question is then how much money you can make with Mobee app. This is very important to know so you do it with the right expectations.
Most missions pay between 100-500 points and takes between 5-15 minutes for the task itself. Obviously the longer tasks pay more.
This means you will usually earn $1-$5 per mission. This might sound nice but you have to be aware that there is no guarantee there will be any missions near you or there might just be a few.
Also, you have to be at different locations to take the tasks and spend time on transportation. This means that it can quickly take a lot of time.
You definitely can make some extra money on the side. But it will not be more than that. If you are looking to make a full-time income by starting your own business, this is not an option.
It can, at the most, just help you pay a few bills or get some nice extra things for yourself. This is important to know so you do it with the right expectations if you decide to join.
Who can join Mobee App?
From what I have been able to find out, Mobee App is only available if you live in the US.
But even if you live here, there is no guarantee you will always have available missions.
It depends on your area and the current tasks.
Often the bigger cities will have more missions but there will, of course, also be more people trying to get them, so you will have to be faster here to take them before the cap is reached.
Is it worth it?
Mobee App is in some ways similar to EasyShift that also gives you access to on-location tasks in your own local area.
This can be fun and make a bit of extra money but is it really worth it?
I would say this depends on several things.
When looking at Mobee App reviews from other users, it is clear to see there are some issues. One of the most common complaints I have seen is the time it can take.
This woman, for example, here explains that often the missions are spread out over the local area. This means you have to chase around to if you want as many missions as possible.
You might even end up spending more on gas than you get as rewards. So even though the tasks themselves are short, you also have to calculate the time (and potentially money) it takes you to get to the locations of the missions to see if it will be worth it.
There are some people that complain they have gone to the location of the missions just to find out the cap was reached and they could then suddenly not do the mission anyway.
The above shows such an experience from someone leaving a review in the App Store. This is obviously frustrating and inconvenient.
But one thing I must say is great about Mobee App is that they make sure to reply to all negative feedback in the App Store. That is a great sign of customer support.
However, that does not seem to be the case on their Facebook page where there are comments from a lot of people that are frustrated. Here there are not really any response from their support, so it seems the support is a bit inconsistent.
This is also what this user says on their Facebook page (and he got no response for this comment).
This comment also shows another challenge with Mobee App you have to be aware of. That is that there is no guarantee your mission will be approved.
If your mission does not get approved, you will not get your reward and then the time and effort will be wasted.
So overall, I would say that whether Mobee App is worth it or not depends on a lot on the time you have and your expectations.
If you just want to make a bit of side money once in a while, it can be a good option. But if you are chasing around for missions, you can quickly end up spending a lot of time and not really get good value for that time, in my opinion.
Personally, I would only use it if there were missions on locations I was going to anyway but I would not spend the time chasing around for missions as this is just not really worth it, in my opinion.
Final verdict
Mobee App is a legit opportunity to earn a bit of extra cash.
But it is definitely not a good option for all. It depends a lot on your personal preferences and expectations.
So let's finish this review by summing up the pros and cons so you can get a better overview before deciding is it is for you or not.

Pros:
Free to join
Can be a fun and different way to earn a bit

Cons:
No guarantee there are missions in your area
You have to spend time getting to the locations
The rewards are small in relation to the time spent (when you have to go there as well)
You risk the mission will not be approved
Overall, I think Mobee App can be a fun way to earn a bit extra if there happens to be a mission where you are going anyway or right next to where you live.
But it is not very flexible as you have to be at a certain location, and if you have to chase around for the missions, you will quickly spend more money on gas than you earn. In addition to this, there is no guarantee you will be able to get any missions in your area.
So it is definitely NOT a way to make a consistent income, but it can be a fun app to try out and earn a bit when you are out anyway.
How I make a living online
I have personally been able to create on full-time online income that now allows me to work when and where I want to completely on my own terms.
It honestly takes some effort and time but it is totally worth it.
If you want to follow my footsteps and create your own online income so your income is not dependent on your location, then check out my FREE guide where I explain how this is possible step-by-step.
You can even get started with these steps as a complete beginner.
If you have any questions, comments, or have any experience with Mobee App yourself, I would love to hear from you in a comment below.