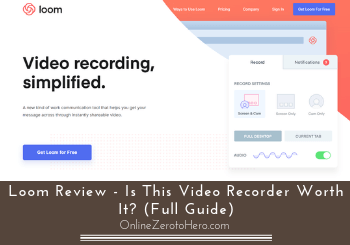 If you a looking for a screen recorder or video recorder, you have likely heard about Loom.
But is Loom worth it or is it just hype?
Let me just reveal right away that it definitely can be a great tool, BUT it really depends on your specific needs.
It is not necessarily the best for all needs.
This Loom review will show you all the details so you can easily find out if it is the right option for you or not.
Features

Usability

Value for money
Summary
Loom is an easy-to-use video recorder with some decent features.
It is especially a good tool if you have the need to easily share videos with others as it has in-built storage and sharing feature.
If you on the other hand mostly need to record your screen and then upload your recordings somewhere else, there are tools that are better and gives better value for money.
But overall definitely a great tool – if it is the right option for you or not depends on your specific needs.
What is Loom and what can it do?
Loom is a video recording tool (also called a screen recorder) and aims to make it easy to get your message across with video.
This means its main function is to make it easy for you to record videos on your screen.
But there are many tools that offer this so we need to look at bit more into exactly what features the Loom screen recorder has to see if it is the right option for you.
So let's go over its main features one-by-one.
Feature 1 – Loom screen recorder (3 options)
The main feature of Loom is obviously the screen recording feature.
Here you have 3 different options to record your computer screen using Loom – you can record just your screen, you can record your screen and your webcam at the same time, or you can record only with your webcam.
These options are more or less the same as with all other screen recorders. But they are very easy to get access to with Loom.
One thing that is not so common compared to other similar tools I have used is that with Loom your webcam is recording in a circle instead of just a square.
In my opinion, this actually looks pretty good and is a nice touch – even though this is not the best picture of me:-).
However, there are also cases where you might prefer not having a circle but that is not possible. I think it would have been great to be able to choose how it would look.
But overall the video recorder on Loom works very well.
You basically just choose which of the three options you want and then press record.
It is quite intuitive so even if you are a beginner it will not be difficult to get started.
Feature 2 – Additional recording tools
The recording options described above are just the basic options but there are also some additional recording features.
These are, for example, drawing tool, mouse click emphasis, and custom recording dimensions.
These are some very important features, in my experience and something you will likely need to make your videos as user-friendly as possible.
However, you need to be aware that these features are not available with the standard version of Loom.
But you can read more about the different versions in the next section and in the pricing section below.
Feature 3 – Video sharing or downloading
When you sign up for Loom, you get access to a Loom online account where your videos will be saved when you record them.
From here you can then either choose to share them or to download them.
If you are working in a company and you regularly need to share video recordings, tutorials, or similar with each other, this is a very fast way to do this.
You just simply record the video and then you can share a link.
The person you share with will then have instant access which can save you some time compared to other screen recorders where it saves the file on your computer and then from there you first have to upload it.
You can also choose to make the link/video publicly available so it could potentially be found in Google searches.
However, if you, on the other hand, record your videos because you want to, for example, create videos for your YouTube channel or your website, then Loom takes an extra step.
Because then you have to download it to be able to edit it and then upload it to, for example, YouTube.
So whether Loom is a time-saver or will take a bit extra time depends on your needs.
Feature 4 – Video editing
You can do a bit of basic video editing with Loom.
It is, for example, possible to easily trim the beginning or the end of your recording which can be very useful.
But it does not have more advanced editing features as it is not as such a video editor like, for example, the Movavi Video Editor.
So it is only to quickly trim your video. If you need more editing done, you need to use another tool.
The rest of the editing functions is more for social interaction if you share your videos publicly.
You can then insert a custom thumbnail that will show before the video starts to make it look more appealing and you can add a call-to-action button with a link as well.
Who can use Loom?
Loom has different options for you to use it.
You can download it and use it in 3 different ways.
You can download it for desktop on Windows PC and for MAC, or you can download the Loom app Chrome extension.
Which option is the best depends on your preferences.
However, there are some of the more advanced features that are only available in the desktop version. But the Chrome extension is definitely the easiest and fastest to get started with.
Personally, I could not use the desktop version for some reason even though I have a windows PC. After downloading it, I just simply could not open it.
But then I could use the Chrome version. In case, you really want to use the desktop version and should run into the same issues as me, Loom does have support you can contact.
How long can you record on Loom?
One of the very important things to know about any screen recorder is how long it can record as some recorders have a limitation.
With Loom, there is no recording limit so you can make your videos as long as you want to.
This goes no matter which version of Loom you are getting so that is really great.
However, after you have recorded for two hours non-stop there will be a notification checking if you are recording intentionally.
If you do not confirm, the recording will stop automatically. I think it is great they have this function just to make sure.
But if you want to, you can keep recording longer videos as long as you just confirm after 2 hours.
Loom pricing?
On the Loom website, you can see you can get Loom for free.
But you probably also know that most tools that say they are free will only give you limited access with the free version. That is, of course, fair enough as everybody has to make a living.
When it comes to Loom you do actually get a lot with the free version but they have also introduced a paid version.
Below you can see the comparison chart from Loom's website about the main differences.
Some of the most important differences are that with the free version the quality will only be standard but with the paid version you can record in HD.
You are also limited to storing 100 videos on Loom with the free version but can store unlimited with the paid version.
Also, to get access to the drawing tools, mouse click emphasis, and the custom recording dimensions, you need to get the paid version.
These are features that can be very handy but that, of course, depends on your specific needs. Personally, I would definitely need these features.
There are also some more differences not shown on the image above like some viewer insights/stats for your videos and the possibility to brand the videos with your logo.
However, even with the free version, you can record as long as you want to and also download it without a watermark which still makes the free version quite interesting and useful, in my opinion.
But let's also take a look at what the price then is for the paid version.
The paid version costs $10 per month. However, if you pay annually, you will get 2 months for free which means you will pay $8 per month.
This is a pretty cheap tool I must say. But it really depends on your needs. It is cheap if you need the sharing and storing function.
But if you mostly want to record and save on your own computer, a screen recorder like Icecream Screen Recorder would be a cheaper option as you can get the premium version of that with the same features for a one-time fee of around $30.
So whether it is the best value for money or not really depends on your needs.
Final verdict
Loom can definitely be a great tool.
But if it is the best option for you depends a lot on your specific needs.
So let's finish this review by summing up the pros and cons so you can get a better overview before deciding.

Pros:
Easy to use
Great for video sharing
The free version gives good options as well

Cons:
Depending on your needs, there are options with better value for money
Honestly, I do not think there are many bad things to say about Loom.
If you have the need to share videos and store them online, Loom can be a real time-saver.
The main thing you need to consider before getting it is IF you need the sharing function.
If you mostly need a screen recorder to edit them in another video editor and then upload them somewhere else, then Loom is not the fastest solution and also not the cheapest.
If that is your needs, you get more for your money with Icecream Screen Recorder. But Loom definitely also gives good value for money – but it really depends on your specific needs.
I hope this Loom review has helped you find out exactly what it offers and if it is what you are looking for or not.
If you have any comments, questions, or have any experiences with the Loom video recorder yourself, I would love to hear from you in a comment below.