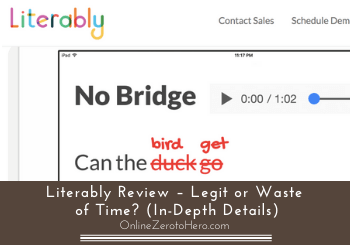 It's fairly easy to make money online these days depending on your goals. You can check out different websites and find one that suites your schedule and income goal.
You can choose from a variety of tasks depending on what skills you've acquired through the years.
Perhaps one of the most common tasks found online is transcribing. If you find the right jobs, it doesn't require much experience. You just need great listening skills, a decent set of headphones, and time to transcribe audio files.
If you're looking for something that's not the common transcribing job, then Literably can come into the picture.
But is Literably a legit transcription platform or is it a scam?
This Literably review gives you the details about what you will be doing on the site and how much can you earn. By the end, it will help you determine if you want to be a Literably transcriber or not.
Tools

Usability

Income Potential
Summary
Literably is a transcription company that connect teachers and schools to transcribers to help track their student's reading progress. As a scorer, you can earn around $8-$10 per hour which is not bad for some extra income.
The pay rate and amount of available work at Literably will not give you a full-time income but this work can be a good option for you if you enjoy typing and want to do something that has a social impact.
You are helping teachers monitor their student's reading progress so the teachers can focus on helping their students improve. Just remember that work won't be available year-long since it will depend on when there are reading classes in school.
Click To See My Top Recommended Way to Make an Income Online
What is Literably and what does it offer?
Literably was founded by Habib Moody and Tyler Borek back in 2013 to work with schools to help teachers monitor the progress of their students.
A Literably app is downloaded on the student's laptop, tablet or smartphone to record the audio as the student is reading. Through this service, the teachers will know their student's reading fluency, comprehension, and accuracy.
Literably provides services for both the school through subscription and those looking for online work at home through transcriptionist work.
Schools pay for the use of Literably's tools to help their teachers focus more on the monitoring while the software does the administration, scoring and reading assessment.
That's why the company is looking for transcribers who will check and assess the reading audio files to be submitted to the schools subscribed to the service.
Now, this particular review will focus on the transcriber's role and if this can be a potential income source for you if you are looking to work at home.
As you can see, Literably is not your typical transcription company where you will download an audio file and transcribe into an electronic document and then get paid.
As a transcriber on Literably, known as a scorer on the platform, you will not only type the words but the phonetic errors, word/sound additions, and omissions done by the student while reading.
So if you think this sounds like a great way to earn, let's discuss more below on being a Literably scorer to help you decide if this is really for you so you do it with the right expectations if you decide to apply.
How to become a Literably scorer?
You don't need to be an experienced transcriber to become a scorer of Literably, which is definitely an advantage if you are looking to get started quickly.
However, you must be 18 years old and above and not located in any of the following states: California, Connecticut, Massachusetts, Montana, Nebraska, or New Jersey.
As per their website, they no longer engage with scorers from the mentioned states since November 2019. There is no mention why you can no longer sign-up from these states.
But if you're outside the United States, you can still apply as a scorer in Literably.
Upon entering your name and email address, you will be directed to the guide page and instructions.
There you will be instructed to transcribe 6 sample recordings which will take around 30 minutes to finish. Afterward, Literably will be reviewing your application.
Now one concern about applying at Literably is the slow application process.
Some even report that it takes up to 12 weeks just to get accepted. And if you don't get hired, you can only re-apply after a year.
This is really a long wait to get an answer, so it takes some patience if you want to apply.
Since it can take quite some time before you hear from them, the best approach, in my opinion, is to apply then move on to your next application as you cannot just sit around and wait to hear back from Literably.
If you're looking for an immediate transcription job, Literably might not be for you. You can check out other transcription jobs such as Rev.com or Casting Words.
You can also first do some training on how to become a transcriptionist to increase your skills for other job platforms.
Recommended: See My Top Recommended Way to Make a Living Online
Is Literably legit and how much can you earn?
While Literably has less than 10 years in the transcription industry, it is a legit company helping schools monitor the progress of their students. Teachers or schools subscribe to the service which makes tasks available to scorers.
So if Literably is legit, how much can you earn?
Some job posting for Literably states you could earn up to $20 an hour but this won't be the case until you're used to the work and can type fast.
The average earning would be $8-$10 per hour which is not bad if you're looking for an additional source of income with your available time.
The pay is based on the total minutes of the audio that has been accurately transcribed.
So it's not on how many hours you put in for work but rather how many audio hours you get to finish per day. So if you can do quality work fast, then you can earn more per day.
For this type of work, it can take a couple of tasks before you get the hang of it.
Remember that you will not just be typing each word in the audio but also words that are written in the text being read that the student did not pronounce.
You will also have to familiarize yourself with the phonemes. It's good that the site has a video to help you identify the phonemes since not everyone is familiar with it.

You will be paid every week through PayPal which is a very convenient and fast way to get your earnings, in my opinion.
Make sure the name and email address you used upon registering are the same PayPal details you use since they will use that to send your payment.
As a Scorer you get paid every Friday.
Weekly pay is good for anybody looking for extra income for their expenses. You can adjust your earnings based on how much work you put in every single week.
Another good thing about their payment is they cover the PayPal fees. PayPal fees usually take a chunk of a freelancer's income when getting paid so it's good that you will be receiving your full payment of work every week.
Now when it comes to your workload, you have to bear in mind that Literably's clients are mostly schools. So expect a decline of work during the last week of June to the first week of August.
US Thanksgiving and Christmas are also low seasons for this type of work. But you get a high volume of recordings during February, May, September, and October.
This is something you should consider when planning your earnings as a scorer.
Final Verdict
Overall, Literably is a legit platform where you both earn and help children improve their pronunciation and reading abilities.
It will not give you a full-time income but if you want to do something on the side that has a social impact, then Literably can be a good option for you.
I have summarized the pros and cons below so you can get a better overview if you want to earn through Literably or not.
Pros:

You get paid weekly and PayPal fees are covered
You help schools and children through your work
Cons:

Slow hiring process
Less work during summer since clients are US schools
Teachers need the help they can get to monitor the progress of students so you will be contributing to a child's development through your work on Literably.
If you enjoy listening to kids reading and can transcribe fast and accurately, then you can make this work for you.
But just like any other transcription job, it will still require time to get some decent extra cash.
So just make sure you have the right expectations if you sign-up for Literably. Of course, there are other options you can also explore if you think this will not work for you.
How I make money online
If you want to spend your hours building an income online, then luckily you have many options today.
Personally, I have been able to create a full-time online income that now allows me to work completely on my own terms.
It takes some effort but it is totally worth it.
If you want to follow my footsteps and create your own online income, then check out my FREE guide where I explain how this is possible step-by-step. Don't worry, you can start as a complete beginner!
If you have any comments, questions, or have any experiences with Literably as a transcriptionist or a captioner yourself, I would love to hear from you in a comment below.