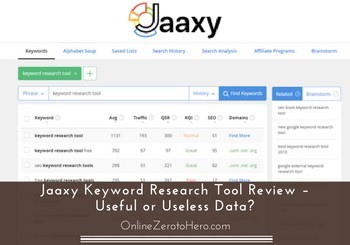 An important aspect of any online business is to be able to find the right keywords to get traffic to your site.
It can be very helpful to have a tool that can help you find keywords, look at the competition, and be able to track your rankings to see how well you are doing.
There are many tools available for this, but not all of them are of high quality, and it is important you find a reliable tool. If not you can end up wasting your time and effort.
In this Jaaxy keyword research tool review, I will tell you all about this tool. I have used it for a long time myself, and I will tell you all about what it can do and not do, what the potentials are when using it, and how you can try it for free to find out, if it is the right tool for you or not.
Disclosure: Some of the links on this page are affiliate links. This means if you click on the link and purchase the item, I will receive an affiliate commission. This will not affect the price you pay.
Jaaxy Keyword Tool at a Glance
User-friendliness

Reliability

Value for money
Summary
Jaaxy is a great keyword research tool. It gives a lot of good data you can use for ranking your website, and it has a lot of other tools included in the membership as well. It also has a free trial, so you can test it for free.
What is Jaaxy keyword research tool?
As you can see from the name, Jaaxy is a keyword research tool, that can help you explore possible keywords to use on your website to get high rankings. But it also has many other functions. Below, I will go over all the main functions Jaaxy has.
One of the great things about Jaaxy is that it is continuously updated and new functions are often implemented, so I will also keep updating this review as new options are introduced.
Find keywords with Jaaxy
When you have a website and want to get traffic from the search engines (Google, Bing, Yahoo, etc.), you need to know which words and phrases people are searching for. You also need to know how high the competition is for these keywords. When you know this, you have a much higher chance of choosing the right words and rank for them and thereby get traffic and earn money.
Jaaxy is an excellent tool for giving you this information, and I use it all the time myself to decide which keywords I should use in articles on my websites.
Below you can see an image of how it looks like when you test a certain keyword. In the example below, I wanted to test how likely it is to rank an article about "vegetarian recipes". Before looking at the image, you need to know what the different columns represent.
"Avg" is the average monthly searches for the keyword. "Traffic" is the estimated traffic you will get, if you are on the first page with this keyword. "QSR" is the quoted search results and shows you how many other articles that are currently trying to rank for the keyword. "KQI" is the keyword quality index, which shows you the quality of the keyword (green mean good, yellow medium, and red means poor). "SEO" is an indication of your overall chances of getting to the first page for the keyword (the closer to 100, the higher chances). "Domains" shows which domains are available with the keyword.
As you can see, you get quite a lot of data. In the example above, you can see that the phrase "vegetarian recipes" get more than 36,000 searches a month. However, it also shows that the overall chances of ranking is very low, as the competition is very high. In general, it is best to go for keywords with less than 100 QSR, if you have a brand new website.
What is great is however that you will at the same time get ideas for related words and phrases you could use instead. In general, Jaaxy comes up with a lot of suggestions, and you can click each of these suggestions to explore them further. So even though my initial keyword might be too competitive, it is easy to get ideas for related keywords, I can use instead. On the list above, there are plenty of options with a QSR below 100 and still a pretty good monthly search volume.
Notice that on the right side of the image there is another column that shows even more related search terms. You can click each of them to get the data for them as well. So the keyword tool is not only a way to get data to find out which keywords you should try to rank for, but can also be used to get ideas for new content.
Also, it is good to know that you can save keywords you research to different lists. That way you can just browse around and get a lot of ideas and save them to a list and then later go back and sort them out. These lists make it very effective to use Jaaxy in my experience.
Tools for generating content ideas
The keyword tool itself can be a way to get new ideas for content as mentioned above. But Jaaxy also has a couple of tools that are specifically made to generate more ideas. It is the alphabet soup tool and the brainstorm tool.
The alphabet soup tool:
This tool is similar to using google's auto suggest, where you can start typing on Google and see what suggestions comes up and that way get ideas for new content. However, the tool here makes it more automatic and faster. If I for example want to get ideas for content about online marketing, I would write that into the tool as you can see below:
The image only shows some of the ideas that come up with online marketing + the letter "A", and there are many more. You can then go through the whole alphabet and get a lot of different ideas. Exactly how many results you will get access to depends on the type of license/membership you have, but I will go more into the membership options later.
When you find a phrase you want to explore further, you just click the "search on this", and it will open in the keyword tool and give you data for that phrase.
Brainstorm tool:
The brainstorm tool is another way to get ideas for content. You can either write in your own brainstorm ideas, or as I have done below, you can get an overview of ideas from trending topics.
It shows you the trending topics according to different sources like Google Trends and Twitter. It can be a great way to see what topics that are currently trending and use this to get content ideas. If there is a topic you want to explore further, you just click it, and it will open in the keyword research tool, so you can get data about the search volume and competition.
Analyze your competitors
When trying to rank your website and article in the search engines, it can be a great help to know a little about how high the competition is. That does not mean that you should stay away from entering into competitive fields, but it is good to know what you can expect, and how hard you have to work to have a chance to get traffic. If the competition is too high, it can be worth choosing a different strategy depending on your resources.
That is why it is good not only to look at the data, but also the current search results for the keywords your want to rank for. Jaaxy has a tool that can help you with this. In the example below, I wanted to know what the search result looks like for the phrase "keyword research tool".
You will the get 10 results, which is the number of results that are shown on page 1 of the search engines. You can then choose to see more details about each result to get an idea about how much text is on the page, what is the meta description, how many backlinks are there to the website in total, and more. As you can see, you can choose to see the top 10 results for Google, Bing, or Yahoo.
It can be a great way to get a better idea about how the competition is for a certain keyword and then use this together with the data to decide whether you should go for it or not.
Track your rankings
Once you have found your keywords and written your article, it is good to be able to track how your website is performing with that keyword. Jaaxy has a section where you can track you rankings for specific keywords. You just write the keyword and then in a few seconds, you will see what your current rankings are on Google, Yahoo, and Bing. Below, I have used this function for one of my other website to show you how it looks like: