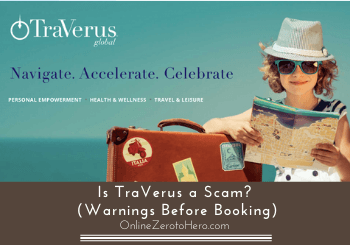 Everybody loves to travel. Ask someone about their dream destination and they have an answer immediately. And with all the Instagram posts and YouTube travel videos these days, it's hard not to get that travel bug.
Now imagine if someone approached you and told you can earn and travel at the same time? Sounds like the ideal life, right?
TraVerus Global promises just that and it is a network marketing company that capitalizes on the travel and tourism industry. It allows you to get discounts on travel while earning.
But is TraVerus Global a scam? Or is it a legit company that can bring you to your ideal lifestyle of earning while traveling?
This TraVerus review looks into the details of this travel MLM company to help you decide if you should join their team of travel consultants.
Tools

Usability

Value for Money

Income Potential
Summary
TraVerus, formerly known as Paycation, is an MLM company that features cheap travel deals and packages. It is owned by an MLM veteran David Manning. The membership isn't cheap for those who want to get the discounts and to earn commission through referrals.
You have to recruit a lot of people if you really want to earn a good income through TraVerus. Not everyone has the skill and network for this kind of business so it's a personal preference if you want to become a TraVerus travel consultant.
If you travel a lot and enjoy good deals, then you can check TraVerus. And if you are good at recruiting people it can eventually become a lucrative business. Just manage your expectations when it comes to your income as a travel consultant as it definitely will not be easy.
What is TraVerus?
TraVerus is an MLM company that offers travel packages and deals to its members. It was formerly known as Paycation but was absorbed by TraVerus Global in 2017.
Originally, Paycation was founded in 2006 by David Manning who is the same owner of TraVerus Global. He is a motivational speaker and a veteran in the MLM industry.
As a parent company, TraVerus Global not only offers travel packages but also added health & wellness and personal empowerment in their portfolio.
While TraVerus Global offers travel packages, personal empowerment talks and training, and health & wellness products, do take note that they do not manufacture or own any of their products and services. They act as middlemen between clients and the products and services.
TraVerus Global is also affiliated with XStream which is another company in the travel industry and also owned by David Manning. XStream handles the training for TraVerus members to become professional travel agents.
So TraVerus Global has different departments and services all under David Manning. It makes sense that you would put all your companies under one parent company to avoid confusion between the names and services.
For the benefit of this review, let me focus on the travel aspect of TraVerus and how you can earn through their compensation plan if you decide this is the way you want to create a business.
How much do you need to invest?
MLM companies usually offer their members the chance to build your own business while getting products or services at a lower price.
This doesn't come free, of course. MLM companies require a membership fee so you can get discounts and earn at the same time.
For TraVerus, there are two packages you can avail of to become a member. You can either be a referral travel consultant or a certified travel consultant. I have to tell you now that their membership price isn't cheap.
To be a referral travel consultant, you need to pay $199.95. This covers your sign-up fee, your annual fee, and your website fee for the first month.
You also get access to the booking website where you can earn when you refer people who purchase travel deals and packages. This type of membership allows you to earn 65% in travel commission.
If you want to really build the business, then you can get the certified travel consultant package worth $399.90.
You get the same benefits as a referral travel consultant but there are added perks. First, you get the training provided by XStream.
As mentioned earlier, XStream handles professional training for those who want to become certified travel consultants. Your commission is also higher at 75% and you get lower travel rates.
You don't have many options in terms of membership but these two. If you just want to get low travel deals then think you might refer a friend or two, then you can go for the referral travel consultant.
If you're planning to build the business, then you become a certified travel consultant package.
Can you really earn with TraVerus?
It's a good sign that you would check if a company is legit before joining especially since you'll be shelling out your hard-earned money.
Honestly, you don't get that much information about the company on their official website. You have to do your research and read on reviews to see that TraVerus is a legit company and not a scam.
But even though the company does offer real services and has been operating for years, I have identified four things you need to consider seriously if you're looking to become a TraVerus Certified Travel Consultant.
1. The best way to earn is through recruitment
TraVerus has 18 ways of earning but all of them involve recruiting. Most bonuses rely on how many people you bring into your business.
For example, if you get 300 recruits and above, you get more bonuses every rank you hit. You will get $1000 after 300 recruits. But how many people do you really know that are willing to pay the membership price within your network?
You can watch the compensation plan in the video below:

Another bonus you will get is $20 for every new person you get to join in your business. But this is only after the third person you enroll.
When you enroll a third person into the business, you earn $20 or more as coded bonus, and when that third person enrolls his or her first two people, you get a $20 on both of them. And then it goes on and on.
But you will not get these bonuses if you don't start recruiting people. And recruits are only counted for bonuses if they get the Certified Travel Consultant package, not the Referral Travel Consultant.
This doesn't give you many options if you really want to build your income through TraVerus.
Not everybody has skills in selling and recruiting people into this kind of business. Not all your friends are willing to listen to a sales pitch.
Sometimes people end up losing friends and money when their MLM business is focused too much on recruiting team members.
You will also not find any income disclosure agreement compared to other legitimate network marketing companies I have encountered. MLM provides an income disclosure statement to avoid any misrepresentation of the opportunity or typical earnings of its distributors.
It shows the real earnings of an average distributor after they have compiled data. This helps you to see the real potential of the business. The disclosure is, however, not just easily available so you will have to ask to get access to it – or at least I could not find it.
But overall, you definitely can make good money with TraVerus if you are good at recruiting and like it.
However, if you are not very good at this or do not like trying to recruit, then this will not give you the best opportunities to earn so you need to think about this so you choose the right option for you.
Recommended: See My Top Recommended Way to Make an Income Online
2. Not all your contacts will spend a high amount on travel
As mentioned, not everybody you know is able or willing to pay $400 dollars to get access to travel deals.
If they only travel once or twice a year, then that amount doesn't seem reasonable. Travel is not a need to many but rather want or a luxury.
If you're someone trying to make ends meet, then traveling is the least of your priorities. And the membership you pay does not include the travel deals which you will also be paying to book those deals.
So unless you are very good at selling, it can be challenging to sell a product like this.
I would definitely advise you also start selling online, as it will likely be difficult to find enough people interested in paying for the membership just from friends you know.
3. Competition is high in the travel industry
The global travel and tourism industry is estimated to be around $8 trillion in value in the past year.
It continues to grow as it gets easier and more affordable for people to travel. This means there is really a lot of competition for cheap packages and travel deals around the world.
I think this is also one of the reasons why TraVerus Global not only features travel but added health and wellness and personal empowerment to their portfolio.
Therefore, this is the kind of business you really need to have the right market who will choose you over other deals they find online.
However, since the packages are not owned by TraVerus, then every certified travel consultant is just a middleman.
Your friend can easily find a package that matches their budget without having to shell out the membership cost in TraVerus.
4. ROI for your initial startup cost can take time
Usually, when you pay for a membership in an MLM company, you get an initial inventory of the products.
However, you don't get any initial inventory or travel package when you pay for membership in TraVerus. You pay for the website and your monthly fee.
You can learn how to market your MLM business online so you can maximize the website and booking system you paid with your membership.
The only way you can get back your investment is if you recruit enough people to earn back what you spent on membership. You don't get any travel deal included in your initial start-up cost.
So your investment return will depend on how fast you can recruit enough people in your organization to earn more than $400 in total. There is also a monthly fee of $60 for you to be considered active in the business.
If it takes you three months to earn a commission, you would have spent $640 before you get your first earning. This kind of model can make you lose more money than you earn if you do not know what you are doing.
So before getting involved, make sure you sit down and calculate your budget and how many sales you need to make it run and see if you think this is realistic with your skills.
TraVerus definitely can give a good return of your investment over time if you are very skilled. But it will not be easy, and you need to be aware of this so you start with the right expectations.
Final Verdict
The promise of earning while traveling sounds like the ideal lifestyle. However, the high start-up cost of becoming a TraVerus member may not be enough to make this worthwhile.
Unless you're the type of person traveling almost every month and you have friends who have the same lifestyle, TraVerus may not be the best business option for you.
But let's wrap up this review with the pros and cons I've discussed to help you get a better overview before making your final decision about joining or not.
Pros:

commission rate is higher than many other companies

you can save a lot if you travel a lot

Cons:
compensation plan relies too much on recruitment

initial start-up cost is high

no product or deals included in the package
Probably the best reason you join TraVerus is if you love traveling and you want good deals for your travels.
But if you're planning to make a good income out of this then you have to be really good at recruiting people and have the right market for their packages.
Overall, TraVerus is a legit company but it's definitely not for anybody.
You have to have the right skills and market to make it successful here. So it really depends on your skills and the time and money you are willing to put in if you should become part of TraVerus or not.
But I hope this review has given you a good overview so you know exactly what to expect and can now make the right decision for you.
How I make money online
If you imagine yourself traveling while earning, then there are definitely online opportunities where you can do both. I spent time and tried different online opportunities to find an option that can give me that kind of lifestyle.
Now, I have been able to create a full-time online income that now allows me to work completely on my own terms and from anywhere.
It takes some effort but it is totally worth it.
If you want to follow my footsteps and create your own online income, then check out my FREE guide where I explain how this is possible step-by-step.
You can even get started with these steps as a complete beginner.
If you have any questions, comments, or have any experience with TraVerus yourself, I would love to hear from you in a comment below.