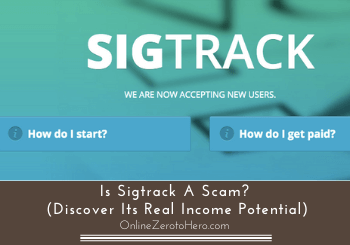 Today, people are looking for different ways to earn online. The internet has enabled a lot of opportunities even for those staying at home.
You might have encountered data entry job opportunities if you are one of those who have been searching for online jobs.
If you've been searching for data entry jobs, then you might have come across Sigtrack. Or you've heard about it and wondering if it's worth your time.
But is Sigtrack a scam or a legit way to earn?
That's a normal question to ask since there are so many online jobs that you have to do your research to know if it's a legitimate opportunity.
This review will tell you why Sigtrack is not a scam but also why it might not really worth the time if your goal is to earn online.
Tools

Training

Usability

Income Potential
Summary
Sigtrack is a data entry company that handles mostly petitions and campaign registrations. It connects freelancers to data entry jobs to help you earn while at the comfort of your home.
Is Sigtrack a scam? Or is it a legit way to earn an income? The answer is that Sigtrack is not a scam. It is hosted by an IT company and there have been no complaints about its payout.
However, you shouldn't expect to earn a full-time income by doing basic data entry work. You can roughly earn an average of $10 per hour. Accuracy and fast typing skills are needed to earn at Sigtrack because of their 98% accuracy requirement.
If you don't like repetitive, monotonous work with basic pay then skip Sigtrack and check out other online opportunities.
What is Sigtrack and what does it offer?
Sigtrack is a company that connects freelancers to data entry jobs.
If it's the first time you've heard of data entry jobs, then it's basically dealing with information and saving it in a digitized format such as a document or database.
Data entry jobs are common and usually easy to get for freelancers since it typically doesn't require a lot of skills.
Now, Sigtrack deals with information connected to various campaigns.
Their website says that they are "a database application that links grassroots campaigns with crowdsourced data entry freelancers."
This means they usually handle voter registration cards and petition sign-ups and convert them into digital format.
Petitions and registrations usually have signed up sheets with names and signatures. Sigtrack helps clients convert those names and signatures into a digital database for use – so this would be the kind of job you will be doing if you end up joining Sigtrack.
There is no information to be found about Sigtrack's founders but according to their website, it is hosted by Allied Data Services. They are dealing with private information so being hosted by an IT company is important to protect that information.
Sigtrack currently has "we are accepting new users" on their website so they're looking for new freelancers to connect with their campaigns if you decide to give it a go.
How do you apply to work for Sigtrack?
If you're interested in becoming a freelancer for Sigtrack, then you have to be a U.S. resident.
In addition to this, there are some technical requirements.
Their technical requirement includes that you need to have a computer running on Windows Pro edition or higher, or MacOS 10.12 or later.
Now, one of the technical requirements that can be tricky if you are a beginner is having a dual monitor setup or a 4k monitor.
They mention on their website that a tablet such as an iPad can be used as a second monitor. It takes a bit of technical knowledge to actually set up a dual monitor.
Other online work I know only requires a single monitor unless you're doing some heavy IT or graphic design work. So make sure you're familiar with having a dual monitor.
Why the need for a dual monitor?
Well, your main task would be typing and tagging signatures from forms and placing them on a digital document.
It would be hard for you to actually view the forms and accurately encode the details if you keep moving around the forms and Sigtrack window.
An iPad or any other tablet would work if you view the forms in it then work on your main computer as long you get the data right but you just need to know this is necessary for you to start earning on Sigtrack.
During the application process, you are required to have a Skype interview with Sigtrack so make sure you have your webcam.
They conduct the interview to verify your identity and US residency. You also have to submit a valid identification card before the Skype interview.
So the hiring process is a bit more thorough than many other data entry jobs but since you are dealing with a lot of sensitive data this really does make sense.
During the interview, you will be told more about the rest of the application process.
But there have been people saying you will be hired immediately after your Skype interview if you passed.
If that happens to you, you will then be able to start working on your data entry tasks and start earning right away.
How much can you earn?
Once you start working for Sigtrack, you will get paid based on two factors – the number of tasks you accomplish and the accuracy of your work.
So you have to match the petition signatures with the voter registrations. Sigtrack will pay around $0.03 for every matched tag and $0.06 for non-matching tags. This means you are paid twice if you discover a signature does not match the voter's registration details.
You would probably only be able to enter an average of 200 tags every hour especially if you're just starting.
Experts are said to be able to do 500 tags per hour after a while. But that will take a lot of practice so do not expect you will be able to get to this rate right away.
So with the rate, you can expect at first, you can earn more of less $10 per hour when you begin.
Now for your pay based on accuracy, you need to have 98% accuracy to get 100% of your income.
You do get penalized if you are below 98% accuracy. If your accuracy falls below 50%, then you don't get paid. So, for example, if you are to earn $100 but you have a 92% accuracy then you would only get $50 based on the deductions as portrayed on their website.
Therefore, you will really not know your potential income until you start working and see how many names you can do and what's your accuracy rate.
Remember you won't get paid for signatures that were skipped or not tagged and false or incomplete information.
You also have to keep a 98% percent accuracy if you want to keep working with Sigtrack.
So make sure to pay attention to details and do not rush.
Your pay will be sent to your PayPal account every Friday.
Personally, I think weekly pays are good for when you are a freelancer since you get to adjust your income every week. So if you feel you need more, then you can put in the hours and get your money by the end of the week.
Is Sigtrack a scam?
As you can see above, you cannot earn big money on Sigtrack.
But just because you won't be earning big doesn't mean Sigtrack is a scam.
I have not been able to find any complaints about Sigtrack data encoders not getting paid which I find as a good sign. They're also quite transparent with their rates and how you will get paid.
So it is definitely a legit way to earn.
But just because Sigtrack is not a scam doesn't mean you should necessarily start investing your time and effort there. And if you do, it is important you do it with the right expectations.
Honestly, the rate for me is really peanuts compared to what you can actually earn online if you, for example, start an online business.
Also, I am also not a fan of repetitive, monotonous work which you would experience if you're doing data entry.
It might be ok for a while, but in the long run, it can end up being very boring, in my opinion. But that is, of course, a matter of personal preferences.
Aside from the income, you might also be looking for growth opportunities in the work you have chosen to do so you also need to know what to expect in this area on Sigtrack.
They have training links on their website which is actually good as a guide to if you are a freelancer there looking to learn data entry.
But you'll still be doing the same job of getting information from forms and putting them in an electronic document.
That can really get boring after a while and it will not be something that will teach you a lot of new skills if this is what you are looking for.
So aside from the income, you won't be getting any growth opportunities in this job. Data entry jobs are usually basic.
Once you've learned and mastered the basic skills you need to complete a job, you don't need to learn anything else. If you're expecting to continuously learn something new, data entry jobs such as that on Sigtrack would not be a good fit.
You also have to consider the type of work you will be doing at Sigtrack. Since they deal mostly with campaigns and petitions, you can expect that your work will be seasonal.
It's not all year that there are campaigns and petitions done. You will have more workload if it's election season.
This is something you should definitely take into consideration and plan accordingly.
So if you decide to work for Sigtrack, it might be a good idea to also get other jobs to ensure you will earn consistently.
Final verdict
Sigtrack is an easy job if you are looking to add some extra dollars to your income.
If you can type and accurately work fast then you might want to do a data entry job.
But you can't expect to earn your full-time income just by doing this. But if you are a stay-at-home parent who has a couple of hours in their day to do some basic work this might be the perfect setup for you.
To help you get a better overview before deciding if it is for you or not, let's finish this review by summing up the pros and cons.

Pros:
No prior experience required
Basic data entry job
Weekly pay

Cons:
Work is seasonally available
Low pay
Work is monotonous and repetitive
Only available for US residents
Overall, Sigtrack is definitely a legit way to earn and if you are just looking to earn a bit extra without having to learn new skills, it can be a good option.
But if you are expecting easy money or fast money, this is not for you.
Of course, any online work would demand time and effort from you so you can start earning and this is something you have to know if you want to earn online.
But you have to work smarter by choosing opportunities that give higher returns to your work and that fit your needs and expectations.
Sigtrack would not really put you on the road towards earning a full-time income at the comforts of your home. It can only help you earn some extra dollars for your daily expenses.
This can be fine if that is what you are looking for. It depends on your expectations and you just need to do it with the right approach.
If you are looking to make a good full-time income completely on your own terms, you, however, need to look elsewhere.
How I make a living online
If you really want to earn a full-time income working online, this is definitely possible – I know this from personal experience.
I have been able to create a full-time online income myself that allows me to work anywhere in the world and completely on my own terms through affiliate marketing.
It takes effort, but it is totally worth it.
If you want to follow my footsteps and create your own online income, then check out my FREE guide where I explain how this is possible step-by-step.
If you have any questions, comments, or have any feedback with Sigtrack yourself, I would love to hear from you in a comment below.