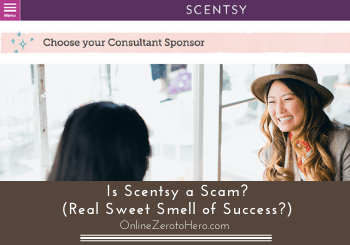 What if your house can smell like Christmas or the ocean all year long? What if you can also earn an income by making homes smell good?
Scentsy is a company that believes fragrance can make life better and offers that opportunity to you.
So is Scentsy a scam or can you really earn and smell the roses?
Let me tell you right away that Scentsy is a legitimate company. It is rated A+ in Better Business Bureau and has existed for more than ten years.
But just because Scentsy is an A+ company doesn't mean you will be enjoying the sweet smell of success when you join.
This Scentsy review will give you info to help you decide if you should be purchasing those wax warmers and start hosting those Scentsy home parties.
Training

Tools

Value for Money

Income Potential
Summary
Scentsy is a fragrance company that manufactures wax warmers, laundry products, and personal care items. It has been in the business for more than 10 years already. The company even has a license to produce Disney wax warmers.
You can become a consultant for just $99 but don't expect that you will be earning big once you join. The price for Scentsy products is more on the premium side so finding the right customers can be a challenge. It also appears to be a niche product.
If you want to make your home smell nice and earn a couple of dollars then you can check Scentsy. But if you are looking to earn a good stable income, then the reasons in this review might make you think twice before starting your Scentsy business.
What is Scentsy?
Kara Egan and her sister-in-law Colette Gunnell founded Scentsy as a small business but in 2004 it was bought by Orville and Heidi Thompson.
Now this Idaho-based multi-level marketing company is known for their electric candle warmers and wax cubes.
They also offer laundry products and body care items. Their entire collection can be viewed at their website.
Upon checking out their website, I saw licensed limited collections featuring Disney such as Mickey Mouse, Frozen, Bambi, and Star Wars.
I would think it's a good indication that the company is indeed trusted since not all companies can get a license from Disney.
The company is also a proud member of the Direct Selling Association.
Since it is an MLM company, you can invest and potentially start your own business that way.
But to decide if this is the right option for you, let's look into how much you would have to invest and how you can make money.
How much do you have to invest?
A legit MLM company would require you to purchase products since the business model is mainly product distribution.
This is actually one way to determine if an MLM company is a pyramid scheme or legit. A pyramid scheme would just involve recruitment without products.
Scentsy has a starter kit priced at $99 excluding tax and shipping.
You would get your warmer, scent testers, product samples, product catalogs, consultant guide, and customer brochures.
You can also get an enhanced starter kit for $149.
Since this is an MLM company, you would need a sponsor. If you personally do not know anyone, the website will assign you someone in your area.
There's a note upon registration saying that "we are unable to change your sponsor after enrollment".
You should then be careful when choosing your sponsor because trainings and support would depend on them.
It's best if you personally know your sponsor because you can trust them in doing the business and know it is someone with success that can give you support to increase your chances of success.
As a new member, called consultants, you get your website for free in the first month.
After that, you would need to pay $10 per month as a maintenance fee. This is actually not much for a website since it is a part of your business and a necessary part.
Upon joining, you will also receive different trainings and your sponsor will also assist you in the business.
But how much support you will get from your sponsor will, as mentioned, depend on the person, so there is no guarantee about how much support you will get.
How do you earn with Scentsy?
Before signing up, you first have to make sure the products are available where you live and where you want to sell them.
Scentsy wax is produced in Meridian, Idaho and sold in the USA, Puerto Rico, Guam, Germany, Canada, Ireland, and the UK.
If you're not from any of these places, then Scentsy is not the business for you.
I looked at their FAQs and found that they describe themselves as a "party plan company" rather than a multilevel marketing company.
They say it's characterized by a social event, whether at home or online, where you get to present the product lineup.
So you can expect this is how you will mostly be selling the products – by planning events where you can sell the products.
You earn through commissions based on their Personal Retail Volume (PRV). One PRV is equivalent to $1.00.
You would get a 20% commission of your PRV, but it will increase by 25% once you've reached the 1,000 PRV points worth of sales.
If you make more than 2,000 PRV in a month then you will receive a 5% bonus. So you can basically get up to 30% commission by selling your Scentsy products.
The catch would be you need to have sales of at least 200 PRV per month to be considered for a commission.
Other ways of earning are through leadership positions and a percentage per distributor.
As with most MLM companies, the compensation plan is a bit complicated, so I will not go into all the details here.
If you decide it is for you, you can view their complete compensation plan here. This is definitely something you need to make sure to be very familiar with before investing.
Take note that you don't get any discount when you buy your products as you sign-up but you get a commission once you start selling.
So you don't get any benefit if you just plan to sign up to use the products.
Is Scentsy a scam?
Scentsy is definitely a legit company. It has products that most would consider quality.
While it's not a scam or a pyramid scheme, I want to share with you three reasons you should consider carefully before getting yourself a starter kit so you are sure you go into it with the right expectations if you decide to make it into a business.
Reason no. 1: High cost of products
If you check out amazon.com or your local stores, an electronic wax warmer would cost you around $14-$25. Wax cube sets would be around $10.00.
Scentsy mini wax warmers are priced at $20-$25 depending on the design. Their classic warmers are at $30-$40.
If you're feeling fancy, you can get the Darth Vader warmer for $75.00. One scent bar is priced at $6.00.
There is no wholesale price for consultants. You do, however, get discounts if you host a Scentsy party at your home as a "host reward".
Of course, the consultants would argue that you're getting quality products for that price. But are you really willing to pay that price?
And would people you want to sell to be willing to pay that price?
Because if people, in general, think the products are expensive, it will be very hard for you to make any sales and then it will not be possible to make it into a business.
There are also some reviews stating that Scentsy is not all-natural. There are people that would pay a premium price for something that is all-natural and safe which is not the case for Scentsy.
It would be harder to build a business where the price doesn't really match the amount people are willing to pay for a product.
This is something you should consider when starting your business so it would not be too hard for you to sell.
Reason no. 2: Niche market and low repeat purchase
To be honest, fragrance items are not exactly part of people's monthly budget. It's nice to have a cinnamon-scent at home but not everyone would spend money on that.
This does not mean you don't have a market for fragrance products but don't expect everyone you talk to would want to buy.
And if they indeed buy, what are the chances that they would buy every month?
Remember there is a monthly target of 200 PRV for you to receive your commission.
Imagine how many friends you can actually sell these wax warmers to every single month. And you would only get $40 for that $200 sales.
So if you are going into it, it can be a good idea to make sure to also sell your MLM products online to increase your chances of reaching the target and getting commissions.
Reason no. 3: High income depends on the size of your sales team
While Scentsy describes itself as a "party plan company", you cannot disregard the fact that for you to earn big, you have to have a big sales team who are also selling lots of Scentsy products to friends and family.
Looking at their income disclosure, you would notice that there are more consultants who stay for less than 12 months and their minimum earning is nothing.
For those who have been with Scentsy for more than a year, expect to earn just around $2000 as annual commission.
That's only $166 per month. If you think about it, you will earn nothing if you personally purchase the $200 PRV monthly requirement while earning the average annual commission.
So you really have to recruit lots of people in your team to earn as a Scentsy consultant and to make it into a full-time business.
Given these reasons, I would advise you to carefully assess if you would want Scentsy as your personal business.
I know there are other better online opportunities I would recommend if you want to build your success.
All opportunities require a certain amount of hard work and time so it is always best that you do your research and check your options.
And if you decide to make Scentsy into your business, you have to do it with the right expectations and know it will not be easy as the numbers above show.
Final Verdict
Scentsy is not a scam. It's also not for everyone looking to earn. It's for those who love hosting parties and love fragrances and who are great at selling.
Given all the information above, here are the pros and cons of Scentsy to help you decide if you should be filling your home with Scentsy fragrance.
Pros:
There is a variety of products to choose from
Have been in the business for more than 10 years
Low start-up cost
Cons:
Premium price for products
No wholesale price for members
Products for niche market
Low average commission for members
So let's be honest: not everyone can smell the sweet success in multi-level marketing or direct selling with Scentsy.
If you have the market for it and are really great at selling and recruiting other sellers, then you can make it into an additional income source while making your home smell nice.
But if you think the reasons I've listed are enough to make you check other ways to earn then do spend time researching for more options.
How I make a living online
I was also finding ways to earn online years ago. I spent time and tried different opportunities just to find the one that worked for me.
Now, I have been able to create a full-time online income that now allows me to work completely on my own terms.
It takes some effort but it is totally worth it.
If you want to follow my footsteps and create your own online income, then check out my FREE guide where I explain how this is possible step-by-step.
You can even get started with these steps as a complete beginner.
If you have any questions, comments, or have any experience with Scentsy yourself, I would love to hear from you in a comment below.