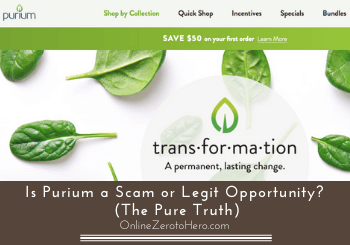 Given the chance, most people want to age more gracefully and live longer. This is one of the main reasons why the health and wellness industry continues to grow with its worth marked at $4.2 trillion in 2019.
Aside from people buying more products, they are also building their income through the health and wellness industry.
Thus, there are a lot of MLM companies that carry health and wellness products promising their associates a potential residual income just by using and sharing the products.
One of these companies is Purium. Purium's mission is simple – to help you feel and perform like a younger person.
But is Purium a legit opportunity for you with its premium products? Or is Purium a scam?
With all the MLM companies offering products with the chance to earn big, it's smart that you do your research before you become part of a company.
This Purium review will focus on how you can earn through Purium products rather than going into the details about each product they offer.
By the end of the review, you will be able to know if this health and wellness company is the opportunity you've been looking for.
Tools

Value for Money

Income Potential
Summary
Purium is an MLM company in the health and wellness industry. Its founder, David Sandoval, is known because of his book The Green Foods Bible. 
The start-up cost to be a Purium associate is not cheap. You need to purchase a pack ranging from $250 to $1000. You can earn through retail profit, monthly commission, and bonuses. They have a gift card marketing system where you can give gift cards to your friends and families and get a commission when they use it.
While there are different ways to earn, the main focus is still recruiting people into your team to grow your income.
If you're not good at selling and feel like you don't have the right market for Purium, then this might not be the best opportunity for you. If you decide to become an associate, you have to work really hard to build your residual income.
What is Purium and what does it offer?
Purium was founded by David Sandoval in 2004 together with Amy Venner.
If the name David Sandoval sounds familiar, then you might have come across his book The Green Foods Bible.
Sandoval is a believer of naturopathy thus Purium aims to promote health and well-being through its line of non-GMO and certified organic products.
Before Purium was created, Sandoval was manufacturing whole foods since 1993 through his other company Organic by Nature.
So as you can see, Sandoval is no stranger to the nutrition industry. Organic by Nature manufactures the products that Purium sells through its MLM platform.
Purium, a combination of the words "pure" and "premium", claims to help your body detoxify, cleanse, and rejuvenate. Its mission is to help you eat better, age more gracefully, and live longer.
Purium's products can be categorized into the following:
Weight loss
Athlete products
Anti-aging
Family Nutrition
Greens organics
Purium's best selling product is their 10-Day Transformation weight-loss set. It is said to activate your "skinny hormone" and help reset your metabolism in just 10 days.
Therefore, they claim it's the "fastest, healthiest, simplest, least expensive weight loss program on the planet".
By using the 10-day weight loss program, you are said to lose 5 to 20 pounds in just those 10 days. You can also build muscles with exercising.
Imagine pitching that claim to your friends who want to lose fat and be able to make good money by doing it also. Sound promising, right?
I won't go into doing a product review since you can check out different testimonials and product reviews online.
What I want to focus on is how much you will be investing and if it's going to be worth it if you are looking for a way to make money.
How much do you need to invest?
You can take advantage of products in any MLM company by enrolling as a member. You get discounts and you can also earn through referrals.
For Purium, you have two enrollment options.
First, you can purchase the Launch Pack. This will include your Purium Brand Partner Starter Kit, your own online back office with mobile app, unlimited $50 gift card for a year, and The Green Foods Bible written by the founder itself.
The Launch Pack will cost you $199. Take note that you don't get any products at that price.
If you want the materials together with your initial inventory, then you have to purchase $250 worth of products.
The cost of the Launch Pack will then drop to $99 so your total payment will be $349 for the products and the materials.
The Launch Pack is free if you purchase at least $500 worth of products.
Here is the list of the variety of product packs you can purchase:
Daily Get Started Pack ($249)
Daily Get Started Gold Pack ($398)
Daily Platinum Pack ($549)
Daily Launch Pack ($1049)
Transformation Get Started Pack ($280)
Transformation Get Started Gold Pack ($369)
Transformation Platinum Pack ($549)
Transformation Launch Pack ($1049)
Athlete Get Started Pack ($280)
Athlete Get Started Gold Pack ($429)
Athlete Platinum Pack ($549)
Athlete Launch Pack ($1049)
The second enrollment option is purchasing the basic pack with the electronic starter kit and no initial product inventory. You only have to pay $49 for this.
Now it doesn't really make sense that you'll purchase the start kit without any products especially if you're planning to do the business, in my opinion. Imagine opening a store without any products to sell.
So, your real initial investment with the tool kits and the products is at least $250.
One good thing I found about Purium is that you get a 60-day refund period for all products. This lessens the risk of losing money if you're not satisfied with the products.
How can you earn as a Purium member?
Once you become a member of Purium, you can start taking the products and start earning through the business.
There are different ways you can earn with Purium. You can watch the complete compensation plan in the video below:

One unique thing on their compensation plan is their gift card marketing system. Each member gets these $50 gift cards they can give out to their family and friends.
The ones with the gift cards can purchase a minimum of $75 worth of products to be able to redeem the discount.
Once they redeem the discount, the distributor who gave the gift card will earn a $50 commission from the order.
This means if you get to have five people use their gift card, you get your initial investment back through the commission.
I find this method good since you can encourage people to try out the products with the discount and even get them to sign-up.
How many of us have been given a gift card to a store we haven't tried and then end up buying more than expected?
You can also earn retail commissions by selling Purium products to customers. You start with 15% but if you reach 50 personal volume purchase of products, your commission goes up to 30%.
It's good that you will be rewarded with a higher commission if you are able to sell more products.
If you're a certified health professional and purchase the required number of products, then you can earn up to 45% retail commission.
Not all MLM companies offer this feature so it can be an advantage to you if you're already in the healthcare industry.
If you really want your income to grow, you can work your way up the 18 ranks in Purium.
You start out as an associate then become a builder then consultant then director until you reach Royal Crown.
This won't be easy since your rank advancement will depend on your group's total sales of products and recruitments. The number of rank advancement within your team also matters.
For example, you can move from an associate to a builder if you have a group sales volume of 300 and you are able to recruit a new associate.
You can also get bonuses when you recruit people into your team. If your new member purchases any Get Started enrollment pack, you get $50 commission.
This means the more people you bring in, the higher your bonuses will be.
Therefore, recruitment plays a big part if you want this business to provide a solid income. You can also check out how you can market your products online so you can maximize your online presence.
Recommended: Click to Learn My #1 Recommended Way to Make Money Online
Is Purium a pyramid scheme?
Now given that you will be recruiting people in your team, you might think that Purium is one of those pyramid schemes.
I will tell you right now that Purium is not a pyramid scheme. Pyramid schemes earn mainly by recruiting new customers without involving any sales of tangible goods or services.
Purium offers a variety of products and its best-selling 10-day transformation pack has customers from around the world.
Also, Purium came from a real manufacturing company before it was launched as an MLM company.
However, just because it's not a pyramid scheme does not mean it's the right opportunity for you.
You have to consider the fact that you will only earn big here if you have the right network and great selling skills.
You have to ask yourself how many people in your life will buy a $249 product that will last them 10 days?
I checked the Income Disclosure Statement of Purium but only found the one for 2015.
According to the statement, the average income of an associate is $539 per year. That puts you only at $44 per month. That's not even enough to purchase your own Purium products monthly.
Only 1.73% of all Purium members were able to earn a 4-digit average annual income.
Such income statement helps you manage your expectations when going into Purium. Given that their products are not exactly cheap, you have to really get into the right market to build this business.
Final Verdict
There's is no doubt that Purium is selling what seems to be quality products given that they are manufactured by a whole foods and natural company that has been existing for more than 20 years.
There are a lot of reviews online on their products and people seem to generally be happy with them.
So if you think you will benefit from the products and want to experience "aging more gracefully", you can get their Get Started Packs. As for the business side, this is definitely not for everybody.
I have summarized the pros and cons to give you a better overview before deciding if you go for this opportunity or not.
Pros:
You can become a member for only $49
Has a 60-day refund period for all products
Has a gift card marketing system
Came from a manufacturing company of whole foods
Cons:
No updated income disclosure statement
High cost of products
Health and wellness is a competitive industry
Will be hard to make a living from the business
Overall, if you like the products that Purium offer then you can consider building a business by joining.
You have to be a firm believer in the products so you can encourage your friends and families to also buy a pack from you. Remember that your income will rely on how many people you recruit to your team and how many will buy products from you.
If you're not good at selling and feel like you don't have the right market for Purium, then this might not be the best opportunity for you.
If you do decide to become part of Purium, you have to work really hard if you want to earn a solid, residual income.
In my opinion, there are other online opportunities you can maximize that requires the same hard work but doesn't depend on recruiting and selling to earn big.
How I make a living online
I know it sounds great to have your own online business. I spend time and tried different online opportunities and eventually found the one that worked for me.
Now, I have been able to create a full-time online income that now allows me to work completely on my own terms.
It takes some effort but it is totally worth it.
If you want to follow my footsteps and create your own online income, then check out my FREE guide where I explain how this is possible step-by-step.
You can even get started with these steps as a complete beginner.
If you have any questions, comments, or have any experience with Purium yourself, I would love to hear from you in a comment below.