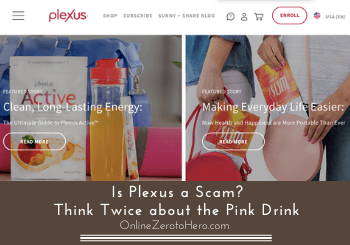 When you start adding a few pounds, you might think of hitting the gym or checking out what diet you can follow to shed those pounds.
You might hear of this "pink drink" that your friend recommends that supposedly will help you lose the unwanted weight. Then you start hearing about the opportunity this drink comes with to help you get a happy and healthy life.
If this happens, then you are introduced to Plexus Worldwide. But is Plexus a scam or can you really lose weight and earn money?
Let me tell you upfront that it is a legit company that has existed for more than 10 years. But this Plexus review will give you all the details so you can see if that pink drink can really make you money.
And let me just reveal right away that there definitely are some details you need to know before investing your time and money.
Plexus Worldwide at a Glance
Tools

Value for Money

Income Potential
Summary
Plexus Worldwide is known for its pink drink to help you control your appetite and lose weight. Its owners have years of experience in the direct selling and marketing industry. By purchasing a starter kit worth $39.95, you become a Plexus ambassador. You can earn through your customers or new ambassadors recruited to your team.
However, according to their Income Disclosure, only 50% of the company's ambassadors earn more than $100 annually. You can maximize the income potential of the business if you are good at sales and if you have the right market in the weight loss industry. You also have to believe in the products to be able to sell and share them with your friends and family.
If you want to have your own online business that doesn't rely a lot on recruitment, then I suggest you check out other online opportunities.
What is Plexus Worldwide and what does it offer?
Plexus Worldwide started in Arizona as a company selling breast check kits to help women screen for breast cancer. In 2008, Alfred Pettersen together with Tarl Robinson bought and took over the company from its original owners.
Plexus' owners are not new to the direct selling business. Pettersen joined his first direct sales company in 1992 and became one of the company's top distributors. Robinson was also a top distributor for different direct sales companies before they met.
So in 2008 when they bought the Plexus, they were introduced to a weight-loss drink that became their flagship product.
This flagship product, known as the pink drink because of its color, was launched as Plexus Slim in 2009. It is a powder mix you consume before meals to help you suppress your hunger.
With the owners' years of experience in direct selling, the one-product company grew to become an MLM company with more than 20 products in different categories.
Today, they have five product categories:
Weight management
Nutrition
Skincare
Personal Care
Combo packs
According to Plexus, these products help you have a happy, healthy life. In fact, Robinson calls Plexus the "Health and Happiness Company".
Plexus still offers its original breast check kit product from before but the company's popularity over the years came from its pink drink.
This is not a product review of Plexus but rather we will look into the business opportunity it offers. By the end, you should be able to decide if you should be joining Plexus as one of its product ambassadors and make it into your business.
If you want to know more about its flagship product, Plexus Slim, before reading about the business opportunity, you can watch the video below:

So with the drink's popularity, let's discuss how you can be part of Plexus whether as a user or distributor and then look into its income potential so you know what you can really expect.
How much do you need to invest?
According to Plexus Income Disclosure Agreement, around 61% of their members are product users and only 39% are distributors.
You can become part of Plexus Worldwide by simply purchasing their starter kit for $39.95.
This includes all the information about the products and the business opportunity. You also get access to your website.
Now you're not required to purchase any products just to become a member but it doesn't make sense to start a business or be a customer without ordering products.
You can choose between the product packs ranging from $99 to $199 or you can just choose your preferred products.
One good thing about purchasing products from Plexus is their 60-day money-back guarantee.
Most MLM companies offer their associates a 30-day money-back guarantee. So Plexus actually offers a longer period than most MLM companies in the health and wellness industry.
In my opinion, the 60-day refund lessens the risk of losing money over ineffective products since weight loss products such as these take some time to see results.
So if you are considering making Plexus into your business, this is good to know and something your potential customers will probably like to hear.
But before deciding if you should make it into your business, let's look at how good this business opportunity really is.
Recommended: Click to Learn My #1 Recommended Way to Make Money Online
Can you really earn with Plexus Worldwide?
So once you've purchased your initial package and starter kit, you can now simply enjoy the discount as a member or you can become a distributor.
Plexus Worldwide calls its distributors as ambassadors.
There are 10 Ambassador levels in the Plexus compensation plan. These are:
Ambassador
Senior Ambassador
Silver Ambassador
Gold Ambassador
Senior Gold Ambassador
Ruby Ambassador
Senior Ruby Ambassador
Emerald Ambassador
Sapphire Ambassador
Diamond Ambassador
To move up a level, you need to bring in new ambassadors.
For example, to become a Senior Ambassador, you need to recruit two new ambassadors. For Silver Ambassador, you need to recruit three new ambassadors. The higher the level, the more people you need to bring to your team.
This recruitment model is quite common in the MLM industry. However, I personally think it shifts the focus from the product sales of a company.
Instead of focusing on sharing the products to your friends and family, you become focused on who to recruit in your team to gain commissions and move up a level.
Personally, this is not really a business model I am too crazy about as it can become very stressful constantly scouting your friend circle for new people to recruit.
And it can also become annoying for your friends to be approached like this. But that, of course, depends on how you do it and your preferences if this business model is for you or not.
If you want to know the complete compensation plan of Plexus Worldwide, you can watch this video:

Of course, there are other ways you can earn aside from recruiting new team members.
If you want to focus on sales, you get retail rewards commissions. You can also get some bonuses such as a one-time achievement bonus when you move up a level.
If you grow your business fast, you can get the fast start achievement bonus if you are able to at least hit your gold level within your first 30 days.
Take note that you only get to qualify for commissions if you purchase 100pts of products.
The higher your personal purchase is, the higher your commission rate. In fact, if you purchase 500 points, you can get a 25% commission.
In basic terms, if you sell $500 worth of products at retail cost, you earn a 15% commission. Anything above $500, you get 25%. That's a good percentage if you are able to hit that amount of sales.
To actually maximize 500 points of personal purchase, I would suggest you learn how to market your products online.
This will expand your customer base so you can reach the highest percentage of commission possible.
So you basically earn by either selling a lot of products or bring in a lot of people. If you don't have the sales skills and the right market, this can be a challenge for you.
So with the cost of start-up and the overview on how you can earn, you'll probably be asking yourself if it's worth becoming a Plexus Ambassador.
Is it worth it?
As per Plexus Income Disclosure disclosure, 50% of the company's ambassadors made less than $146 in 2018. This means you are not guaranteed to earn.
Remember that a pack of products will cost you $99 and that is equivalent to the 100pts requirement per month.
So if you're not going to personally use the products, you can end up losing money and getting piled with products just to maintain being commissionable.
I also found that FDA previously issued a warning letter to Plexus Worldwide regarding their false health claims on their website.
Since we're talking about health and weight loss here, ambassadors and the company itself have to be careful about these kinds of claims.
You can check out the website for the claims and make sure you have research to back up these product claims. I couldn't find information if the company provides its ambassadors with scientific researches to support these product claims.
This warning letter together with complaints about the products at the Better Business Bureau makes me think if the products are really as effective as they claim it to be.
Since MLM businesses thrive on people buying packages (the more products, the better) then I believe the products themselves should be good.
Plexus has 65 customer reviews in the Better Business Bureau and a 3.5-star rating. They also listed 72 customer complaints mostly about the product and the billing.
Of course, there are those that are happy and satisfied with the products they take.
But with this mix of reviews, you have to expect that not all your market will find the product effective.
It seems you have to be prepared with possible complaints or reactions and make sure you can handle this if you want to make this into your business.
Final Verdict
Plexus Worldwide's pink drink and other products can definitely gain loyal customers if they find that it's effective for them.
However, this might not be the best opportunity even if the company has been existing for more than ten years already.
I have summarized the pros and cons discussed throughout the review so you can get a better overview before deciding whether you should become a Plexus ambassador or not.
Pros:
Free replicate website for each member
Low startup cost
60-day money-back guarantee
Cons:
No supporting scientific research on claims
Low-income potential
Weight loss industry is such a competitive market
FDA warning about products
Overall, Plexus Worldwide is not a scam but a real player in the weight loss industry.
You can sign up to try the products before you commit yourself to become an ambassador. If you believe you have the right market and simply want to get bonuses by sharing a product that you use, then this can be a good fit for you.
But it's important that you really use and believe in the products since you are required to purchase monthly to be qualified for bonuses and commissions.
Also, you have to take the numerous complaints and the warning letter Plexus has received from the FDA into consideration so you are sure you really want to make this your business and that you can fully support the products and the business model.
In my personal opinion, there are other online opportunities that don't require a monthly purchase but can give you higher returns in income.
So if you do not think Plexus is for you after reading this review, then there are other opportunities out there.
How I make money online
Losing weight and making money sounds great but it's not always the best option for everyone.
If you want to have your own online business that doesn't rely on recruitment, then I suggest you check out other online opportunities.
Personally, I've spent time researching and trying different online opportunities until I found the one that worked for me.
Now, I have been able to create a full-time online income that now allows me to work completely on my own terms.
It takes some effort but it is totally worth it.
If you want to follow my footsteps and create your own online income, then check out my FREE guide where I explain how this is possible step-by-step.
You can even get started with these steps as a complete beginner.
If you have any questions, comments, or have any experience with Plexus Worldwide yourself, I would love to hear from you in a comment below.