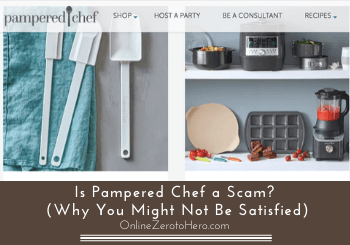 Did you ever find yourself being invited to a friend's house for a party to look at kitchenware? Or have someone approached you about this business opportunity where you can earn while having quality products for your home?
If your answer is yes to these scenarios, then you might have heard of Pampered Chef. This is one of the MLM companies that has been in the market since the 1980s.
But is Pampered Chef a scam? Or is Pampered Chef a legit opportunity for you to earn at home?
In this Pampered Chef review, we will look at what this MLM company exactly has to offer and if you can really earn when you become a member.
This will help you to find out if this really is the right option for you or not.
Pampered Chef at a Glance
Tools

Value for Money

Income Potential
Summary
Pampered Chef is one of the MLM companies that has been in the business since the 1980s. Today, it is under the wing of one of the top investors in the world. It has also grown to offer more than kitchenware to its customers and members aka consultants.
Its compensation plan is fairly simple and you get commissions for every sale you make and for every new member you are able to recruit into your team. If you are a homemaker or someone who loves hosting gatherings, then this might be a good opportunity for you. Just remember that you need good sales skills and the right network to grow your business.
It can definitely provide you a supplementary income if you do the hard work but come into this with the right expectations and goals.
If you want an opportunity that doesn't require good sales skills or recruiting people into your team, then you can explore other online opportunities where you can start even as a beginner.
What is Pampered Chef and what does it offer?
Pampered Chef is one of the MLM companies that has existed since the 1980s.
It was founded by Doris Christopher in her basement. She started selling her kitchenware to friends and neighbors through house gatherings. This kind of selling was popularized by Tupperware in the 1980s and 1990s.
Today, Pampered Chef is a global company that operates in the US, UK, Germany, Mexico, and Canada. Its headquarters can be found in Addison, Illinois.
In 2002, Pampered Chef was bought by Berkshire Hathaway. This adds to the credibility of the company since Berkshire Hathaway is owned by one of the top investors in the world, Warren Buffett. This is a clear indication that Pampered Chef is not only a legit company but an established company in its industry.
Also, Pampered Chef has been a member of the Direct Selling Association since 1986.
Not only that, Doris herself is an established name in the direct selling industry. She served as a chairperson of the Direct Selling Association in the 90s. She also served on the Board of Directors.
The success and popularity of Pampered Chef come from their products. Doris wanted to provide quality kitchen tools and techniques to make cooking easy and enjoyable.
So, the company sells cookware and kitchen accessories. You can classify their products into the following categories:
Bakeware
Cleaning products
Cooking tools
Cookbooks
Cookware
Cutlery
Outdoor products (i.e. grill and accessories)
Replacement Products
Stoneware
Storage & Organization
In October 2019, Pampered Chef launched its meal boosters called Enrichables.
I will not review the products that Pampered Chef offers since there are a lot of reviews online on each product from customers themselves.
Of course, it's important that you know if the quality of their products is good. But this review is more on knowing if you can actually earn with Pampered Chef.
If you're a homemaker or someone who just loves to cook, then Pampered Chef may be a good match for you.
You can choose to become a member, who they call "consultants", just for the discount or you can also do the business opportunity that comes with the membership.
But before you start earning, you first have to become a member. Let's discuss that next.
How much do you need to invest?
To become part of Pampered Chef, there are three consultant kits you can get based on your needs.
If you're just planning to check out the products and get the discount, then you can get the Starter Kit at $109. You get products and business tools worth $450.
If you want more products, you can either get the Deluxe Kit at $159 or the Ultimate Kit at $249. The main difference is the number of products you get.
I like that you have options when starting and the most you will spend is $249. This lessens the risk of having too much inventory – especially if you just want to become a member for the discount.
There are other MLM companies that require you to shell out hundreds of dollars and sometimes up to $1000 for their starter package.
So in that sense, the initial investment for Pampered Chef is not that high.
Now once you become a consultant, the next question is if you really can earn? So let's look at how you can get paid with their compensation plan.
How do you earn with Pampered Chef?
Basically, there are two ways you can earn with Pampered Chef. You can sell the products and get a commission for every sale you make. Or you can recruit new consultants and earn when they make a sale.
That's also how most MLM companies work. But I find Pampered Chef's compensation plan more simple than many other MLM companies I've reviewed.
In my opinion, the simpler the compensation plan, the better since they are more transparent on how their members earn in that way.
So for the retail aspect of Pampered Chef, your commission percentage is based on how many sales you make in a month.
Here is the breakdown of retail sales commission:
$1-$749 sales in a month earns you 21% commission
$750-$1249 sales in a month earns you 22% commission
$1250-$2499 sales in a month earns you 23% commission
$2500-$3999 sales in a month earns you 24% commission
$4000 and above sales will earn you 25% commission
As you can see, the higher your sales, the higher the commission.
So how do you actually sell? Pampered Chef consultants promote their products through hosting gatherings which is what they call a "party plan". This is nothing new if you're familiar with other direct selling companies such as Tupperware.
You host gatherings at your house (or other houses for that matter) where you can serve food while demonstrating the kitchen tools and other products from your starter kit.
This may sound like a classic direct selling strategy but it can still work if you have the right network and the right products.
However, I personally suggest that you learn how to market your products online so you can have a wider reach for your business.
After all, we are in the e-commerce period so why not take advantage of the huge opportunities you can find online.
You can get your own custom website from Pampered Chef but you have to pay $10 per month since it's not part of your starter kit.
Aside from retail, you can also earn by building your team. Recruiting friends and family members will allow you to earn from each of your members and their sales. You can earn an extra 3% on the sales of each member.
You can increase your earnings as you move up each rank. There are 11 ranks you can get:
Consultant
Senior Consultant
Team Leader
Director Promotion
Director Maintenance
Director Re-promotion
Advanced Director
Senior Director
Executive Director
Senior Executive Director
National Executive Director
So how do you move up? Well, for example, you are on your first level as a consultant.
To become a senior consultant, you first must sell at least $150 of personal retail sales in a month. Then, you have to recruit 1 active consultant. An active consultant is someone who also has at least $150 personal retail sales.
If you want to become a team leader, you need monthly personal sales of $750 and have recruited at least 2 active consultants.
Therefore, your commission mainly depends on your personal sales and the number of people you can recruit every month. The higher the rank, the higher group sales per month and a higher number of people you need to recruit.
So if you're not into sales or don't have the right market for the products then you can find it difficult to earn through this opportunity, in my opinion.
And there is no doubt that the real business opportunity is if you are good at recruiting other people that are great at selling.
Recommended: Click to Learn My #1 Recommended Way to Make Money Online
Is it worth it?
There is no income disclosure statement on Pampered Chef's website to show how much each consultant at every rank is earning annually. But they have published an average income potential.
Based on that, your average monthly income will depend on the hours per week you put into your business. To make a full-time income of around $6,800 monthly, you supposedly only need to invest 15 to 25 hours.
Now, if that's the actual earnings of consultants who put in those hours in their business is not confirmed. Obviously, if you spend more time on your business you have more time to find new recruits and to sell to more people. However, it still requires hard work and great sales skills.
But just because you spend those hours it does NOT mean you will automatically earn. A lot of it comes down to your skills and you will definitely NOT start with that kind of income – that will require a lot of time and hard work to get there.
It is important to note that the table is an income potential table and not one that shows the average or what you are guaranteed to earn.
You can indeed earn mainly by selling the products if you don't want to recruit since you can increase your commission based on your retail sales. But I see two challenges if you're going to sell these products.
You have to take into consideration that there are a lot of similar products being sold in the market at different prices. Your potential customers may find a similar product at a lower price from their regular retail store. So you really have to love the products and use them in order to promote them effectively.
Then, imagine that your friends and family members are likely to buy kitchenware once every couple of years since these kinds of products should last for years if they are of good quality. So, you can probably only sell this kind of product once or twice to your market.
You then end up having to look for new markets every month if you really want to earn just through retail sales.
In my opinion, you can become part of Pampered Chef if you want to get their products at a discounted price for your home more than making it your source of income.
It is possible to make it into your business but you need to do it with the right expectations and know that it will NOT be easy and it will require you to be really good at selling and recruiting new members if you want a chance to make it into a full-time income.
Final verdict
Pampered Chef has been a leading MLM company in the kitchenware industry for many years. It's definitely not a scam but a legit company with lots of products to offer.
However, when it comes to finding out if it is the right opportunity or not, there are many points to consider before you can say that it's a good match for you.
I have summarized the pros and cons discussed throughout this review so you can get a better overview before deciding whether you should become a Pampered Chef consultant or not.
Pros:
Simple compensation plan
Company has existed for almost 40 years and is owned by Warren Buffet's company
Low start-up cost
You can earn just by selling the products
Wide selection of products
Cons:


Limited income potential
Cheaper alternatives in the market
Additional cost for website
Income-based on recruitment
Overall, Pampered Chef is an established MLM company. It has been for almost 40 years. I don't think a well-known investor such as Warren Buffet would make the company part of his portfolio if it's a scam.
But for the question, if it's the right opportunity for you or not depends on your goals and expectations.
It might be the right option if you're a homemaker who loves selling things and has a big network. It can be a good supplementary income if that's what you're looking for – but you need some great skills to make it into a good business.
If you're looking for an opportunity with less competition and doesn't require great sales and recruiting skills, then there are luckily many other options online you go for instead.
How I make money online
If you want to stay at home and still earn a full-time income, then there are definitely online opportunities where you can do both. I spent time and tried different online opportunities to find the right opportunity.
Now, I have been able to create a full-time online income that now allows me to work completely on my own terms and from anywhere.
It takes some effort but it is totally worth it.
If you want to follow my footsteps and create your own online income, then check out my FREE guide where I explain how this is possible step-by-step.
You can even get started with these steps as a complete beginner.
If you have any questions, comments, or have any experiences with Pampered Chef yourself, I would love to hear from you in a comment below.