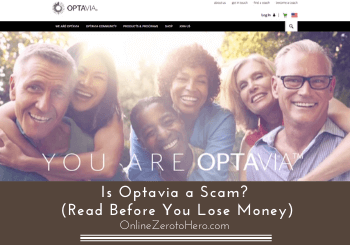 Did you know that according to research, the U.S. weight loss market alone was worth $72 billion in 2019? That's a high number even with the body positivity movement these days.
If you ask somebody about their goals for a new year, one of those is probably to lose weight. The weight loss industry has been thriving for decades with its meal replacement products, dietary supplements, and meal plans.
So if someone promises you weight loss and that you at the same time can build a living income, you'd probably be quite interested to know more. Who doesn't want to look good and earn well at the same time?
That's exactly what Optavia offers. Optavia is an MLM company in the weight loss and health industry. But is Optavia a Scam or is it a legit opportunity with effective products?
This Optavia review will look into the details of creating an online income through their products rather than going into the details of the products' effectivity on weight loss.
By the end of this review, you will be able to assess if you want to become an Optavia health coach or if you should check out other opportunities online instead.
Tools

Value for Money

Income Potential
Summary
Optavia is a subsidiary of Medifast, a weight-loss company that have been in the industry since 1980. It offers meal replacement products and weight plans with your direct sponsor as your "health coach".
You get to earn whenever the people under your organization purchase products or they move up a rank. Its compensation plan is not mainly focused on recruitment but rather on product purchases and personality development.
It's an opportunity for those who like the products and enjoy reaching and coaching people.
If you think the weight loss industry is not a good match for you, there are other online opportunities that can help you earn the income you want.
What is Optavia and what does it offer?
Optavia was founded back in 2002 to help people realize "Lifelong Transformation, One Healthy Habit at a Time." It was originally named Take Shape for Life before rebranding into Optavia in 2017.
They offer weight loss programs through their meal replacement plans.
While it seems that the company started in 2002, its products have been sold on the market since 1980 through Medifast. Medifast was founded by Dr. William Vitale to introduce his own liquid diet formula for patients that was later used by other doctors.
Optavia's founders, Dr. Wayne S. Andersen and Bradley T. Macdonald, then formed the company as a subsidiary of Medifast.
Medifast has been voted by Forbes as one of the 100 Most Trustworthy Companies in America. It's actually a good sign that this MLM company is under a veteran in the weight loss industry.
Now, the difference between Medifast and Optavia is simple.
Medifast offers the meal replacement products through your typical brick and mortar business while Optavia uses Multi-level Marketing to offer the meal replacements together with your own "health coach"(more on being an Optavia Health Coach later).
There are a lot of weight loss programs in the market today, especially in the MLM field. But Optavia believes their approach is more holistic and focuses on a change in lifestyle rather than short-term solutions.
So how do you lose weight through their products?
You can go to their website and answer a survey to assess which health plan is best for you by answering a couple of questions on your lifestyle and body including age.
The most popular product is the Optimal Weight 5&1 plan which is based on eating 800-1,000 calorie meals per day to slowly transition your body to its efficient fat-burning state.
Optavia products fall into the following categories:
"Fuelings" which are diet food products like cinnamon cream cheese swirl cake or chia bliss smoothie
Meal replacement products such as bars, soups, and healthy breakfasts
Lean & Green meals that include a lean protein and a vegetable
Snacks like crisps and popcorn
Flavor Infusers that are flavor packets for your water
Supplements for your overall health
So by purchasing their plans, you get most of their food and snacks on a regular basis together with a personal health coach which is technically your sponsor or upline in the business.
Now, you also have the option to use the products and become a health coach and earn commissions with Optavia. So, let's discuss how you can be both an Optavia user and a health coach.
How much will Optavia cost you?
If you want to lose weight and earn a commission at the same time, you have to purchase their Health Coach Business kit at $199.
This kit contains the training and marketing materials you need to jumpstart your business. You will also be connected to the community of "health coaches".
Optavia members are called "health coaches". Now, this can be a bit misleading since being a health coach involves more than just helping people lose weight through your preferred product.
It is mentioned that you will go through a 3-month program to be trained on how to guide your clients but there is no information on how detailed or intensive the program is for their health coaches.
You also have to purchase your chosen meal plan because it's hard to market a product you have not used yourself.
Their meal plans will cost you around $300-$400 while their shakes and snacks are around $20 to $50 per product.
So your initial start-up will cost you around $600. That's a bit pricey considering the meal plans are good for just 30 days.
You have to build your credibility as their health coach by having your personal experience so purchasing and taking the meal plans is a must.
Being a health coach can seem quite appealing and be a catchy title – especially if you're introducing yourself to your network.
But, in my opinion, you should be careful not to oversell your title knowing that you're being an Optavia distributor.
How do you earn?
As mentioned earlier, Optavia calls its members health coaches. They consider the coaches as the lifeblood of their program.
So let's look into how you can actually earn as a health coach and if it's worth your money, time, and effort.
Optavia's compensation plan is quite different from your usual MLM company.
One significant difference in how you can earn is that coaches do not get any discount when they become part of Optavia.
Usually, MLM companies encourage people to purchase membership packs for the huge discounts members get. For Optavia, you don't get any discount. You can even just purchase your products directly from the websites.
If you do want to earn a commission, you have three ways to earn as a health coach. You can view the complete compensation plan here.
First, you can earn a commission by the amount of products your downlines purchase. Downlines are any person who is under your organization whether they were recruited by you or someone in your team.
I actually like the fact that your commission is based on product purchases rather than the number of people who join. This lessens the chance of solely being a recruitment business.
This means you don't earn even if you have people under you but none of them purchase a product. For example, you can have just one person under you who purchases products consistently – then you earn. Or you can ten people but nobody buys a product and then you don't get any commission from them.
This shifts the focus from having a recruitment business to a product-focused business.
So you have to make sure the people under you are really using and loving the products so they will repurchase and you get to earn consistently.
Another key factor in your business is the monthly order quota you need to purchase to be qualified for commissions. Optavia will not consider you an active member who can earn if you do not meet the $100 per month personal or retail purchase.
Therefore, if you want to meet your monthly retail purchase you have to at least learn how you can market your products online so you can increase your market reach and therefore be eligible for commission.
Second, you can earn based on your team performance. You have to develop someone in your team to become a senior coach to earn a Business Coach Income.
A member will move up a rank based on their new customers and group product sales.
Third, you can get a Business Leader Income if you achieve the rank of "Regional Director" and you've helped someone in your organization to achieve "Executive Director".
So looking at all three ways, you will notice that there is no direct commission for recruitment. You grow your income by helping your organization grow theirs which is probably why people find the Optavia community helpful and motivating.
The Optavia community is quite active in keeping in touch. They hold meetings, live events, and video calls to its members. Their Facebook page is quite updated with zoom call schedules and available groups you can join. So if you're immersed in the community, you can actually learn a lot.
This can help you develop yourself as a leader since you definitely need leadership skills for you to grow your business.
Remember that for this type of business, a good sponsor or upline is important in making it successful.
They should be the one helping you finding out what to do in your first months and going with you to events and trainings. Think of them as having the right business partner which is important to find before you start.
Recommended: Click to Learn My #1 Recommended Way to Make Money Online
Is Optavia worth it?
Upon checking the company at Better Business Bureau, it has an A+ rating but also 189 complaints.
Most complaints are about not getting a refund despite the 30-day refund policy as advertised.
If there's a problem with their refund policy, then you have to take this into consideration since it increases the risk of you losing money more than losing weight in the process.
However, it is also possible to see on BBB that most of the complaints seem to have been resolved and Optavia has left a response with their answer on all of them.
It can be good to study this a bit further if you consider making it into your business so you know exactly what complaints people potentially have and also how Optavia deals with it.
The main aspect of this business to work for you is that the products should first indeed work for you.
So you have to spend around $600 to experience the products before you share it with your friends and family. There is also the training program you have to do and the monthly order you have to maintain.
Optavia is quite transparent with their earnings with their income disclosure agreement uploaded on their site.
The latest is for 2018 which is not bad since not all MLM companies have an income disclosure agreement available. This gives you a realistic idea on how much you can actually earn from the company as a health coach based on actual statistics.
So here's the reality. Around 78% of Optavia health coaches earn less than $2500 annually. That's roughly $200 per month. It's not even enough for you to purchase monthly meal plans.
Around 30% of their members earn nothing. This is quite a high number although you can also consider the fact that some members joined just to use the plan and not do the business.
So you really have to manage your expectations of what you can earn when going into this company.
Final Verdict
So is Optavia a scam? Definitely not. It comes from a company that has been existing for years and seems to be trusted by those in the medical field.
However, a trusted product does not immediately mean it's the right opportunity for you.
I have summarized the pros and cons to give you a better overview before deciding if you should go for this opportunity or not.
Pros:


Mother company has existed for more than 20 years
Good supportive community
Compensation plan is not all about recruiting
Cons:


Expensive products
Being called a "health coach" can be a bit misleading
Lots of complaints regarding 30-day refund policy
Most members do not earn as per their income disclosure statement
Overall, the products can be quite expensive especially if you're not going to earn through the business model.
But if you like the products and enjoy teaching and coaching people, then becoming an Optavia health coach might be the right option for you.
Just remember that you still need to work really hard to grow your business. It will take some investment and also a lot of patience to build your business with this model and these products.
It definitely can be done, but you need to do it with the right expectations and with the right attitude to have a chance of eventually making a living from it.
If you think the weight loss industry is not a good match for you, then you can check out other online opportunities to find one that fits instead.
How I make money online
I know it sounds great to have your own online business. I spend time and tried different online opportunities and eventually found the one that worked for me.
Now, I have been able to create a full-time online income that now allows me to work completely on my own terms.
It takes some effort but it is totally worth it.
If you want to follow my footsteps and create your own online income, then check out my FREE guide where I explain how this is possible step-by-step.
You can even get started with these steps as a complete beginner.
If you have any questions, comments, or have any experience with Optavia yourself, I would love to hear from you in a comment below.