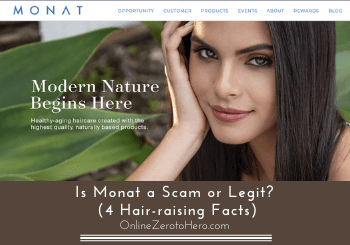 There's a reason why people call their hair their crowning glory. Your hair can greatly impact your entire look. They even say a haircut can change someone's life. So when it comes to hair care, most people take it seriously.
In fact, the global haircare market is estimated to be worth around $87.9 billion back in 2018 and is continuously growing.
Monat is one of the trending names in the MLM haircare industry. It has created a buzz on social media so it's no surprise if you've seen it pop up in your feed once or twice.
So if your friend is offering you Monat products and say you have a chance to build your own business, you might find yourself asking the question, "Is Monat a scam or is Monat a legit opportunity that can make your hair shine while growing your income?".
This Monat review will give you the answer for just that and give you all the details about the company and the business opportunity so you can see if it really is for you.
Let me tell you upfront that Monat is a legitimate haircare company. It has been since 2014 but its roots go back to 2001. But even if it's legit, there are still some important facts you need to know before you join.
Tools

Value for Money

Income Potential
Summary
Monat Global is an MLM company featuring hair and skincare products. It created a social buzz back when it started in 2014 but in recent years there have been some complaints about hair loss and rashes. There have also been class-action lawsuits against Monat.
For the Monat business opportunity, you get a high retail profit at 40%. But their compensation plan mainly relies on the recruitment of new market partners who will buy the product packs. If you try the products and find that it works for you, then you can consider sharing it with your network. However, there are things to consider before you actually decide to join.
Personally, the customer complaints and the lawsuits are enough for me to seek other online opportunities that can be a better fit in building an online income.
What is Monat Global and what does it offer?
Monat Global is a haircare company in the MLM industry that officially launched in 2014. The name comes from two words, modern and nature, and this is highlighting its focus on combining modern science with natural ingredients to create their hair care products.
While Monat was officially launched in 2014, its roots began in 2001 when its founder Luis Urdaneta created a Latin American MLM company called L'eudine.
L'eudine sold health and beauty products. After seven years, Luis and his son Ray Urdaneta co-founded Alcora Corporation. It was under Alcora Corporation that the Monat brand was founded.
Today, Alcora Corporation carries four brands namely L'eudine, B&R Products, Project Beauty, and Monat.
Monat's headquarter is in Miami, Florida. It has already expanded to other countries including Canada and Europe. So even if you're not in the US, you can get Monat products
So what does Monat offer that has created a buzz around it on social media?
Well, Monat offers a variety of hair and skincare products. They have shampoos and conditioners, styling products, and hair treatments. They even have a dog wash and deodorizing spray for your furry friends.
But the most popular product is its Rejuveniqe Oil Intensive. This bottle of oil is said to be a blend of 13+ natural plan and essential oils for your skin and hair.
You can use it as a pre-shampoo treatment, an intensive hair and scalp treatment, an anti-frizz concentrate, or a facial moisturizer.
Monat shampoos and conditioners are also considered best-sellers.
But this is not a product review. If you want to know more about the ingredients and feedback on the products, you can watch videos online and read reviews.
As for this review, we will look at the online opportunity offered by Monat to know if it's worth your time and your money if you want to create a business.
How much do you have to invest?
If you want to become part of Monat either as a VIP customer availing the discounts or a market partner to create a business, you need to purchase one of their product packs ranging between $299 to $649.
Since Monat brands their products as premium hair and skincare, don't expect that their products are as affordable as those you will find in your local store.
If you simply want to avail of the discount Monat offers to its member, you can purchase their starter kit only. You have to pay $99 for the kit that includes assorted product sachet samples, product magazines, and other business tools.
Now, you can simply purchase the starter kit and then later choose your products. Or you can get a product pack with your starter kit to have your initial inventory and get the product discount of 40-45%.
Of course, I suggest you purchase a product pack if you're planning to build an income.
Imagine putting up a store then not having any products to sell your customers. For the product packs, you have three options:
Business product pack ($299)
Success Product Pack ($399)
Overachiever Product Pack ($649)
If you compute it, your initial investment for the starter kit plus business product pack is $398.
There are other MLM companies where you can start for a lesser amount but remember Monat is considered a premium brand.
In case you're not satisfied with your purchase, Monat offers a 30-day money-back guarantee. So for any reason that you're not happy with the products, just return them within 30 days to get a full refund.
This is a great guarantee to have, in my opinion, and also one worth mentioning if you are planning to start selling the products as it will make it less risky for your potential customers to buy this if they know they can get their money back if they regret.
Now as a Monat market partner, you do not only get discounts on your personal purchases, you can also earn through commissions and get access to their training and support.
So the next question is how do you really earn with Monat once you've purchased the starter kit and product pack of your choice.
Recommended: Click to Learn My #1 Recommended Way to Make Money Online
How do you earn with Monat?
One of the selling points of any MLM company is the multiple ways of earning you get just by joining and purchasing products.
I won't go into detail for every way you can earn at Monat because it gets quite complicated. And the point of this review is more to give you an overview to find out if it is the right business opportunity for you.
But if you decide you want to start a business with Monat, it is important you take the time to understand the details of their compensation plan.
If you wish to see their complete compensation plan, you can watch the video below:

As a typical MLM company, you will start out at the first level which Monat calls Market Partner.
You can move through the different ranks based on how many referrals you can bring into your business. The higher the rank, the higher your commission percentage will be.
There are 10 ranks you can move through with Senior Executive Director being the highest. Monat looks into how many volume points your whole organization brings every week.
If you sponsor a new Market Partner that purchases a product pack, you also get a bonus based on which product pack they get.
For example, you will receive a $100 bonus if they get the $299 Business Pack. This will make you push for more of your network to get a higher product pack for you to get a bigger bonus.
There are other bonuses you can get with Monat opportunity namely:
Business builder bonus
Rank advancement bonus
VIP Customer acquisition bonus
Smart start bonus
You can also earn through retail products since you will be getting the product at a 40% discount.
This means you can get up to 40% retail profit whenever a customer buys a product from you. But make sure you have a good set of sales skills or know how to market your products online to maximize this way of earning.
The products are quite expensive so they will not be easy to sell.
So how much can you really earn beyond the retail profit based on their compensation plan?
Monat does not have an annual Income Statement Disclosure but they do have a Statement of Typical Participant Earnings in their compensation plan.
However, this statement is quite vague stating that those with at least Managing Market Partner rank earns between $16.5 to $900 annually.
Now even if reaching the top range, you would only earn less than $90 per month. Given that is only the cost of one to two products, you might not be earning enough per year if you think about other costs you might have while running the business.
The above is an average, so there are, of course, people making more money. But this shows that it will not be easy to make it into a business unless you have really great sales and recruiting skills.
And this is definitely something you need to consider before joining.
But aside from the income potential, what are the other things you need to consider before joining?
Is it worth it?
Aside from looking at the income potential, there are other factors you need to consider before deciding if Monat is worth the investment.
So after doing a lot of research, I want to share four facts that can help you decide if this is the company and opportunity for you.
1. Expensive products
For Monat's signature product, Rejuveniqe Oil Intensive, you have to shell out $99 for a 30-ml bottle.
If you're buying their shampoo and conditioner, you have to shell out around $35 to $49 per item. That's definitely not the typical cost for hair care.
While I know people do invest in their hair and skincare, probably not everybody you know will be willing to buy products at that price range.
There are also other brands that are made with natural ingredients but cost less.
So you really have to convince your friends and families that Monat is the better choice for them – especially if they're not used to paying that amount for their haircare.
But if you have a lot of connections that are into this type of hair care products, it might be the right market for you. You just need to know that it will not be easy selling products like this.
2. Thousands of customer complaints
For the past years, there have been reports of customer complaints all over the news. These customers claim they suffer from hair loss, bald spots, and rashes.
Due to these claims, the FDA sent inspectors to Monat's Florida facility to inspect and determine what can be causing these complaints.
The federal reports showed Monat's facility having "insanitary conditions". While Monat claims its ingredients and products are natural, FDA's report showed their products being packed under insanitary conditions that may contaminate their products with filth. Cross-contamination can compromise the quality of a product even if the ingredients are considered natural and safe.
These complaints are not isolated cases as you can find a lot of reports of customers showing their hair loss due to Monat products. Therefore, you have to check if there will be no adverse effects to you and your market if you will promote these products.
3. Recruitment-based compensation
As mentioned earlier, you earn a commission if you bring in people who purchase the product packs. This means the more people in your team, the bigger your commission and bonus.
The problem with this kind of business, in my opinion, is you only have a finite number of people you can get to join. You have to generate a certain number of group sales volume for you to move through the ranks. This means you have to constantly be bringing new people into your team to increase your numbers.
So unless you're a great salesperson who can sell bottles of shampoos and conditioners for the 40% retail profit, you end up recruiting people to your team just to get a commission and earn bonuses.
That might work great for you, but it can be exhausting if you are not used to it, and it can also be exhausting for your friends and family to constantly hear about why they should join.
4. Numerous class-action lawsuits
In just the first five months of 2018, Monat had nine class-action lawsuits. These cases were related to the products causing hair loss or damage and product safety.
Now, these lawsuits are easily found online so imagine trying to sell your friends Monat products and just by doing a little internet research they see those lawsuits.
Personally, I think this makes promoting Monat difficult knowing you are claiming to offer premium haircare products and then there are complaints on hair loss for the products.
You will regularly see MLM companies get lawsuits about false claims about their product's results or effects.
One or two lawsuits during the company's early days may be fine since it is most likely have been addressed or settled. But for a company to have numerous class-action lawsuits in recent years can make you think twice before joining.
Final Verdict
Monat Global is a company that has been operating for more than five years.
It carries products with natural ingredients which is the current trend. But while the products and the company appear legit, there are still important things you should consider before becoming part of the company.
So below I have summarized the pros and cons to give you a better overview before deciding if you should go for this opportunity or not.
Pros:
Natural ingredients in the products (no parabens, no sulfates, etc.)
30-day money-back guarantee
High retail profit at 40%
Cons:


Has numerous class-action lawsuits
Income mainly based on recruitment
Too many customer complaints
Overall, while Monat is not a scam, the lawsuits and the customer complaints should, in my opinion, make you think twice before joining.
A few customer complaints are normal for any company but having hundreds with the same concern is definitely a red flag. When you share a product remember that you are putting your credibility on the line as well.
I will also not recommend this for people who don't have the market who can afford the products since it will be very difficult for you to have a monthly income if your network cannot afford it.
In my experience, there are other online opportunities where you can make a living without having to constantly recruit new members or sell premium products.
If you feel Monat is not the right option for you after reading this review, then do not worry – there are plenty of other online opportunities no matter your background and skills.
How I make a living online
I know it sounds great to have your own online business. I spend time and tried different online opportunities and eventually found the one that worked for me.
Now, I have been able to create a full-time online income that now allows me to work completely on my own terms.
It takes some effort but it is totally worth it.
If you want to follow my footsteps and create your own online income, then check out my FREE guide where I explain how this is possible step-by-step.
You can even get started with these steps as a complete beginner.
If you have any questions, comments, or have any experience with Monat Global yourself, I would love to hear from you in a comment below.