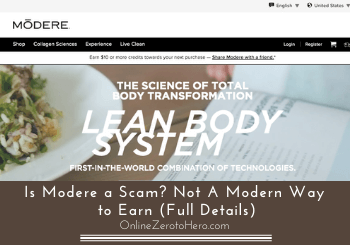 Most of us want to earn a living while enjoying our life, right?
So when someone comes up to you offering a chance to get products at a discounted price and become a social marketer, it might tickle your interest.
Who wouldn't want to earn just by promoting products through social media? Since most people already spend a lot of time on their smartphones while browsing their social media, then why not make the most out of it.
Modere is an MLM company that brands their distributors as social marketers. It's another player in the health and wellness plus household industry.
But wait, is Modere a scam? Or is it a legit way to be healthy while earning money?
This Modere review will give you all the details about this opportunity to help you decide if this really is a good fit for you.
Tools

Value for Money

Income Potential
Summary
Modere is an MLM company that features household, health and wellness, and nutrition products. It calls its distributors social marketers. You have two paths to take if you want to earn through Modere. You can either be a promoter who earns through customers or a builder who earns through their group sales.
The starter kit is a requirement for anybody who wants to join Modere but there are product packages to match your budget. If you think the products are something you can use and promote, then you can consider Modere as a potential income source.
Take note you will still need to do hard work and be good at sales in order to maintain the monthly sales quota and personal purchases required for you to be qualified for commissions.
The success rate for people starting a business with Modere is NOT high so you need to do it with the right expectations.
What is Modere and what does it offer?
Modere is an MLM company that distributes products for personal care, health and wellness, and household. It was launched back in February 2014 but its history goes way back.
Modere is the rebranded company of Neways International. Neways was founded in 1992. Before its launch, the company was acquired by Z Capital in 2013. The founders of Modere are Leslie D. Mower and Thomas Mower.
During the transition from Neways International to Modere, the CEO remained as Robert Conlee. But January 12, 2018 Asma Ishaq became Modere's new CEO.
Both Robert Conlee and Asma Ishaq had years of experience in the MLM industry thus bringing this knowledge to Modere.
Conlee was a former president of NuSkin, another MLM company in the skincare industry. He was also the former CEO of Xango, a health and wellness MLM company selling products made from mangosteen.
Ishaq was Modere's president of the company's Collagen Sciences division and Chief Industry Relations Officer before becoming CEO.
She is also the co-founder of Jusura back in 2009. Jusuru was later acquired by Modere in 2017.
As you can see, the company is handled by veterans in the MLM industry. So even if Modere is less than five years in the business, it's not really new in the industry.
Modere describes its products as "created by nature. a new approach to modern health".
But what exactly are the products distributed by Modere?
Unlike some MLM companies that offer a specific line of products like in the health and wellness or skincare, Modere has a very wide selection of products.
Their main product categories are:
Collagen Sciences
Health and Wellness
Personal Care
Household Care
Since they offer different types of products, you might be asking yourself is Modere safe?
The company is keen on taking a stand against potentially harmful ingredients in their products.
Therefore, their products are said to be free of PEGS, SLS, phthalates, or parabens which are usually common in household and skincare items. They are also cruelty-free and BPA-free, .which is something I personally see as a big plus
If you decide to make a business out of Modere, this is important to know as it can help you decide if these are the type of products you want to start selling.
It is mentioned on their website that their mission is to create 10 million healthy homes around the globe.
They highlight creating safe and effective products though it sounds like description more for their household products than those in their health and wellness line.
In health and wellness, their best selling product line is the M3 Body System that is a complete weight loss system.
Take note that this Modere review is not a product review. We will rather focus on how you can earn through this MLM opportunity to help you decide if it is the right way for you to start a business or if you should look for alternatives.
I suggest you still read a lot of product reviews online since they have a lot of products. This will help you choose which products are the best for you and your household.
How much do you need to invest?
MLM companies build their business by having customers purchase packages and then, in turn, they become associates who can earn through commissions and bonuses.
Modere calls its distributors "social marketers". You can either start as a Modere customer or a distributor depending on what you will purchase for your initial order.
Since there are different product lines offered, you can take your pick which package matches your needs.
Their packages range from $199 to $699. The basic pack which contains their different products is worth $199.99.
Here you get whey protein and energy shots, some household items such as laundry packs, and personal care items including shaving cream, body butter, mouth rinse, and toothpaste.
If you want a package with their essentials plus the M3 body system, you can get the Plus package worth $499.99.
You also have to pay $49.99 for your starter kit. This includes brochures, enrollment forms, product catalog, social DVDs, and other marketing materials.
The starter kit is required but the product package is not.
But, of course, it doesn't make sense that you will be starting a business without any inventory and just some marketing materials and flyers.
You have to purchase at least the basic product pack so you have something to sell to your potential buyers.
But if you're just planning to use the products at a discounted price, then you can purchase the starter kit and then simply select which products you want to get.
In my opinion, it's good they have different packages and that you can also simply choose which products you want to get with your starter kit. Not all MLM companies have the flexibility to do that.
All of their products have a 30-day money-back guarantee when you purchase which makes it less risky and this is something I personally appreciate.
Once you've become a member, you now have the chance to earn through the Modere opportunity.
Recommended: Click to Learn My #1 Recommended Way to Make Money Online
Can you earn with Modere?
I won't go into all the details of the compensation plan since it can get complicated.
If you want to know the whole compensation plan, you can watch the video below:

There are two Modere career paths you can take depending on how you really want to earn. The first is the Social Marketer Builder path and the other is the Social Marketer Promoter path.
So what's the difference?
If you take the promoter path, you are rewarded based on how many products your customers buy.
You can, therefore, earn even without recruiting anyone to your team. It's good that they have this specific path for those who enjoy sales but are not comfortable recruiting their friends and families into MLM.
MLM companies sometimes tend to become like a pyramid scheme when their associates focus more on recruiting than actual sales of the products.
So is Mondere a pyramid scheme? Their compensation plan says otherwise as you can actually earn without having to recruit others.
However, you still need to have the sales skills to be able to earn through the promoter path.
You can also do some training on how to market your products online to help you sell more.
If you're looking for training with your Modere package, I can't find any information if there is training included for their social marketers.
Given that Modere calls its distributors as social marketers, I expect that there are specific training and quality workshops provided to help them promote their business via social media.
If you feel that you're more of a team leader than a social promoter, then you can opt to build your team as a social marketer builder path.
This is where you have to recruit people into your team. You get to earn commission as well as bonuses when you are a Modere social marketer.
Below are some the bonuses you can get as a builder:
First Order Bonus
Team 3 Bonus
Lifestyle Consistency Bonus
Elite Team Lifestyle Consistency Bonus
Dynamic Team Leader & Director Bonus
4 & More Builder Bonus
Sharing Bonus
Consistency Selling Reward
Leadership Development Bonus
There are ten affiliate membership ranks you can reach when you're a Modere social marketer.
Your rank increases based on the number of personal volumes (the products you purchase) per month, the number of sales your team generates, and the number of people you personally bring into your team.
Modere operates on a point system which means each product and purchase have their corresponding points. For example, the basic pack is worth 200 points. The M3 Body System pack is at 120pts for $149.99.
So how do you really qualify for a commission?
You either reach up to 150 points of purchases from your monthly sales or you personally purchase around 75 points per month.
Now, the possible pitfall here is that you end up purchasing products monthly for yourself just because you don't reach the monthly sales needed to be qualified for commissions.
So if you want to hit your monthly sales, you should at least have one person purchasing a basic pack.
You only earn a 5% commission on your sales when you're at the first rank.
Remember that you have to fulfill your monthly sales quota to qualify for commissions.
In short, if you don't hit the target then you don't get compensated unless you will be purchasing the monthly product purchase requirement.
To increase your commission percentage, you have to increase your customer points. For example, if you want 30% bonus, you have to accumulate 3,000 customer points and have 15 active customers. Active customers are those who had a product purchase for that month.
So, for you to earn well with Modere, you have to hit a certain number of sales at the same time bring in new people in your organization.
While having a monthly quota is normal for any sales business even outside the MLM industry, the number of people you should bring in per month can be quite the challenge, in my opinion.
The wide variety of products that Modere offers helps you reach more people than just the typical health and wellness market.
But remember that it also means there is a lot of competition in all industries including household. Being all-natural in products is not really a unique selling point since more companies are going the green route with their products.
Now, you also have to manage your expectations regarding your potential income when going to this business.
According to their 2018 Income Statement Disclosure, 32% of their social marketers earned nothing that year. Around 47% earned below $2000 for the whole year.
That income would be okay if you are working out your Modere business for extra income.
Still, you have to take into consideration that there is also the monthly purchase or quota for you to qualify for commissions.
Also, as you can see in the income disclosure above, it is less than 0.5% that makes more than $50.000 per year which by many would be considered being really successful.
So if you decide to make this into your business, you need to be aware that it will not be easy money and you will need great skills and a lot of hard work to potentially make a living from it.
As you can see, the success rate is NOT high.
Final verdict
Modere may sound new but it came from a company that has been in the MLM industry for years.
It's a legit company that offers a wide variety of products. However, just because it's not a pyramid scheme doesn't mean it's the best opportunity for you.
So I have summarized the pros and cons to give you a better overview before deciding whether you should become a Modere social marketer or not.
Pros:


Eco-friendly products
Compensation not entirely focused on recruitment
Current CEO has extensive experience in the industry
Wide variety of products
Cons:


Not much available trainings
High percentage of associates not earning based on income disclosure statement
Relatively high start-up cost
Overall, Modere is not a scam but a company that has been rebranded to offer health and wellness and household products.
There are a lot of products you can choose from as your start-up package. You can most likely find one that will match your budget.
If you have the right market and do not expect to make this your main source of income, then it might be a good fit for you.
You just have to make sure you get the training and support you need to make this a successful MLM business.
You also have to take into consideration the monthly quota and product purchase to check if it can be a sustainable business for you.
In my experience, there are other online opportunities that don't require a monthly expense and quota just for you to earn so there might be better options for you if Modere does not sound like the right option.
How I make money online
I know it sounds great to have your own online business. I spend time and tried different online opportunities and eventually found the one that worked for me.
Now, I have been able to create a full-time online income that now allows me to work completely on my own terms.
It takes some effort but it is totally worth it.
If you want to follow my footsteps and create your own online income, then check out my FREE guide where I explain how this is possible step-by-step.
You can even get started with these steps as a complete beginner.
If you have any questions, comments, or have any experience with Modere yourself, I would love to hear from you in a comment below.