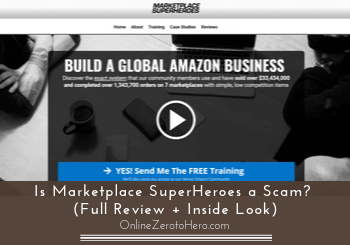 Marketplace SuperHeroes is a platform that can supposedly help you build a global Amazon business you can run from anywhere.
Sounds great, right?
But is Marketplace SuperHeroes a scam or is it really a platform that can help you build a business?
With so many scams out there, this is something you need to know before joining any online platform.
This Marketplace SuperHeroes review will give you the answer for this as well as an inside look so you can see exactly what to expect if you decide to join.
Disclosure: Some links on this website are affiliate links. This means at no cost to you, I may receive an affiliate commission if you purchase something through one of these links.
Table of content
Marketplace SuperHeroes at a Glance
Training

Tools

Support

Value for money

Income potential
Summary
Marketplace SuperHero is a legit platform that teaches you step-by-step how to build an Amazon FBA business.
The training is really in-depth and of high quality, and you get really great and fast support if you need any help.
If you want to build an Amazon business and are willing to put in the effort it takes, then Marketplace SuperHero is a really great course, in my experience. And it gives the best value for money I have seen for a course like this.
What is Marketplace SuperHeroes and what does it offer?
Marketplace SuperHeroes is a platform that offers a step-by-step program that is meant to teach you how to build a business by selling low competition, high-profit products globally on Amazon.
The platform was founded by Robert Rickey and Stephen Somers in 2015 and it now has more than 5,000 members worldwide.
Both of the founders have years of experience in the online business world and have sold millions of dollars of simple, every day physical products globally on Amazon in multiple niches.
Before joining any platform it is good to take a look at the owners and their background as this tells a lot about what you can expect.
So let me just make it clear right away that the guys behind Marketplace SuperHeroes are legit and have achieved real results and the platform itself is also legit.
I have personally been in contact with them and they are great and honest guys.
That it is legit does, however, not necessarily mean it will be the right way for you to build an online business.
So let's looks deeper into what it offers so you can find out if it is for you or not.
What is Amazon FBA?
As mentioned, Marketplace SuperHeroes will teach you how to build a business by selling products on Amazon. This is done through what is called Amazon FBA.
FBA is short for Fulfillment by Amazon.
This is a business model where you can sell products on Amazon but you do not have to have any storage or anything like that.
You have products send to Amazon and they will then take care of the storage, shipping, customer support, and more.
Below you can see a short video where Amazon itself describes what it is:

Having an Amazon FBA business is definitely a real way to make money.
In general, there is a lot of money in selling physical products online. It is estimated that the global online retail market will have an astonishing $4.5 trillion in sales by 2021.
And Amazon is the giant when it comes to online selling of physical products.
So it definitely is a real opportunity to make money with an Amazon FBA business.
Like with any other type of business it will, of course, not happen automatically or overnight. It takes time and effort to build a business. But with consistent effort, an Amazon FBA business can be very lucrative.
To see if Marketplace SuperHeroes is the right way for you to learn this, let's now look deeper into what you get access to if you decide to join.
Inside Marketplace SuperHeroes – see what you get!
The most important aspect is what you actually get access to inside the members area of Marketplace SuperHeroes.
I have joined myself and below I will give you an overview of everything that is inside.
You can join and start a business by following the training no matter where in the world you live.
There are 3 main things you will get access to:
Core training (12 modules)
Additional training/resources
Community and support
Each of these features gives access to quite a lot so let's go into each of them a little deeper.
Feature 1 – MPSH core training
The core training on Marketplace SuperHeroes is where you should start after joining.
It consists of 12 modules that will take you through building and setting up an Amazon FBA business step-by-step.
The first 6 modules are called phase 1 and the next 6 modules phase 2.
Each module always has an intro so you know what is coming next. Then there is a series of videos which is a mix of screen-shares, video presentations, and over the shoulder videos.
Each module finishes off with a summary and an analysis of that particular module and then you get some actionable tasks called building blocks (homework) so you know what to do to move forward. Once this is done, you can move on to the next module.
The 12 modules have the following topics:
Module 1 – Mindset (7 videos with a total of 51:38 minutes):
This module will teach you how to approach this type of business to become successful, what to expect, what an Amazon business IS and what it is NOT, and how to use Marketplace SuperHeroes to get the most out of it.
Module 2 – Search phase (9 videos with a total of 61:17 minutes):
Finding the right products is the foundation of a successful Amazon business. This module focuses on the search phase and teaches you how to do proper research so you can find the right products to build a successful business.
Module 3 – Shortlisting (6 videos with a total of 34:55 minutes):
This module will teach you how to take the products you have found in the search phase and narrow it down to logical and viable products.
Module 4 – Select phase, part 1 (5 videos with a total of 55:57 minutes):
After you have researched and shortlisted products, you now need to select the perfect product for your business. This module will teach you exactly how to do this.
Module 5 – Select phase, part 2 (7 videos with a total of 47:59 minutes):
This continues the selection of the right product.
Module 6 – Source phase (11 videos with a total of 72:50 minutes):
This module helps you find the right supplier for your product, takes you through placing a trial order, how to do negotiations with suppliers, and finally how to get your products ordered and ready for sale.
Module 7 – Business structure and seller central (8 videos with a total of 52:12 minutes):
You will learn how to set up a good business structure to get a solid foundation. Furthermore, it will take you through how to set up your seller account.
Module 8 – Purchasing and importing (7 videos with a total of 50:26 minutes):
You will be taken through the whole process of ordering your products, importing them into wherever you have decided to sell your products, and shipping.
Module 9 – The FBA road map (6 videos with a total of 58:00 minutes):
This module will teach you the details about how FBA works, including listings, the Seller Central, listings, labeling and more.
Module 10 – Listing optimization (10 videos with a total of 118:00 minutes):
This module is all about optimizing your Amazon listings including titles, bullet points, descriptions, optimizing conversion rate, and using the right images.
Module 11 – Account management (13 videos with a total of 102:42 minutes):
Here you will learn how to manage your account and business on a daily basis. This includes lessons about how to deal with customer messages, Amazon sales reports, paid advertising (PPC), and more.
Module 12 – International expansion (7 videos with a total of 68:50 minutes):
This module will cover how you can expand your business by expanding to several countries and how to do this.
Overall, there is A LOT of info in the core training of Marketplace SuperHeroes and the training is very in-depth.
Personally, I think the videos are great and Robert and Stephen are great at taking you through everything and I am impressed by the quality of the training.
The training is a mixture of high-quality video presentations, screen-shares, step-by-step training in an 'over the shoulder' style.
What I really like is that each module also has actionable tasks you need to do. This makes sure you actually move forward with your business.
These tasks (or building blocks as they are called inside MPSH) are extremely important to succeed, so make sure to take action on everything.
Something else I really like and have not seen on any other training platform is that you cannot only go through the training by watching the videos.
You can also download each module as an MP3 and listen to it when you want to or download every module as a PDF transcription if you also want to read it.
I think this is great as we all have different ways of learning and this makes it accessible to all of us.
So this is the core training of Marketplace SuperHeroes. But there are also other things you get access to, so let's go over them below.
Feature 2 – Additional training
The 12 core modules are the base of Marketplace SuperHeroes. This is definitely where you should start and you should take the time to go through everything carefully and take action on all tasks.
After that, there is additional training inside the members area you can get access to that covers certain specific topics in details or shows tips and tricks about how to get more out of your business.
The additional training you get access to at the time of writing this review is:
Superhero Journey:
This part of MPSH will give you the opportunity to follow along as a completely new global Amazon business is created from scratch. There are several cases studies that show everything documented and you can see all the details about what is done in many videos.
SuperHero Sprint:
A series of videos that are meant to kick-start your business and help you build a foundation in a fast and intense way over a short period of time.
Fuel Your Empire:
This is a training video of 1 hour and 45 minutes that gives you the chance to follow Robert and Stephen over the shoulder as they do product research on Amazon.
The 1K Per Day Roadmap:
A video of 45 minutes that will break down how you can build a business that can make you $1,000 per day. Most importantly, they will also break down exactly what you really have to do and the realistic time it takes to get there.
Invincible Importing:
This video of around 45 minutes will go even more into details about the importing process and will expand on the core training for this topic.
30 Minutes To A Legendary Listing:
A video of around 30 minutes that gives more information about how to create great listings on Amazon.
Fuel Your Empire – God Series:
A series of videos that go deep into product research and show how Robert and Stephen do product research on Amazon.
The additional training can, like the core training, be watched as videos or you can download each of the trainings as PDF or MP3.
There is a lot of extra good information is these resources.
It can give you extra insights that can really help you grow your business. Personally, I especially think the Superhero Journey videos are amazing as you get to see every step of actually building an Amazon business over the shoulder.
But most of these extra resources can be very helpful, so definitely worth checking out if you decide to join.
As mentioned, just make sure to go through every step of the core training first to get the most out of it and to build the right foundation.
Feature 3 – Community and support
For any training program, it is very important to be able to get support as there will almost always be something you have questions about.
When it comes to Marketplace SuperHeroes, I must say I am impressed with their support. They provide it through their Facebook group.
Once you are a member of MPSH you can also get access to this group. It is a very active group and the two owners are very active there themselves.
Whenever someone asks a question, they usually receive an answer very quickly.
Usually, it is even one of the owners that reply as you can see an example of in the image above.
I think it is really great being able to get direct and fast help from the owners and this is definitely a big plus.
Other members will also help with answers so that way you have a whole community of people to get help from.
Stephen and Robert also regularly post videos with updates in the group and have live videos where they answer questions.
So this Facebook group is a real asset compared to many of the other Facebook groups I have tried before and definitely a group you should continuously keep an eye on if you become a member of Marketplace SuperHeroes.
==>Click to Check Out Marketplace SuperHeroes for Yourself<==
Marketplace SuperHeroes price
Now you know what you get if you join Marketplace SuperHeroes. But the price is, of course, also important to know.
You have a couple of different options.
If you decide to get access to all the training above, the price is $997. You can also choose to use a payment plan and pay 12 x $97.
Compared to what I have seen of online training courses, this is really good value for money.
You get a lot of step-by-step training, a lot of extra resources, and fast support from the owners. This is quite unusual for this price when it comes to training programs today.
If you, for example, compare it to Amazing Selling Machine, which is another Amazon seller course, it costs almost $5,000.
So Marketplace SuperHero definitely gives good value and you get a lot for your money if you are serious about wanting to start your own business.
However, if you are not sure if having an Amazon business is right for you, you can also get access to a free trial training (click link below to get access to this) on the website that will give you more info about what it really is, which can be a great way to find out for sure before joining.
Also, MPSH has a 30-day money-back guarantee so if you join and find out it is not for you, you can just get your money back, which is a great security to have, in my opinion.
==>Click to Get Your Free Marketplace SuperHeroes Trial Training<==
Is Marketplace SuperHeroes worth it?
When it comes to starting a business where you can make real money it will always have some costs – anyone that claims the opposite is honestly lying.
The advantage of an online business is that it can be started so much cheaper than any other type of business and it is something you can learn no matter your background if you get the right training and are willing to make an effort.
Having an Amazon business can definitely be a great way to make money and get the freedom to work on your own terms – in my opinion, that freedom is priceless and that is why I am working online myself.
However, if Marketplace SuperHero is worth it for you or not depends on a few things.
If you are looking for fast money and are not willing to make much of an effort, then this is NOT for you. But honestly, you will not find any legit method that will really work if that is what you are looking for.
It does take time and effort to build up an online business but it can definitely be worth the effort. But you need to go into it with the right expectations.
If you are dedicated to following the training and taking action after joining Marketplace SuperHero, I definitely think it can be worth it.
It is an excellent training program with a ton of information and great support if you ever get stuck.
But whether it is the right option for you or not depends on your preferences and expectations – so let's, therefore, finish by summing up so you can get a better overview before deciding if it is for you or not.
Final verdict
Having an Amazon FBA business can be very lucrative, and Marketplace SuperHero is definitely a legit way to learn how to create this.
But let's sum up the pros and cons to get a better overview of what it offers:

Pros:
The owners have a lot of success and online experience behind them
A LOT of in-depth training
You are taken through everything step-by-step
Great support
Good value for money

Cons:
I honestly do not think there are many cons about Marketplace SuperHero. The only thing is that it a first can be a bit overwhelming when you get inside the members area.
However, this is because there is so much information which is actually great. So whether it is the right platform to join or not mainly depends on what type of business you want to build.
If you want to build an Amazon business and are willing to put in the effort it takes, then Marketplace SuperHero is a really great course, in my experience. And it gives the best value for money I have seen for a course like this.
So now I hope this review has helped you find out exactly if Marketplace SuperHero is the right option for you or not.
If you want to join or sign up for their free training, you can do this through the button below.
If you have any comments, questions, or have any experiences with Marketplace SuperHero yourself, I would love to hear from you in a comment below.