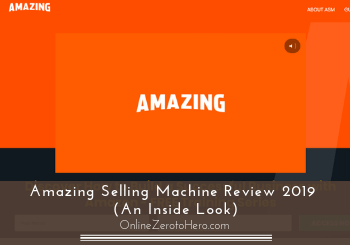 More and more people are looking to start their own online business to be able to work completely on their own terms – I know this was the reason I started one myself.
There are many programs that say they can teach you this – one of these is the Amazing Selling Machine 11 (also called ASM).
But is Amazing Selling Machine a scam or is it really a great opportunity to learn to build your own business?
Since it is not the cheapest option out there, this is definitely something you need to know before getting involved.
I am a member myself and in this Amazing Selling Machine review for 2020, I will give you an inside look so you can see exactly what you get.
Let me just reveal right away that it is a legit opportunity, BUT it is not for everyone. So read on to find out if it is the right option for you or not.
Disclosure: Some of the links on this website are affiliate links. This means at no cost to you, I may receive an affiliate commission if you purchase something through one of these links.
Amazing Selling Machine 11 in a Glimpse
Training

Tools

Support

Value for money

Income potential
Summary
Amazing Selling Machine (ASM 11) is definitely a legit platform with first-class training and a great community where you can help and support.
If you want to start an Amazon FBA business, this is one of the leading ways to learn how to do this step-by-step.
It is a bit pricy, so you need to have the budget and be aware that it takes time and effort to make it work. If you are desperate and invest your last money and hope to make it back with a few weeks, this is not for you.
But if you have the budget, and want to learn how to start, run, and scale an Amazon FBA business, ASM is one of the best ways to learn this, in my opinion.
What is Amazing Selling Machine 11 and what does it offer?
The Amazing Selling Machine (or ASM) is a platform that will teach you how to build an Amazon FBA business (more about what this is in a minute).
It was founded by Matt Clark and Jason Katzenback and as the name suggests, they have had 10 previous versions and have now released a new updated platform called ASM11. This shows their dedication to continuosly test and create updated an relevant content.
Personally, what I like about these guys is that they are not using all kind of hype tricks to get you over excited. Of course, they are marketers but that is only good since that is what they need to teach you.
But they are doing it in a way, that in my opinion, is down-to-earth and realistic, which is something I really appreciate and think is important when it comes to a learning platform.
I have been in contact with Matt Clark myself several times with some questions and he has been very helpful which I see as a big plus.
Anyway, ASM now has more than 27,000 members from over 120 different countries.
This means you can join no matter where you are from as long as you can follow the training in English.
What you really need to know is then what you get access to as a member. I will give you an inside look and tell all about this very soon.
First I just quickly want to explain a bit more about Amazon FBA since this is the type of business you will be building if you decide to join ASM.
What is Amazon FBA and can you make money that way?
FBA is short for Fulfillment by Amazon.
This is a business model where you can sell products on Amazon but you do not have to have any storage or anything like that.
You have products send to Amazon and they will then take care of the storage, shipping, customer support, and more.
Below you can see a short video where Amazon itself describes what it is:

This is definitely a real way to make money.
In general, there is a lot of money in selling physical products online. It is estimated that the global online retail market will have an astonishing $4.5 trillion in sales by 2021.
And we all know that Amazon is the giant when it comes to online selling of physical products.
So it definitely is a real opportunity to make money with an Amazon FBA business. You can read some of the ASM success stories here if you want to see examples.
Just be aware that it is, of course, not something that will just happen automatically or overnight. It takes time and effort to build a business.
To see if Amazing Selling Machine is the right option for you to learn this, let's now look deeper into what you get as a member.
Inside ASM – See what you get!
Now the real question when it comes to Amazing Selling Machine 11 is what you really get access to as a member.
The best way to help you decide if it is for you or not is to give you an inside look so you can see for yourself.
There are 5 main components you will find inside:
8-week online training program
ASM mentor program
Coaching calls
Lifetime community membership
Private resource vault
Once you are inside the members area, you can easily get access to all these through the top menu.
But let's go into each of these aspects more in-depth.
Feature 1 – The 8-week ASM online training program
The core of ASM is the 8-week online training program that will take you through the whole process of getting started, setting up your online business, and all the way to teach you how to scale it.
This is step-by-step training that you can follow even as a complete beginner and it has more than 120 lessons.
A very important thing to know before we go over what the training program is about, is that you get FREE upgrades to every new version of the core ASM web class.
Personally, I think the style of teaching there is really great as it is down-to-earth and explains a lot of details.
The training is also kept up-to-date so the newest strategies to succeed as an Amazon seller will be included.
It is 8 modules – one for each week.
Or there is also a welcome module so there is actually more than 8 modules.
Each module takes you through the process step-by-step and gives you actionable tasks as well. There is a total of more than 42 hours of training at the time of writing this review.
This is a very big amount of training, but that is a good sign. If you really want to build a successful business there are many steps and they make sure to cover A LOT.
I have tried a lot of online training programs and I was happy when I saw ASM has that much in-depth training.
Because I have also tried to buy expensive training programs that promise to teach you in-depth strategies but once you have paid, you just get a couple of hours of superficial training.
That is not the case with ASM – they actually deliver in-depth step-by-step training and actionable tasks to follow.
Most of the videos are short and easy to follow so it does not get too overwhelming in my experience.
The modules are:
Welcome module
Module 1 – Building your product opportunity list
Module 2 – Suppliers, samples & profit numbers
Module 3 – Ordering your inventory and creating your brand
Module 4 – Building your brand assets
Module 5 – The perfect product page
Module 6 – The perfect product launch
Module 7 – Advanced marketing & traffic tools
Module 8 – Taking your business to the next level
So as you can see, the training covers a lot of details and topics.
Each of these modules has several lessons which make it easier to follow.
Overall, I am really impressed with the training inside the Amazing Selling Machine.
But it, of course, requires you to follow it step-by-step and make sure to take action to be able to succeed.
The training is, however, not all you get. So let's look at some of the other things you get access to if you decide yo join ASM.
Feature 2 – ASM mentor program
Amazing Selling Machine has what they call a mentor program.
This is something they created to be able to give people fast help if they needed it but at the same time make sure they actually get the right help.
The way it works is that the owners of Amazing Selling Machine have reached out to select members that already are very successful so they know what they are doing.
They have agreed to help others.
So if you have any questions you can post them in the community forum and other members and the mentors can reply.
It is easy to see when it is a mentor that replies since their name will be in green and there is a small shield next to their name that shows he/she is a moderator and a mentor.
These mentors are handpicked and will only answer you if they know the answer – if not they will ask other mentors to reply instead.
This is, in my opinion, great as you then know you will only get qualified answers which is very important.
The great thing about these questions being published publicly is that you can also see what other people have asked and the mentor's answers for this which can help you with a lot of questions you might have.
So you have very good opportunities to get help if there is anything in the training you do not understand or if you, in general, need help or feedback with growing your business.
And from what I have seen, it usually does not take long for you to get an answer which is also great – nothing worse than having to wait several days if you have an important question to keep moving forward.
Feature 3 – Coaching calls
Inside the members area of Amazing Selling Machine, you can find a coaching calls area.
This is where they regularly have coaching calls where you can ask your instructors questions in real time.
There is not as such any set schedule from what I have seen, so I cannot say how often these calls take place.
But if there are no calls when you need help, you can use the mentor program as explained above or you can access previous coaching calls as they are recorded.
Watching these recorded coaching calls can give you a lot of good information and answers to many questions as it is very likely people before you have had some of the same questions.
So if you have any questions, the coaching call section is definitely worth checking out.
Feature 4 – Lifetime community membership
I have already mentioned the community in the mentor program section earlier in this review. But the community area is not only a place to get answers from the mentors.
It is also a place where you can interact with other members – you can find complete beginners as well as people that are selling for millions in the community.
You can share goals, ask all kinds of questions, check out where everyone else is from, keep each other accountable, etc.
Having a community like this is, in my opinion, a great asset as it can otherwise be lonely to build an online business.
Also, no matter your experience it is very likely you need some kind of support at some point and it is great to have a community for this.
You get lifetime access to this community and you get discounts for live events as a member as well.
Feature 5 – Private resource vault
You get access to what ASM calls a resource vault.
There are two kinds of resources you can find here – documents and downloads for each of the modules and resource links to recommended business tools.
The resource links are links to all kinds of services you might need to run a business. It can give you some great ideas and can save you a lot of time.
Just be aware that some of these are links to other tools so some of them is something you have to buy if you decide to use them.
In some cases, you can then get a discount or free trial through ASM.
The resources for each module are PDF documents with overviews and tasks for each module.
These can definitely be a great help to keep moving forward and keeping track of your progress.
So overall the resource vault is a great bonus and gives you some great tools to build your business and can save you a lot of time.
Feature 6 – Automation tool suite
With Amazing Selling Machine 11 you also get access to an automation tool suite.
This includes 4 different parts.
Part 1 includes tools such as:
Email automation for sending customized emails to all of your Amazon customers to increase product reviews and provide customer service
Detailed traffic and conversion stats for all of your products
Sales and profit tracking for your entire business
Keyword tracking to see where you rank among your competition
Inventory tracking and alerts that helps ensure you take timely action on keeping your products in stock.
You will get access to this variety of tools for free for 12 months.
Part 2 is what they call the Brand Launchpad and Continual Sales System. It is a list ASM of 10,000+ buyers looking for high quality, new products from their members. You will get access to this complete for free for 12 months as well.
Part 3 is the ASM Business Dashboard which is a dashboard that is integrated right into your ASM membership so you can get all of your vital business stats in one place.
Part 4 is what they call the Ultimate Product & Keyword Research Toolset. You will 90 day free access to this great product and keyword toolset which can help you grow your business faster.
Below you can also get a sneak peek inside ASM11 created by they guys behind the platform themselves:

==>Click to Check Out ASM for Yourself<==
Get access to a free webinar
The above shows you what you get if you buy the ASM membership. But they also regularly offer completely free webinars you can join no matter if you are a member or not.
These are actually useful webinars where you will learn more about growing an Amazon business.
Of course, you will not learn the same as if you have a membership, but they can be great to join and also gives you a good idea about what ASM is about.
You can register for the next free webinar here.
How much does Amazing Selling Machine cost?
When it comes to the price of the Amazing Selling Machine you have two choices.
You can pay a one-time fee or you can divide it into 6 payments.
The cheapest is, of course, to pay it all at once. But it is still not cheap – however, the real question is if it is worth it which we will get to in a minute.
First, you need to know if there are any additional costs.
One thing I really like about ASM is that there are no hidden fees inside the members area.
However, there will be some extra costs to actually run your business. According to ASM themselves, they have given you all the tools and training you need inside and as you can see previosuly in this review, you get access to some great tools with your membership. So the only two other areas you need to invest in is inventory and marketing.
How much this will be, depends a lot on how you want to get started and your budget.
ASM says that on average students spend between $500-$3000 dollars on their initial inventory investment and this includes the product, shipping, and packaging).
On average students then spend between $100-$300 on marketing when they first start.
So this will give you a good idea about the full cost.
It can seem like a lot. But it is an investment and I have also looked into starting a brick and mortar business and the cost of that is A LOT higher (it will easily be $15,000+ before you even open the doors).
So starting an online business is definitely still one of the most cost-effective ways to start a business.
I, however, also understand that not everyone has that budget at first.
If that is the case, you can also look into something like affiliate marketing where you can start cheaper and this is something I have had a lot of success with myself and think is also a great online business model.
One very important thing about ASM is, however, that you can try it risk-free.
You get a 30-day 100% money-back guarantee when you buy Amazing Selling Machine.
This means you can get access to all the training, get help from the mentors, can use the resource vault, etc. without risk.
If you decide it is not for you, you can at any time within 30 days request a refund and you will get all your money back.
This is a really good guarantee, in my opinion, and it is quite unheard-of in the industry to give a 100% money-back guarantee for such a high-priced program.
In addition to this, if you buy ASM11, you will get what they call the ASM Success Promise. This means that if you follow they course and meet criteria laid out, you will be able to get your money back within 6 months if you are not happy with the results.
Not only that, you ASm will also reimburse you for unsold inventory of up to $7500 dollars.
This types of guarantte is something I have not seen in any other online platform. So definitely some good guarantees they give, in my opinion.
Also, be aware that if you buy ASM11, you get FREE upgrades to every new version of the core ASM web class.
So this means that you will continuously get the newest information and training about how to succeed on Amazon once you have bought just one of their versions. And as you can see from the number of the current program (number 11), it is quite regularly updated with brand new strategies and classes.
Is ASM worth the money?
When it comes to starting a business, there will always be some costs if you are serious about wanting to create a real income.
For me the question when it comes to cost is not how much it is but if it will be worth it.
If you can make a lot more than you invest, then it might very well be worth it and then the actual price does not mean so much. But if it does not give real value, then it will be wasted.
And when it comes to higher priced programs like ASM, this question naturally becomes even more important.
So is Amazing Selling Machine then worth the money?
I would say this really depends on your goals, your expectations, and your budget.
There is no doubt running an Amazon FBA business can be very profitable. And ASM provides first-class training for this.
But you need to go into it with the right expectations.
This means you need to be aware that results will not happen overnight. It all comes down to the effort you put in. Just because you join ASM does not mean you will automatically start making money – you need to take consistent action.
Also, the budget is, of course, an important aspect. As you can see from the ASM success stories it definitely can give a good return of investment.
But it is not guaranteed. And as mentioned it will require some time and effort.
So if you are desperate to make fast money and these are your last money, then I would say it is probably not worth it since the pressure and impatience will likely prevent you from taking the time it takes to build the right foundation.
But if you have the budget and want to start an Amazon FBA business, then ASM is definitely a great option to learn this step-by-step and get support along the way.
Final verdict
Amazing Selling Machine 11 is definitely real and is NOT a scam.
It provides real training and support. But this does not mean it is the right option for everyone.
So let's finish this review by summing up the pros and cons so you can get a better overview before deciding if it is for you or not.

Pros:
High-quality training
Support from successful mentors
Lifetime access to active community
30-day money-back guarantee + success promise
Teaches a real way to make money online
Free upgrade to every new version of the core ASM web class

Cons:
Not for you if you have a tight budget
There is honestly not much I can say in terms of cons when it comes to ASM. Before I became a member, I was not sure if it was all hype but I am genuinely impressed with the training and community inside.
The main thing you need to consider is if you want to start this type of business and your budget. If you want to run an Amazon FBA business, ASM is one of the absolute best training platforms for this, in my opinion.
So if you have the money to invest and are serious about wanting to start an online business, it is definitely worth considering. And the 100% money-back guarantee + the success promise alleviates the fear of you maybe losing your money – if you do not like it or do not get results, you can get your money back.
I hope this review has helped you get insights about what you get as a member of Amazing Selling Machine and that it has helped you decide if it is the right option for you or not.
If you have decided it is for you, you can join through the button below.
If you have any comments, questions, or have any experiences with ASM yourself, I would love to hear from you in a comment below.