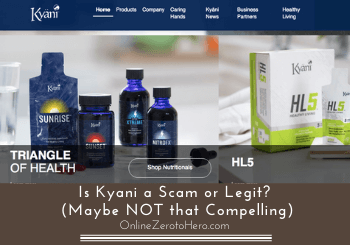 The health and wellness industry today keeps growing with people becoming more conscious about what they put into their bodies.
So you shouldn't be surprised if someone wants to share with you some superfood or nutritional product that promises health benefits and at the same time shares a business opportunity that comes with it.
Nutritional products are one of the most common in the MLM industry. One of the companies that have been existing longer than others is Kyani and it operates in more than 60 countries today.
But is Kyani a scam? Or is this a legit opportunity you shouldn't pass on?
In this Kyani review, we will go into details about this health and wellness MLM company to see what it really has to offer and if you can really earn when you become part of it.
This will help you decide if it's the legit opportunity you've been looking for today.
Kyani at a Glance
Tools

Value for Money

Income Potential
Summary
Kyani was founded by businessmen who created products that are said to combine superfoods to create nutritional supplements. They carry ingredients of the Alaskan berries and Alaskan salmon.
It's your usual MLM company that requires you to purchase products to become a member and avail discounts. However, you also have to purchase their starter kit aside from the product packages. Their products are not cheap so unless you're a great salesman and have the right market for this kind of product, then you will find it difficult to build your income.
You have to come into it with the right expectations about how much you can actually earn and how much hard work it will require you to really get the income you want.
There definitely are no guarantees you will be able to make money with Kyani and unless you have great sales skills and are great at recruiting, there will likely be better options for you.
What is Kyani and what does it offer?
Kyani is a health and wellness MLM company that claims to "combine the world's most powerful superfoods to create the most compelling nutritional supplements."
In fact, the name Kyani came from the Alaskan term "strong medicine".
Why the Alaskan term? Because the two main ingredients of their signature product line are the Alaskan blueberries and the Alaskan Salmon.
The company was founded by Kirk Hansen, Jim Hansen, and Carl Taylor back in 2005 when they were introduced to the power of the Alaskan blueberries and Alaskan Salmon.
All of them have been doing business before creating Kyani. Kirk and Jim Hansen used to work on their family's small petroleum business while Carl Taylor grew their small family farm into a large potato business.
Today, Kyani's headquarters can be found in Idaho Falls and it operates around North America, Central and South America, Europe, China, and some parts of Asia.
So what do its members promote around the world?
Kyani's flagship product line is called the Triangle of Health and it contains the vitamins and nutrients to support the body. This is what the majority of the distributors around the world are promoting to their network. As per the name, there are three products in this line.
The Kyani Sunrise has the premium ingredient of Alaskan blueberry which is said to be more potent than your regular berries and provides Vitamin C, B6, and B12.
The Kyani Sunset is a gel capsule that has nutrients including Vitamin A, D, & E plus Omega 3 from the Alaskan salmon.
Lastly, the Kyani Nitro family is created to help boost nitric oxide levels of your body.
The company also has a skincare system called Fleuresse.
But, I'm not here to discuss each product in detail since this is not a product review. I still suggest you read on other people's experience on the products though, if you want to make it into your business so you know exactly what the quality of the products is.
But this Kyani review is to help you decide if this is the right income opportunity for you so that is the aspect we will focus on.
So before you can decide if you can really earn, you first have to know how to be part of Kyani and how much you would need to invest to get started.
How much do you invest?
Since Kyani is an MLM company, joining it requires you to buy a starter kit to get discounts and access the website and online store.
The Kyani Starter Pack costs $89 and it features a distributor folder with marketing materials and allows you to purchase products at the wholesale price.
However, the starter pack does not include any products. It is simply a welcome kit to give you information about your Kyani membership.
If you do want to earn commissions or at least use the products, you have to choose between two product packs namely the Regular Builder Pack and the Premium Builder Pack. And let me tell you that these builder packs are not cheap.
The Regular Builder Pack is priced at $499 and it includes bottles and sample packs of the Kyani Triangle of Health. It also includes product brochures you can use in your presentations.
The Premium Builder Pack is priced at $999. It also includes bottles and sample packs of Kyani Triangle of Health only twice as much.
Don't forget that you have to add the $89 starter pack so your initial investment will cost you at least $588 just start building your business.
I think it's better if a starter kit already includes some products instead of you having to buy your product package separately. You also don't get much choice in the start-up cost in my opinion which can stop many people from joining Kyani.
So with hundreds of dollars as an investment, your next question is will you earn once you become part of Kyani? So let's discuss next how you can earn and if it's worth the investment.
Can you really earn with Kyani?
In general, you can earn in two ways with MLM companies:
You get the products at a discounted price and sell it at a profit to customers.
You recruit friends and families to become part of your team and earn through group sales.
Now, each MLM company varies on how you can earn through group sales and the bonuses it gives to its members.
If you want to see the whole compensation plan of Kyani, you can watch the video below:

Watching the compensation plan can be quite confusing, in my opinion. There are a lot of levels and quite complicated requirements for you to get commissions and bonuses.
You will move up a rank in Kyani as your income increases. As a Qualified Distributor, you only need to have purchased a builder pack and starter kit. But for you to reach the next rank, which is Garnet, your group sales volume needs to reach 300 points. There are also technicalities regarding your team members for you to earn.
To move from Garnet to Jade, you must bring in two new people who will then recruit at least one person each within the first 31 days. There is also a required number of group sales volume.
Here are all the ranks in Kyani:
Qualified Distributor
Garnet
Jade
Pearl
Sapphire
Ruby
Emerald
Diamond
Blue Diamond
Green Diamond
Purple Diamond
Red Diamond
Double Red Diamond
Black Diamond
Double Black Diamond
Therefore, each rank will require you to bring in a certain number of people and for your current team to generate a specific number of sales.
This means your commission mainly depends on growing the number of new people in your organization to increase your group sales per month.
In my opinion, you might find it difficult to earn through this opportunity if you're not into sales or don't have the right market for the products in this kind of setup.
But you can explore this as a business opportunity if you are great at selling and recruiting other salespeople into your team.
Recommended: Click to Learn My #1 Recommended Way to Make Money Online
Is it worth it?
Well, if you like the products and have the budget, then you won't have a problem purchasing the basic builder pack to use and then share with your friends and family members.
However, since the growth of your income relies a lot on recruiting new people, it becomes more about recruitment than sales of products, in my view.
I checked the income disclosure statement of Kyani to see if people are really making money out of this opportunity. According to them, 50% of their active distributors are paid an average of $233 per month at the Jade rank. Some earn as low as $8 per month.
Take note that there is a monthly required purchase of $100 for you to be allowed to earn a commission.
If you're on Jade rank or higher, you have to purchase $150 worth of products monthly. This means you might end up losing money if you don't move up the ranks and start earning.
You might also be spending half of your earnings just to keep your account active for commissions.
Now, if you're not able to sell your monthly quota, you can end up with a pile of inventory.
Given that the price of Kyani products is high, you either have to learn how to market your MLM products online to expand your reach with the right market to sell these products, to begin with.
Also, aside from the product sales, your success in this company or in any MLM industry is determined by the support team and system you have and the constant recruitment of people into your business.
In fact, even with the complicated compensation plan, it's clear that your income depends a lot on recruitment. So if you're not a good salesperson and good at recruiting or you feel your network is not the right market for the products, then you're better off finding a different opportunity, in my opinion.
Another thing you have to consider is the past class-action lawsuits filed against Kyani. In 2017, the company was accused of being a pyramid scheme and in 2016 they were reported to the FDA for improper health and income claims.
Of course, as long as they have not been sentenced, it should, in theory, not be a problem. But this information about potential lawsuits and accusations is already out there and people will find it when looking into Kyani.
This can make it a lot more difficult for you to sell the products and even harder to recruit new members to your team. And this is definitely important to consider before investing.
These factors should help you consider if joining Kyani is the right choice for you or not.
Final Verdict
Kyani is a legit company distributing its products worldwide through its members. It has existed for more than 10 years which is longer than many health and wellness MLM companies today.
But is Kyani the right opportunity for you?
Well, that depends a lot on your skills and your income goals. So I have summarized the pros and cons discussed throughout this review below to help you come up with a personal decision.
Pros:


In the industry for 15 years
Available in many countries
Founded by established businessmen
Cons:


Products are expensive
Expensive start-up cost
Complicated and recruitment-based compensation plan
Overall, Kyani is another MLM company in the health and wellness industry that requires you to buy products and recruit members in order to earn.
If you can look past the complaints, have great sales skills, and really believe in the products then this can be an opportunity for you to earn.
You just have to come into it with the right expectations on how much you can actually earn and how much hard work it will require you to really get the income you want.
Now, if you feel that Kyani is not a good match to you, then I suggest you do some research on other opportunities you can do that give you flexibility, requires little to no sales skills at the beginning, and has a high income potential.
How I make money online
I know it sounds great to have your own online business. I spend time and tried different online opportunities and eventually found the one that worked for me.
Now, I have been able to create a full-time online income that now allows me to work completely on my own terms.
It takes some effort but it is totally worth it.
If you want to follow my footsteps and create your own online income, then check out my FREE guide where I explain how this is possible step-by-step.
You can even get started with these steps as a complete beginner.
If you have any questions, comments, or have any experience with Kyani yourself, I would love to hear from you in a comment below.