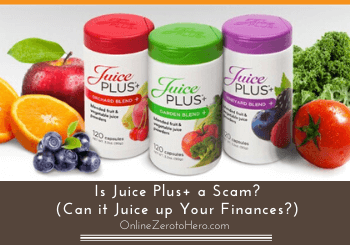 If you are offered supposedly healthy nutritional supplements and earn income at the same time, I'm sure you will jump at the chance, right?
There's nothing better than being healthy and wealthy all at once. After all, this may be the ultimate goal among many of us.
That is also the promise of Juice Plus+ if you join the company and create a business with it.
But is Juice Plus+ a scam or is it the road to financial freedom?
This Juice Plus+ review will answer exactly this and show you both the good and not-so-good sides of the company so you can better weigh your options whether to give it a shot or not.
Summary
Training

Tools

Value for Money

Income Potential
Summary
Juice Plus+ is a company that manufactures and distributes nutritional supplements made from oils and juice concentrates of various fruits, vegetables, and grains.
It has been in business for some time now, thanks to a market of health-conscious patrons who are attracted to its message of a healthy lifestyle coupled with an opportunity to make money.
There are some who claim the company has helped them earn income, but there are others also who are turned off by the unreasonable price of its products, making selling difficult. In addition to this, it can be hard to recruit members to join your team where the potential of earning income is much bigger.
Also, the company faces many sorts of complaints from its clients not to mention claims that some of its products have been found to have side effects on certain medical conditions.
To be honest, the chances of success are not that big. Therefore, after knowing the pros and cons I have discussed here, you need to weigh things if the business is for you or not.
What is Juice Plus+ and what does it offer?
Luckily, Juice Plus+ does not keep you guessing about the nature of its business. Its name easily gives it away.
And you are right. The company manufactures and sells juice concentrates of various fruits and vegetables in powder, capsule and other forms.
Its website says, "Juice Plus+ products are made from the juice powder concentrates and oils from more than 40 different fruits, vegetables, and grains."
Just like USANA, it operates in the health-and-wellness segment, but unlike it, Juice Plus+ chooses a rather diverse approach in building its business, which I will explain in more detail below.
The company takes great pride in its flagship product called – what else but – Juice Plus+. It comes in four blends: Fruit Blend, Vegetable Blend, Berry Blend, and Omega Blend.
Besides this, there's a long list of other products and variants, which are categorized into three:
Capsules – Juice Plus+ in capsule form
Chewables – Juice Plus in chewable form
Complete – this group consists of bars and beverage mix
A click on each of these categories would reveal numerous products, which are too many to count and would certainly take time to discuss.
Since it is not my aim to do a product review, I will leave things as is. But you can always visit its website if you want to know the products.
This review will instead focus on the potential it has for you as a way to build a long-term business.
The business model the company uses to grow its business is unique.
Much like how it produces its main product – a mixture of different ingredients – its system is also a virtual mixture of many approaches.
It employs franchising, direct selling, and network marketing all at the same time.
If you have a hard time understanding how to earn from companies that focus only on one system, I'm not sure how you wrap your head around Juice Plus' earning scheme.
But it's getting ahead of the discussion. Let's have more on this in the next portion of this review.
Now that you know the basic info about Juice Plus+ and what it offers you, let's get to the more interesting topic – how you earn.
Recommended: Click to See My #1 Recommended Way to Make Money Online
How do you earn?
So what's in store for you when it comes to earning income from Juice Plus+?
Juice Plus has three main ways for you to earn money. They are through:
Retail Sales
Commissions
Bonuses
Profit from retail sales comes from the difference between the regular price of the product and the discounted price for the members.
For instance, if you are able to sell a set of its core product Juice Plus+ Blends, you will have an income of $39.
In commissions, things start to get complicated.
There are three positions you can achieve depending on your sales volume. These three positions have corresponding income percentage from the production of your team.
These are:
Direct Distributor     6%
Virtual Franchisee   14%
Sales Coordinator   22%
Besides these three, there are what the company calls leadership positions:
Senior Sales Coordinator
Qualifying National Marketing Director
National Marketing Director
All of these positions are dependent on the size of your team and, of course, your sales volume.
Its bonuses are an assortment of many different payout plans, probably as many as their products. Juice Plus+ is just being true to its nature as a "mixture" company.
These bonuses are also tied to your rank in the sales organization – the higher your rank, the bigger and more varied the bonuses you can enjoy.
I will not spend more time discussing the mechanics of its earning opportunity as it is not my aim in writing this review and it would take up too much time if I was to explain all about how the compensation system works.
Let's instead focus on finding out if Juice Plus+ is the right company for you to earn income from or not.
But I have inserted a video here if you are interested in knowing more about it the compensation system in details:

Now that you know how you can earn from the Juice Plus+ business, you may be interested in joining.
So let's go over that below. But make sure to also check out the important things you need to think about before joining later in the review so you know exactly what to expect.
How to join?
Joining Juice Plus+ and getting started with your business is quite simple and easy. All you have to do is fill up an application form and pay $50. Then you are now in business.
Unlike other networking or MLM companies, there's no special title when you sign up. The title comes when you start to produce sales and bring in more people to join your sales team.
But before you decide to enroll, you are encouraged to do "one simple change," which is supposedly a switch to a healthy lifestyle involving eating healthy foods, exercising, maintaining hydration, having enough sleep and less stress, and, of course, using Juice Plus+.
At this point, you may have already made up your mind whether to sign up or not. But before you do that, let me go through some important points to consider before you decide.
4 Serious Reasons Juice Plus might NOT be for you
You might find the products of Juice Plus+ and its earning potential attractive. But there are certain aspects of the organization and the industry it is operating you need to look into to make sure it is really the one for you.
In my research about the company, I discovered important things you need to know that can help you decide if it is for you or if you need to look elsewhere.
Reason 1 – Overpriced products
This is one reason people would turn away instead of patronizing them. This is because low-priced and effective nutritional supplements are available everywhere.
Some may even be more effective than the ones marketed by Juice Plus+ but way more affordable.
$70 for a bottle of fruit or vegetable concentrate for a month is quite expensive, in my opinion.
You can even eat real fresh fruits and vegetables at a fraction of that amount.
If you are thinking of making it your own business, this is one reality you need to face.
Unless you are a super salesperson, you will find it hard to succeed in this situation.
I'm not saying it can't be done because others have done it. But if you are still a beginner, it's really quite a test.
So, you need to look hard into it before you decide.
Reason 2 – Customer complaints
Try to visit Trustpilot.com and you will find out customer reviews about the company are not encouraging.
Sixty percent of the reviewers give Juice Plus+ not only a poor – but bad – rating.
There are even some who are furious not only about the price, product or service but the overall conduct of the business.
There's one guy who complains that Juice Plus+ destroyed his relationship with his wife.
Nothing can be more unflattering and damning than that. You're supposed to earn to keep your family whole, but the business did the opposite according to this guy.
Here is a screenshot of his complaint:
Another reviewer calls the company a scam for delivering products without her consent:
The reputation and trustworthiness of a company are keys to its success.
And in this day and age, consumers turn to reviews like those on Trustpilot for insights about the dependability of the company and its products and services.
With many negative reviews like this, it can potentially be a lot harder for you to sell its products and get other people to join.
You should, of course, not only look at review sites like that as reviews there sometimes can be one-sided or even manipulated.
But they can still be good to take into consideration and if you can see patterns there, it tells you something about what to be aware of and how good the quality of the products might be.
Looking at the ratings and the reviews, it seems it can be a big challenge to build an income with the company, in my opinion
This needs serious thinking, don't you think so?
Reason 3 – Adverse side effects of the products
There have been reports of unfavorable side effects of Juice Plus products.
One that stands out is the case of a cancer patient who was doing well in her recovery until she decided to take Juice Plus and things took some bad turns. She contracted liver injury from taking the product.
This case was featured in the reputable The American Journal of Medicine and here is a part of the report:
"On the basis of the timing of her elevated liver function test results, the Juice Plus+ supplement was deemed the most likely causative agent of the patient's liver injury, and it was discontinued. Liver function test results peaked and improved, followed shortly by a second lesser peak, and then normalized over 4 weeks."
You can read the whole article titled Juice Plus or Toxicity Plus here.
I think there's no need to stress the fact that nutritional supplements that cause serious side effects such as the above are a real cause for concern.
They are supposed to be safe, yet, in this case, Juice Plus caused liver injury to the patient.
This is another thing you need to think over before you decide to sign up. You and your team will be selling supposedly safe nutritional products that have been reported to have adverse side effects according to the report above.
This is not a good sign for your own health and the health of your business.
Reason 4 – Slim chance of success
Every time MLM or network marketing is mentioned, the study of Dr. Jon M. Taylor of the Consumer Awareness Institute should also figure in the discussion, in my opinion.
In his research posted on the website of the Federal Trade Commission (FTC), he found out that 90% to 95% of those who engage in these types of business drop out in five to ten years.
Only 5% would survive and they usually are the ones who occupy the topmost portion of the organization.
These are the national marketing directors or whatever title they call them.
Thus, this type of business operates like a revolving door for you and many others who occupy the lower portion of the totem pole.
Below is a screenshot of a portion of his paper:
I am not saying this is only true for Juice Plus+, but this is the reality uncovered by Dr. Taylor for MLM businesses in general.
If you are interested to take a look at the report, you can access it here.
So, in my opinion, if you are looking for a stable and sustainable source of income, this company might not be the one for you . . . unless perhaps you work hard enough to barge into the 5%.
But if you are not confident to make it big in this industry, there's no need to fret.
There are other ways to earn money.
The good news is they don't require huge investment and there's a lesser chance of failure, but on one condition: You have to put in the needed time, effort and dedication in making the business grow.
Juice Plus+ can be a source of income as some people have proven themselves, but if you have not had any experience in this type of business, it will be hard to succeed.
This and the other reasons above are something you need to think several times over before you decide if Juice Plus+ is for you or not.
Final Verdict
Juice Plus+ has been able to develop a market of health-conscious and business-minded clients by trumpeting the message of a healthy lifestyle and the opportunity to earn unlimited income.
Therefore, it can be a money-making option for you.
The need to keep fit and healthy has never been as urgent as now.
There are just certain issues the company is facing that you need to be cautious of because they might adversely affect your own business too.
So, let's sum up this review with a list of the pros and cons so you can have a better view of the whole situation before you make your decision.
Pros:

Company can be a source of income
Its message of healthy living is apt for the day
Company has existed for some time now
 Cons:

Products are overpriced
Overall rating of the company is not good and it faces complaints – some are serious
Juice Plus+ has in some cases been reported to have side effects on certain medical conditions
There's a slim chance of success in the business
On the whole, Juice Plus has the potential to be your money-making activity, but with the issues and complaints it is grappling with, you need to think twice if you can manage them so you will succeed in this business.
You also need to consider the fact you will be selling expensive products and have to rely on inviting more members to your team so you will earn more.
If you are up to the challenge, this might be for you. If not, you may need to look elsewhere for alternatives.
It is up to you to decide which one to choose.
How I make a living online
If you are looking for a different way of building an income for yourself, there are luckily many options online today.
Personally, I have been able to create a full-time online income that now allows me to work completely on my own terms.
It takes some effort but it is totally worth it.
If you want to follow my footsteps and create your own online income, then check out my FREE guide where I explain how this is possible step-by-step.
You can even get started with these steps as a complete beginner.
If you have any questions, comments, or have any experience with Juice Plus+ yourself, I would love to hear from you in a comment below.