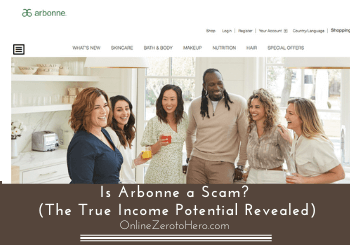 What do you think about when you hear the words pure and safe?
It's a common claim nowadays for products as consumers are becoming more conscious about what they use for their bodies. The less chemicals the better.
So it's not surprising if someone will approach you offering products claiming they are pure and safe and at the same time invite you to get discounts by becoming a member.
There are many brands that offer this nowadays but one that has been promoting their healthy and green products since the 1980's is Arbonne.
But is Arbonne a scam and is Arbonne a pyramid scheme or can you really earn by using and promoting their products?
This Arbonne review will give you all the details about what the company has to offer and if you can really earn so you can find out if this is the opportunity for you or not.
Tools

Value for Money

Income Potential
Summary
Arbonne is a MLM company that has existed since the 1980s. It features pure and natural products ranging from skincare to makeup. The cost to sign-up is low compared to other MLM companies that require you to shell out hundreds of dollars for a starter kit and initial products.
However, while the start-up cost is low, the income potential is also low. Your income will depend a lot on recruitment. With all the competition out there for non-GMO and cruelty-free products, you might find yourself struggling to recruit or sell. If you're not a skilled salesperson, then you're better off as a preferred client getting discounts for your products for personal use.
This opportunity, in my opinion, will make it difficult to achieve a full-time income. Their income disclosure statement says 66% of their consultants earn only an average of $839 per year or $70 per month.
So it is definitely not a good option for all and the chance of really earning is low and will require you to have great sales and recruiting skils.
What is Arbonne and what does it offer?
Arbonne is a beauty and skincare MLM company that can trace its history back in 1975. Back in 1975, Petter Morck worked with a Norwegian skincare and makeup company that moved its operations to Irvine, California. While the company started in 1975, its official skincare launch came in 1980.
Today, Arbonne operates in Poland, New Zealand, Taiwan, United Kingdom, Australia, Canada, and the US.
Arbonne products claim to be made with no parabens, PABA, Benzene, mineral oils, petrolatum, phthalates, and formaldehyde preservatives.
They used botanicals and herbs to promote pure and green products even before it became a trend.
Their products can be categorized into the following:
Skincare including facial cleanser, sun cream, creams, and toners
Bath and body including essential oils, lotion, masks, and others
Makeup such as mascara, lipstick, and eyeliner
Nutrition including protein shake, snack bars, and immunity boosters
Haircare such as shampoo, conditioner, and hair serum
One of the selling points of their products is that all are 100% vegan and cruelty-free. There are other certifications posted on their website regarding the quality and ingredients.
Now there are some that question if Arbonne products are indeed pure and natural but this Arbonne review will not focus on the products themselves but on the income potential.
Still, I suggest you spend time doing your own research on the products to verify their product claims.
It's important you know your products well if you're planning to make it into a business since you will be promoting these products to your friends and family members. There are detailed product reviews that you can read to help you assess their products.
And, of course, the best is to also test them thoroughly yourself so you know if you can really recommend them.
As for this review, let's look at how you can first become a part of Arbonne before looking at the business opportunity it offers.
How much do you need to invest to join Arbonne?
Compared to most MLM companies I've reviewed, the cost to become part of Arbonne is quite low.
There are two types of memberships you can choose from when joining Arbonne. You can either become an independent consultant or a preferred client.
What's the difference?
An Arbonne Independent Consultant is able to purchase the products at a discounted price and have the opportunity to earn an income through the business opportunity.
To become an Independent Consultant, you only need to pay $79 for a starter kit that includes product samples, a welcome CD, business workbook, forms, flyers, and product catalogs. Take note that you have an annual renewal fee of $30.
On the other hand, an Arbonne Preferred Client allows you to purchase products with a discount of up to 40%. You can also get free shipping for purchases worth $150 and above. You only have to pay $29 as your initial cost as a Preferred Client and have an annual fee of $29.
In short, Independent Consultants are the business builders while Preferred Clients are the customers.
Honestly, Arbonne's initial costs are one of the lowest I've seen for MLM companies. This allows you to use the products without fearing you have too much inventory in your hands.
There are other MLM companies that require you to purchase hundreds of dollars worth of products in the beginning only to end up with a huge inventory and no income.
I prefer those with low start-up costs as it lessens the risk of losing money if you can't sell your initial purchase and end up just using them for yourself.
To sign-up, you just have to go to their website, fill out the registration form, choose your place of residence and preferred language, then decide if you're joining as an Independent Consultant or Preferred Client.
Take note that you have to be in the countries where Arbonne is available in order to sign-up (the countries are mentioned earlier in this review).
Now, if you do join as an Independent Consultant, then you need to know how much you can actually earn with this business. After all, you probably won't go into a business without the goal of actually making a living income.
So let's discuss your income potential as an Arbonne Independent Consultant next.
Can you really earn with Arbonne?
Since Arbonne is in the MLM industry, you can basically earn in two ways.
First, you can sell the products you purchase at a discounted price to earn retail profit.
Secondly, you can build your organization and earn from your personal sales and your group's sales.
Now, if you want to know the full compensation plan of Arbonne including the bonuses, you can watch the video below:

Your business will involve different kinds of people. You have customers who simply purchase the products from you and your Arbonne members who are either Preferred Clients or Fellow Independent Consultants.
You can get 35% retail profit from customers and 15% retail profit from Preferred clients. You also earn up to 6% commission for every product your team sells.
As an Independent Consultant, you can build your business and progress up the ranks as follows:
Consultant
District Manager
Executive District Manager
Area Manager
Executive Area Manager
Regional Vice President
Executive Regional Vice President
National Vice President
Executive National Vice President
Moving up the ranks requires you to recruit people who will buy or sell the products so you can earn a commission.
Take note that for you to be considered an active consultant, you have to hit a monthly quota of $150 personal retail sales.
My concern with monthly quotas like this in MLM companies is that you end up having to buy the products yourselves if you are not able to achieve the monthly sales quota just to keep your account active for commissions.
You can also learn how to sell your products online so you can get a wider reach of potential customers which will make it more likely to achieve your sales goals.
Is it worth it?
So are Independent Consultants really making money? Based on their income disclosure statement, the average annual earnings of an Independent Consultant is $839.
That puts you into earning around $70 per month. If you will consider the monthly quota of $150, you can end up losing money if you are not able to meet the monthly quota and are only earning the average annual income.
They say they have more than 200,000 Independent Consultants but 66% of those are earning the average annual income. Only 1% are able to hit the top rank which is said to take more than four years.
Therefore, unless you have the right sales skills to share your products with your network, you are better off becoming a preferred client in my opinion.
You can choose to use the products if you find them effective and high-quality. But if you want to make it into a business, it will require a lot of hard work and a lot of skills.
It is important to seriously consider the average income before joining so you know what to expect.
Even though it might sound appealing and like a dream when you first hear about it, it will NOT be easy to make it into a business and it is definitely not for everyone – as you can see, the majority of people that will go into this will not succeed making any real income.
Recommended: Click to Learn My #1 Recommended Way to Make Money Online
Final Verdict
Arbonne has been in the MLM industry for more than 20 years now which makes it a legit and established company featuring cruelty-free and non-GMO products which are now a trend.
However, just because it's a legit company doesn't automatically mean it's the right opportunity for you to earn.
Therefore, I have summarized the pros and cons discussed throughout this review to help you decide if you should become a part of Arbonne or not.
Pros:


Have been in the industry for more than 20 years
Low start-up cost
100% vegan, cruelty-free products
Cons:


A higher income is mainly based on recruitment
Lots of competition for its products
Majority of members will not be able to make a living from it
Overall, Arbonne is not a scam. It's a company that promotes a holistic lifestyle through its green and pure products.
Unfortunately, the low start-up cost also equates to a low-income potential, in my opinion. So if you're looking for an opportunity that can replace your full-time work, this might not be for you.
But if you feel that this business is a good match for you, you have to come in with the right expectations when it comes to its income potential.
Expect that it will take a lot of hard work and good sales skills to build your income. And there is still no guarantee that you can earn a full-time income.
Now, if you really want an opportunity that gives you flexibility and a good income, then luckily there are other options out there.
I would personally suggest you do your research to find one where you can start even as a beginner.
How I make money online
I know it sounds great to have your own online business. I spend time and tried different online opportunities and eventually found the one that worked for me.
Now, I have been able to create a full-time online income that now allows me to work completely on my own terms.
It takes some effort but it is totally worth it.
If you want to follow my footsteps and create your own online income, then check out my FREE guide where I explain how this is possible step-by-step.
You can even get started with these steps as a complete beginner.
If you have any questions, comments, or have any experience with Arbonne yourself, I would love to hear from you in a comment below.