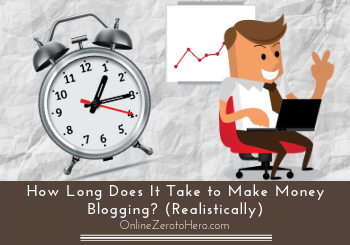 If you want to make money online, you have probably heard blogging can be a good way.
But how long does it take to make money blogging?
This is definitely something you need to know so you go into it with the right expectations.
I have this blog and others and I am making a full-time income from these blogs myself.
In this article, I will share some REALISTIC insights so you know what to expect and what it takes.
Reality check before we start!
Before we get to the part about how long you should expect it takes before you can start making money blogging, I just first want to do a reality check.
And let me just make it very clear – YES, you definitely can make a living blogging.
This is definitely realistic and it is also something you can learn no matter your background.
However, despite what you might see some "systems" say, you cannot just set up a blog with a few clicks and then start earning thousands of dollars right away.
People that claim this are just selling you an illusion to try to make money themselves. Mostly these systems do not even work or they are built around stealing content from other websites.
This is not only unethically (and potentially illegal) but it will also NOT be a way to build a sustainable long-term income.
So stay away from any system that claims you can get a blog with automatically created content without any work.
But it definitely is possible to make very good money by blogging and build a long-term income like this ethically.
So let's now look into how long this will take and what aspects will affect this.
What affects how quickly you can earn by blogging?
It is honestly impossible to give an exact answer for how long it will take for you to earn a decent income from blogging.
It depends on a lot of different things.
But by going over the most important aspects of these, you can get a good idea about how long it might take for you to earn money blogging depending on your exact situation and goals.
So let's go over these elements now:
Element 1 – Your niche
One of the things that is very important to determine how quickly you can make money on a blog is the niche you are in.
Some topics are very competitive – so if you, for example, have a beauty blog, it will require quite a lot of blogging before you can compete with other bloggers in that niche.
However, if you choose a sub-niche carefully, few niches are really too competitive. So if you really want to make a beauty blog, you can try to narrow it down to a certain sub-topic.
Anyway, there just are niches that are more competitive than others.
The more competitive a niche is, the more time and work it will take before you can start earning.
That is why I, for example, always advise people that are new to blogging not to go into the Make Money Online niche as their first niche.
First of all, because if they have not yet made money online, it does not make much sense to go into that niche.
Secondly, because it is extremely competitive and the work and amount of blogging it takes to succeed makes it a very hard niche for a beginner.
So choose your niche carefully.
Element 2 – Your way of monetizing
There are quite a lot of ways you can use blogging to earn. Your chosen method will definitely affect how soon you will make good money.
If you are planning to only earn from ads on your site through something like Google AdSense, it takes A LOT of traffic for you to make enough to make a living from it.
It definitely is possible to make money like this but you just have to be aware that it will take a lot of blogging and traffic to earn real money.
You can also use affiliate marketing which is the way I myself make most of the income from my blogs. Here it does not necessarily take that much traffic to start earning good money.
But you should still expect it to take some time to build it up and realistically most people will have to blog 3-6 months to start earning this way (which is faster than what you would from AdSense).
To make a full-time income it will, however, likely take longer. But some can do it faster and for some, it takes longer. That depends on many of the other elements mentioned on this list.
You can also use blogging to generate leads for your own business if you already have one. If you already have a business, blogging can, in fact, be a very good way to get more leads and customers.
To see any real results, you just have to be prepared to consistently work with blogging. You will not necessarily see big results after just a few blogs depending on how you promote them.
But overall the way you wish to monetize your blog definitely affects how soon you will earn. So it can be a good idea to look into different options.
Element 3 – Your effort
One thing you have to know is that when it comes to making money blogging, probably the biggest factor of how soon you will start earning is your own effort.
It WILL require you to work and put in the time to create great content.
Without great content, it will be difficult to attract visitors to your site and the ones that come will quickly leave again.
So be prepared to put in work and if you are, then you will see faster results and earnings.
Element 4 – Your patience
If you have not made money online before, you obviously want to make money as soon as possible.
But you need to know that when it comes to blogging, it does take patience.
I often see people starting a blog and expect it is enough to just write a few blog posts and then they will start earning within a few weeks.
That is NOT how it works. It does take some patience.
If you are desperate to make fast money, blogging is not for you.
In fact, making money online will not be for you in general. You will likely just end up falling for many of the online scams then.
But with patience to do it properly and to create good content, blogging can be very lucrative – and it can be fun since you can write about a topic you are passionate about yourself.
Element 5 – Your approach (strategically or not)
I quite often see people that have heard blogging can be a good way to make money then they just start.
And just starting is great. But if you do not use blogging strategically it can take a lot longer to start earning.
By strategically I do not mean you have to make a big strategy and spend weeks doing this. I mean you need to be aware of how to write about topics people are actually searching for online.
This can, for example, be done with a keyword tool like Jaaxy which is one of the methods I use myself.
But no matter what method you use, you will see faster results and earnings if you make sure to write about topics people are looking for and then use your blog correctly to both help them and set it up in a way that you can monetize the traffic as well.
Element 6 – Your budget
The great thing about starting a blog is that it can be done very cheaply. You just need a website and hosting for that website.
However, if you are willing to invest at least a bit of money, it can dramatically increase your chances of faster results.
If you are brand new to blogging and online business, I would definitely suggest you invest a bit in training that can teach you how to set up everything properly.
This can be a huge time-saver. When I first started, I thought I could figure it all out myself – I ended up wasting more or less 6 months like that because there were too many steps I missed.
Then I joined Wealthy Affiliate that taught me how to set up my blog properly and how to monetize it properly and then the results started coming.
Also, if you have a bigger budget, you can, of course, start outsourcing some of the writing and thereby get more content produced without spending much time yourself.
However, I would not necessarily suggest you do this if you are completely new – it is better to learn to do it yourself so you know exactly how it works.
If not, you can end up wasting a lot of time and money hiring people as you do not know how to make sure they do it the right way since you do not know it yourself.
How to get started?
One thing that is important when starting a blog is to just get started.
It does not have to be perfect from the start. You will learn as you move forward. But if you do not start because you are afraid it is not perfect, you will never get started.
Honestly, you will make a lot of mistakes and it will NOT be perfect. But that is completely fine. Getting started is the most important thing to start making money with a blog.
And you do NOT have to be a writer to be able to create a successful blog. You just need to be able to share your thoughts, experiences, and ideas in writing – and that can be in any language. It does not have to be in English.
So do not use it as an excuse that you are not a writer – your writing will improve the more you blog and I was definitely no writer myself when I first started but now I am making a living from my blogs.
However, if you are brand new, I would suggest you to invest in a bit of training. As mentioned earlier, this can be a huge time-saver.
If you have no experience with blogging and try to figure it all out yourself from other blogs and YouTube, it will take a looong time to get it all right.
Getting step-by-step training can be a great way to build the best possible foundation. It was not until I got this myself I started seeing results.
If you are interested in this, you can click the button below to read more about the learning platform I have used to learn the skills to make a money blogging.
Final thoughts
It is definitely possible to make good money with a blog.
Exactly how long it takes is more or less impossible to give an exact answer for as it depends on so many factors.
The most important factor is YOU and the effort you are willing to put into it. The second most important factor, in my opinion, to get the fastest possible results is to get proper step-by-step training to set up everything properly if you have never done it before.
Personally, I have learned this from Wealthy Affiliate. But no matter where you learn it, it can be a huge time-saver and set you up for faster success.
Just make sure to stay away from any program that claims they can teach you how to make money online without any effort and just with a few clicks – they will just end up taking your money.
I hope this article has given you a good idea about what to expect in terms of how quickly you can start earning with a blog and what it takes to succeed.
If you have any comments, questions, or need any help, I would love to hear from you in a comment below.