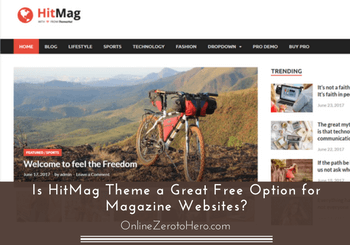 If you want to create a magazine style blog or website in WordPress, you need to find a good theme that will make it possible to create an engaging and beautiful design.
But is the HitMag Theme a good free WordPress theme for this purpose or should you look for another theme instead?
In this HitMag Theme review I will show you what you can do with the free HitMag version, what you cannot do, and also show you an alternative, if you want even more options when creating a magazine style website.
What does HitMag Theme offer?
The HitMag Theme is created by ThemezHut – it is not one of the most famous WordPress theme developers, but that does not mean a theme cannot be good.
So let's take a look at what the free version of HitMag Theme can offer, so you can get an idea, if that is what you are looking for.
It actually offers some pretty good features and has a lot of options for a free theme. I cannot mention all the details of what you can do with the theme here, as that would end up boring you, so let me mention some of the most important features it offers, if you want to build a magazine style website.
Front page with the latest posts:
For any website the front page is an important place to post the most relevant or the most recent content. That especially goes for a magazine style website, where you need to be sure you can showcase your newest articles in a beautiful an engaging way.
HitMag Theme has some pretty good options for this. You can add a nice header slider with the most recent posts, showcase other posts below, and show other relevant posts in a sidebar.
One thing I like about HitMag is that it is pretty easy to get your front page to look like the demo, I have showed a picture of above. On your chosen page, you can add a HitMag Magazine homepage template under page attribution, and then you have the base of the design.
However, the free version of HitMag has the limitation that you can only use the slider to show posts and their featured image – you cannot choose your own images and links to put in the slider.
Related posts with featured image:
Below your posts you can show other related posts. This can helpful for your readers and be a way to get people to stay on your site and read other articles.
On HitMag you can use this function, and it looks pretty good as the related articles are shown with a featured image, which will make it more likely people will find them interesting.
Several widget areas:
Having several widget areas makes a theme more flexible and makes it easier to create the right design and functionality.
HitMag has the most necessary widgets to make a good functional website. There is a widget where you can add the style of the posts that should be shown below your main header slider, you have a main sidebar, an advertisements bar that makes it easy to display ads, and three footer sidebars.
As you can see, it has a pretty good amount of widgets and thereby a way to adjust you design. I especially like that it also includes three footer sidebars, as this is something many free theme are lacking in my opinion.
General customization options:
It is important to be able to customize a theme to make it fit your needs. Free WordPress themes of course have certain limitations in this area compared to the paid ones.
But the free version of HitMag has some pretty good options for customization. It gives you some options to change colors, you can make your own copyright footer, you have several options for the blog and content layout, and it has three possible menus.
Is it worth using?
As you can see, the free version of HitMag gives some pretty good opportunities to create a magazine style website.
For a free version the options and features are better than on many other free WordPress themes. Of course, it is not as flexible as the paid version or as any other paid theme, but it can still be enough, if you are just starting your first magazine website and do not want to invest in a theme.
Whether or not it will be worth using the theme depends very much on your needs. If you want a free theme for a magazine style website, it is definitely worth considering. If you on the other hand are willing to invest a bit of money to get more options and features, you can either upgrade to the paid version of HitMag, or you can consider a whole other theme, as there are options that gives a lot more flexibility (I will show you a great option for this later).
What is the difference between free and paid version?
HitMag is free to download and install on WordPress. You can find it by searching for the name, where you usually look for themes when you are logged into WordPress.
HitMag does however also have a paid option. If you decide to go for this, you still just need to install the free version. When you are then in the customization mode, you will see a button you can click to upgrade.
The paid version is currently around $40. By buying the pro version, you will get access to more features.
You will for example have more options to adapt the slider, you will have more color options, more typography options, more layout options, and in general just more options and features.
Before getting the pro version, I would however suggest you to first test the free version, and see if the theme in general has what you are looking for. If it does, it might at some point be worth considering upgrading.
If you want more options for a magazine style website and are willing to get a paid theme, I do however think you should also look at other themes with even more flexibility than the paid version of HitMag.
Is there a better alternative to HitMag?
I think HitMag is a pretty good magazine style theme. But if you want more features and therefore want a paid theme, I do not necessarily think HitMag is the best paid option.
For a paid option I would suggest you to look into the Extra WordPress Theme, which is by many seen as the ultimate magazine style theme for WordPress.
This is a theme that gives you full flexibility to create exactly the design you want, it has a lot of extra features and design options to make it look spectacular, and one thing I really like about it is that it has an in-built review and ranking featured that makes it easy for you to for example do product reviews and showcase the stars, visitors can also add reviews, and they can also rate your articles. It further has really great support staff that are very friendly and helpful (have benefited from this myself several times).
So if you are looking to create a magazine website with a lot of extra features and be able to customize the site exactly as you want to, this is a theme I would suggest you to check out.
Final thoughts
Magazine style websites and blogs can look really great and be a great way to engage your visitors. But to make that happen, you need a website design and features that make this possible.
If you are just starting out and are about to create your first magazine style website, the HitMag Theme can definitely be a great option, and for a free option, it is probably one of the best choices.
However, if you want more flexibility and more features in the long run, it can be worth checking out a premium theme like the Extra Theme I mention above.
If you have any comments, questions, or know any other magazine style website themes you think are really great, I would love to hear from you in a comment below.