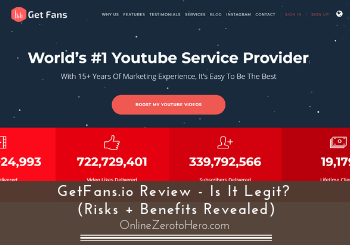 If you are an online marketer, you are likely looking for easy and effective ways to boost your social media profiles.
There are many services that claim to be able to help you with this – one of them is GetFans.io.
But is GetFans.io legit or a scam service to stay away from?
Well, let me say right away that after having looked into it, it has some potential benefits but it also has some risks.
You need to be aware of both before using the service. This GetFans.io review will, therefore, give you all the details so you can easily take both pros and cons into consideration before deciding to use the site or not.
GetFans.io in a Glimpse
Quality

Price

Long-term potential
Summary
GetFans.io is a platform that can help you quickly boost your presence on YouTube and Instagram – and it can do it for a very cheap price.
However, it does comes with some risks. Trying to manipulate the algorithms of these social media platforms can backfire in several ways. It can even end up hurting your chances and reputation if you do not know what you are doing.
If done with balance, it can, however, likely give you some results. But you need to be aware of the risks as well so you know exactly what you are getting and if it is a technique and service you want to use.
Personally, I prefer not using services like this as it is too risky, in my opinion. But if I wanted to, it does look like GetFans.io is one of the better options that offer services like this.
What is GetFans.io and what does it offer?
GetFans.io is a platform that provides services if you would like to boost your profiles on YouTube and Instagram.
According to the site itself, GetFans.io consists of YouTube & Instagram worldwide marketing leaders. It was supposedly developed by experts who created a state-of-the-art algorithm that is constantly improving day after day, making sure your brand content goes viral.
In short – they offer you to buy like, views, subscribers, and more so you can easily increase your popularity which can then increase income opportunities and more.
There is, however, no info about the actual people behind the platform and names of the experts that created it which, in my opinion, would have been nice to see.
Anyway, the above is in essence what GetFans.io is about but let's go into more details about its exact services and then go more into the potential benefits and risks.
Service 1 – YouTube services
Being popular on YouTube can give a lot of opportunities. But there is also a lot of competition, so it takes a lot of work to get a break-through.
GetFans.io's YouTube services is supposedly a shortcut to this. You can quickly get views, likes, etc. which will give your channel more visibility and this will start a snowball effect.
It will increase your rankings, social proof, and overall give you many opportunities. This is what GetFans.io claims to help you with.
You can get help in different ways on YouTube and the price depends on the service you want.
The prices you can see above are just examples. The bigger packages you buy, the cheaper it gets per view, like, etc.
As you can see on the image above, you, for example, have to pay $21 for 100 YouTube subscribers. If you buy 1,000 subscribers it will cost $92.
So it gets a lot cheaper the more you buy.
According to GetFans.io, all likes, subscribers, etc. will be real users from their private social media platforms and other promotional networks.
This can be very tempting as it can take a long time to get your first 1,000 YouTube subscribers naturally. This is what many see as a mile stone as you can then start monetizing your channel through the YouTube partner program.
By using GetFans.io's services you can get this many subscribers and the needed watch time as well very quickly.
It can definitely seem like a fast and cheap way to do this. But before getting any of the services, make sure you read the rest of this review so you know exactly what to consider and what you are getting into.
Let's now go over the second big service the platform offers.
Service 2 – Instagram services
Instagram is one of the fastest growing social media networks and becoming popular there gives a lot of opportunities.
But it is tough to get started and GetFans.io supposedly offers services that can help you get exposure and popularity fast.
This can, for example, lead to opportunities to land sponsorship deals or if you work with affiliate marketing, it can help you get a lot of leads and sales. In general, popularity and exposure on Instagram give many options.
GetFans.io offers three Instagram services – you can buy followers, likes, or views.
As with the YouTube services, you get lower prices per view/like if you buy bigger amounts.
You can, for example, buy 1,000 followers for $17 but if you buy 10,000 followers you can get them for $97.
It is definitely a fast way to get likes, followers, and views for a cheap price.
And for both the YouTube and Instagram services, GetFans.io offers a money-back guarantee.
Just be aware that the guarantee just covers if you do not get the number you ordered – the money-back guarantee does not cover the quality. This is an important distinction you just need to be aware of.
Overall, it can have its benefits to use GetFans.io but as already mentioned earlier, it also comes with some risks. So let's go over the benefits followed by the potential risks now.
Recommended: See the Top Recommended Way of Making Money Online
Benefits of using GetFans.io
I would say that I, in general, am very skeptical when it comes to shortcuts about building an online presence.
There are some shortcuts or techniques that can really help but there are also a lot of the so-called shortcuts that end up being a detour and you can end up wasting a lot of time and money.
However, when that is said, there is no doubt that views, watch time, followers, subscribers, etc. can help you boost your presence on YouTube and Instagram.
Once you get the ball rolling everything becomes easier and the hardest thing is to get started. That is why so many people go for the fast solution and buying YouTube or Instagram engagement can be a way.
And from the different services I have seen offering this, GetFans.io does look like one of the good options if you choose to use techniques like this.
So it definitely can have some benefits but it also comes with some risks.
Often these are overlooked by people that just want fast results but if you are not aware of the risks and take these into consideration you might end up hurting yourself in the long run.
That is why you also need to know about the risks before making a decision about using GetFans.io or not.
Risks of using GetFans.io
There are three main risks of using GetFans.io, in my opinion. In fact, these risks are not only for GetFans.io but for any platform that offers similar services.
The risks do not mean it might not be worth it for you as it depends on your strategy and how you use the services. But you definitely need to be aware of them.
By being aware of the risks, you will also be able to use the services the best possible way if you'd decide to use them.
So let's go over the three main risks.
Risk #1 – You might get penalized
If you have any previous experience in working online, you might have heard that it can have some risks to try to trick social media platforms, Google, etc.
They obviously want to make sure people do not try to manipulate their algorithms. Therefore, any service that offers this needs to take this into consideration.
According to GetFans.io's FAQ section, it is safe and legit to use the platform.
They say that your account will not get banned.
This might be true but this does not mean there is no risk of getting penalized.
To find out about the true risk, it is a good idea to look at the terms for Instagram and YouTube and see what the platforms themselves say.
Instagram, for example, made this announcement explaining what they were trying to do with fake likes, views, etc.
This particular announcement you can see on the image above is about third-party apps that generate fake engagements.
But it clearly says that generating inauthentic likes, follows and comments violate their Community Guidelines and Terms of Use.
In my opinion, this will also mean that even though GetFans.io might be able to get real users to follow, etc. it might very likely be seen as generating inauthentic engagement and thereby you can risk getting penalized.
That is what Instagram says. But let's also look at YouTube's terms.
On the image above you can see YouTube's fake engagement policy.
Here it says that they basically see it as a violation if you artificially inflate views, subscribers, and likes.
It is important to know what the policies of the platforms are in this area. And, of course, they will try to prevent people from manipulating their algorithm.
If they allowed it, companies and people would quickly stop using them, stop advertising, etc. so they will naturally do what they can to prevent this.
This does not mean the services GetFans.io offers cannot help you. It might very well help you.
You might not get penalized for years and just get the benefits or you might get penalized very quickly. But you need to be aware of the risk.
It is terrible spending time and money building a brand online only to have it all taken away overnight because you have violated some terms without being aware.
Now you know and can take this into consideration.
Personally, I prefer to build a long-term sustainable online business without the use of techniques that try to manipulate algorithms – and it is actually possible.
But if you want to use the service of GetFans.io it might be able to help you – I would, however, advise you to start small. If not, it will look unnatural for both users and the platforms themselves and this can backfire in many ways.
Risk #2 – It can backfire
Using a service like GetFans.io can backfire in several ways – especially if you exaggerate when using it and get too many fans, likes, etc, very quickly.
One thing is that it might give you a penalty from the platform itself.
But it can also backfire in other ways. People are becoming more and more aware of the tricks brand use online.
Many people will be able to spot if there are irregular patterns on your profile. Let's say you, for example, have 10,000 YouTube subscribers. But there is no engagement from them.
This does not look good and it can actually hurt your credibility and people might completely stop trusting you.
In addition to that, let's say you get a sponsorship deal because of the size of your audience. Many brands are willing to pay for influencers to promote their brand.
However, if they find out your audience is not real, they will definitely pull out of the deal and they will very likely never give you the chance again.
Thereby, by trying to take a shortcut you can end up hurting you long-term opportunities to succeed online.
This is definitely also something to take into consideration.
Risk #3 – Your audience might not be engaged
A final aspect is that you have to be completely aware of what you are buying on GetFans.io.
If you are buying subscribers, be aware that you are only buying subscribers and you are not getting any engagement from them. GetFans.io says this clearly in the FAQ section.
It is the same if you by YouTube views – you will only get the view but you will not get comments, like, or subscribers out of it.
Again, if done with balance it can still have a positive effect.
But it also has some risks. It makes it very easy for the algorithms to spot some irregularity of patterns. Let's say you suddenly get 1,000 subscribers within a week.
But none of them watch one single video, do not leave one single comment, and do not like any of your videos. This seems quite unnatural, right?
Therefore, you need to be aware that you are not paying for people to keep engaging with your channel. You are paying them for a one-time action.
This can potentially leave you with a very big but very inactive following which both algorithms, people, and potential partners will be able to spot.
So just take this into consideration as well.
Are there any complaints about GetFans.io?
Now you know more about what services GetFans.io offers and what to be aware of if you are going to use them.
Another aspect to look into is what other people say about the platform and its services so you can also see how good a service you can expect.
Looking at this can give you some idea of what to expect. You should, however, be careful not to just blindly believe all complaints or recommendations.
Online reviews can be faked and both the positive and the negative can easily be bought – just as you easily can buy a lot of subscribers, etc. on YouTube and Instagram
However, looking into this can still give an indication if you look for certain patterns. So that is why I wanted to include a section about what other people say.
And there are different opinions. I try only to take the ones that actually go more in-depth and give some more info into consideration.
Below you can, for example, see one GetFans.io complaint I found on Trustpilot.
This person seems to be a genuine client. But he is unhappy that he got 1,900 minutes of watch time by buying 1,000 views.
According to the FAQ section on GetFans.io, the watch time is between 1-5 minutes. So personally I think the result is pretty good.
I know it might not be good enough to increase the results and give a good average watch time if it, for example, is for a 15-minute video. And that can potentially be bad for the rankings of that video.
But that is a part of using services like this and not getting real views. People likely only get paid cents for watching and only do it for the payment so when buying cheap views this is what should be expected, in my opinion.
And that needs to be taken into consideration before buying it. This is not to say that the person cannot be right in complaining.
I am just explaining my point of view and also using the complaint to make it clear what you get and what to expect.
In terms of the views from India he mentions, I just want to mention that GetFans.io offers both international views and US views.
If he has bought US views, this is, of course not acceptable. But if he bought international views, this will like be what happens. He does not mention this, so I cannot really comment more on that.
I also saw a few more complaints about the quality of the views. Here is one more.
This is a long one so I just cut out the start of it but he is basically complaining about the watch time as well and about how it might hurt SEO and rankings of your videos. This is one of the risks I mentioned earlier – your audience will not really be engaged.
So these couple of examples show that there will likely be some risks in using a service like this.
But to be fair, I also want to make it clear that it can potentially help you if you use it in a certain way.
And I have also seen many positive GetFans.io reviews. I have especially seen many positive comments about their customer service.
There are actually quite a lot of positive comments like this and that is definitely good. And by looking at their social media channels it is possible to see they are quite active and they also often respond to people leaving comments.
So if you need a service like what they provide, then it looks like it is a platform where you can get customer service which is an important aspect.
Final verdict
Overall, GetFans.io seems like a legit company.
Whether it is then a good idea to use their service or not depends on your exact needs and how you are going to use the services.
To give you a better overview before deciding if it is for you or not, let's finish this review by summing up the pros and cons.

Pros:
Low prices
Can be a fast way to boost your social media channels
Seems to have good customer service

Cons:
Your audience won't be authentic and engaged
You can potentially get penalized by the social media channels
There are some complaints about negative effects of the services
Overall, boosting your YouTube channel or Instagram channel can have some big benefits. And using GetFans.io to do this can be a fast and cheap way.
However, it does come with some risks. It always does if you try to bypass and manipulate algorithms of social media platforms or Google.
This does not mean it cannot give good results. But you need to be aware of the risks as well before spending money and then take both potential risks and benefits into consideration.
Personally, I prefer ranking in Google by working hard and I am not willing to risk all my hard work by buying engagement on YouTube or Instagram or similar. But if I wanted to, I must say that GetFans.io looks like one of the better options I have seen.
So if you do it with balance and want to use techniques like this, GetFans.io might be worth checking out – but before you do please also consider the risks so you know what you are getting into.
When it comes to building a long-term sustainable online business, nothing beats hard work, dedication, and patience.
If you have any comments, questions, or have any experiences with GetFans.io yourself, I would love to hear from you in a comment below.