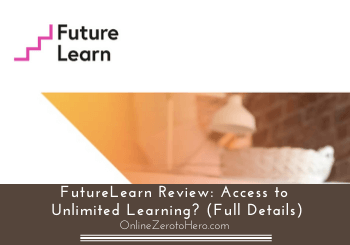 Gone are the days where you can only get education from universities and schools. Today, education is more accessible through the power of the internet.
If you want to acquire a new skill or study a new topic, you can simply search for videos or courses online and start learning.
But with all the available courses online, you still have to do your research to get your money's worth. Just as you check out universities and different courses before enrolling, you also have to check if an online course is legit.
FutureLearn is one of those websites that offer courses online to help people learn beyond their classrooms.
But is FutureLearn legit and worth it?
This FutureLearn review looks into this distance learning platform and will show you all the details to help you decide if you should enroll in FutureLearn courses or if your time and money is best spent elsewhere.
Training

Tools

Usability

Value for Money
Summary
FutureLearn is a legit platform providing hundreds of free short courses and some degrees to anyone in the world. You don't need to provide your credit card information to register and start learning. You get free access to courses covering a wide range of topics including health, politics, literature, engineering, IT, and psychology.
You get flexible options whether taking courses for free, getting an upgrade to access the program materials, or get unlimited access to study for a year.
FutureLearn is a good platform for you to continue your education at the comfort of your home and to finish a topic in a few weeks or so. But whether it is the right option for you or not, of course, depends on your exact learning needs.
What is FutureLearn?
Online training is not something new these days. There are a number of websites where you can learn a topic you want for your career or as a hobby.
One website I have previously reviewed is Udemy that offers different topics for interested students.
FutureLearn is another online learning platform that offers MOOCs (massive open online courses).
Anyone from anywhere can register and start looking at subjects and courses they want to learn. The website has catered to a lot of online students since it was founded in December 2012 and offered its first courses in September 2013.
It is owned by UK's The Open University – one of the long-established educational institutions. In fact, The Open University was established by Queen Elizabeth way back in 1969.
This means there are more than four decades of distance learning to millions of students globally by The Open University. Just by this alone, you know that Futurelearn can offer you quality learning.
According to FutureLearn, their purpose is "to transform access to education."
But this does not necessarily mean it is the right option for you. So let's go more into what it offers and who it is for so you can find out if you should join or not.
Why study on FutureLearn?
While we know that FutureLearn's parent company is known for distance-learning, I am sharing with you five reasons why you might want to take up courses in FutureLearn.
This is to help you determine if the website can help you personally in your continuing education and career goals.
1. Anyone can sign-up for free with no risk
Becoming part of FutureLearn is easy. You just go to the website and register your name, email, and age. You have to be 13 years old and above to be able to create an account.
One thing I like about their registration compared to other platforms is there is no need to register your credit card information just to create an account. This means you are totally free to explore the courses and join online classes.
You will also get a 60-page learning guide via email once you register. This "crowdsourced" guide gives you information on why you need to learn, how to organize your learning, how you learn from others, and what makes you a Futurelearner.
The tips listed have been collected from the FutureLearn community, both learners and educators, itself to help new members understand and appreciate the platform. More than a hundred contributed to this welcome kit.
With the welcome kit and welcome email, you will feel that the site builds a community just like when you go to a university as a freshman.
You also get a link to the website's FAQs questions to guide you on how you can learn anytime from anywhere.
So it gives a pretty smooth start which is great.
2. You get access to a wide range of topics and courses
When I say massive open online courses, I mean massive with the site's variety of topics you can take for free.
You can find classes ranging from health and nutrition, digital marketing, literature, finance, IT, history, politics, psychology, engineering, and many more.
The diverse range of topics available is due to the partnership of Futurelearn with a lot of big colleges and universities.
The website actually started with just 12 university partners which included The Open University, University of Birmingham, Kings College London, University of Leeds, The University of Bristol, University of Southampton, University of Exeter, University of Warwick, Cardiff University, St Andrews University, University of East Anglia, and Lancaster University.
Now you can browse the site for all their education partners which now includes Accenture, Amnesty International, Cancer Research UK, and IFRC.
With these education partners, you can easily find a topic to take. However, it can get overwhelming with all the courses as you browse through every subject.
I suggest you first determine your goal in taking a course, such as for career growth or starting a new hobby, so you can carefully select the courses you plan to take.
There is an option to add a course to your wishlist so you can organize and choose later on.
Remember that all classes will require time and effort from you so don't spread yourself too thin by taking too many courses.
The majority of the courses are free and it is indicated how many weeks and hours it will require for you to finish.
Recommended: How to Learn Online Marketing (Earn While You Learn Tip) ​
3. You learn through storytelling
Unlike some other learning platforms, FutureLearn will not simply provide you with a video of a lecture then have you listen to it for hours.
The courses are done through "storytelling" which is a combination of high-quality videos and articles throughout the study.
When you select your chosen course, you get an overview of the study. First, you will see the duration of the course. Most short courses run between 2-7 weeks.
You also get to see how many hours per week is required for your study. These are good details to help you decide if you can give the time needed for the course you want to take.
You will also see the topics to be covered by the course. With these types of platforms, topics can be repetitive especially if they are offered by different universities.
Some topics may be discussed in both courses so it's important to check if those are the lessons you are indeed interested in. Not everything can be explained by the course title alone.
You will also see the start date of the course although as mentioned on the site most Futurelearn courses run multiple times.
If you're unsure if you are available on the start date then simply click the wishlist button so you can keep track of the course availability.
The educators' profiles are also listed on the course page to give you the possibility to see who you are actually going to learn from.
If you still can't decide if the course if for you, then you get to watch a couple of videos or read one or two articles that are part of the course.
I like how this will give you an idea of how the study will run before you commit to it. And remember you won't be paying for anything unless you want an upgrade (more about this later).
4. You can interact with fellow learners through discussions
There are learning platforms where you simply go in, take a class, then finish the course and get a certificate. For FutureLearn, they encourage social learning even if you are at the comfort of your home.
Whether this is something you want or not is, of course, a matter of personal preferences but the option is there.
You start learning by choosing a course or subject you want in the websites' dashboard. You can also invite a friend to take a class with you through email and social media.
Once you've chosen your course, a link will appear on your dashboard. Each week you are given a task to complete.
Don't worry if you feel you're behind since you can always catch up from the beginning just by navigating through your course steps. There are some short quizzes in between your study just like taking a course at a university.
The social learning comes at every article, video, or audio in the study. Each one allows the learners to comment and even ask questions.
You also get to read other learner's comments creating a conversation between those taking the course. You can get replies and you can even follow people who you've exchanged ideas during a study.
There are also certain situations where you have a discussion step within the course allowing you to collaborate and exchange ideas with other learners. This makes the entire distance learning experience feel more like a real student community.
But how much you want to participate in this is up to you. So if you prefer just studying without much interaction that is also possible.
5. You can get a certificate, a diploma, or a degree.
Probably your next question upon completing a course is "do I get a certificate for this?".
Most professionals would take an online course for their career advancement. Now joining and studying at Futurelearn is mostly free. You get access to your chosen course for its entire duration plus 14 days after, regardless of your start date.
If you want to get a printed and digital Certificate of Achievement or Participation then you will have to upgrade for a certain fee. An upgrade also includes access to the course tests as compared to those studying for free whose materials are withdrawn at the end of the course.
The upgrade cost depends on the length of the course, but it appears to range between $30-$90.
If you feel you will be constantly taking courses at Futurelearn, then you can also go for their unlimited package.
For an entire year, you get access to all the online short courses and tests and you get to choose your own time for the study within the year.
You only need to pay $249 for one whole year to get access to the short courses and the digital Certificate of Achievement.
Take note that the unlimited pass does not include the premium courses, the degrees, program assessments, and the courses that offer a Statement of Participation (which is usually used in career advancements).
The certificate has a passing rate requirement of at least 70% on course tests. So if you're planning to purchase a certificate make sure that you do well on the course tests.
The costs of degrees are not published but if you are interested you can request information through the site. There are free taster courses linked you can check out. This is helpful so you can get a feel of the degree before enrolling.
Is it worth it?
We all know how expensive education can get these days. And today's time is changing with all the accessible information online.
So is FutureLearn worth the time and the money? I would definitely say yes especially if you're the type of person who loves learning.
I think you can maximize this type of platform through their short courses rather than their degrees or their credential programs since there are hundreds of short courses and only a few of the degrees and programs.
Also, distance learning is best done in just a few weeks or months to match your individual schedule.
There are a lot of free courses you can explore so there really isn't much risk for you once you register an account. You also don't have to provide any credit card details unless you're planning to upgrade to have the unlimited pass.
The unlimited pass is perfect for people who wants to constantly take a course every month or so.
If you take at least five courses throughout the year, then you save from upgrade costs. However, if you're planning to go through different courses for leisure, then the free account is already good.
If you find a course you enjoy and prefer having the program materials, then just purchase the upgrade.
Final Verdict
In conclusion, FutureLearn is a viable option for your online education.
The variety of courses makes it appealing to anybody who wants to study at the comfort of their computer. Most courses are free so you get to explore and decide which one will fit your interest.
Below I have summarized the pros and cons discussed throughout this FutureLearn review to give you a better overview before deciding if it is for you or not:
Pros:
Lots of courses to choose from
Owned by one of the oldest institutions known for distance learning
User-friendly interface
An option of unlimited courses for a year
Sign-up doesn't require a credit card
Anyone can sign up in the courses
Cons:

You need to pay to get official degrees or get the certificates
The number and variety of courses can be a bit overwhelming
Mostly UK universities
Overall, I will say that you can definitely increase your knowledge through FutureLearn.
You get flexible options whether taking courses for free, getting an upgrade to access the program materials, or get unlimited access to study for a year.
Just make sure you browse through the courses and choose the ones that can help you in your career or personal goals.
I hope this review has given you a good overview of FutureLearn and has helped you find out if it is the right option for you or not.
If you have any comments, questions, or have any experiences with FutureLearn yourself, I would love to hear from you in a comment below.