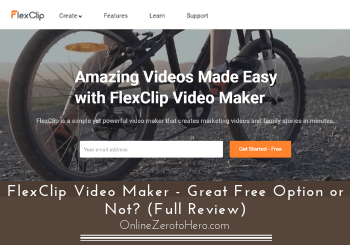 FlexClip video maker claims to be an easy and free way to create marketing videos and family stories in minutes.
As an online business owner I am always interested in testing new tools, so when I heard about I decided to put it to the test.
So is it really a great and easy way to make videos or is it just hype? And is it free or what is the real price?
This is exactly what I will go into in this FlexClip review.
So if you want to find out exactly what it offers and what you can use this tool for, you have come to the right place:-)
So let's get started!
FlexClip Video Maker in a Glimpse
Features

Usability

Value for money
Summary
FlexClip makes is pretty easy to create small video stories – even as a complete beginner.
It will, however, probably not be enough if you work a lot with videos but as a beginner or intermediate video creator, it can be a good option.
It does not have as many options as some similar tools, but it is also cheaper than most tools. So whether it is the right option for you or not depends on your needs and budget.
What is FlexClip and what does it offer?
FlexClip is a video maker that is owned by the company PearlMountain Limited which as existed since 2006 and have several other products as well that are used in over 100 countries.
FlexClip is said to be an easy-to-use video maker and editor.
But just to make it clear from the beginning, it is more a video maker where you can create small stories or marketing videos.
It is not as such a video editor like, for example, Movavi video editor that is meant for doing a lot of editing for your own recordings.
So whether it is the right tool for you or not depends on your needs. But let's go more into what FlexClip offers so you can see for yourself.
Feature 1 – Create stories
The main idea with FlexClip is that you can create small video stories which can be a great way to convey a message.
So you get a storyboard where you can build your story.
You can use images, videos, text, and backgrounds.
It is also possible to trim video clips you import, merge videos, split videos, add a watermark, and more.
Or you can choose to just use images and created a slideshow.
Overall, the storyboard is fairly easy to use but more about how to get started with it later.
For now, let's focus on what else FlexClip offers once you have started building your story.
Feature 2 – Templates
If you are new to video making, it can sometimes be difficult to get the idea to get started. That is why templates can be great.
They can be an easy way to get started and they can be great to give you inspiration for creating your own stories.
FlexClip offers several templates.
At the time of writing this review, there are around 35 templates for different purposes.
There are templates for wedding videos, marketing videos, coffee ads, birthday party invitations, mothers day promotion, real estate agency video, and more.
In my opinion, the templates are pretty good and they give you a good idea about what you can do with FlexClip.
So just by opening a few of them you will get some good ideas and you can then adjust a template to your liking or you can start a new story from scratch.
You can change all the text, images, videos, etc. from the templates so they are easy to make your own.
There are not quite as many templates as in some other similar tools but it is still a great start. personally, I hope they will expand the number of templates continuously, but we will see. But the ones that are there now are also great and can take you far depending on your needs.
Feature 3 – Add text and music
You can easily add text or music to your story. The text will be added to each part of the video while the music is for the overall story.
There are text templates you can use that make the text look good without much effort and you can also use templates for logos and text together.
FlexClip also gives you access to quite a big library of stock music you can use for your videos.
You can either search for music in the search bar or you can browse through the many categories.
The above image only shows some of the categories and there are quite a few more so it has a good selection of small music and sound clips to make your stories more interesting.
Feature 4 – Record voice over
If you want to use voice over instead of music for your videos, this is also possible.
When you are on your storyboard, you just simply choose to record a voice-over.
To do this you, of course, just need a microphone but most computers and phones have this so that should not be a problem no matter the equipment you have.
Feature 5 – Access to stock images and videos
I have already mentioned you get access to quite a lot of stock music.
But you can also find a pretty good selection of stock images and stock videos.
You can choose to use the search bar or you can browse through the categories.
The video clips are mostly between 10-30 seconds long. But as mentioned earlier, you can trim them if necessary.
It has a pretty good selection. If you make a lot of videos and are using it professionally every day, it will, however, likely not be enough.
But if you are fairly new to creating videos like this, FlexClip has a good selection and gives very easy access to these.
So it can be a great and easy way to get some good images and video clips for your stories as a beginner or intermediate video creator.
Feature 6 – Export your video
When you have created your story, you, of course, need to be able to export it.
You can choose to export it in different resolutions and you will get it as an mp4 file.
How to use FlexClip?
It is actually easier to use FlexClip than I thought.
First of all, you have to register on FlexClip's website. But this only takes a minute. You just have to use your email and create a password and then you get access to it.
There is nothing to download – you just use it online.
On the website, they have different tutorials about how to create different types of videos. If you are completely new, these might be helpful.
But if you have a bit of experience with video editing you will quickly figure out how to use it as it is quite simple to use and intuitive.
And even as a complete beginner, it will not take you too long to figure out how to use it.
I did a test myself and timed myself after first signing up. After around 20 minutes I had created my first short 30 seconds video.
And that was without having ever used it before and the time includes finding out how to use the features. You can see the test video below:

It was just a test and not a video I am actually going to use. But it shows how you can quickly put things together with FlexClip.
By spending a bit more time, it is definitely possible to create some nice videos fairly quickly.
And once you have made a few, it will be even easier.
FlexClip pricing (is it really free?)
When I first saw the FlexClip website that it sais it was free. This has, however, now changed. There still is a free version but it has some limitations.
Honestly, the free version cannot be used for much, in my opinion, as it will have a FlexClip watermark and you can only use one stock video per project.
So the free version is mostly to test what you think of the tool before deciding if it will be worth it to upgrade. Because if you really want to benefit from FlexClip, you need a paid version, in my opinion.
You have a few different options you can choose from.
You can choose to get a Basic membership or a Plus membership. The image above shows the difference between the two types of membership.
If you only want to make short videos, the basic membership can be enough. But if you want to use more than 5 stock videos per project, you have to get the Plus plan.
The prices above are per year which gives you the best price. If you choose to pay monthly instead, it will be 50% more expensive per month.
Overall, the price for FlexClip is quite cheap compared to similar tools I have seen. It also does not have as many options so whether it is the right option for you or not depends on your needs and budget.
Is it safe?
Whenever I see free stock content online, the first thing I question is whether it is safe to use it and for what purposes.
On FlexClip's website, you can see they have answered this question in the FAQ section.
Here it says you can use any clips, images, music, etc. both for private and commercial purposes. But it also says that the content you upload is something you need to make sure you have the rights to use.
I was not sure exactly what this meant so I wrote and asked them about it. The answer was that anything (clips, music, photos, etc.) that is already inside FlexcClip can be used for any purposes.
But if you upload additional content, this is what you need to make sure you have the rights to use.
So that means you can use all the assets without worrying. And it also shows that their support actually answers, which is pretty nice to know also:-)
Final verdict
FlexClip is a fairly easy-to-use video maker but it is not necessarily the right tool for everyone.
So to give you an overview before deciding if it is for you or not, let's finish by summing up the pros and cons.

Pros:
You can try it for free
Easy to use
Has a lot of stock content
Templates makes it easy to get started

Cons:
Probably not enough options if you make a lot of videos
Not that many templates
Overall, I will say that I was actually very positively surprised after testing FlexClip.
If you need to make small video stories, it is an easy way to do this.
However, if you work professionally with videos and create a lot of videos, it will likely not be enough for your needs. But if you have a limited budget and want to create videos easily, then it can a good option, in my opinion.
If you have any comments, questions, or have any experiences with FlexClip video maker yourself, I would love to hear from you in a comment below.