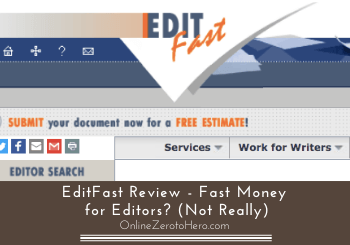 Online jobs are now becoming more accessible and available to many. When it comes to content and writing, there are a lot of options depending on your skills and experience.
One popular job offered online is editing and proofreading. With all the content available on the internet and on paper, companies need help going through this. So you can earn as an editor online.
One platform you can come across when looking for editing jobs is EditFast. But is Editfast a legit company or should you just skip this one?
Let me tell you upfront that EditFast is not a scam. But is it the best website for a freelance editor?
This EditFast review will give you all the details to help you decide if this is the best platform for you or not.
Tools

Usability

Income Potential
Summary
EditFast has been in the editing and writing industry since 1998 and it is a legit company. But it is not for everyone.
Their rates for articles submitted and approved for the EditFast website are good rate at $250. However, the rate does not seem to be good for editors.
EditFast takes 40% of each client's pay before they send you the payment. That's quite high so you have to take this into consideration when submitting your cost estimate to clients.
There are so many editing platforms these days so, in my opinion, it is better you check out those that do not take that big a cut from your pay.
What is EditFast and what does it offer?
EditFast was founded way back in 1998 in Canada by Robert Kidd. Kidd is the company's current owner and editor-in-chief. He has 25 years of experience in professional editing and copyediting. The company was conceived while he was working on a deadline on several documents.
What started as a plan to create a platform for freelance editors to find work became a place where editors can also discuss editing and writing topics while helping them find new clients.
So EditFast has been existing for more than 20 years but what exactly does it offer to its clients?
Basically, they offer editing and writing services for business documents, financial reports, educational materials, speeches, technical manuals, web content & documents, and even personal letters.
According to their website, some of their clients include the government of Canada & San Francisco, Harcourt Publishing, IBM, Lotus, Kodak, JFE Steel, Nokia, Spencer Stuart, Fisher Investments, Off Road Magazine, Journal of American Psychology, Cartier Diamonds, and Prentice Hall Publishing.
They aim to provide the best editors for their client's specific editing needs. And that is where you can come in as a freelance editor to earn some extra income.
You can be part of EditFast either as a client looking for some editors to help you or a freelance editor looking for some work to do.
In this review, we will focus on becoming a freelance editor and if you can really earn this way.
How to join EditFast?
So before you start getting clients with EditFast, you first have to apply on their website. There are four steps you have to go through but make sure you first live up to all the requirements.
Their basic requirements for any applicant is a college degree, a computer & internet access, a word processing program such as Microsoft Word, and experience in editing.
When it comes to the experience needed, a college degree in English is preferred and past experience as a professional editor.
If you want to have an edge in your application, then you must have specialized knowledge in any of these fields:
Medical
Technical
Computing
Mechanical
Patents
Literary Works
Novels
Translated business documents
Scholarly journal articles
Telecommunications
So it's quite clear that EditFast is looking for academic professional editors for their site. This is also the type of work you can expect once you become their editor.
If you feel that you're qualified with your experience and skills, then you can start building your resume on their website as the first step of your application. You need to provide your contact information, work experience, and some past work examples.
You will then take three tests to check your editing skills.
The first test is composed of 45 questions to assess your spelling, capitalization, and punctuation.
The next test is for verbs, pronouns, adjectives, and adverbs.
The last test is all about sentence structure, sentence punctuation, and clarity. All three tests will take you roughly an hour to complete in total.
You do not have to take all three exams at the same time which is good since you need to focus and pass each test. You can finish one then come back later to take the other.
However, there are no second chances. Once you've taken an exam, you can not take it again so you're stuck with the results for your application. So give your best when taking each test and make sure not to rush when going through each one.
You are required to sign a non-disclosure agreement after and create your own page on the site through their webpage builder.
It takes around one to two weeks for EditFast to accept or reject your application so take this into consideration when applying.
The good thing is you will receive an email if you do get accepted or if you get rejected. Your information will also be deleted from their system if you are not accepted.
So while the steps in applying are quite simple, you do need to be a professional editor before applying at EditFast. So if you're just starting out a beginner, I suggest you check out other editing websites such as Upwork.
How much can you earn?
Once you get accepted, there are different ways you can earn with EditFast. Let's go through the three ways you can earn and also see how much your potential income can be.
1. Write for EditFast
Since EditFast is not just a job platform for editors and writers, you can write articles for EditFast's blog and get paid for this. However, your article must be approved for you to get paid.
Before writing your article for submission, you need to contact EditFast admin to confirm your topic. They are looking for well-written articles, not just the typical SEO articles. You also have to make sure that there is no plagiarism in your work. Articles should be approximately 2,000 words and well-researched.
If your article is accepted, your compensation is actually quite good. Their rate for every published article is $250 which is paid via PayPal.
2. Edit for direct clients who select your profile
Once you get accepted and have built your profile on EditFast, there are two ways you can get clients as an editor.
Your customized web page during enrollment will become active once accepted. You can then receive new project notifications. Take note that since these are all freelance tasks, there is no guarantee of constant work.
Clients can select you as their editor for their project if they like your profile. They then send you a message so you go over their requested document.
You submit your estimate and your client can either agree, decline, or submit a counter-proposal. This can go on until you come to an agreement.
Since work is a per-project basis, there is no published rate for EditFast. This will depend on how much you charge your client and if they agree to your rate.
Each editor's profile shows their editing rate per page, per word, and per hour. But of course, there is no guarantee that your published rate is what your actual clients will pay.
Although it is possible that a client will contact the editor if they agree on the editing rate published on the profile. But remember that the proposal is still open for negotiation before you can land on a final agreement on the project rate.
3. Edit for EditFast
Aside from clients being able to directly contact you for work, EditFast admin also sends project notifications at a set rate.
Think of it as your direct client being EditFast instead of someone else. Now while you can still provide an estimate, they pretty much have their own rates proposed.
Just be aware that they don't guarantee they will continuously be sending work after you are registered as freelancers on the platform. So you cannot really plan to get a certain amount of work and you need to take this into your overall planning.
Recommended: Click to Learn My #1 Recommended Way to Make Money Online
How will you get paid?
Now once you finish a project, the next question is how does payment work with EditFast?
For the editing work, you will receive your payment via PayPal every last day of the month. The client sends the payment to EditFast first before they send it to you.
Take note that for every client payment, EditFast keeps 40% and sends you the remaining as your takehome pay. So if you're sending an estimate to a client, you have to take into consideration the 40% cut of EditFast.
If you're a writer and an editor, you can maximize all three ways of earning in EditFast. The rate would depend on the project and client. Just make sure that you have the professional experience for this kind of work.
Final Verdict
EditFast has been in the editing and writing industry for more than 20 years. This means the company is definitely a legit one that offers both freelance work and editor resources on their site. However, just because it's been serving clients for 20 years doesn't mean it' s the best option for you.
So I have summarized the pros and cons discussed throughout this review to help you decide if this is the right platform for you.
Pros:


Provides free materials for writers and editors
Strict screening process for their editors
$250 pay for articles published on their website
Cons:

40% of client pay goes to EditFast
Constant work is not guaranteed
The dealbreaker for me on this platform is the 40% cut Editfast gets every time you complete a job. That's the highest I've encountered so far. Considering that you cannot have a higher rate for your clients just to cover the percentage EditFast gets.
Personally, I think there are other editing and writing platforms where you can maximize your skills and get compensated better and where you also don't have to wait at the end of each month to get paid for your work.
But overall EditFast does give fairly good rates for some jobs but you need to do it with the right expectations and take the cut they take into consideration and be aware that there is no guarantee you will find constant work.
So if you don't have the editing experience or do not agree to the terms and conditions on EditFast, there are plenty of other online opportunities you can look into instead.
How I make money online
If you really want to earn a full-time income working online, this is definitely possible – I know this from personal experience.
I have been able to create a full-time online income myself that allows me to work anywhere in the world and completely on my own terms.
It takes effort, but it is totally worth it.
If you want to follow my footsteps and create your own online income, then check out my FREE guide where I explain how this is possible step-by-step.
If you have any questions, comments, or have any feedback with EditFast yourself, I would love to hear from you in a comment below.