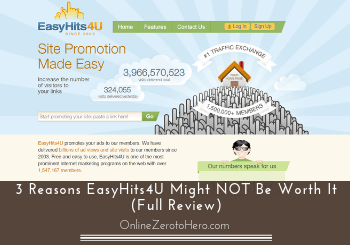 Getting traffic to your website is something all website owners are looking for. EasyHits4U claims to be an easy and fast way to get tons of traffic.
But is EasyHits4U a scam or is it a legit traffic exchange site that is worthwhile?
Let me just reveal right away that it is legit. BUT this does not mean it necessarily is a good idea.
In fact, I think there might be good reasons to think twice before joining.
In this EasyHits4U review, I will show you exactly why and show you what to be aware of so you can see both the pros and the cons and decide to join or not after finding out all the details.
Quality of traffic

Value for money

Long-term potential
Summary
EasyHits4U is a legit traffic exchange service. However, this does not mean it can deliver a lot of high-quality converting traffic to you.
It definitely can deliver cheap traffic and a lot of it, but you should not expect it to be high-quality. Most people participate in this traffic exchange just to get traffic in return, so it will be difficult to actually get traffic that can help move your online business and income forward.
So even though it can give you traffic and you also can earn in a few other ways on the site, your time, effort, and money are better spent elsewhere, in my opinion.
What is EasyHits4U and what does it offer?
EasyHits4U (pronounced Easy Hits for You) is a traffic exchange service that has existed since 2003 so it has been around for a long time.
According to the site itself, it has more than 1,600,000 members. So it is without a doubt a popular service.
The idea behind the EasyHits4U traffic exchange is to make it easy for website owners to get traffic to their websites, which is one of the things most website owners struggle with.
As you can see from the number of members, many people are attracted to the idea of fast and easy traffic. But as I will show you later, there are some things you seriously need to consider before joining.
But let's first go over what EasyHits4U.com offers you once you are a member.
Option 1 – 1:1 traffic exchange
What EasyHits4U is most known for is the 1:1 traffic exchange – this means you visit a website and you then get a visit back to your website.
To participate in this, you obviously need to add a website inside your EasyHits4U dashboard.
It does not as such have to be your own website. It can also be used to send traffic to landing pages you have an affiliate link for if you work with affiliate marketing and more.
There are quite a lot of settings when you add your website, so you have a better chance of getting the type of traffic you are looking for.
You can, for example, choose which countries you want visits from, which weekdays you want traffic, and how long you want the visit to last.
The standard time for a visit is 15-20 seconds. But you can also set it to be up to 40 seconds but then you will just use more of your credit per visit.
Overall, it definitely is a way to get traffic. But when you have a website it is not only about getting traffic – there are good reasons the traffic you get from EasyHits4U traffic exchange might not be the best for you but more about this later.
Let's, for now, focus on the other options you get as a member of EasyHits4U.
If you want more exposure of your sites on EasyHits4U, and if you do not want to spend all your time visiting sites to get credits to be able to get visits in return, then one way is to buy banner or text ads.
The banner and text ads are shown to all members when they surf on EasyHits4U. This means it can be a faster way to get traffic.
However, you also have to be aware that it will then have a cost.
Above you can see the prices for the banner ads. If you also want text ads, there will be additional costs unless you buy one of the auto renew packages that include both banner ads and text ads.
This obviously takes some investment so you need a budget to use this option of getting faster traffic. Even if you have the budget, I am not convinced this is the best way of using it, but again I will go more into the details about this aspect later.
If you do not have a budget but still want to speed up your traffic chances on EasyHits4U, the platform also offers you ways to earn credits in addition to just visiting other people's sites.
Option 3 – Earn credits
As you can see above, you get more chances of traffic if you invest in some extra packages on EasyHits4U.
The platform does, however, also offer a few other ways to earn this credit within the members area.
It has a section called offers.
Here you can see banner ads you can click and earn credits.
But you can also find other "paid" offers. You can, for example, earn credits by signing up for free contests, downloading apps, signing up for free trials, and more.
There are some decent offers here that can give you some fast credit. But just make sure to read the exact conditions for each offer before taking any as some of them have poor conditions and others are fine.
So make sure you know what you are agreeing to before taking any offers. If you make sure of this, it can be a nice way to get credits for EasyHits4U without having to spend money.
Option 4 – Refer people
Another way you can earn credits on EasyHits4U is by referring other people to join.
If you refer someone to the platform, you will earn a percentage of what they spend on the platform. The percentage is between 10%-40% depending on your membership level.
If you invite a lot of people that end up becoming active and spending money there, you can earn some good money.
However, this is also the reason you have to be critical when you see extremely positive EasyHits4U reviews out there. Some people are willing to just tell the positive sides without giving you the full story to get you to join so they can earn credits.
This does not mean the positive reviews cannot be true. It just means you have to look if it is a balanced review and if it gives you all the details – both pros and cons.
Recommended: Learn How I Make a Full-time Income Online
EasyHits4U pricing
Now you have an overall idea about what EasyHits4U offers, what you can use it for, and how you potentially can earn on the site as well.
One thing you also need to know to find out if it is the right platform for you is the price.
Here you have several options. You can join as a free member and you can use the traffic exchange options and the earning options as a free member as well.
However, it gives you a lot more benefits to upgrade your membership and it is clear that you are encouraged to do this.
You can choose to upgrade to either premium or ultimate. Below you can see a comparison chart of the benefits of each membership.
It is clear that you get more out of the paying memberships as you, for example, get monthly text ads impressions, banner ads, higher referral commissions, and in general more options.
Just be aware that the prices are per month. If you buy for more months at the time, you get discounts.
When you first join EasyHits4U, you will right away see that they try to get you to go for the paid membership.
The first thing you meet is a screen saying you get a one-time offer to upgrade.
I, in general, do not like the method where you join a platform that is free to join and the first thing you are asked is to upgrade for a paid membership before you have even had a look at what is inside – how are you able to decide before even knowing what it really offers?
But you are told a special price you get if you upgrade right away without having seen the platform inside.
Honestly, I thought it was not really a one-time offer. But it turns out it actually is.
This discount is not shown again after you get to the members area.
However, I would still not advise you to rush into getting it. The savings are very small anyway, and I would suggest you to first have a look inside so you know if it is worth investing in for you.
Or you can continue reading this review so you know all the ins and outs, and if you then decide it is for you, you will know if you want to take the special joining discount or not.
The good sides of EasyHits4U
As you can probably figure out from the title of this review, I have some concerns about EasyHits4U.
But I also want to make it clear that it has some good sides.
First of all, it is a legit site as it does deliver traffic to your website as promised.
The settings for the traffic exchange are pretty good so you have a chance of getting as targeted traffic as possible which I think is also great.
In addition to this, I like that they have several other ways to earn credit with, for example, their offers.
These can be a good way to earn credit if you just make sure to read the conditions for each offer carefully and only take the good ones.
So overall, I think EasyHits4U has some positive sides. But there are still reasons it might not be such a good idea after all. So let's go over these reasons below.
Why EasyHits4U might NOT be worth it
As already mention, I think there are some good reasons you have to think twice before investing in EasyHits4U.
Below I will show you 3 reasons you seriously have to consider, in my opinion.
Reason #1 – The quality of the traffic
The main problem most traffic exchange services have is the quality of the traffic. Most website owners want more traffic as this is what give you the opportunity to earn on your website.
However, the most important is not just how much traffic you get – it is the quality of the traffic that counts.
And just think about it – if you join EasyHits4U, would you be genuinely interested in visiting other sites, or would you just visit the sites and get it over with without paying attention just to get traffic for your own site?
If that is how you feel, it is very likely that is also how other people feel, right?
So just because you suddenly get a lot of traffic does not mean you will get a lot of conversions/sales. It is easy to get cheap traffic but not easy if you want quality traffic.
And this is my main concern about EasyHits4U – the people visiting your site will mostly just do it to get traffic in return and will leave as soon as the required time to get the credit is achieved.
And what can you really use this kind of traffic for?
There are ways to get free traffic, but to get quality traffic requires some work or skills. There is a reason you never hear the biggest online marketers or big online agencies talking about traffic exchange as a way to get traffic.
This is something you seriously have to consider.
Reason #2 – Confusing pricing structure
There is not much risk in trying out EasyHits4U if you just get the free membership and test it a bit.
But it can quickly become expensive if you get tempted by all the ways to get thousands of cheap visitors by upgrading your membership or buying extra exposure.
And it can be difficult to figure out exactly what the cost will end up being and if it will be worth it.
There are different membership levels, you can buy extra exposure, but some of the memberships have extra exposure, etc.
So, in my opinion, the pricing structure is too confusing and makes it difficult to get a good and easy overview of the potential costs and benefits.
Therefore, you need to be willing to sit down and spend some time figuring out exactly how much you would be willing to spend and be able to measure if you get it back and then test it.
If you do not do this, you might end up wasting a lot of money.
Reason #3 – You get better value other places
As mentioned, I do not think the quality you get on EasyHits4U is good enough and I honestly think that investment is better to put somewhere else.
To succeed online, you need to learn to get quality traffic – there is no quick fix to get thousands of quality visits instantly for a very low cost.
But it definitely is possible to learn to get high-quality traffic but, in my opinion, you get more out of it long term if you take the time and investment somewhere else depending on your preferences.
If you want to learn to get a lot of free targeted traffic from the search engines, the best way is to learn proper Search Engine Optimization (SEO).
To take the time to learn this can really give you great results.
If you are more into paid traffic, Facebook ads could be a good option to get targeted traffic. You can, for example, start by getting a free Facebook ads blueprint here.
Overall, it is important not to see an online income as a sprint – people that see it like this rarely succeed. It is better to take the time to learn proper skills that can help you create a sustainable online íncome.
And, in my opinion, you will get more out of investing your time and effort elsewhere instead of on EasyHits4U.
Final verdict
EasyHits4U is definitely a legit site and it can deliver traffic to you as it promises.
This does, however, not mean it is necessarily a good way to get traffic. It depends on what kind of traffic you are looking for.
So to help you make your final decision, let's finish this review by summing up the pros and cons of EasyHits4U so you can get a better overview.

Pros:
Has a free membership option
It does deliver traffic

Cons:
Traffic quality will likely be low
It can quickly become expensive
Confusing pricing structure
Can take your focus away from long-term results
Before you join EasyHits4U, I think the most important question you have to ask yourself is what kind of traffic you want to your website.
Because if you join just to visit other sites to get visits in return but do not really care about the other sites you visit, this is likely also the approach of most other members.
This means you can end up spending a lot of time and potentially money on getting a lot of low-quality traffic that does not really help move your business forward.
This effort, time, and money could be used on building a more sustainable approach by, for example, learning SEO or if you are more into paid advertising, learning Facebook ads can be a great option.
These methods are proven to help your business long term whereas traffic exchange like EasyHits4U can be a very fast and cheap way to get thousands of visits – but it is very possible it will not lead to any sales.
In my opinion, there is a reason you have never heard any of the biggest online marketers or the big online agencies mention traffic exchange as a sustainable way of building an online business.
This is definitely something to think about before joining so at least you know what to expect.
If you have any comments, questions, or if you have any experiences with EasyHits4U yourself, I would love to hear from you in a comment below.